Shangri-La's Villingili Resort & Spa
A 70-minute flight from Malé International Airport followed by a quick 7-minute speedboat ride brings you the Shangri-La's Villingili Resort & Spa. From the air you will be thrilled by your birds-eye view of this stunning heart shaped island in the Addu Atoll
Book Now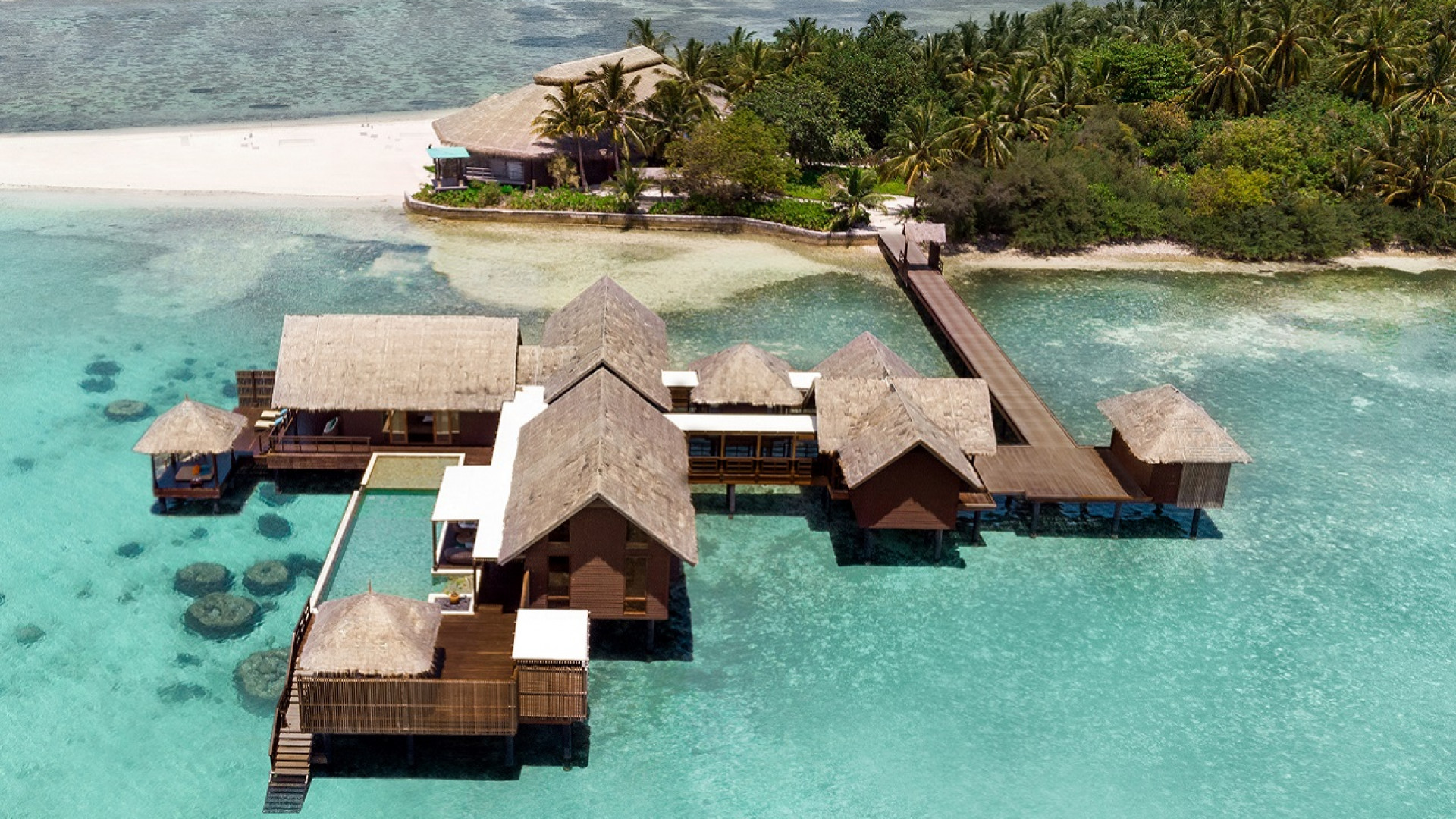 A 70-minute flight from Malé International Airport followed by a quick 7-minute speedboat ride brings you the Shangri-La's Villingili Resort & Spa. From the air you will be thrilled by your birds-eye view of this stunning heart shaped island in the Addu Atoll and, as this tropical sanctuary is beyond the equator, you have an extra hour of sunshine to enjoy each day too. Shangri-La's Villingili Resort & Spa is proud to be the owners of the only 9-hole golf course in the Maldives, surrounded by powdery white sands and tropical jungle, and you can also enjoy the tennis court, fitness centre and a world-class spa to enjoy some well-earned pampering, not forgetting a kids club to ensure the youngest members of the family have lots of fun too. With 132 luxurious and stylish jungle retreats, ocean view treehouses, beach and over water villas, endless recreational activities and six restaurants to experience, from beach BBQ to fine dining, this is an outstanding resort. And, after another perfect day on this paradise island you can relax at the bar, with a waterfront view, and appreciate a freshly made cocktail whilst watching the sun slip over the horizon.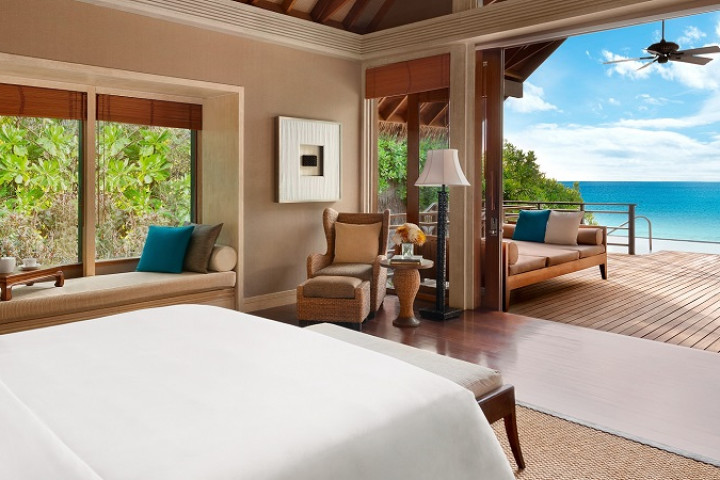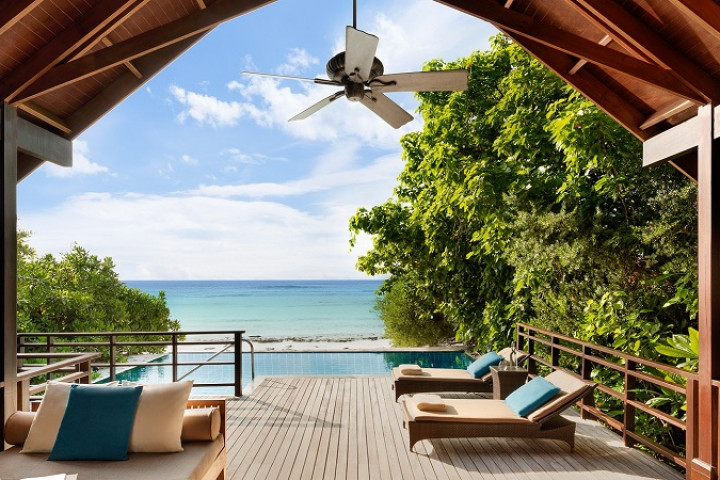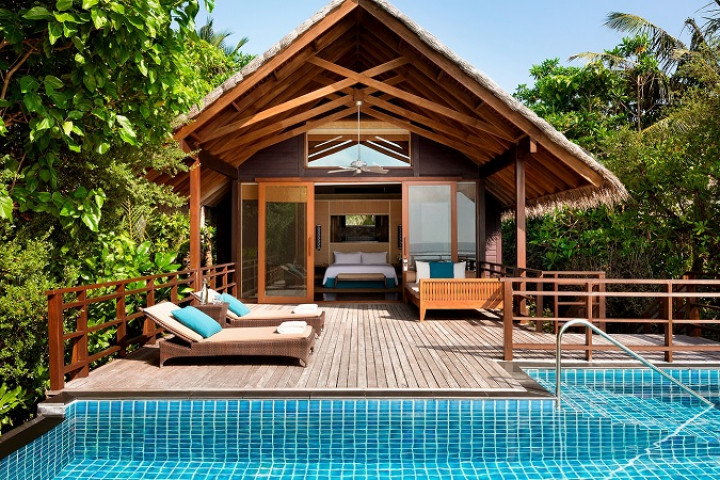 Pool Villa
Pool Villas are surrounded by a lush forest and offer views of the gentle rolling ocean. The luxury resort's Pool Villas feature their own private pool, terrace and open-air shower. The elegant décor is contemporary Asian, with Middle Eastern and Indian highlights. Guests can enjoy the soothing sound of the waves from the comfort of their bed, catch up on their reading or relax on a day bed on the patio or terrace.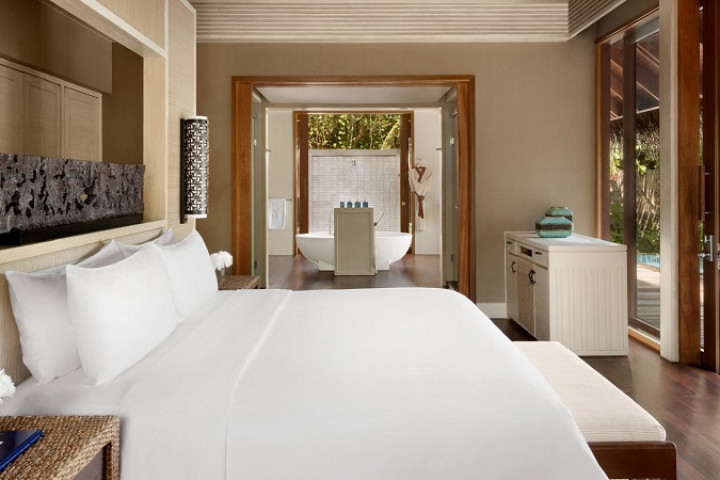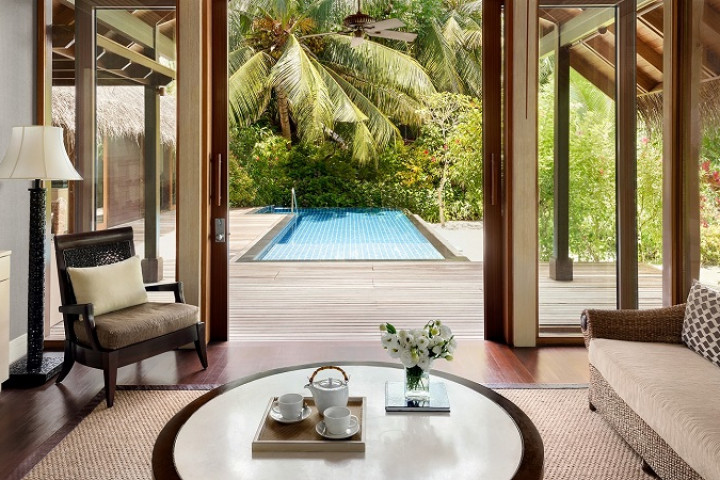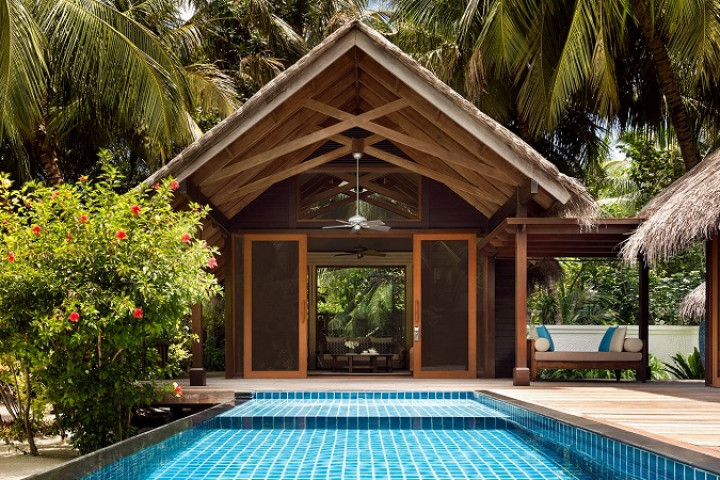 Deluxe Pool Villa
Nestled in rich vegetation, Deluxe Pool Villa guests can enjoy stunning views of the turquoise ocean from their own infinity pool and a separate living room providing extra space and comfort. The bedroom and bathroom look out to the sea, while the patio features outdoor furniture designed for dining under the stars on a balmy evening. Situated in a tranquil setting and tucked on the secluded shores of Villingili Island, all Deluxe Pool Villas have their own spacious garden, offering unbeatable seclusion and second-to-none privacy.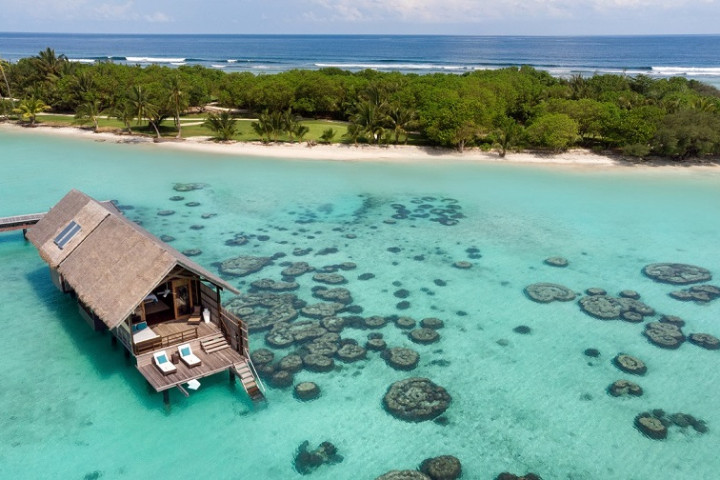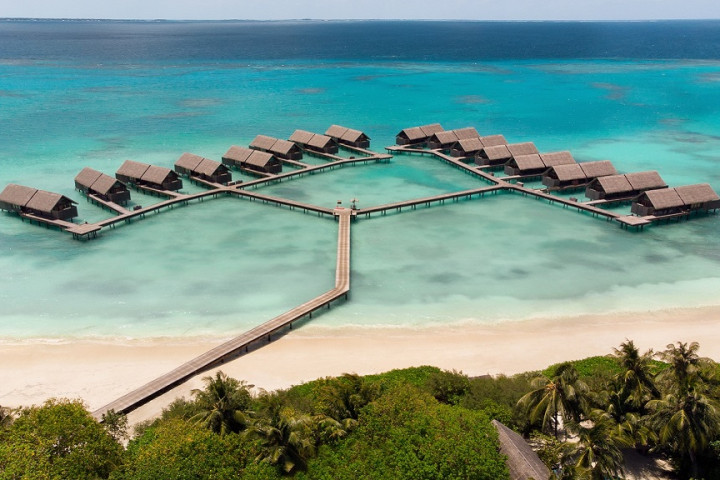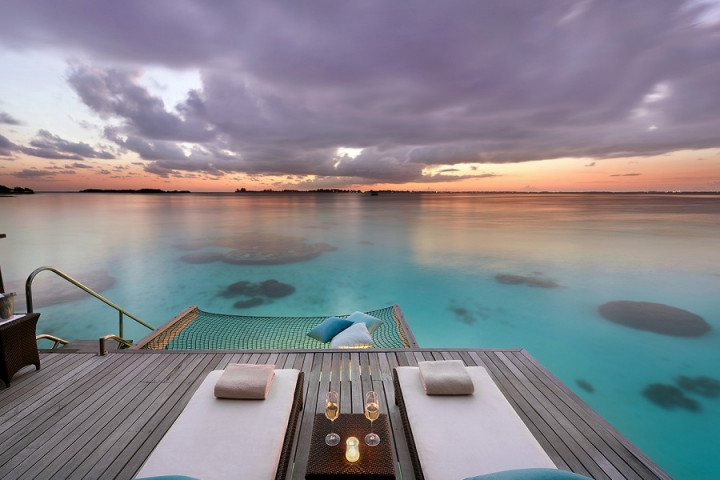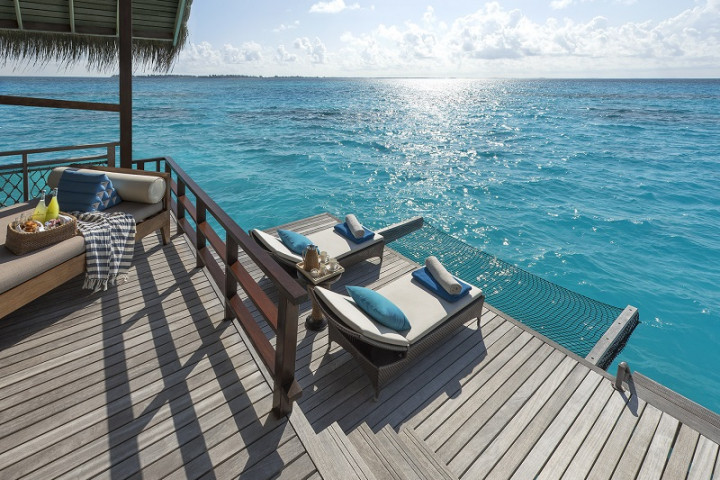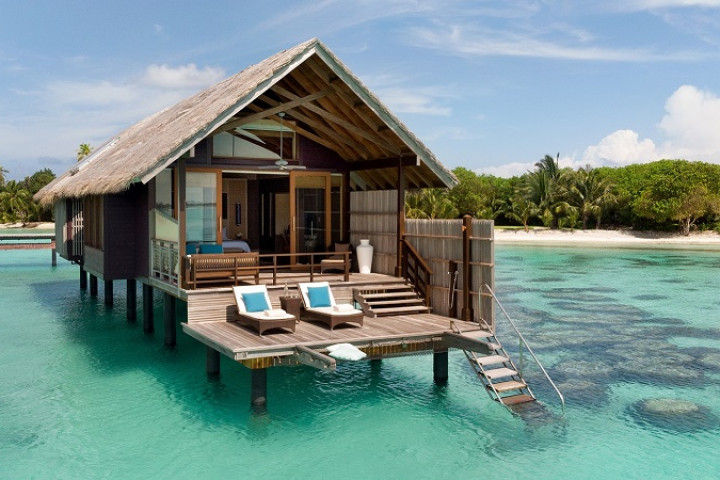 Water Villa
Built on stilts in the resort's lagoon, the Water Villas are accessible via a walkway over turquoise water that teems with marine life. Laze on your overwater hammock on a brilliant tropical afternoon, and enjoy the subtle breeze as you reflect upon the distant horizon. Each Water Villa has an open and airy atmosphere. It just takes few steps or a jump from your villa to explore the surrounding waters, bountiful with aquatic wonders. Note: We do not recommend this villa to families with children under 12 years due to the open nature of its terrace.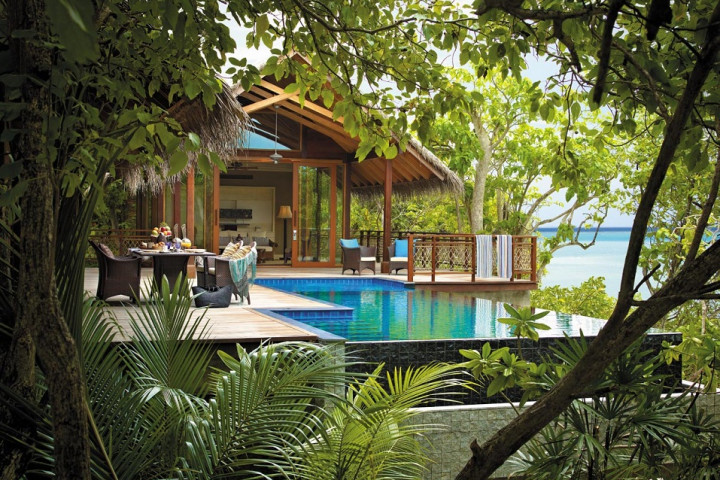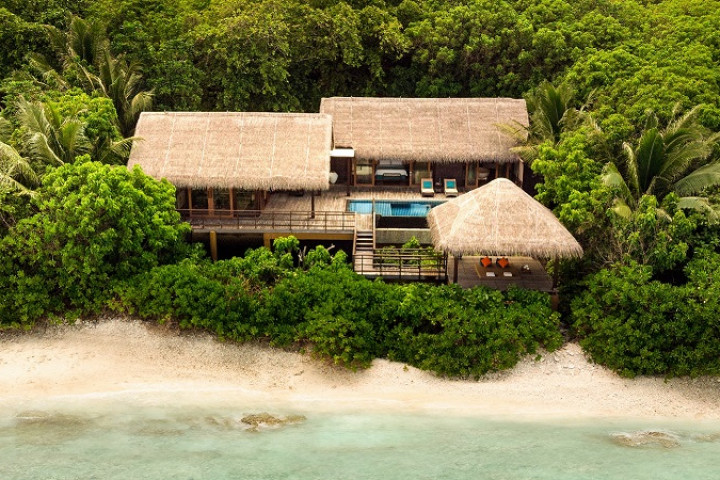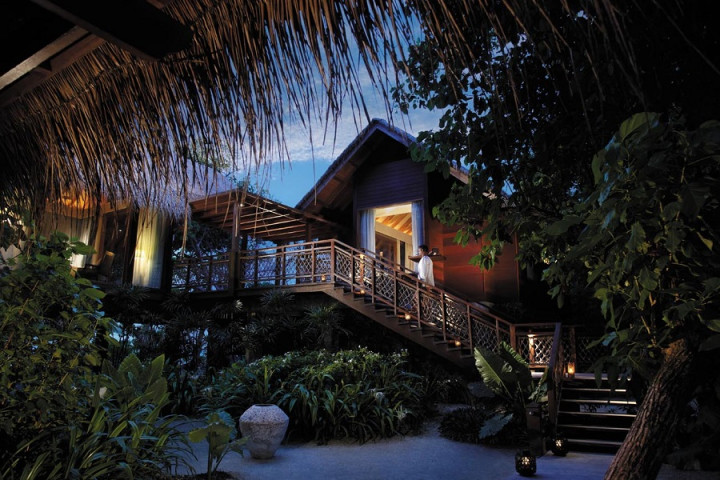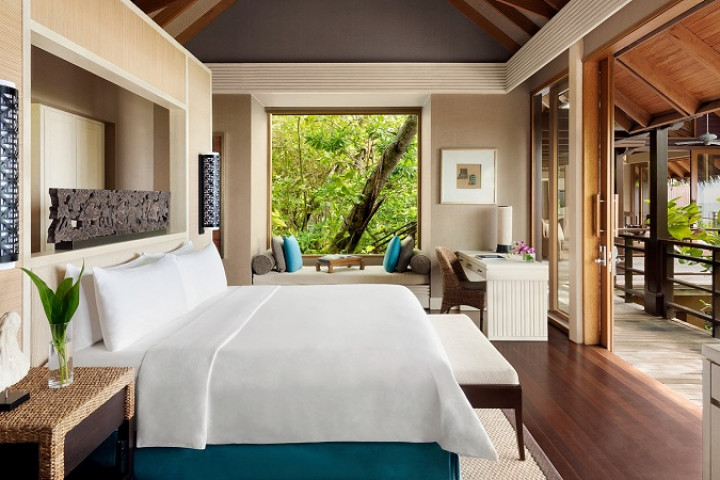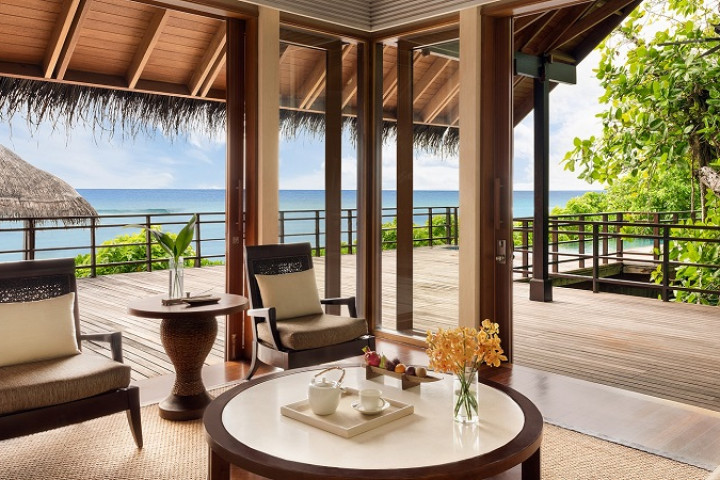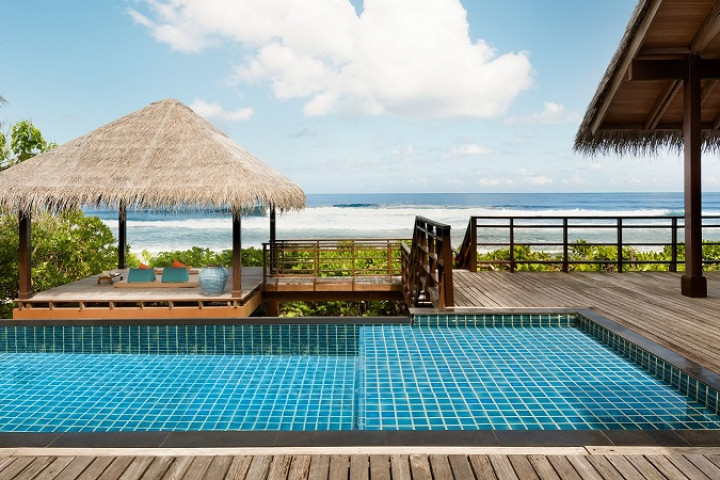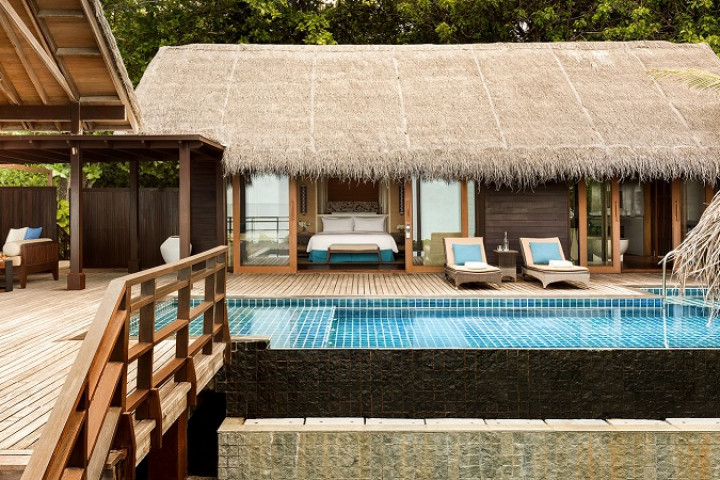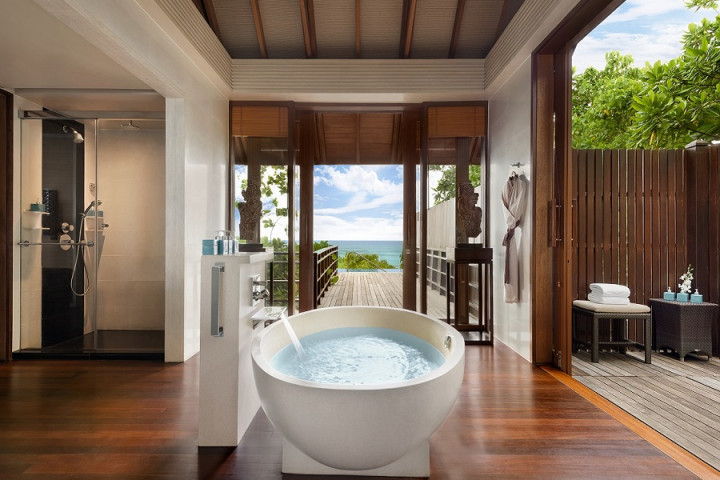 Ocean Tree House Villa
Nestled in the tropical forest and perched high on stilts, the Ocean View Tree House Villas guarantee ultimate privacy and stunning views to awake to. These secluded hideaways come with their own infinity pool and separate living room. The oval bath tub overlooking the ocean provides the right settings to enjoy a pampering time while the outdoor pavilion is positioned to take in the stunning scenery as the panoramic views unfold like a living canvas of the gentle rolling ocean. Note: We do not recommend this villa to families with children under 12 years due to the open nature of its terrace.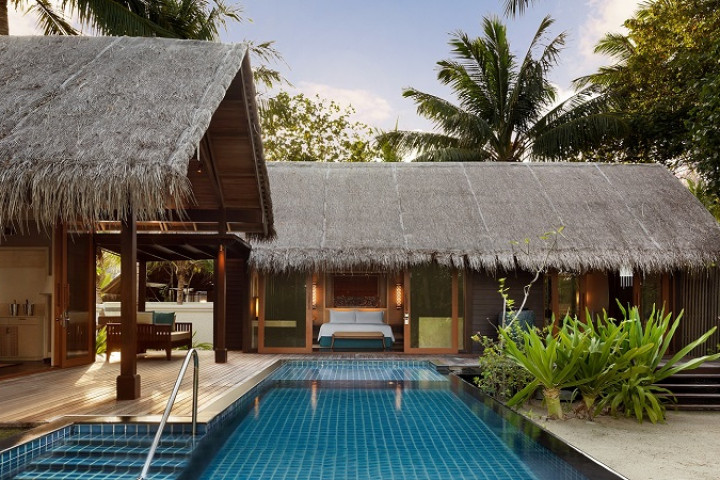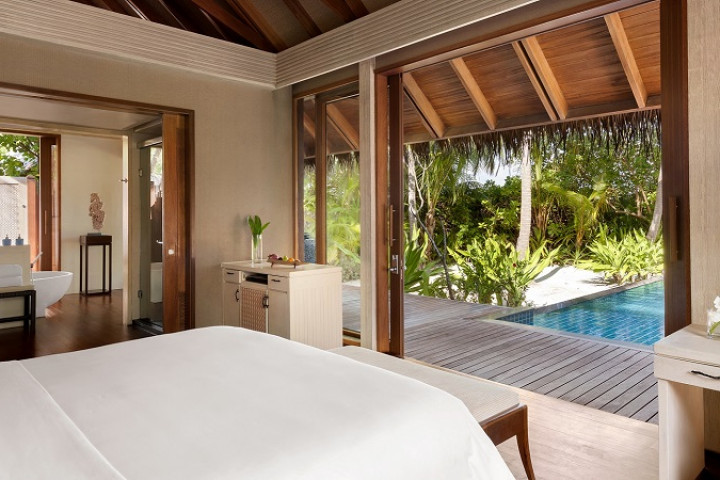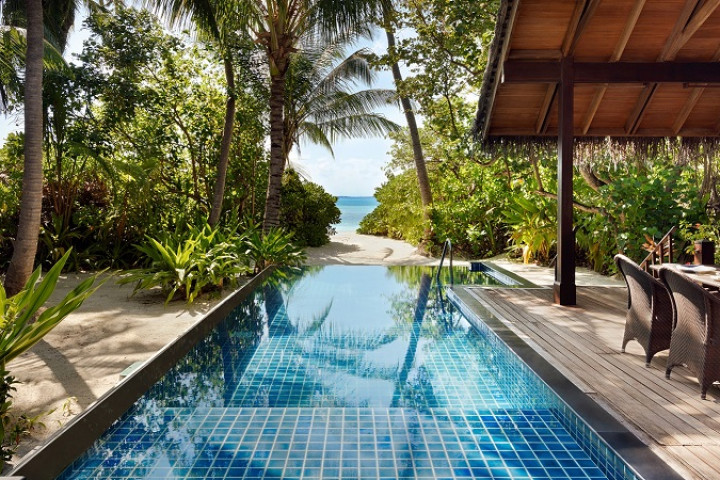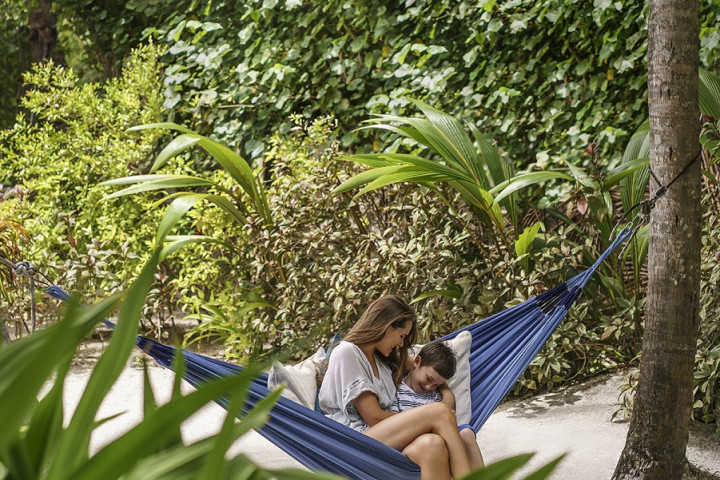 1-Bed Beach Villa
These luxurious Beach Villas provide a private haven on a white-sand beach, and are set over two separate pavilions. Exuding tropical refinement, every Beach Villa features a separate living room, a private pool and terrace leading to the beach. Providing the right beach escape, the villa is surrounded by a stunning tropical garden with direct access to the shores and crystal waters.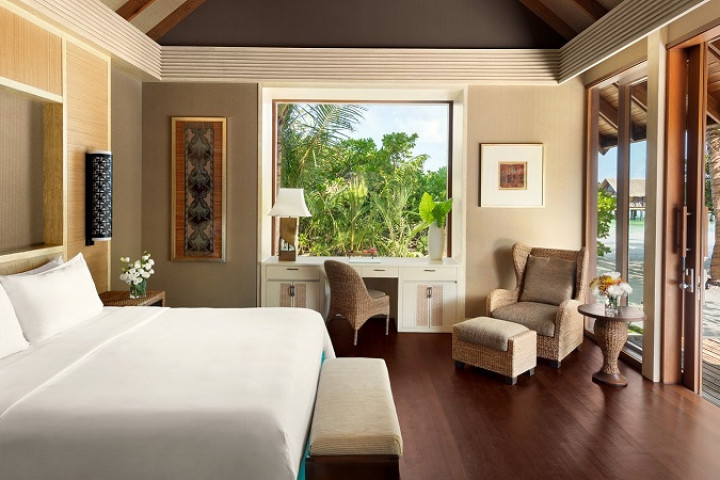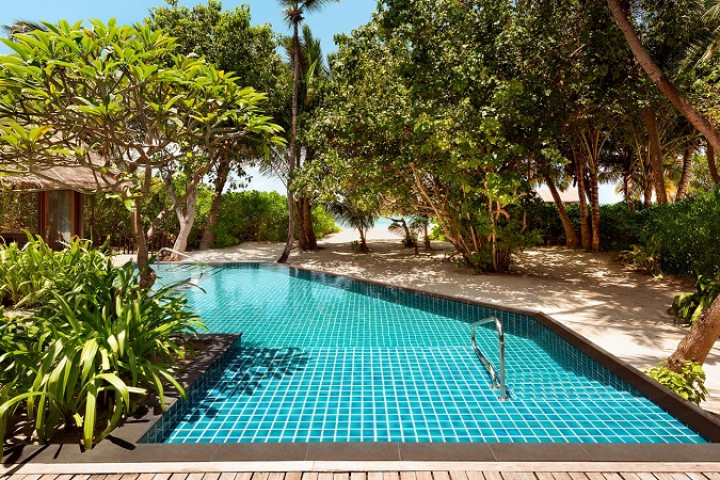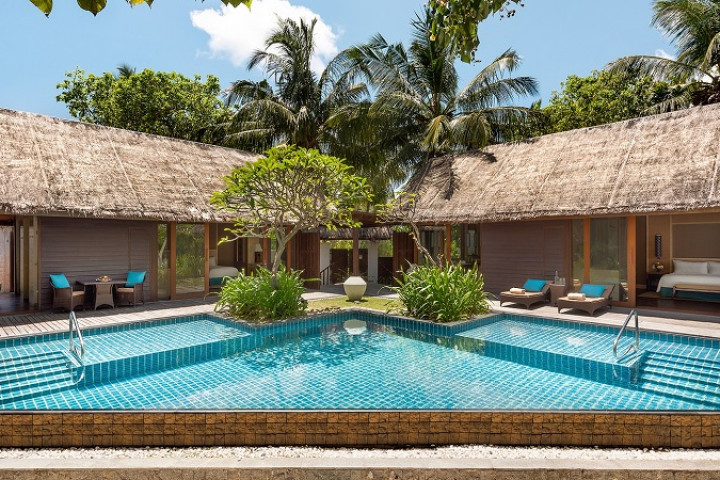 2-Bed Beach Villa
Luxurious and tastefully decorated, these Beach Villas have two-bedrooms adjacent to one another, making them ideal for families or travelling companions wanting both privacy and proximity. The villas are set in beautiful grounds with direct beach access and share a large patio and sun deck, complete with an infinity pool. Traditional and contemporary Middle Eastern and Asian-themed furnishings and décor create a light and airy feel, blurring the distinction between indoors and outdoors.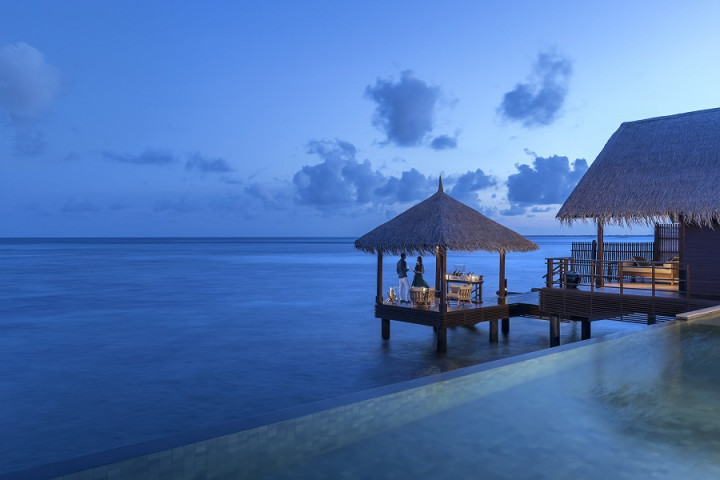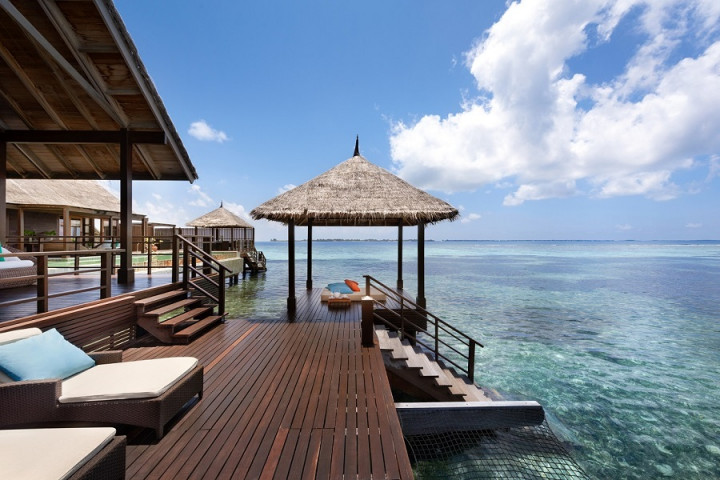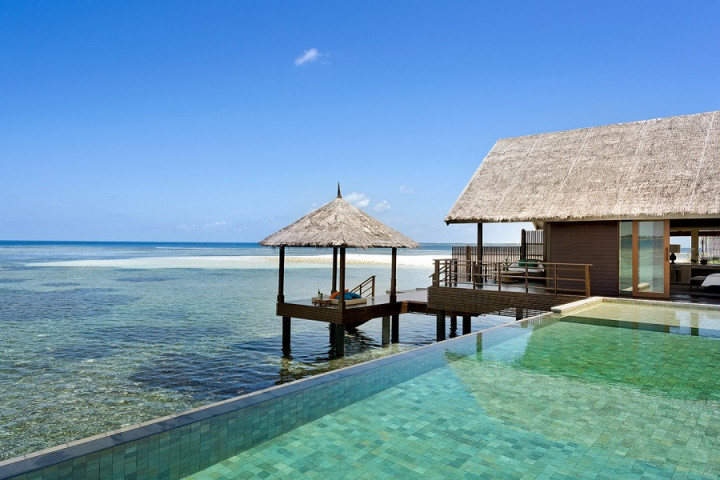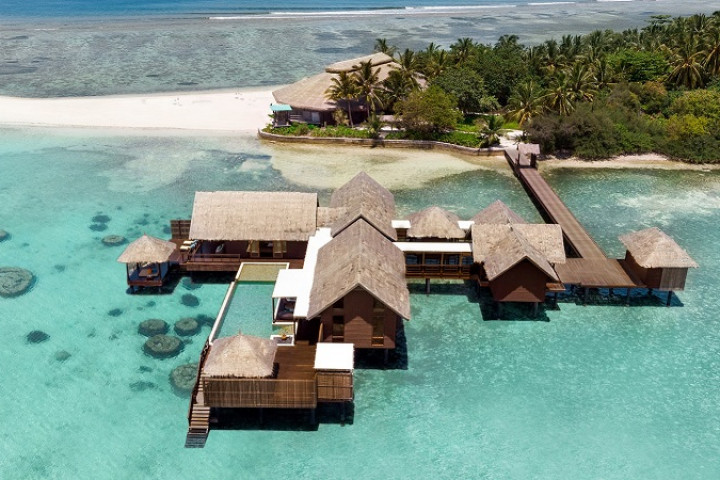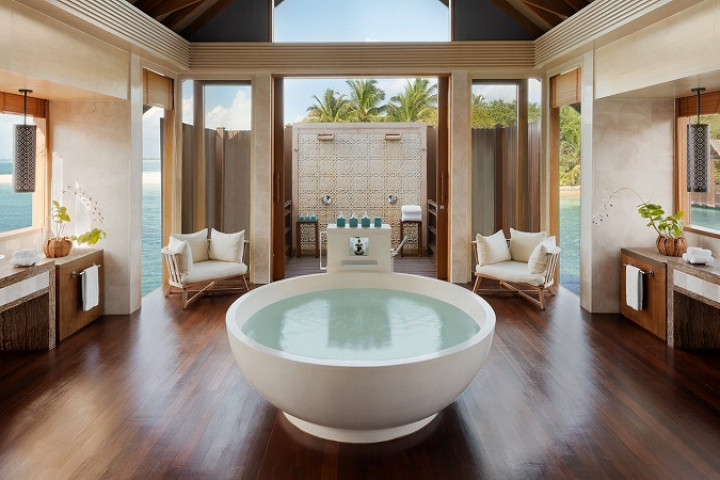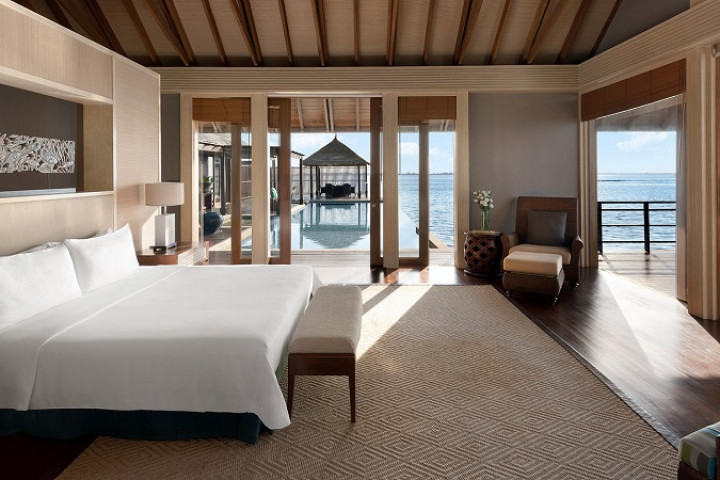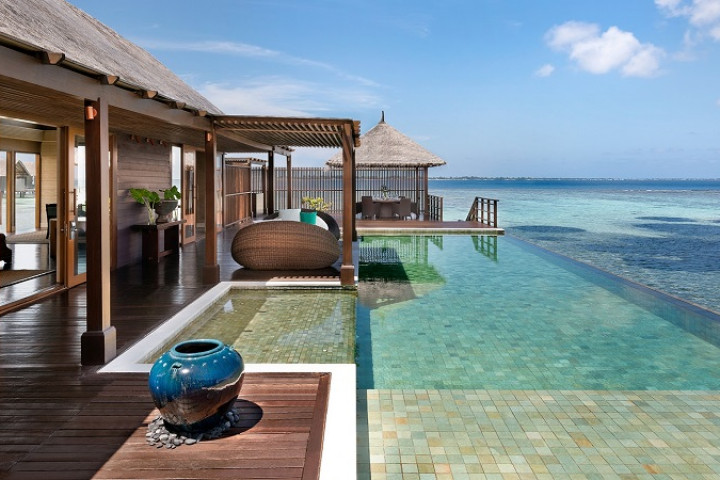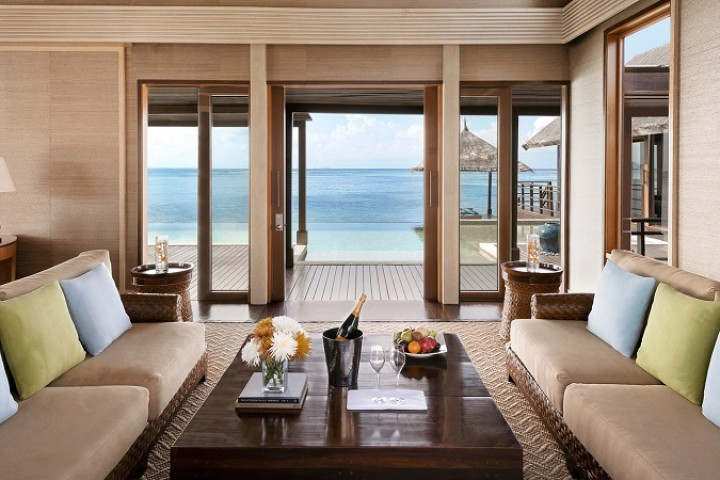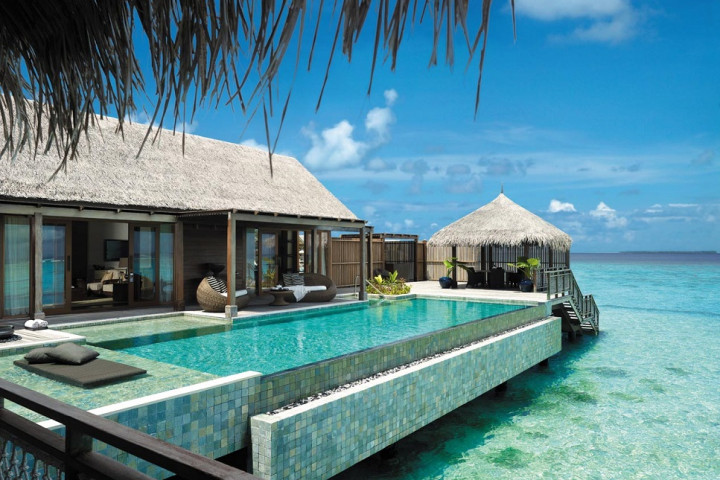 Villa Muthee
From the choice of décor to the stunning seascapes that surround it, Villa Muthee promises a truly sensational experience. Built on stilts in the resort's lagoon, the Presidential Villa has its own private walkaway entrance, a spacious deck with private infinity pool and direct access to the ocean. Like a pearl in its own oyster, Villa Muthee nestles in its own luxurious environment. The only one of its kind at Shangri-La's Villingili Resort and Spa, Villa Muthee is appropriately named. Muthee, which means 'pearl' in the local Dhivehi language, is a villa for those craving sanctuary from the fast-paced world in an ambience that offers stunning vistas and absolutely everything necessary for a nice getaway.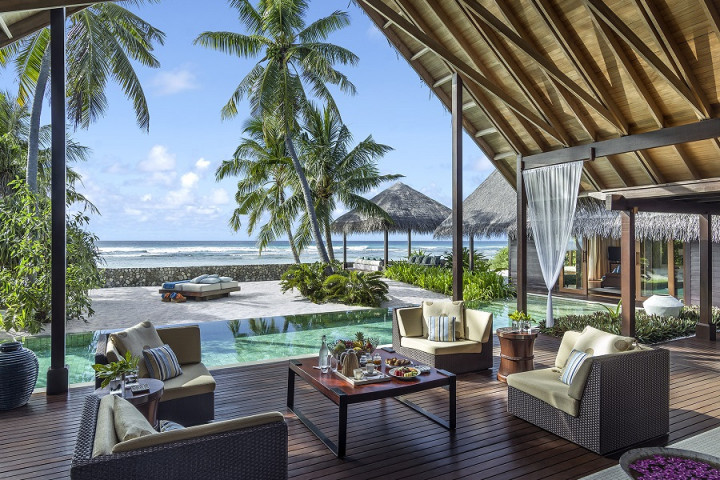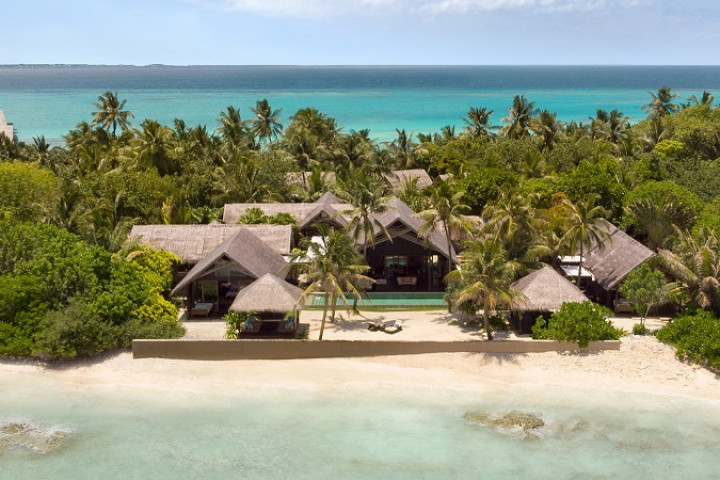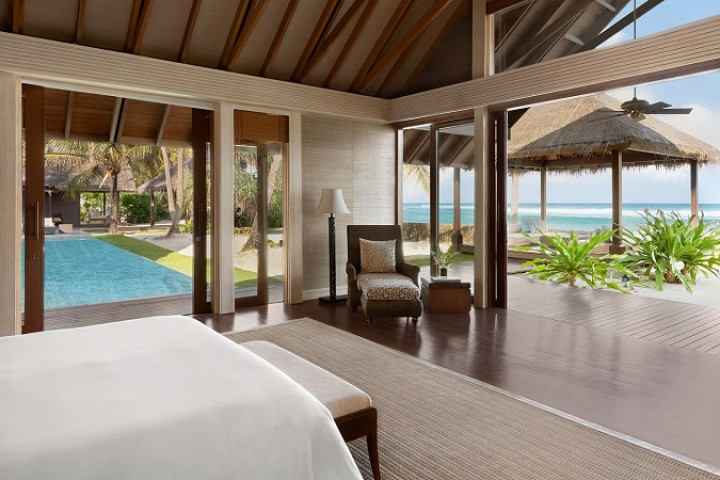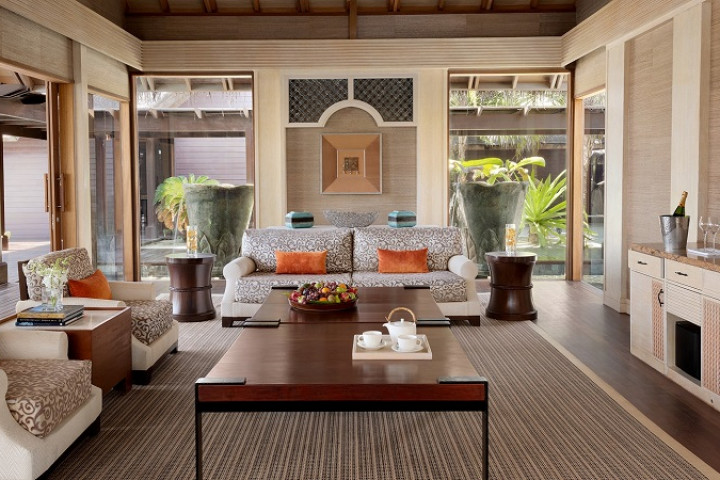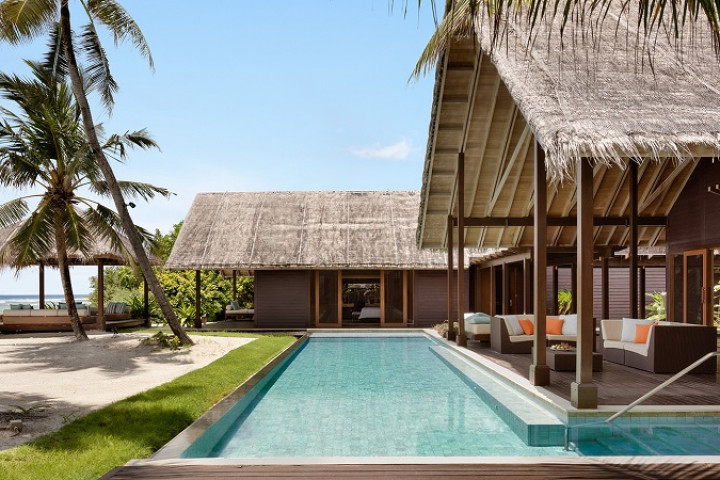 Villa Laalu
Spacious, stylish and thoughtfully designed, Villa Laalu is the jewel in the resort's crown, ideally suited for families or group of friends travelling together. The villa offers two large, high-ceiling bedrooms, a spacious living room, an extensive outdoor deck and garden with private pool facing the ocean. Carefully selected artworks are on display throughout this exquisite villa, together with high-end Asian artefacts, sculptures and urns from Indonesia, Sri Lanka and Thailand. Round-the-clock, in-villa dining can be enjoyed in the living room with timber-decked verandas, or in air-conditioned or al fresco dining pavilions.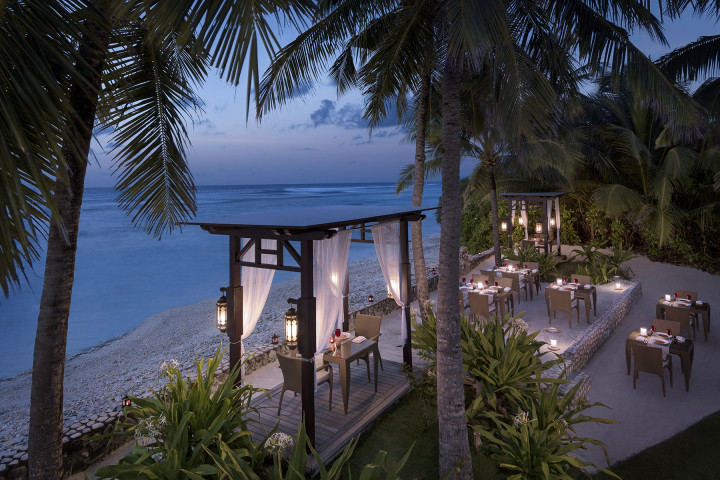 Dr. Ali's
This exceptional restaurant pays tribute to a much-loved Maldivian doctor called Dr. Ali, who delighted everyone with his wonderfully woven nature stories and enticing recipes. The cuisine, prepared in a tempting range of international styles, is simple, fresh and innovative – and the first of its kind in the Maldives.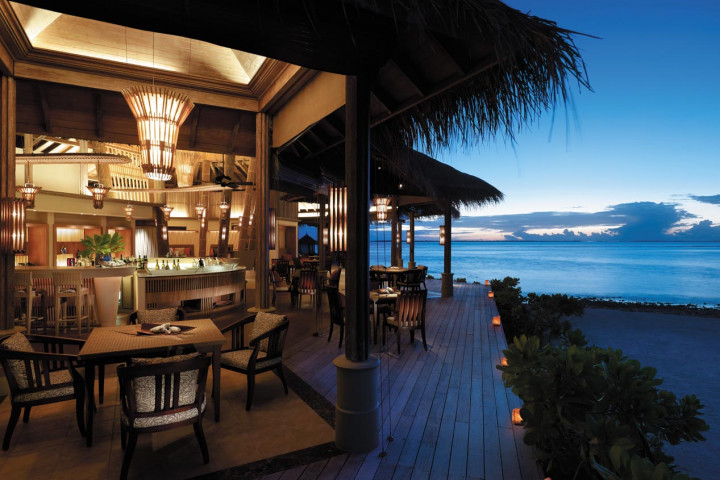 Fashala
Fashala is located at the northern tip of the island, where the tranquil lagoon waters meet the Indian Ocean – the right setting for a romantic dining experience. Local produce from the surrounding waters and neighbouring farms is at the centre of the gastronomic offerings, and skilfully incorporated into Mediterranean-inspired recipes.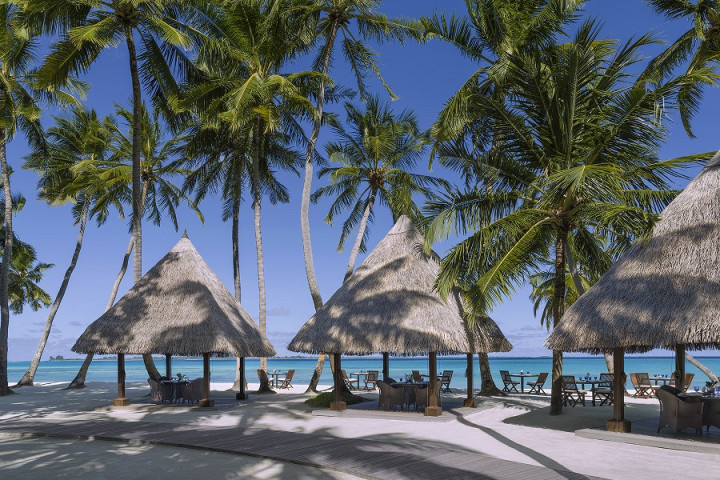 Javvu
Javvu, meaning "atmosphere" in the local Dhivehi language, is the right spot for al fresco dining around the clock, offering a menu of international favourites in a setting of exquisite natural beauty. Javvu is located along the turquoise shoreline, offering stunning vistas across the ocean.

Activities & Facilities
Work a sweat with five-star facilities
Sports and leisure facilites include two International Tennis Federation-grade tennis courts, three jogging trails, bicycle tours of neighbouring islands, and an indoor entertainment centre.
The Shangri-La Eco Centre is a place to discover, be entertained and learn in an interactive and lively atmosphere.
Golfing essentials
Facilities
9-Hole, Par 3 and Par 4 recreational golf course
Clubhouse
Refreshment bar
Pro shop
Services
Refreshments and light snacks
Green fees and golf equipment rental
Guided tours
Sport Activities
Two International Tennis Federation-grade tennis courts are available.
Three jogging trails running a total of six kilometres are available on Villingili.
The entertainment centre offers snooker, billiards and a selection of books and magazines.
Guided Bicycle Tours in Addu
Explore the five neighbouring islands, which are connected by a 17-kilometre road, by bicycle. Set out with a picnic basket and discover the fascinating lifestyle and culture of untouched Maldivian villages, or stop at a coffee shop to chat with the locals over a meal.
The Shangri-La Eco Centre is a place to discover, be entertained and learn in an interactive and lively atmosphere. Guests will gain an in-depth understanding of the conservation works around Villingili and learn how they can get involved with and support the resort's efforts.
The endless lagoon of the atoll is a suitable playground for water fanatics, adventurers and relaxation seekers. A diverse selection of Water Sports for all ages and skill sets is available at our paradise.
Dive into a whole new world
From snorkelling and scuba diving at all levels, to big-game fishing, sunset sailing aboard the resort's luxury yacht and dolphin cruising, an amazing variety of water sports and aquatic activities awaits guests of all ages.
Diving & Snorkelling
Addu Atoll is a veritable haven for divers and anyone curious about the underwater world.
For resort guests there is excellent diving and snorkelling available for all levels of ability. The creation of a snorkelling garden close to the resort's shoreline is an ideal site for snorkelers and children. For advanced divers, numerous world class diving locations teeming with marine life await exploration.
Scuba diving for both experienced divers and beginners are offered at the resort, including a selection of PADI courses such as:
Advanced Open Water Diver
Discovery Scuba Diving
Open Water Diver
Specialty courses
Water Sports Activities
The following water sports activities are available at Shangri-La's Villingili Resort & Spa, Maldives.
Glass bottom boat
Catamaran sailing
Fishing, including deep-sea fishing and traditional Maldivian night fishing
Fun tubes and banana rides
Kayaking
Kite Surfing
Paddle boards
Parasailing
Private Boat Charter
Seabob
Surfing
Water ski, mono ski, wake and knee board
Wind surfing
Jet Ski
Excursions

From deep-sea fishing to a luxury sunset cruise, there are many possibilities to explore the surrounding waters of Villingili Island.
Sunset Sailing on the resort's luxury yacht "Horizon"
Come along and watch the sunset while sailing on our 21 meter-long luxury yacht. Enjoy a glass of Champagne while sailing beautiful Maldivian waters.
Hop on a boat and explore the surrounding waters on the lookout for the many spinner dolphins living in the area.
Venture out for a traditional hand line night fishing trip. Our expert chefs will be happy to cook any fish you catch.
Have you ever wanted to fish at the break of dawn? Hop on a well-equipped private boat and be ready to fight barracudas, sailfish and tunas, among others, with the help of our experienced crew members.
The snorkeling area between the Whispering Palms water villas provides a shallow, accessible place ideal for less experienced swimmers and children, before taking the snorkeling channel leading out to the resort's house reef on the northern end of Villingili Island. Resident marine life along the way include branching corals, sea anemones, Maldives anemone fish and much more.
Explore lush foliage & natural lagoons
The dense vegetation of Villingili sets it apart from many other Maldives resort islands. Our Reef Care project aims to foster awareness of marine life and the threats facing it globally, and to involve guests in activities linked to marine life protection through activities offered at the Eco Centre.
Further Kids' Activities
Young Pirates of Villingili
Join us in exploring the islands for hidden treasures, with your own cutlass, wearing your own crossbones shirt, to match your crossbones face paint. Learn our pirate vocabulary, words of fun and adventure. Embark on a voyage with the young pirates of Villingili.
Discover the wonderful jungle of Villingili and meet with the amazing creatures living there, such as the flying fox and geckos. Explore the different facets of nature and embark on a journey of discovery.
Try to catch Hermit crabs or Ghost crabs and join the fun. Be the cheerleader of your very own crab and be part of the new racing game.
Learn about the beauty of the sea and meet your underwater friends. Learn funny and amazing information about green turtles, black tip sharks, starfish, dolphin, corals, parrotfish and a whole lot more.
Learn how to craft a shell necklace and sand castle frame using real leaves & coconuts. Explore nature and express yourself through its creations.
Get fit and play at the same time with swimming, tennis, running, yoga and other exciting activities.
Facilities
CHI, The Spa
Cool Zone
Health Club
Scuba Diving
Snorkelling
Swimming Pools
Tennis Courts
Water Sports
Golf Course
Croquet