The Most Luxurious Resorts to visit in the Maldives.
The Most Luxurious Resorts to visit in the Maldives
If you've been dreaming about planning a Maldives honeymoon or vacation post-pandemic, we don't blame you - a truly otherworldly paradise, it is just what you need to escape from all your stress and worries from the past few years. The country is perfect for a getaway as it employs a one-island-one-hotel concept; this ensures maximum privacy, safety and seclusion. One of the most sought-after destinations for honeymoons, Maldives is a picture card of beautiful scenery, clear waters and romantic resorts. These are our top picks for the most luxurious resorts you cannot miss when travelling to the Maldives.
The Nautilus Maldives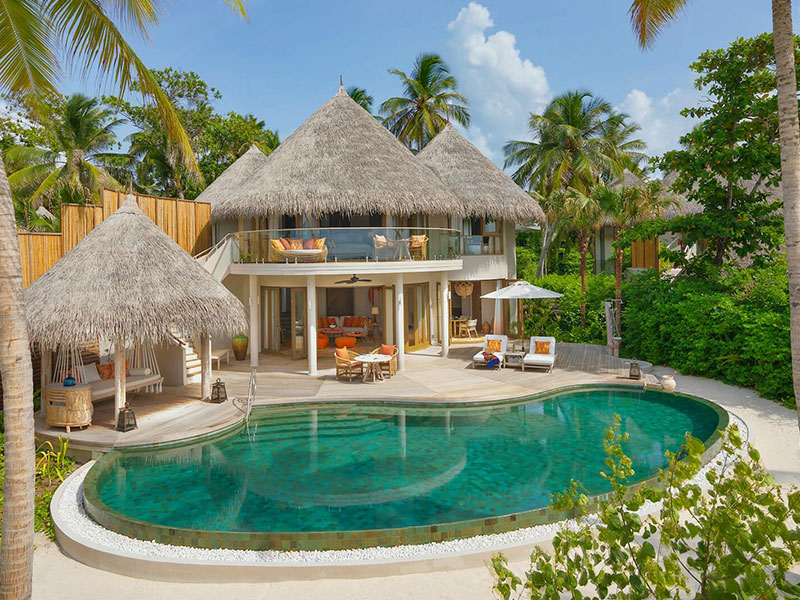 A luxury bohemian hideaway set on one of the most beautiful islands in the country, The Nautilus Maldives is a highly personalised, immensely private luxury resort in the Maldives with 26 beach and ocean villas where each experience is tailored to your needs. With abundant tiffany blues and jungle greens, this luxe resort island which lies on the UNESCO Biosphere Reserve of Baa Atoll is highly sought-after by high spending travellers.
Guests at the Nautilus can take their pick from Beach and Ocean Houses as well as Residences, all perched on the beach or hovering above the bright blue water. Each is a private sanctum, your own personal space to share and enjoy in the turquoise cradle of Baa Atoll. All sanctuaries are an effortless chic, with the residences featuring one or two bedrooms, spacious living quarters and sparkling private pools… you'll be finding it difficult to escape your dreamy villa to go and explore the rest of what the island has to offer.
When it comes to food, guests can choose from 4 different restaurants where even the most demanding of taste buds will be tantalised and satiated with the exceptional menus curated and overseen by French executive chef Jeremy Metz, with the world's very best wines to accompany your choices. Some of the opulent dining experiences you can indulge in here include breakfast aboard a luxury yacht and private dining at your location of choice on the island. Explore intriguing infusions of Mediterranean and Arabic cuisines at Ocaso, or savour global delicacies at Thyme.

Enjoy a personalised wellness experience at Solasta Spa; have a private cinema screening of your favourite movie under starry skies on a distant sandbanks… There is no shortage of delightful experiences at the Nautilus. Because of its prime location in Baa Atoll near Hanifaru Bay, guests can enjoy the kaleidoscopic wonders of the diverse Maldivian marine life, which lies right outside your door! Engage in exhilarating watersports, swim with manta rays and whale sharks, witness dolphins and sea turtles while snorkelling and diving. All truly unforgettable experiences!

Niyama Private Islands Maldives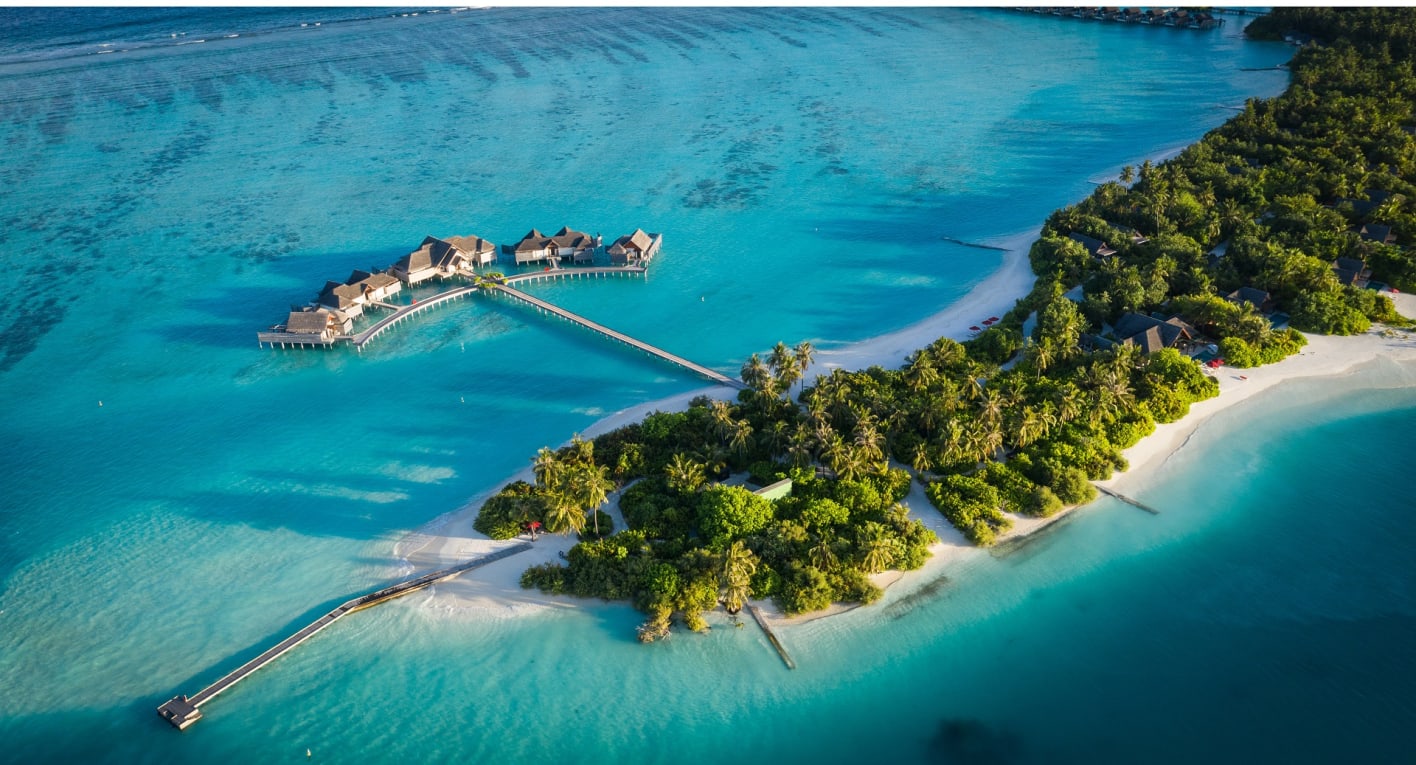 Fringed by the tropical gardens of the island interior and the magnificence of the natural colours, Niyama is an ultra-modern paradise with private beaches, butler services and luxurious beach pool villas and over-water villas with contemporary facilities for you to choose from. Find a very private setting for intimate, one-of-a-kind experiences. With twin islands Play and Chill, Niyama Private Islands Maldives offers up the luxury of choice, allows children and adults on both islands as well.
At Play: Frolic in the treetops. Rush into the infinite horizon. Kick things up a notch in villas set on white sands and tailored to adventurous honeymooners, active couples and style-savvy families.
At Chill: Revel in a peaceful moment within the cocoon of Drift Spa. Explore culinary heaven offshore. Soothe your soul to the slow rhythms in over water villas. Lounge against the flowing oceanscape in an underwater playground.

This eccentric resort offers 134 villas and pavilions to choose from, all equipped with the latest amenities. Niyama's crown jewel is The Crescent, a holiday fantasyland huddled offshore, where up to 14 adults and 8 children can choose from 5 different pavilions and villas. Have your own private barbecue and movie under the stars, have your own private party and dance the night away to the beat of Boduberu drums. Each villa comes with a secluded deck to luxuriate in al fresco rain showers, moonlit dips or an intimate afternoon basking in the sun. Staying indoors can be equally indulgent; each room is outfitted with king beds, deli-in with full-sized refrigerators overflowing with gourmet treats, Bose surround sound and a Thakuru (butler) service for the ultimate luxury.

Guests can revel in peaceful moments at the Drift Spa, and can choose from various unique dining experiences, such as an exciting dinner at TRIBAL or even an evening cocktail underwater. Select your perfect setting - your culinary adventure knows no bounds at Niyama, home to nine different restaurants with distinct dining experiences: visit Subsix, an underwater playground for champagne breakfasts, subaquatic lunches and weekly glow parties, wine tastings and destination dining; or visit Edge to experience modern fine dining, set half a kilometre out in the ocean and accessible only by boat… to name a few.

They can also take part in other activities such as revelling in peaceful snorkelling through the house reef, yoga at the crack of dawn, sunset dolphin cruises and so on. For surf enthusiasts, Niyama has a left-hand break on its own shore, at Vodi surf point.
Milaidhoo Island Maldives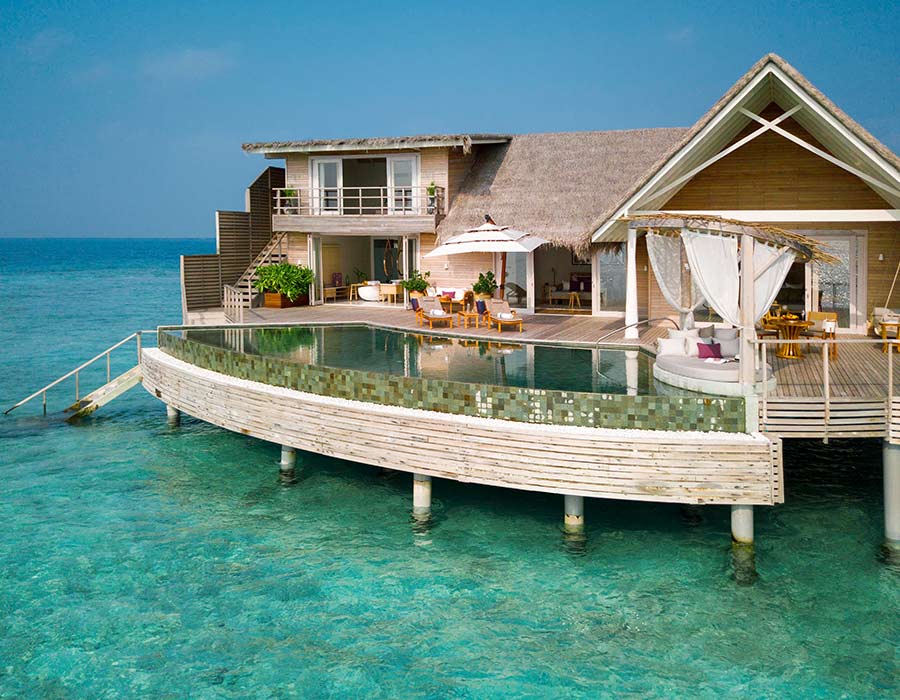 Described as "an emerald drop of paradise wrapped in soft white sands, surrounded by a vibrant coral reef, lapped by warm turquoise waters"... that's Milaidhoo Island. A boutique luxury resort designed for couples seeking peace and utmost privacy, Milaidhoo welcomes guests from 9 years and above and has a strict no-drone policy on the island.
The villas all consist of striking Maldivian elements, contemporary custom-made furnishings, freshwater pool, a hanging Maldivian swing and panoramic ocean views. They open up 180-degrees to allow the natural beauty of the Maldives inside and come equipped with a private wine fridge, en-suite bathroom and a full range of toiletries by Acqua Di Parma. Choose from Beach and Water Villas or Residences, all with endless ocean views and private pools.

Cherry pick from a number of different restaurants to dine in, each with its own unique experiences. Ba'theli is made to appear like a traditional Maldivian dhoni, with dishes based on the epicurean delights of the old Spice Routes, blending herbs and spices to enhance natural flavours. Have your very own private chef cook for you at the Shoreline Grill's Chef's Table. Feast on a tropical breakfast at Ocean, sitting on the deck listening to the sound of the sea as the team delivers wave after wave of delicious delicacies. You can even indulge in the Milaidhoo Gourmet Plan: a dine-around meal plan offering outstanding dining and drinks throughout the stay.

Some of the top activities to indulge in here include water sports such as SUPs, kayaking, windsurfing and catamaran sailing; excursions; big game fishing; and visiting the famed Hanifaru Bay, where during the peak seasons, you will see huge congregations of whale sharks and manta rays. Visit the Serenity Spa, set over-water and offering endless views of the sky and ocean. Choose from a number of holistic treatments and healing traditions of Africa, done using local herbs and plants.

Cheval Blanc Randheli Maldives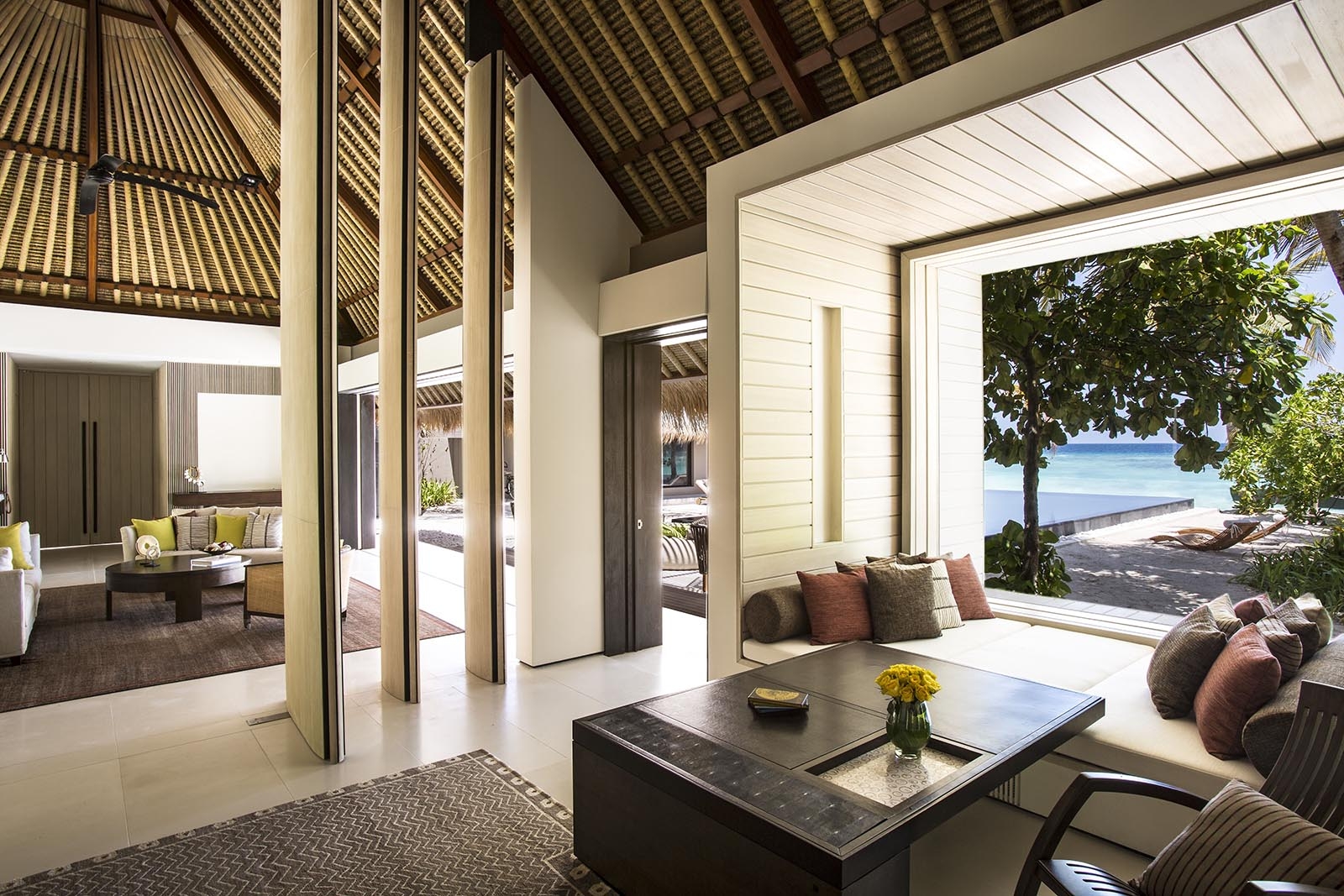 Of all the luxurious lairs in the turquoise-fringed, white-sanded Maldivian archipelago, this resort is perhaps one of the most exclusive and elegant ones. Designed by Jean Michel Gathy, Cheval Blanc Randheli exudes unmatched style and attracts celebrity clientele, the likes of fashion designers and even the Duke and Duchess of Cambridge. The resort is located in pristine and unspoilt Noonu Atoll, reached by a picturesque 40-minute ride in the Maison's own bespoke seaplane from the capital city, Male'.
Featuring 45 loft-style Maisons, all tastefully decorated with warm living rooms, private infinity pools and adjoining powder rooms, they were conceived in synergy with the natural surroundings; the villas are a perfect mix of luxury and tranquillity. Take your pick from Maisons perched over the crystalline seas; some sitting in their own tropical garden; and those lining the beach. Or - for the most discerning of travellers, looking for the ultimate private island holiday experience - The Cheval Blanc Randheli Private Island, accessible only by a private berth and sprawled across a dedicated 1-hec island. Featuring a 4-bedroom villa with over 1000sqm, this really is modern island living with a a dedicated team of Ambassadeurs and a vibrant array of tailored services and amenities.

Enjoy Michelin-class dining at Cheval Blanc; guests of the hotel can take their pick from five restaurants and three bars, where they will be treated to a seafood fare with Japanese, Iberian and other dishes from around the world. Revel in extraordinary experiences everyday. The resident Alchemists are available on hand to plan unique experiences to make your stay unforgettable; you will have a dedicated Majordomo available 24/7 to look after you and will help you plan your day out.
Noonu Atoll is ideal for water sports and dive enthusiasts, reef snorkelling and water sports. Visit the PADI certified dive centre on the island, embark on the most wondrous spa journey possible to the Cheval Blanc Spa; board a traditional Maldivian boat which will transport you to the shores of the Spa Island, where Guerlain has created an exclusive haven for wellness. The kids club on the island organises daily activities while a family can request private baby-sitting services from trained team members.

Patina Maldives Fari Islands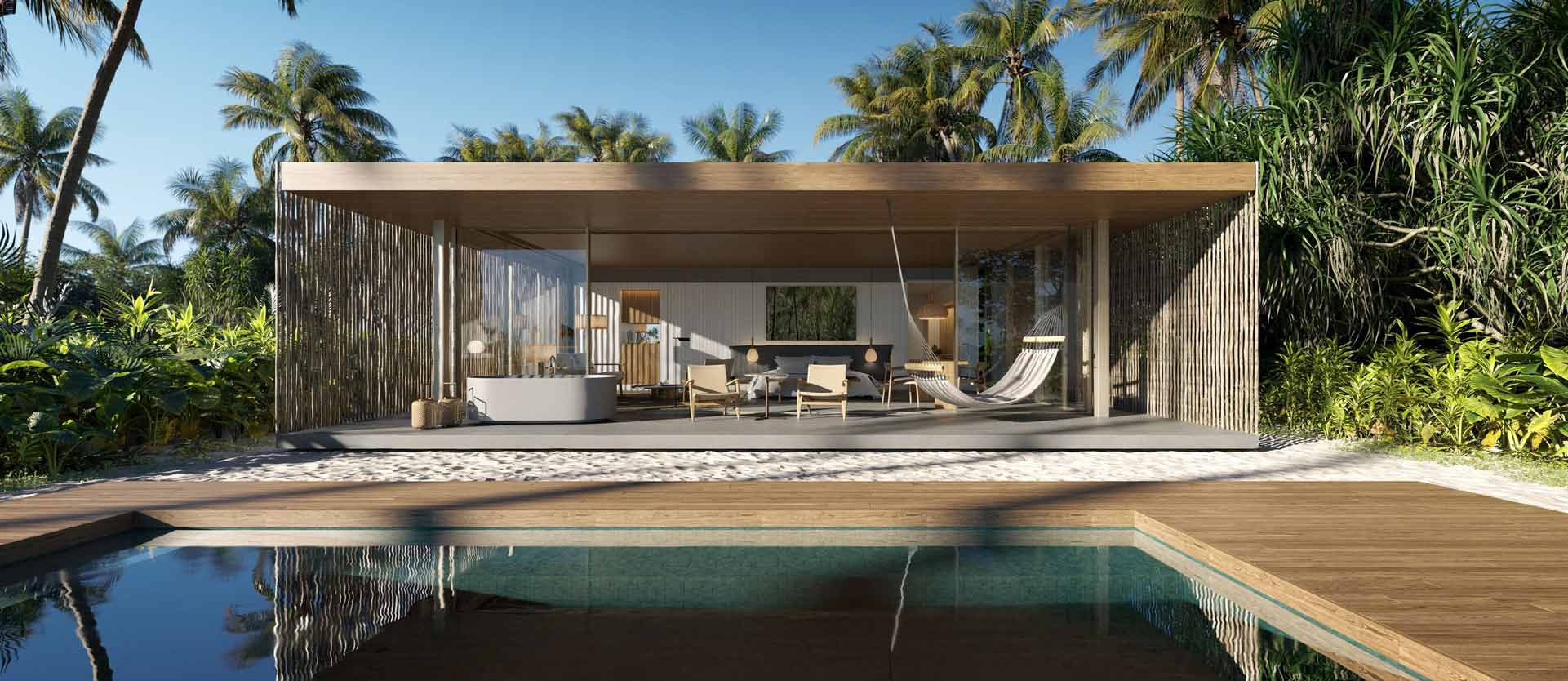 Far away from all you know is an island of pure beauty and unexpected dimensionality, profound peace or shared experiences… follow your instincts, and find what you need here at Patina Maldives Fari Islands.
Guests on this island have the option of choosing from 90 villas and 20 studios, set on the edge of vibrant Fari Marina Village where villas face the perfect sunrises or sunsets. All exude warmth and rustic simplicity. They all also feature private pools and oversized outdoor tubs, spacious decks or private gardens… along with all the creature comforts to ensure your stay is as perfect as you dreamt it would be.

The island's myriad mix of gastronomic pleasures is an ever-evolving respect for the nourishment Mother Earth provides. Fine dining or casual, robust or light, indoors or out - it's a tapestry of experiences. Choose from 12 different dining outlets, each with a fresh perspective and where the best ingredients and processes take centre stage. Roots is a fresh flair plant-based meal experience centred around nutritious, organic and home grown produce; Brasa is a Latin play of fire, smoke and spice; Helios is where you can nourish your senses at our hearty Aegean kitchen; wind down at Veli Bar, set by the pool with expertly crafted light bites and refreshing cocktails.

Guests to the Fari Islands will be able to enjoy Patina's communal heart, where Fari Marina Village and Fari Beach Club serve as the backdrop to a vibrant social scene. Patina also features interactive sculptures, large scale photography, textural Mingei Undou weaving.. Patina prides itself on its collection of carefully curated, playful, symbolic and ethereal works at their art gallery which hosts exhibitions by in-residence artists as well as international ones.

Guests can also take part in the FLOW philosophy at the spa, and indulge in water therapy, couples' therapies, skincare treatments and more. There's also a PADI-certified dive and watersports centre on the island.