Vakkaru Maldives
A short but awe-inspiring 25-minute seaplane journey from Malé International Airport, followed by an exhilarating 25-minute speedboat ride, transports you to this stunning tropical paradise where beach foot luxury is waiting.
Book Now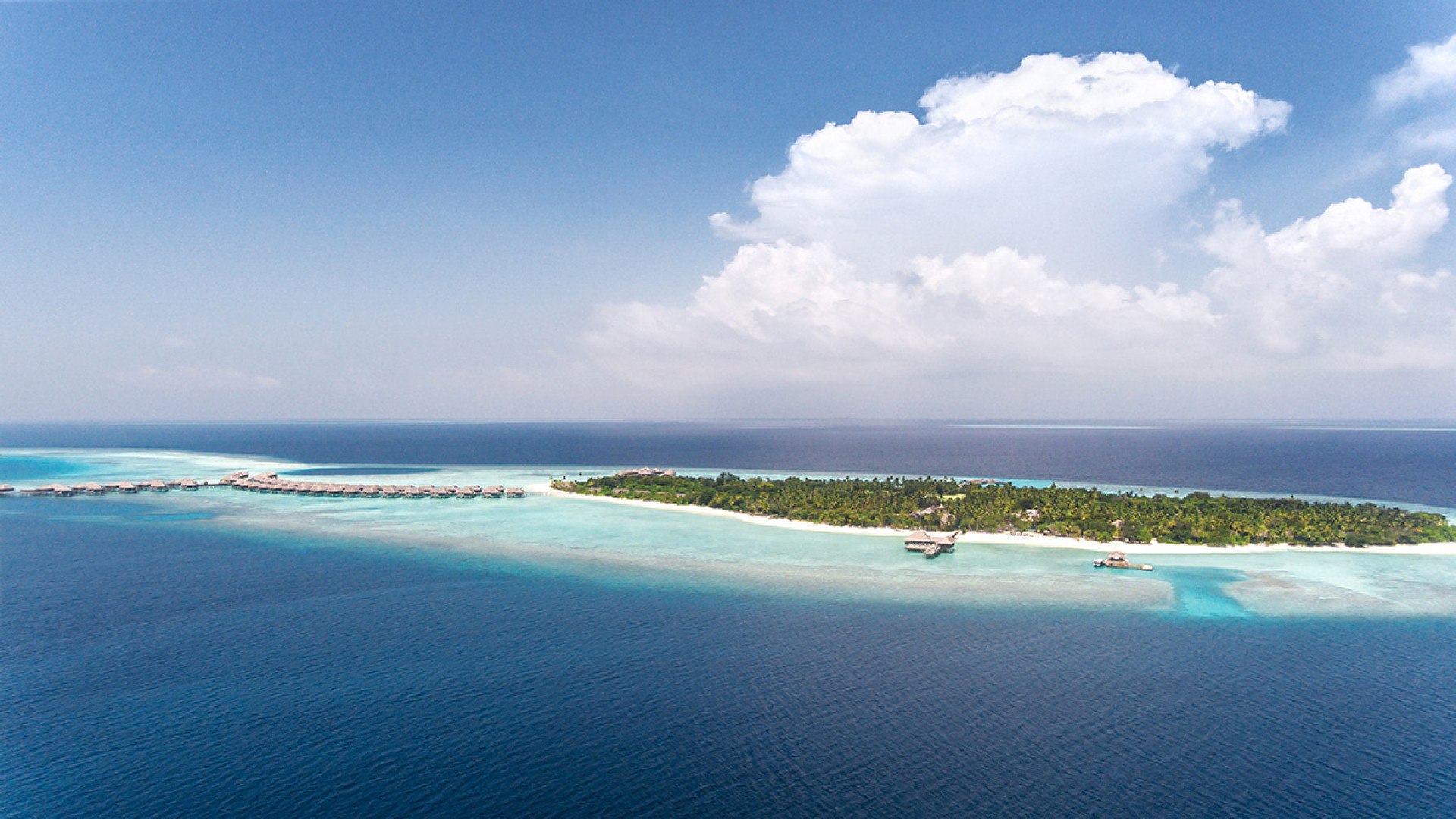 A short but awe-inspiring 25-minute seaplane journey from Malé International Airport, followed by an exhilarating 25-minute speedboat ride, transports you to this stunning tropical paradise where beach foot luxury is waiting. The 125 beach and over water villas and suites have been thoughtfully designed to accentuate the traditional charms and island vibes of Maldivian Culture, offering warm and contemporary furnishings, an incredible sense of space, and stunning ocean views from every vista. Your taste buds will thank you too with four restaurants and two bars to choose from, you can enjoy laid-back al fresco dining, seafood delicacies, international dishes with a Maldivian twist, Italian flavors and Asia inspired creations. At the Reserve bar a selection of some of the finest wines from around the world have been hand selected by the sommelier who will delight in making recommendations especially for you. There are activities to suit every demand from a tranquil reading area for quieter moments to a game of tennis or a workout in the gym, with Indian Ocean views to inspire and motivate you. If you are feeling more adventurous then snorkeling and diving awaits and from May to October hundreds of Manta are enticed into the Baa Atoll by the blooming plankton, often accompanied by whale sharks. Children are welcome too with a superb kids club creating the perfect opportunity for you to relax at the over water spa, before sinking into a comfortable seat with a cocktail to watch the sun disappear at the end of another incredible day.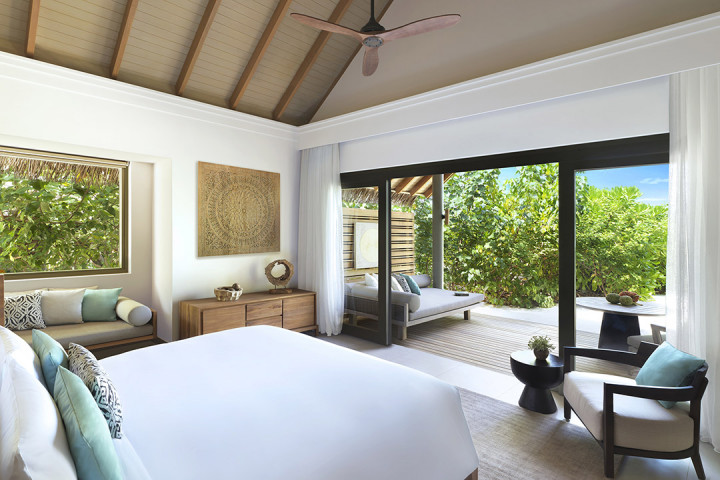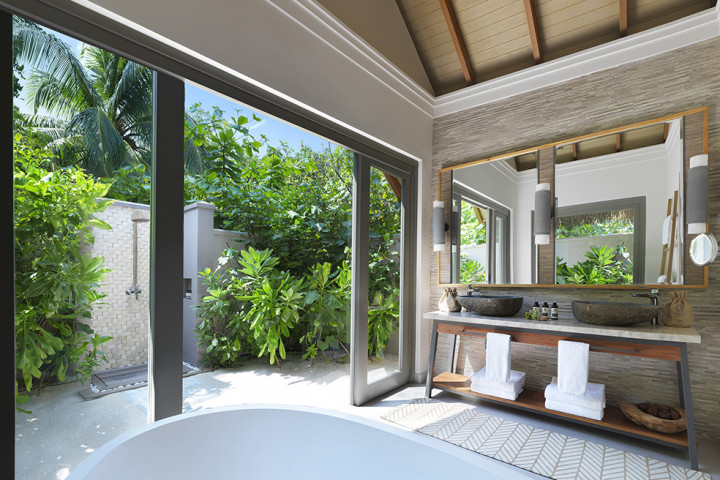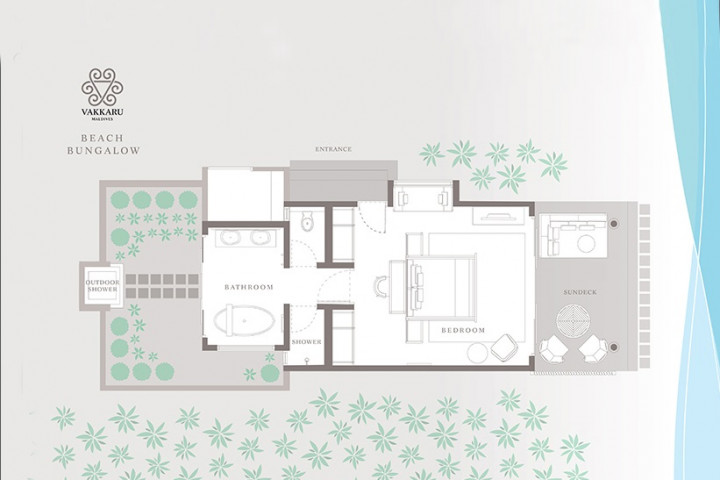 Beach Bungalow
Nestled between swaying coconut trees and lush foliage, Beach Bungalows are perfect for couples who want to step straight off the deck and feel the soft white sand between their toes, before plunging into the turquoise waters of the lagoon.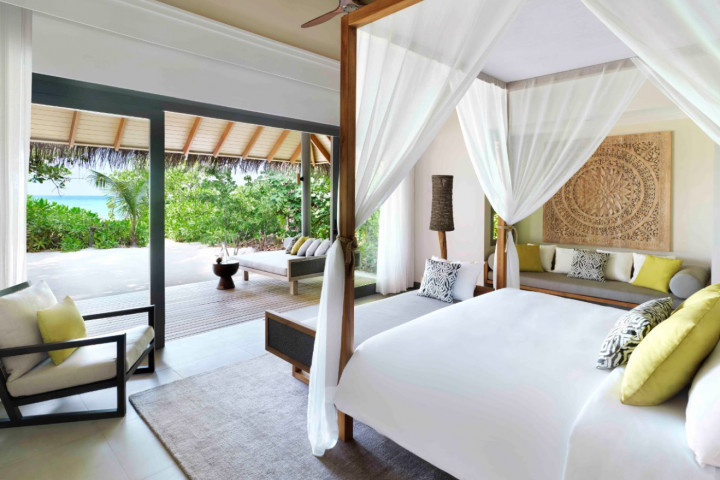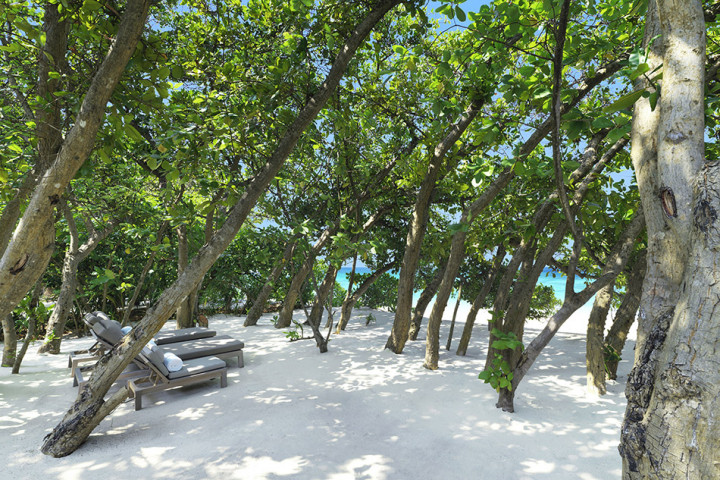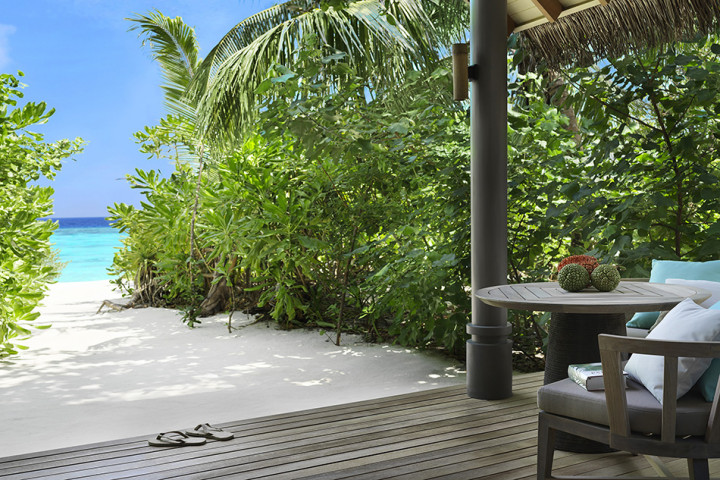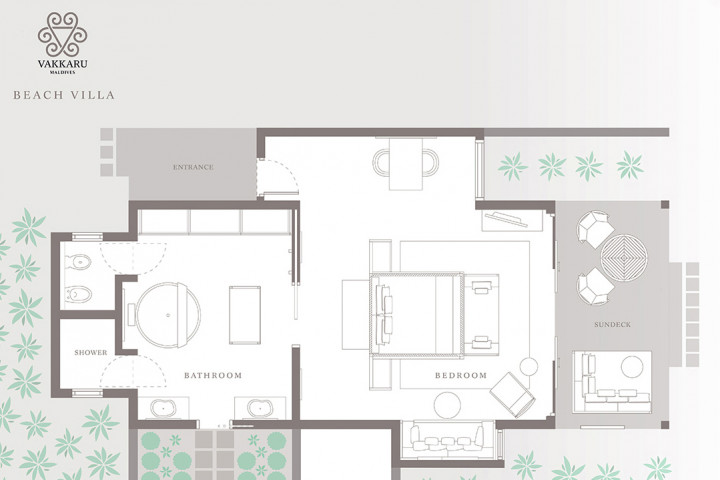 Beach Villa
Dotted across the expansive white, sandy beach on the northern side of the island, the villas enjoy the same sophisticated design as the Beach Bungalows, offering more space for couples or families with one child.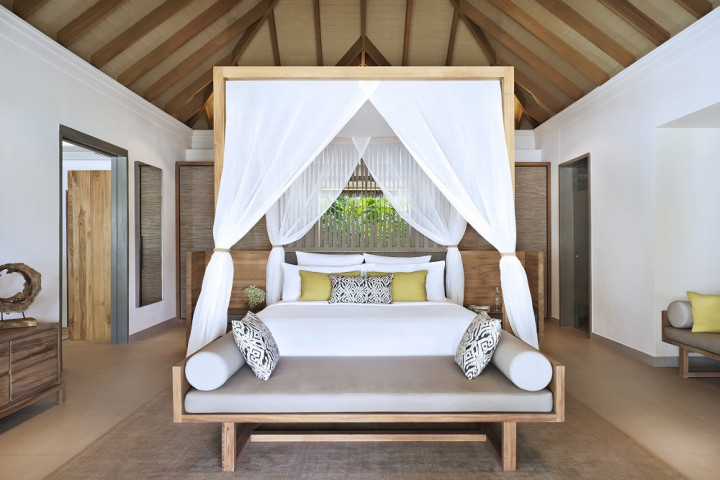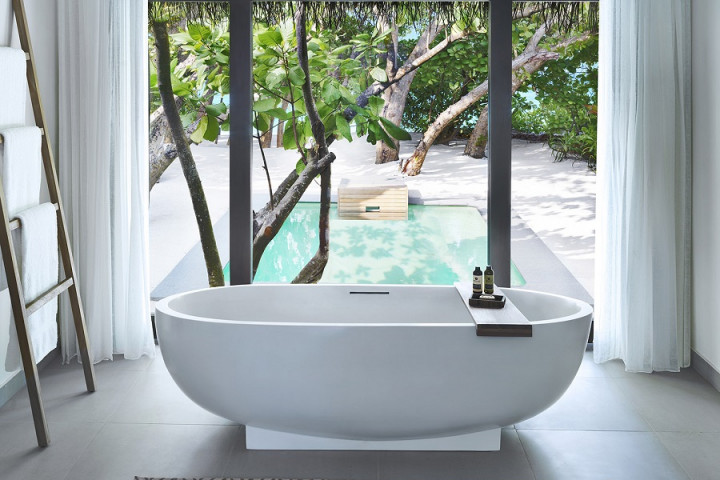 Beach Pool Villa
For an intimate getaway featuring the exclusive design characteristics of all our guest villas plus a separate relaxation and reading area for couples wanting extra space and a private plunge pool to enjoy a sublime stay.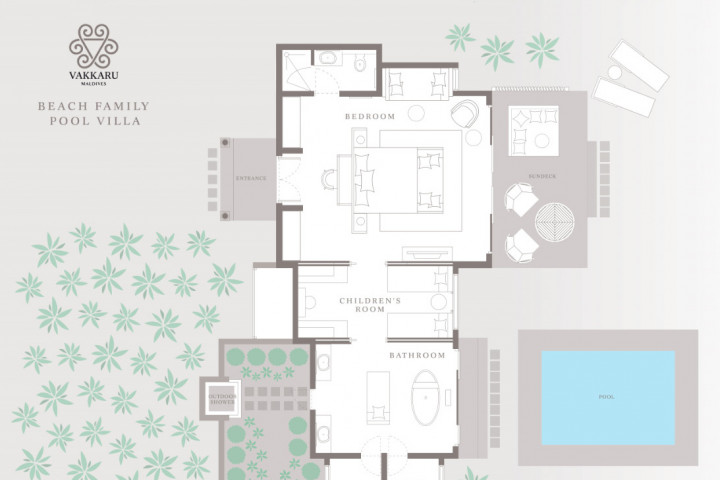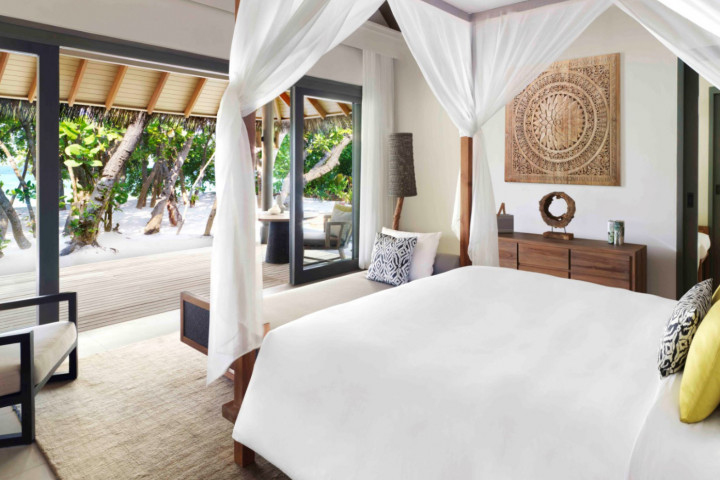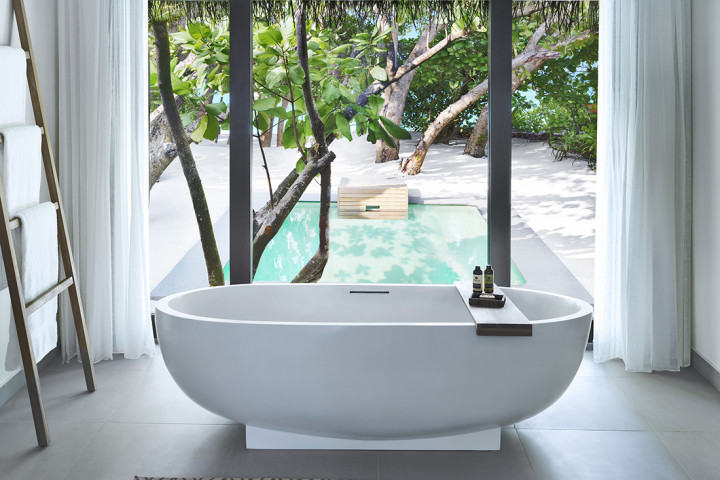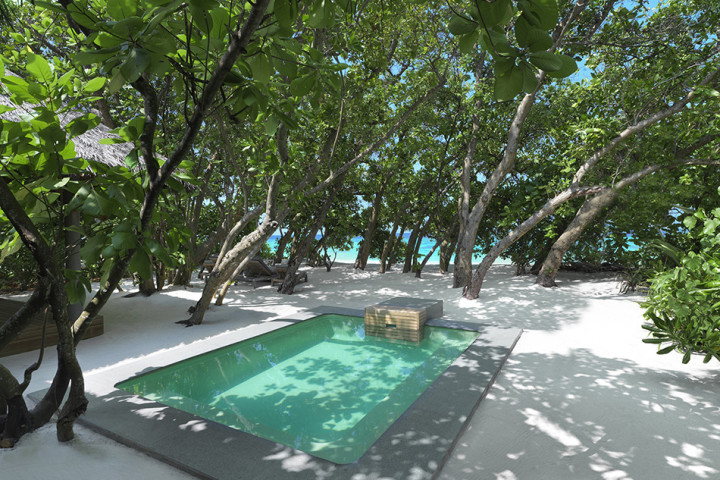 Beach Family Pool Villa
Featuring the exclusive design characteristics of all our guest villas, plus a separate sleeping area for two children and a day bed in the parents' bedroom, the villas provide the ideal space for a family with up to two children under 12 years to relax and enjoy a sublime stay. All of the 20 Beach Family Pool Villas are 250m2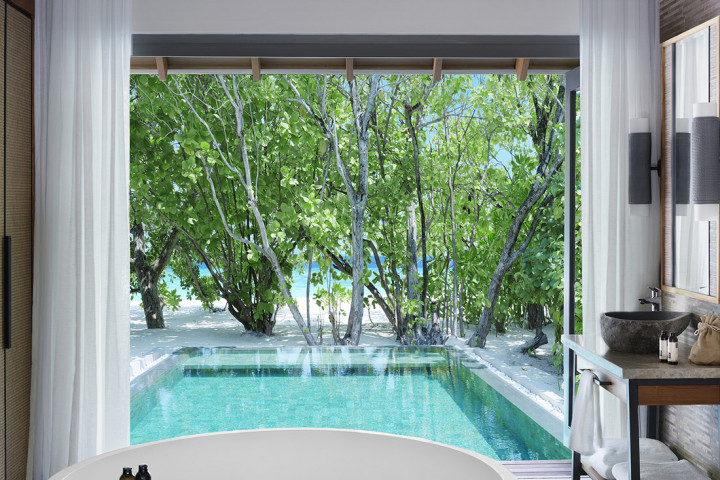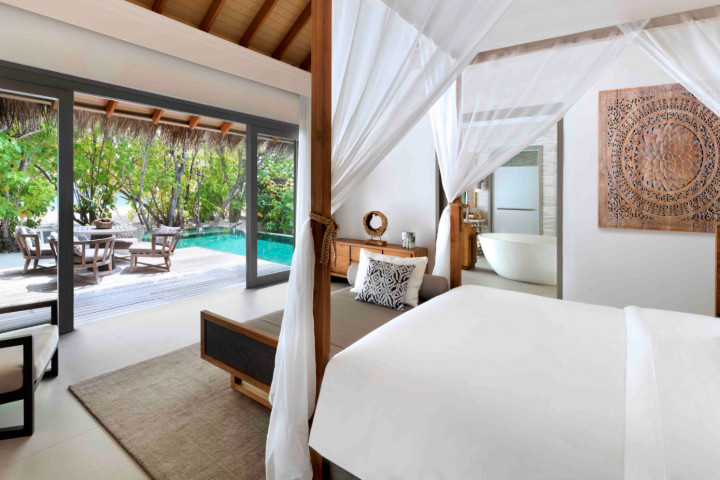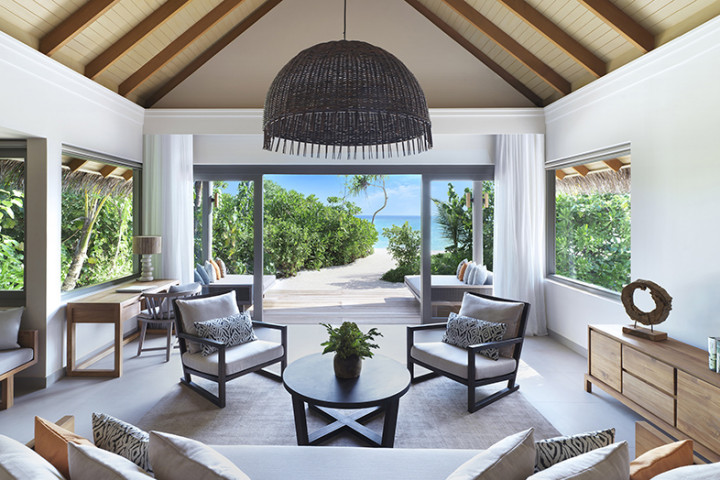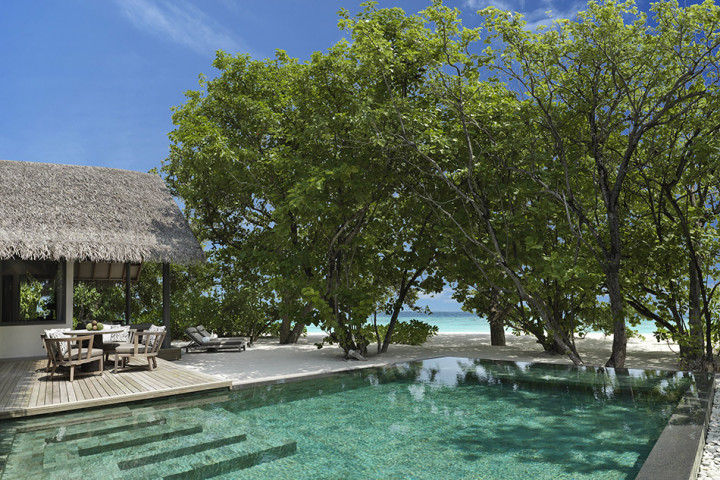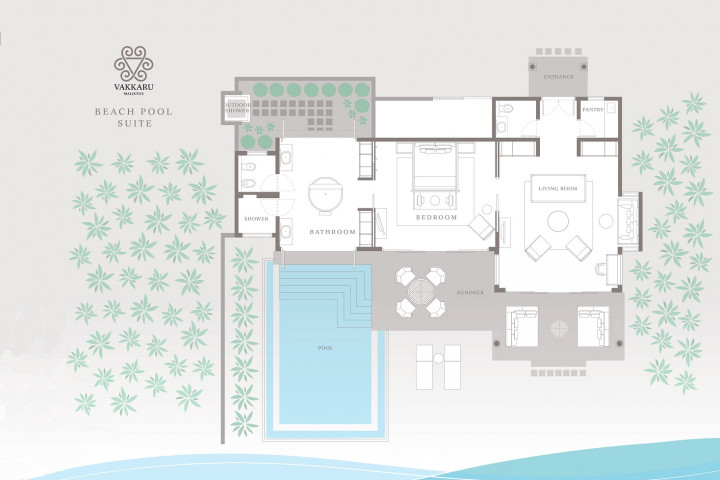 Beach Pool Suite
The serene space of our Beach resort has been enhanced even further in the Beach Pool Suites, which have a separate living room and 32m2 private pool, with the bedroom, living room and bathroom all facing the azure waters of the lagoon. All of the five Beach Pool Suites are 241m2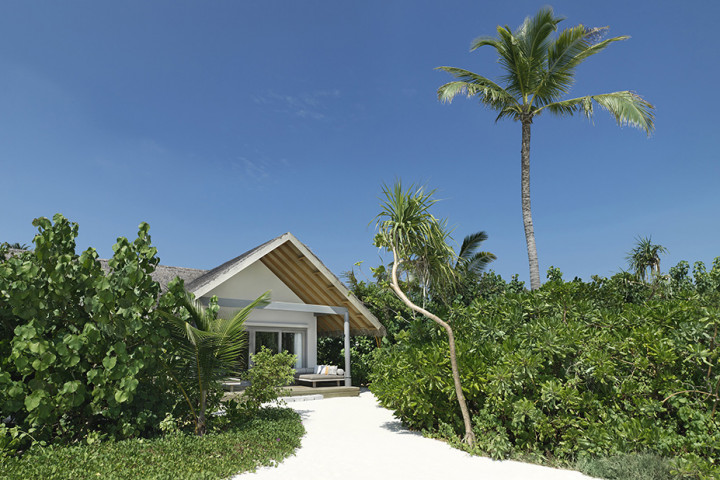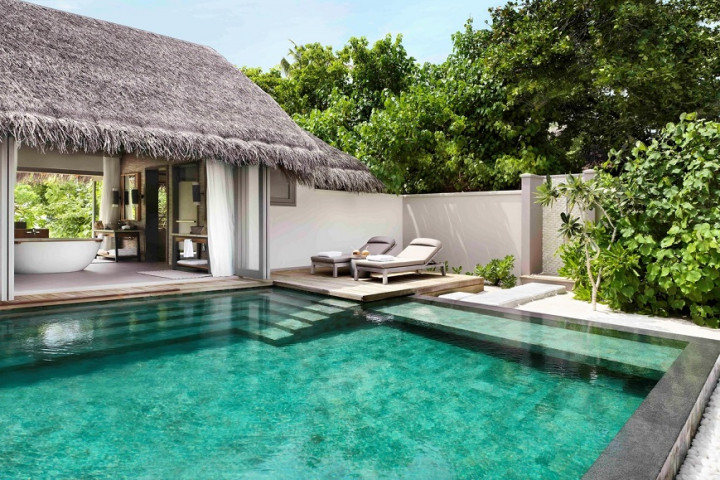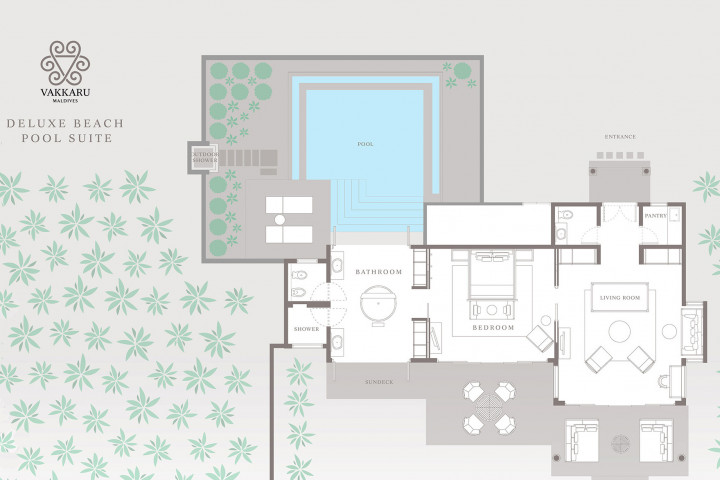 Deluxe Beach Pool Suite
Enjoy the same luxurious surroundings as the Beach Pool Suite, however, the 32m2 private pool is situated in the rear garden if you're seeking total privacy and a little extra space. All of the five Deluxe Beach Pool Suites are 283m2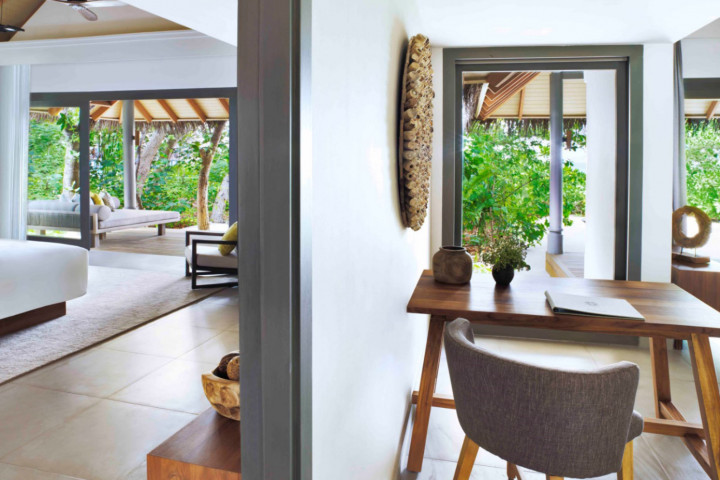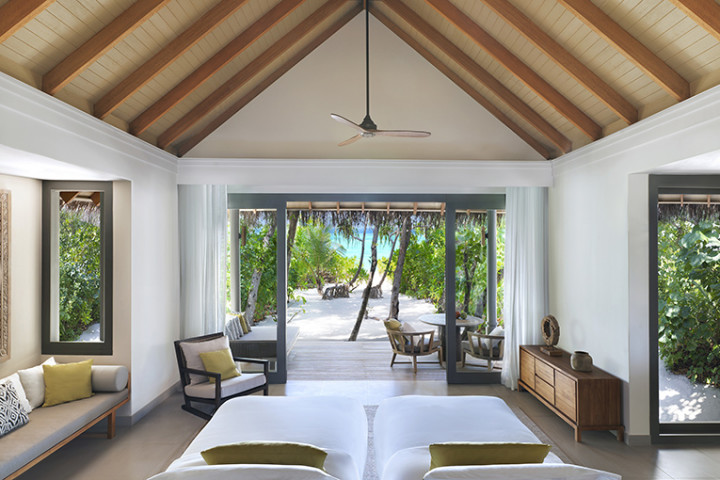 Two Bedroom Beach Villa
The villas offer a wonderful sense of seclusion outdoors and a sociable space within, perfect for families or two couples, with one king and one twin bedroom and an interior interconnecting door. All of the 12 Two Bedroom Beach Villas are 286m2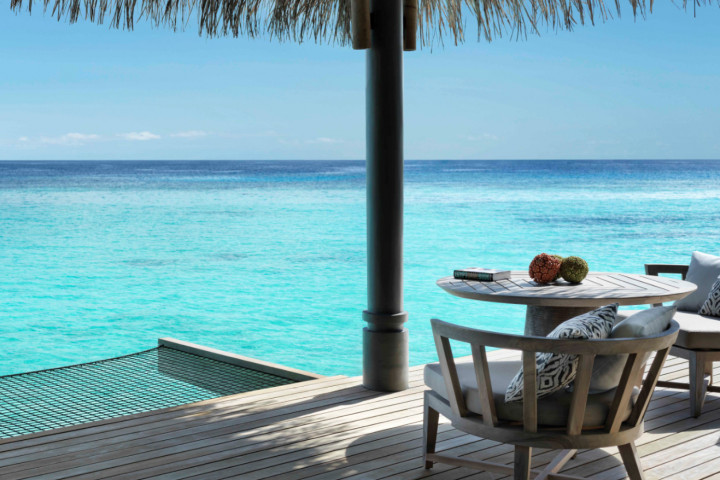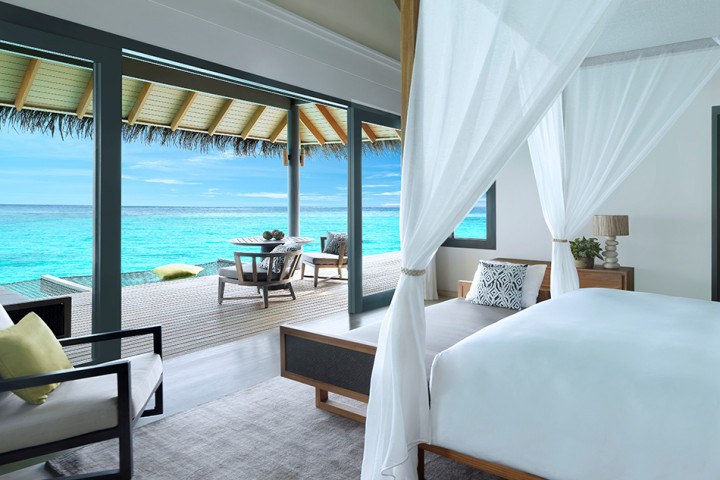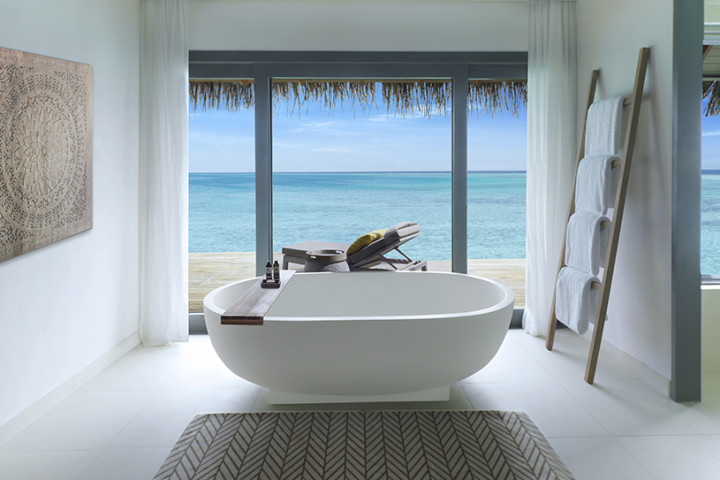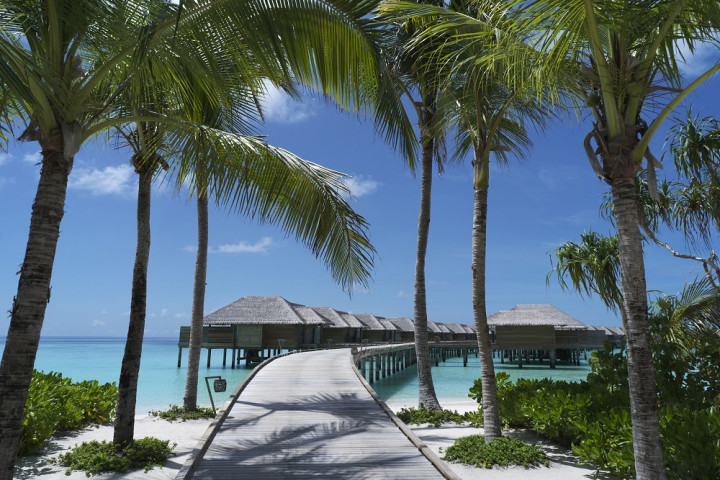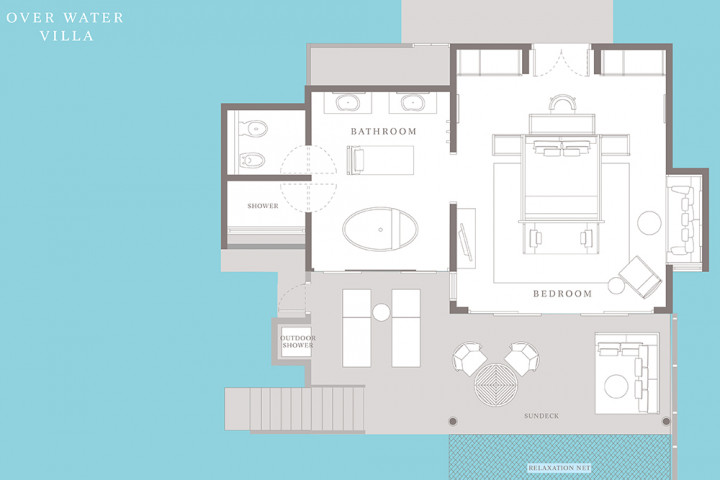 Overwater Villa
The ultimate romantic hideaway set over the turquoise lagoon, our Overwater Villas are elegantly designed for two adults looking to appreciate the wonder of their aquatic surroundings. All of the 31 Over Water Villas are 140m2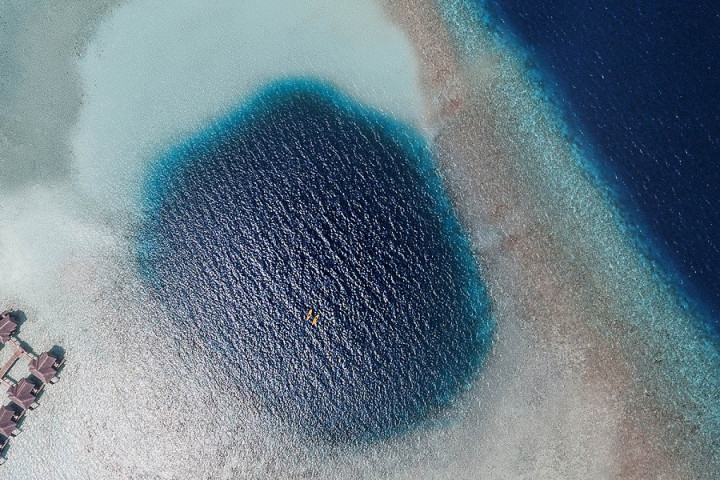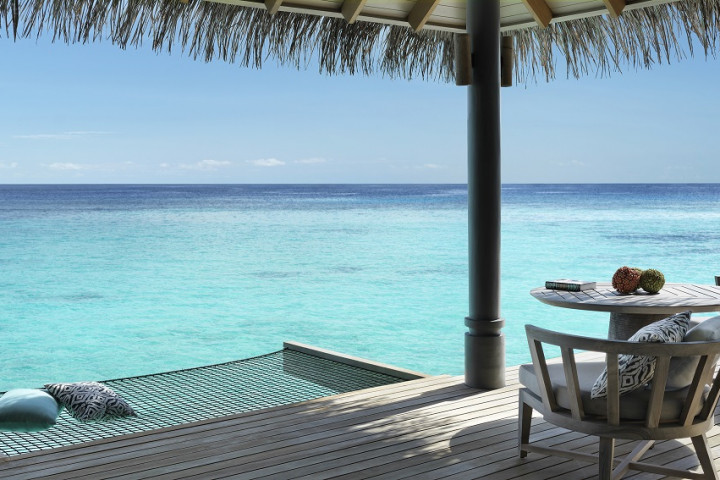 Ocean Villa
With unique lagoon location our Ocean Villas are elegantly designed for two adults looking to appreciate the wonder of their aquatic surroundings. All 12 Ocean Villas are 140m2

Amaany
Tranquil, bright and airy space to start the day; to experience flavor, comforting and nourishing, confident and refined offering an interactive presentation of international cuisines and inspired dishes accented with local tastes and tropical tones.
Vakku
Voguish beach luxury grill hosting the best, simply grilled fare – island style. Decked out, open-air, lapping waves, a holistic gastronomic experience with open kitchen, alluring guests to savor their food from preparation to table service.
Onu
Asian Chic. Fresh, enthusiastic and committed to promoting South East Asian tastes, authentic and curated. Drawn from modern Vietnamese inspiration yet honoring the regions current and past influences.
Isoletta
Vibrant, inspired by the seaside, Italian fashioned with flair. A poolside piazza, relaxed and alive with style, serving contemporary classic lunch and dinner, complete with communal dining table, lounging space and 2 seaters a la Milano.

Activities & Facilities
Water Sports
Exhilarating aqua escapades abound in the Maldives. From adventurous boat trips to catch a magnificent fish which the chef will prepare for your evening meal. Try parasailing with a breathtaking view of the stunning islands below.
Activities at Splash Water Sports include:
Snorkeling trips
Manta Snorkeling Trips (Seasonal)
Fluo Snorkeling
Snorkeling lessons
House Reef Guided Snorkel
Dolphin Quest (will depend in the location of the resort)
Local Island excursions
Sunset Cruises
Traditional Maldivian Sunset Fishing
Big Game Fishing with 4 different times
Casting trips
Sand banks escapes (will depend on the area surrounding the resort)
Private Traditional Maldivian Sunset Fishing
Private luxury boat rental to privatise all the above activities
Jet ski guided tours
Water Sports include
Parasailing
Fun rides
Water Ski session and lessons
Wakeboarding sessions and lessons
Knee boarding sessions and lessons
Stand Up Paddle board
Kayaking including glass kayak
Windsurfing equipment rental and lessons
Sailing courses and boat rental
Kite surfing and Kite Courses
snorkel sets available for guest use during their stay
Conservation:
Coral Adoption Program
Bio Presentations
Splash Retail Shop
Assorted items from top brands of the market including mask, snorkels, fins, rash guards, bikinis, shorts, t-shirts, straps, dry packs, books, reef shoes, sunglasses, cameras, dive accessories and caps
Dive Centre
Amazing world-class dive sites await your exploration:
Guided dive trips for certified divers
Dive equipment rental program (under direct supervision)
Introductory dives through the Discover Scuba Diving Program for non-certified divers
Young divers introductory program starting from 8 years old
Scuba Review Program
Get more information about the available divingpackages.
Offerings also include:
Beginner and continue education courses from Scuba Diver to Dive Master course including; Open Water Diver, Adventures in Diving, Advance Diver and Rescue Diver
Specialty courses such as Nitrox diver, Digital Photography, Peak Performance Buoyancy, Night Diver, Drift Diver, Boat Diver, Naturalist Diver and few more
Private dive trips, courses and programs in several languages
Camera rental
Sports Fields
Make the most of year-round sunny skies and balmy evenings with two all-weather floodlit tennis courts and a badminton court.
Parrotfish Club
Extensive kids' club facilities offer tailored activities with certified team members for children aged between 3 and 12 years.
Indoor arts, craft, play and activity areas have been designed to capture the imagination of the little ones and the outdoor exploration space features a children's pool.
Children's dining options and cooking classes are some of the activities available.
Make an enquiry from our experience staff about the things your children can do in our child friendly resort.
Coconut Club
Unforgettable family experiences and a haven of fun is in store with schedules activities as well with pool tables, table tennis tables, foosball tables, board games, tea and coffee making facilities, a quiet lounge and reading area.
Experience fun activities during your stay in Vakkaru Maldives 5-star resort.
EXCURSIONS
Famed for its verdant tropical splendor and crystal-clear waters, the Maldives brings you close to tranquil underwater nature and ultra-immersive experiences.
Away from the resort and amongst the many atolls in the Maldives, Baa Atoll is renowned as a place of outstanding pure beauty, reflected in its status as a UNESCO Biosphere Reserve because of its unique biodiversity.
Guests can explore the underwater marvels on the magnificent house reef or venture further to see the whale sharks and manta ray at Hanifaru Bay.
Also located close by Vakkaru, Thulhaadhoo is well known for being the only island where Maldivians are still practicing traditional ways to create lacquer artefacts, which was historically used to supply the country's noble families.