Velassaru Maldives
Maldives undressed. Luxury disrobed. Secluded but not isolated. Velassaru is located on a private coral island in the turquoise sea 25 minutes by speedboat from Male airport.
Book Now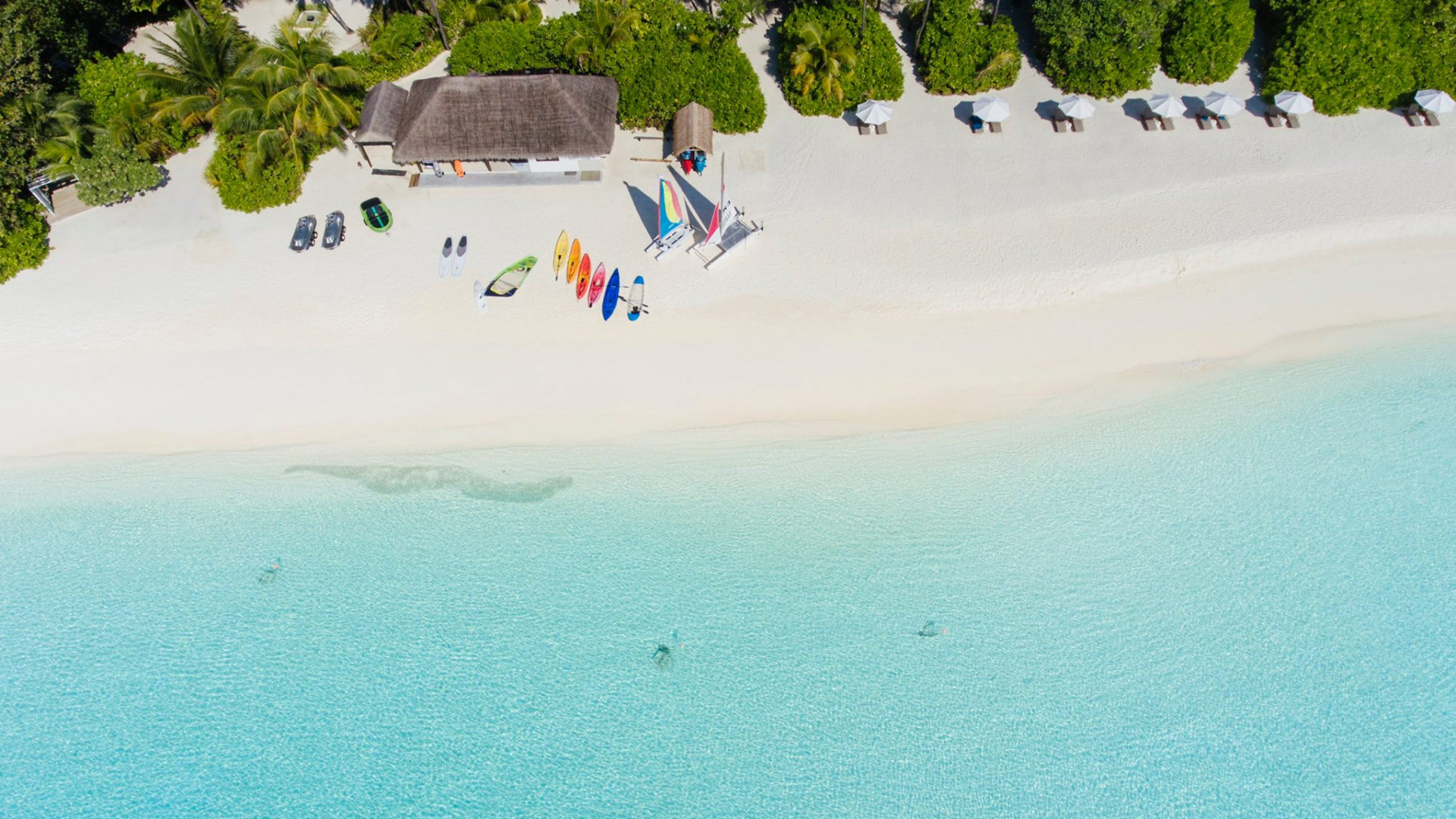 Maldives undressed. Luxury disrobed. Secluded but not isolated. Velassaru is located on a private coral island in the turquoise sea 25 minutes by speedboat from Male airport. All room types offer a collection of amenities to help guests enjoy their holiday experience; King-sized bed, private bar, WIFI internet, in-villa safe, DVD player, and comfortable deck areas for relaxing and working on the Maldives suntan. A choice selection of five restaurants awaits any sophisticated palate. Signature cocktails and selection of daily light offerings can be enjoyed at the pool side bar FEN. To view a spectacular sunset while sipping champagnes or Mojitos, the guests can chill out at the CHILL bar. Velassaru Maldives offers guests extensive island activities both under and over the water. If the guests feel like trying out a bit of aquatic adventure, the water sports centre, GLIDE, offers activities from fun tubes, jet skis, seabobs, parasailing and many more. The dive centre, Immersion, offers a wide range of diving, which can be personalized for beginners and advanced divers to enjoy any of the nearby 30 dive sites.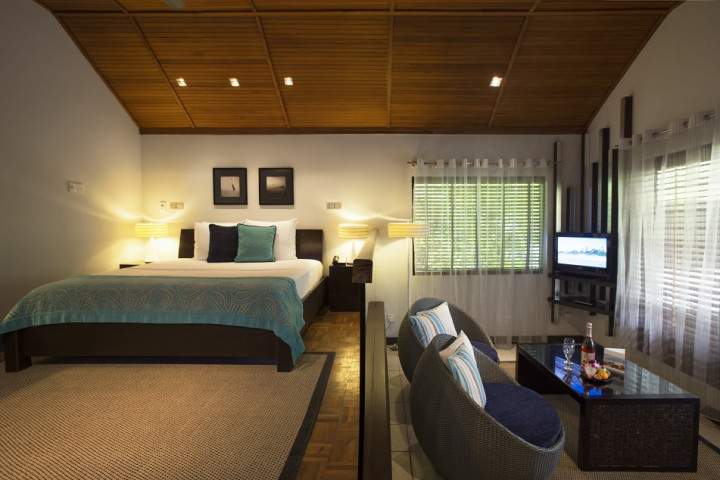 Deluxe Bungalow
7 Deluxe Bungalows are nestled in lush gardens, just moments from the shoreline, They include everything to make your stay comfortable.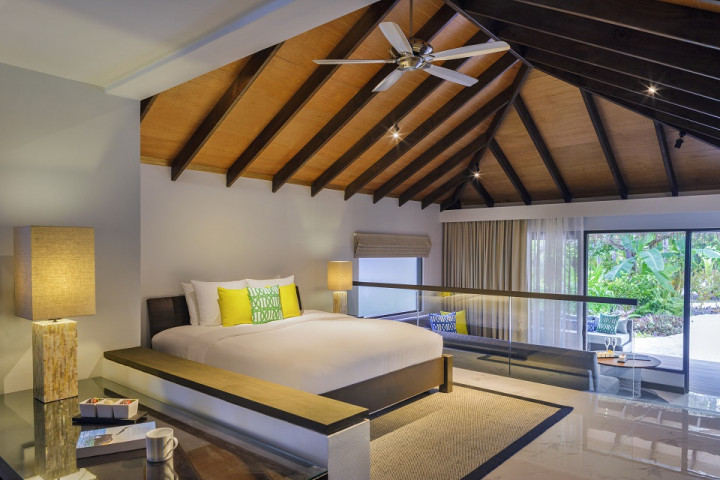 Deluxe Villa
Understated luxury. With convenient access to a soft white sandy beach, your Deluxe Villa is a sanctuary unto itself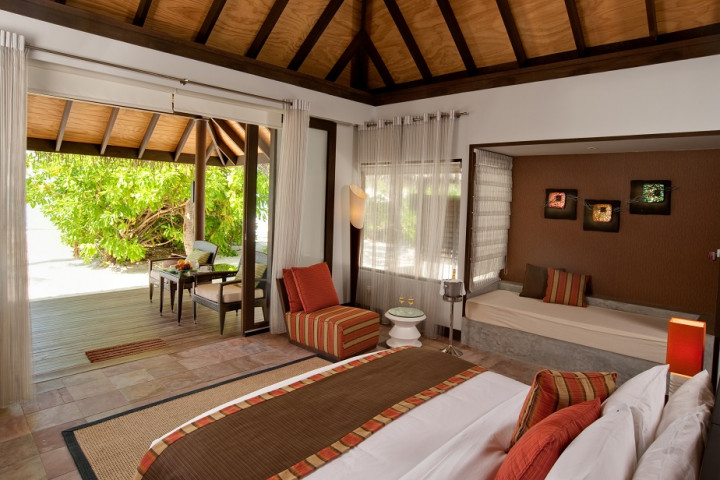 Beach Villa
Beach Villas are located along the shoreline, with direct access to the water. Each is equipped with everything you need for a comfortable stay: Our 14 Beach Villas feature elegant, natural highlights of stone and teak across 96sqm of elegant space, including oversized bathrooms with outdoor showers. Full-length glass doors allow direct access to the beach and sea.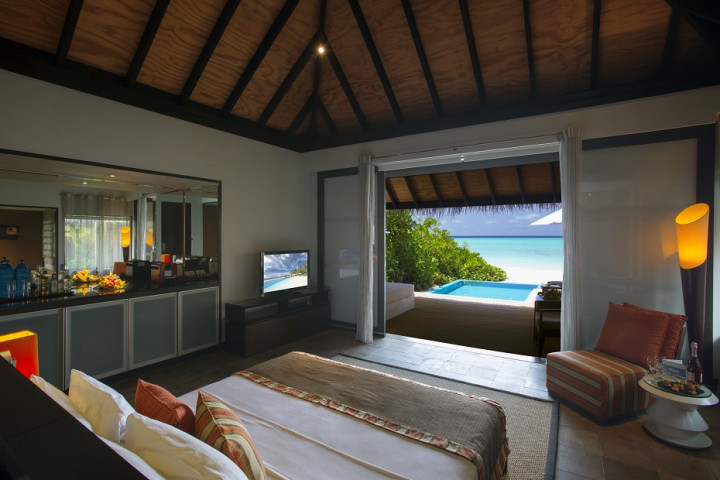 Beach Villa with Pool
Each Beach Villa with Pool is positioned along the shoreline with direct access to the water. Each is equipped with everything you need for a comfortable stay: Enjoy all the comforts of a Beach Villa with the addition of a private plunge pool on your beachfront deck. Each of our 16 Beach Villas with Pool offers 116sqm of spacious living.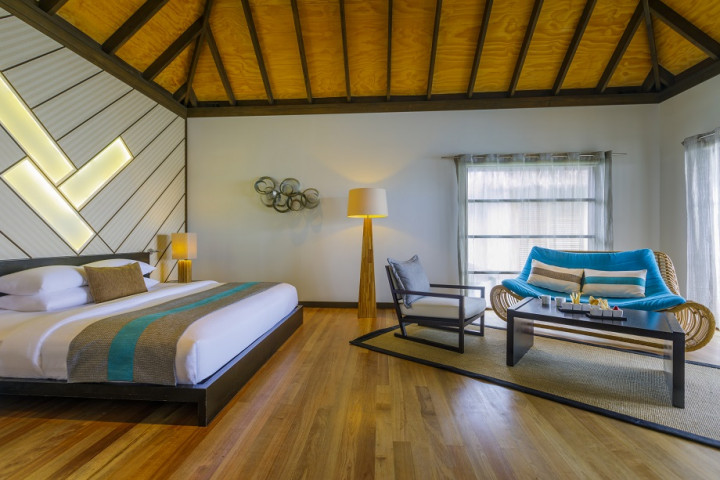 Water Bungalows with Pool
Our 17 Water Bungalows with Pool extend over the lagoon. Each is equipped with everything you need for a comfortable stay: These 80sqm Maldivian-style overwater bungalows feature modern interiors with natural tones and panoramic views. A spacious sundeck features a private pool that overlooks the lagoon.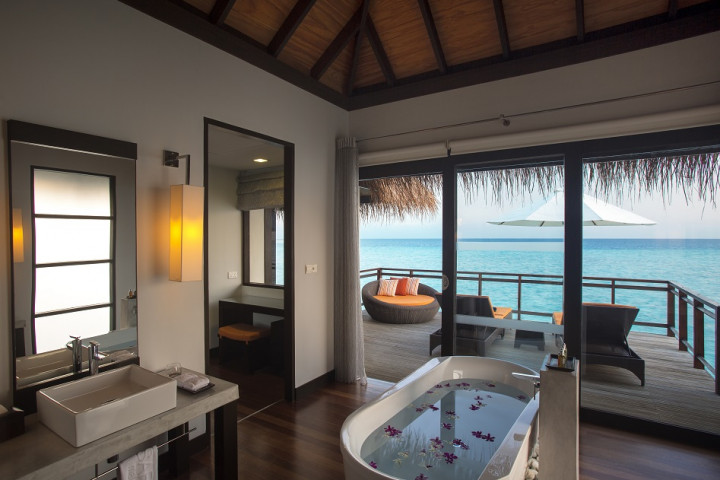 Water Villa
24 Water Villas are stylish over-water ocean retreats offering beautiful views of the lagoon. Each is equipped with everything you need for a comfortable stay: Your Water Villa offers 112sqm of modern living, positioned enviably over our sparkling lagoon, with far-reaching Maldivian views. Bathed in warm, natural light and equipped with lavish amenities, each villa offer direct access to the lagoon and a spacious private deck to lounge on.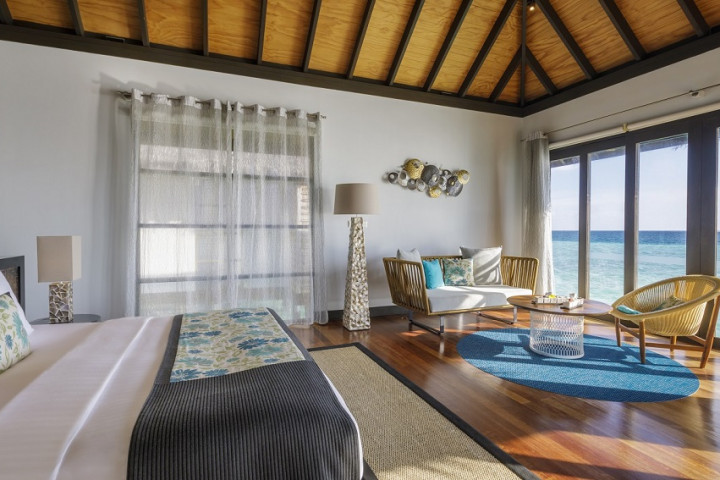 Water Villas with Pool
4 Water Villas with Pool offer 112sqm of stylish over-water living, complete with a private pool on the sundeck. Each is equipped with everything you need for a comfortable stay: These villas offer everything you'll find in a Water Villa, with the addition of a private infinity plunge pool on the sundeck. Warm, modern interiors complement endless water views alongside pampering amenities that ensure a luxurious stay.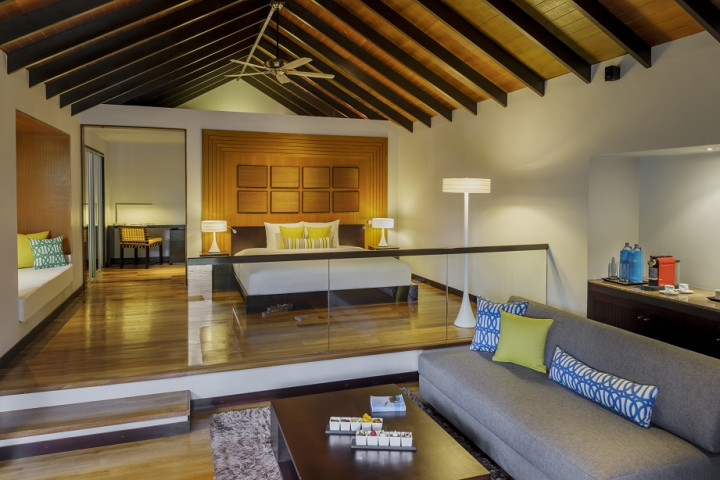 Deluxe Villa with Pool
Offering complete privacy, the 110-sqm Deluxe Pool Villa is located on its own private garden and fronted by a shaded patio. Lounge in the living area and bathe in the elements in your secluded outdoor courtyard with oversized plunge pool deck and outdoor shower. Bask in the sunshine in your private garden courtyard. One of its kind,the Deluxe Villa with Pool offers ultimate privacy, with split-level interiors, a private outdoor shower and intimate garden courtyard.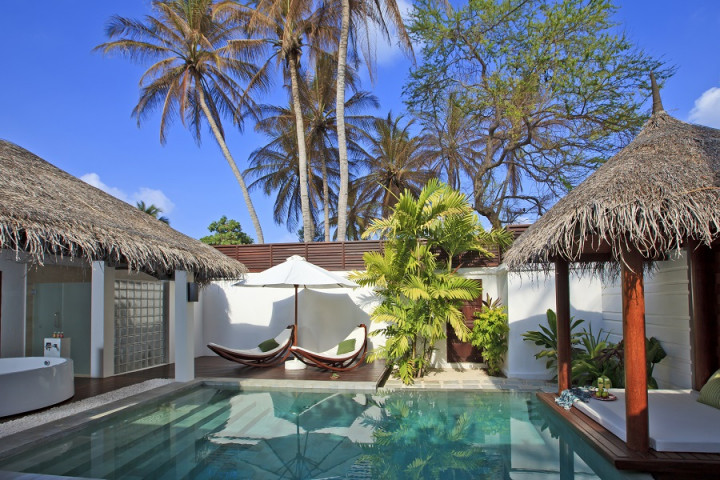 Pool Villa
Intimate sophistication amidst verdant surrounds and the luxury of an oversized plunge pool - our singular Pool Villa sets the scene for romance. It is equipped with everything you need for a comfortable stay: The Pool Villa provides couples with their own private pool and al fresco whirlpool tub, plus a spacious split-level bedroom with ensuite. This intimate setting offers utmost privacy, while personal butler service ensures all needs are discreetly met.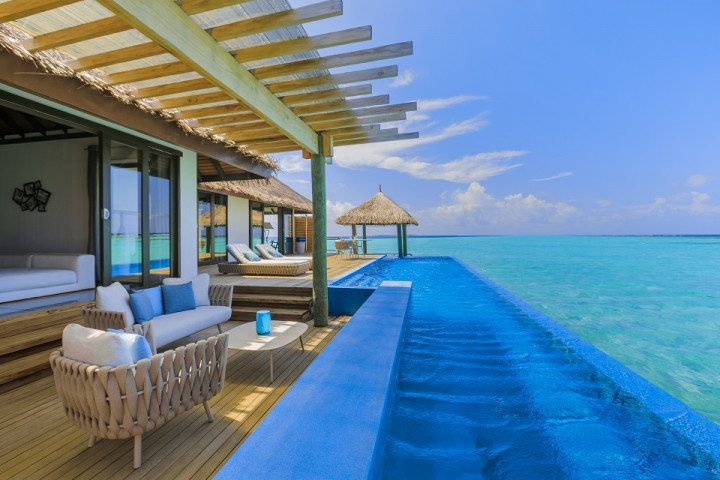 Water Suite
An impressive 270sqm sanctuary reaching out over crystalline waters, our singular Water Suite provides the ultimate Maldivian experience. Inside, you will find everything you need for a comfortable stay: Bright interiors open out to a private sundeck with steps leading down to the brilliant blue lagoon. Personal butler service, a private bar, a home theatre system and luxurious bathroom amenities add to your comfort. An expansive terrace with an infinity pool, dining area, thatched gazebo and outdoor rain shower assure ultimate privacy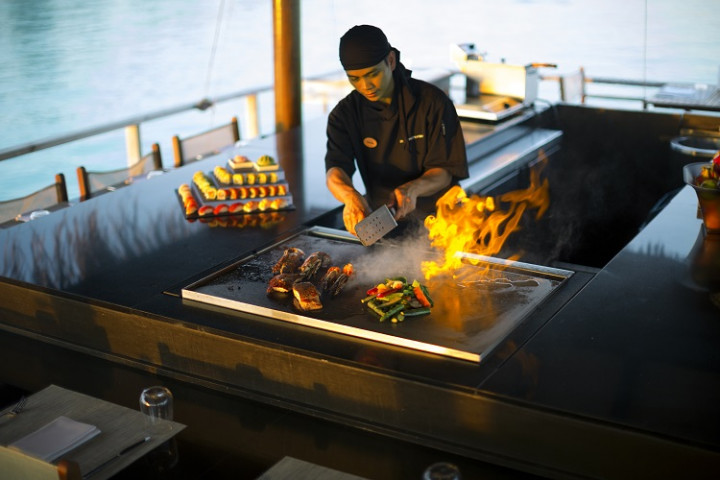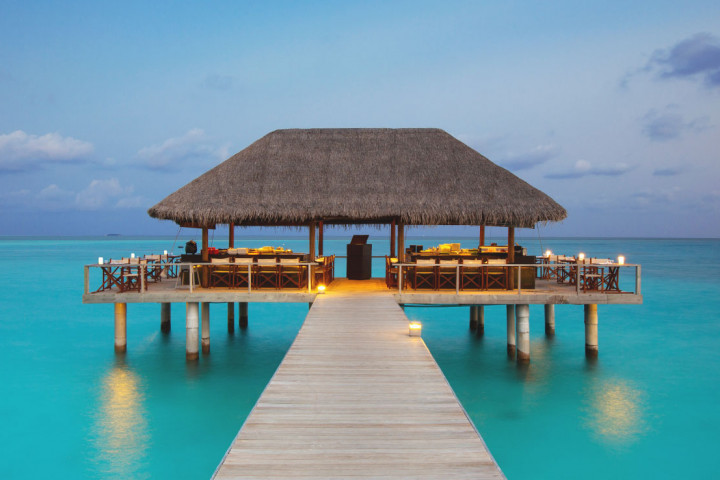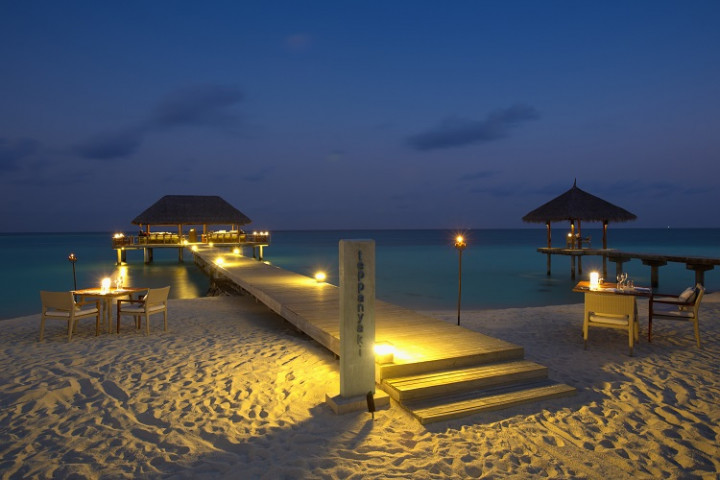 Teppanyaki
Seated by the water's edge, over the lagoon, savour seared salmon from flame-hot woks. Chefs showcase their creativity with ocean vistas in the background. Exciting bites of sushi and sashimi, innovative dishes. Celebrate the freshest cuisine at an amazing Japanese restaurant on a Maldives island.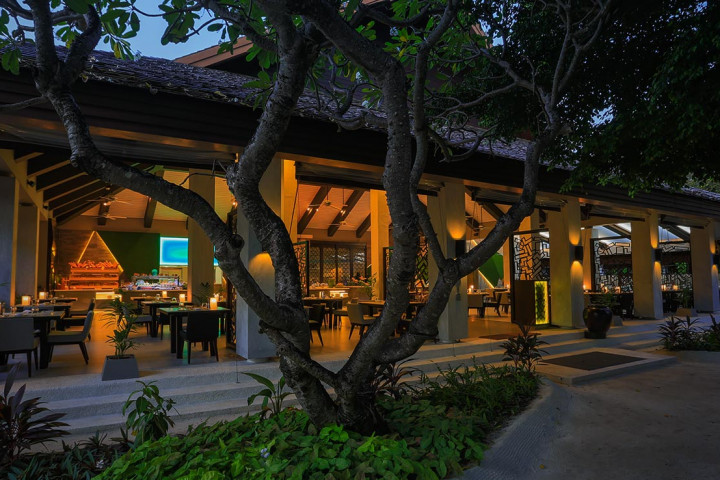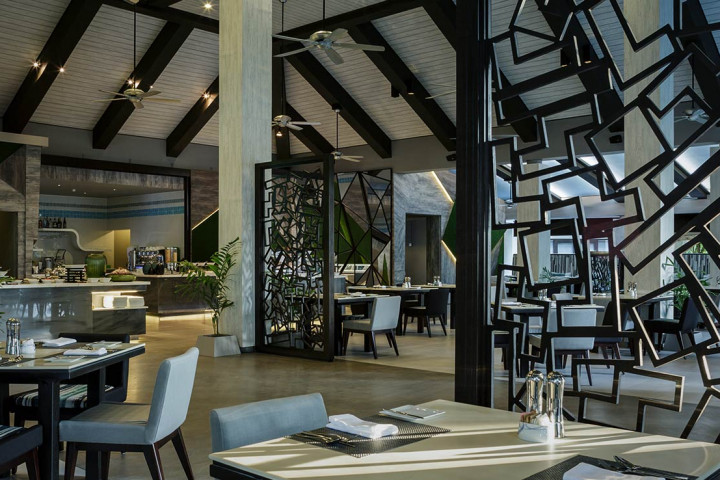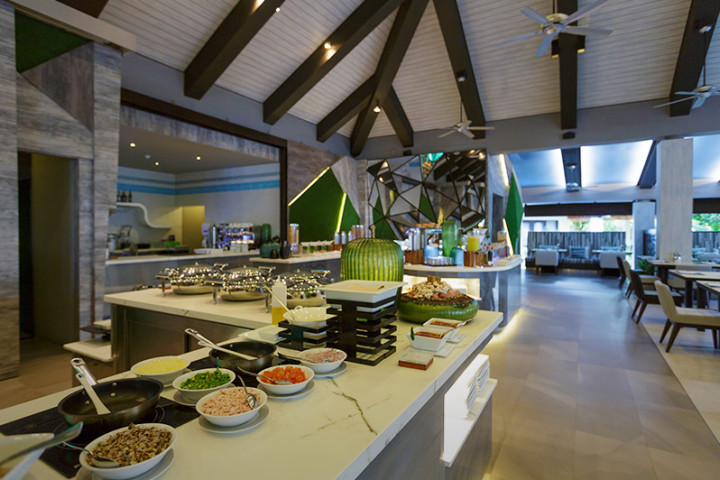 Vela
Cooking stations with an array of tantalising flavours. A rich and varied gourmet breakfast amidst lush Maldivian island scenery. Abundant international favourites and new dishes to discover, complete with succulent imported meats and the freshest local seafood. Exotic tastes in a spectacular setting.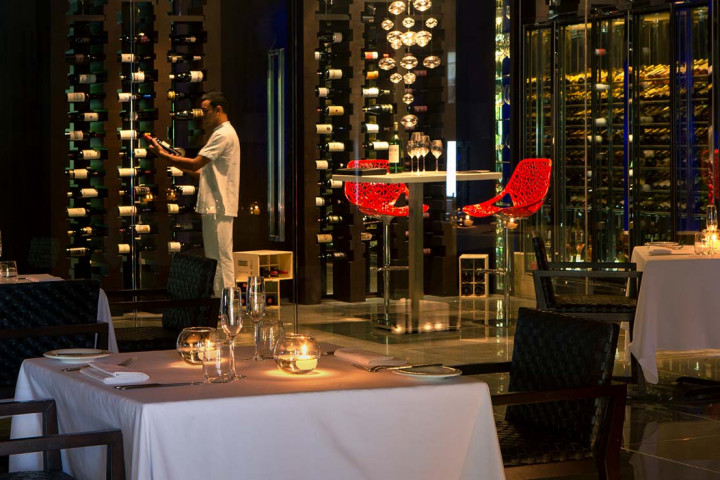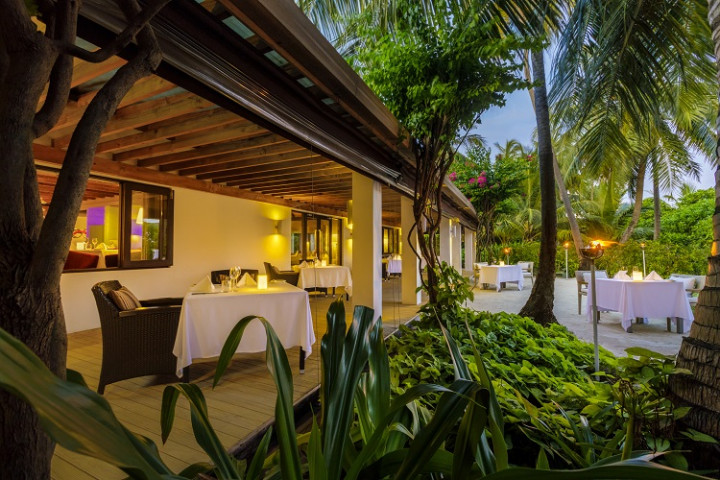 Etesian
A journey of culinary perfection on a serene and intimate environment featuring a sophisticated Latin American-inspired menu which draws inspiration from the finest quality ingredients available.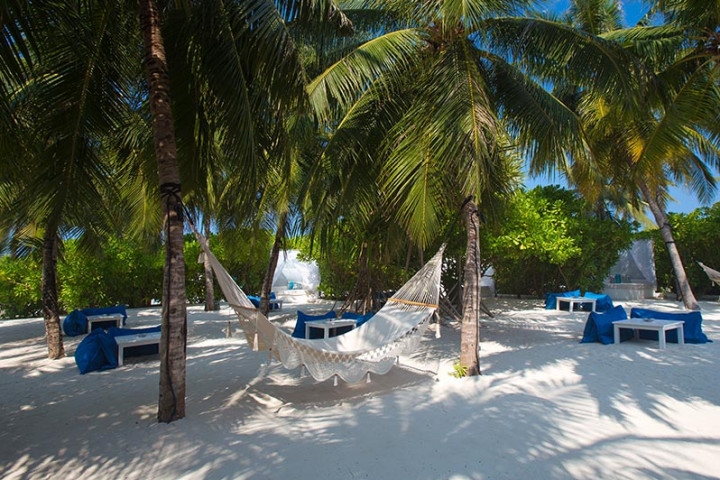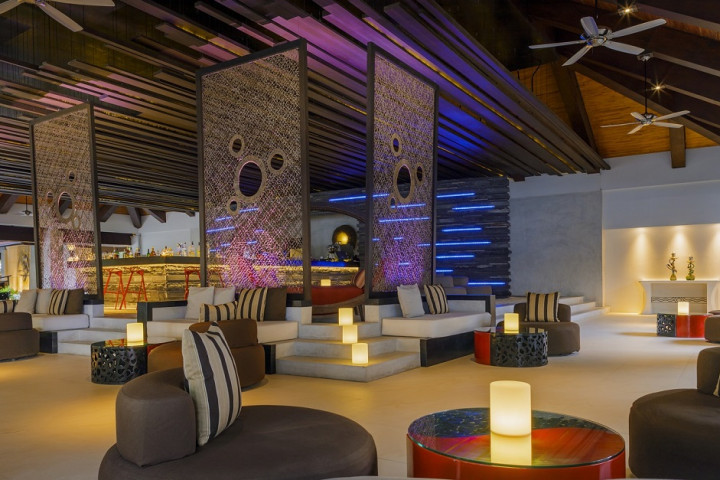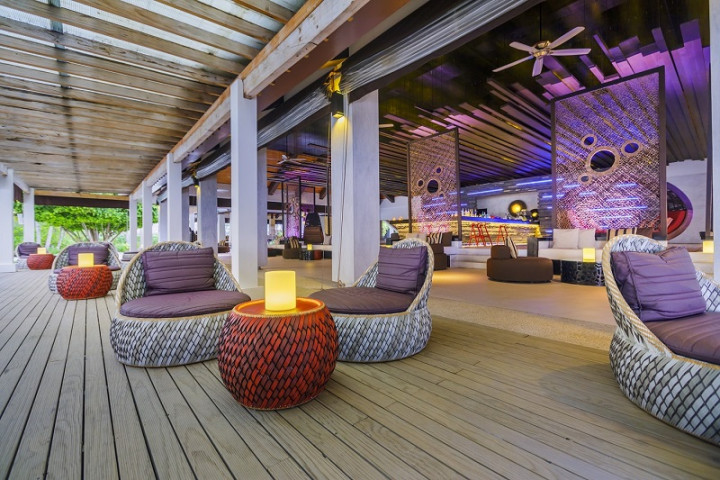 Fen Bar
Asian and European treats complemented by your favourite reds and whites. Inside, sink into luxurious oversized daybeds and beanbags whilst enjoying creative concoctions. Dark furnishings with the occasional dash of neon. A soundtrack of inspired eclectic beats.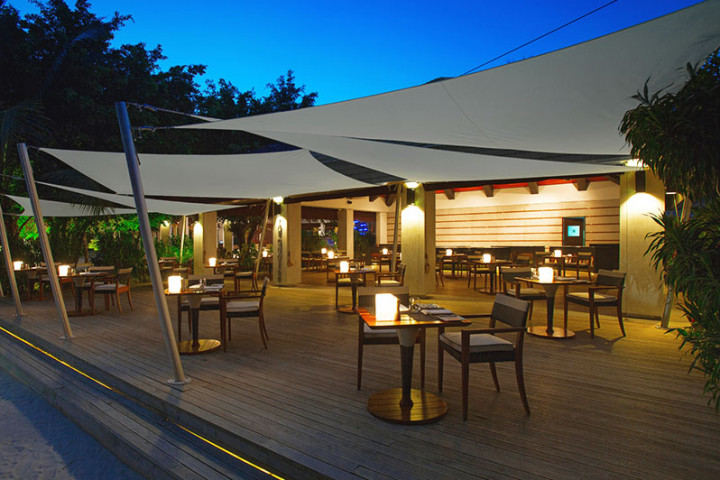 Turquoise
Continental and Asian influences in a relaxed yet intimate setting. Palm trees provide welcome shade. Fresh fruit juices offer refreshment.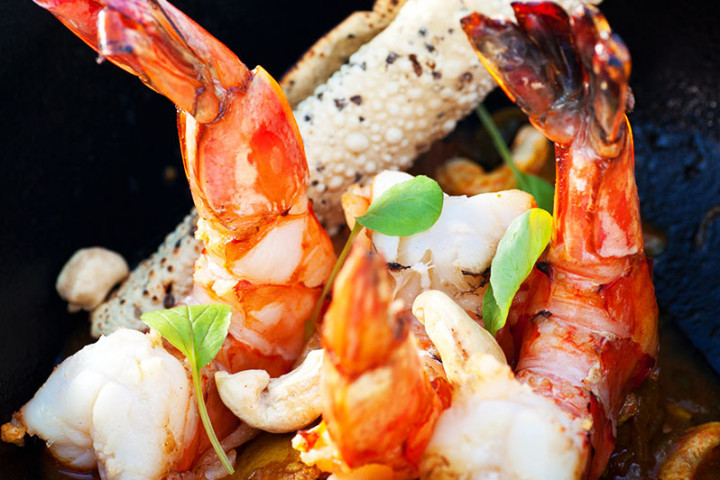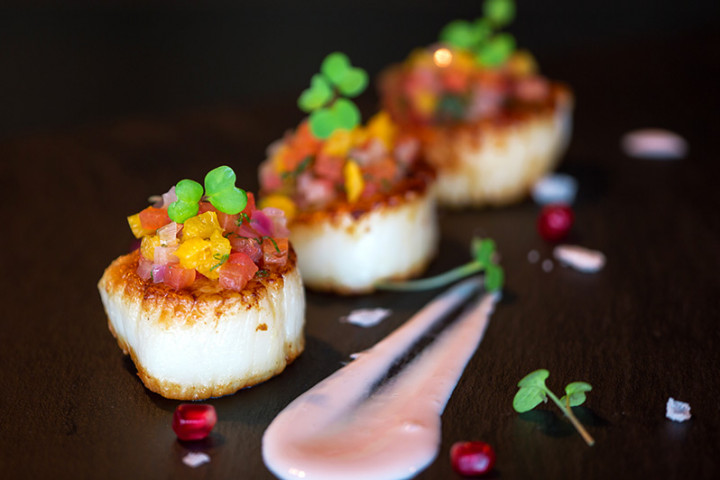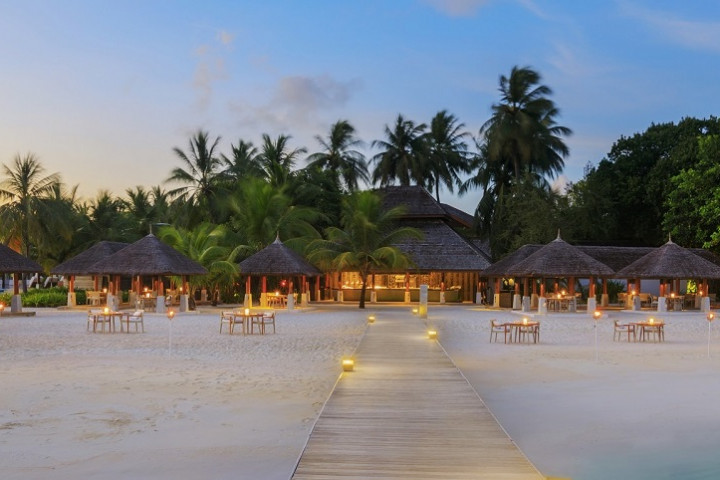 Sand
Sit by the water's edge or in one of the private dining pavilions against a perfect Maldivian sunset. Indulge in beautifully prepared Pan-Indian Ocean specialties or choose from the chef's signature menu.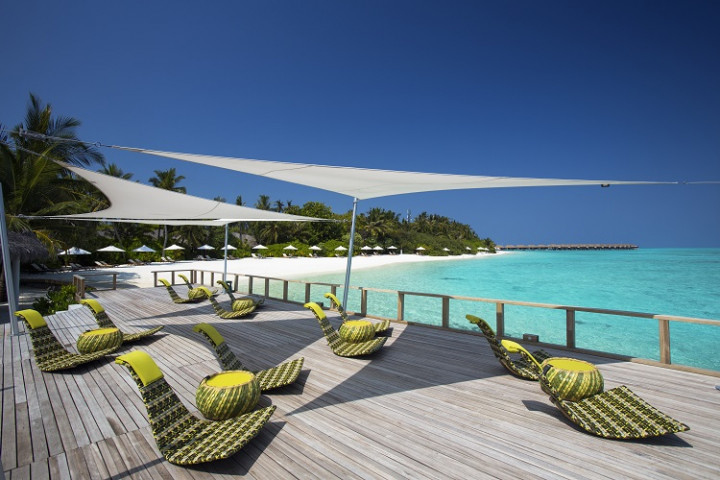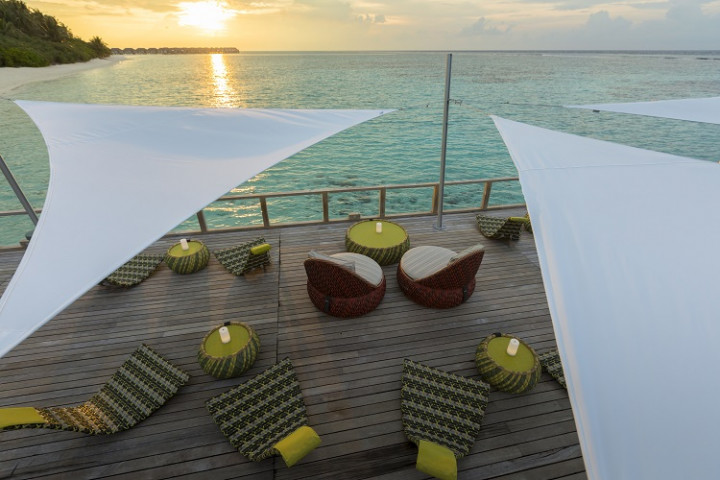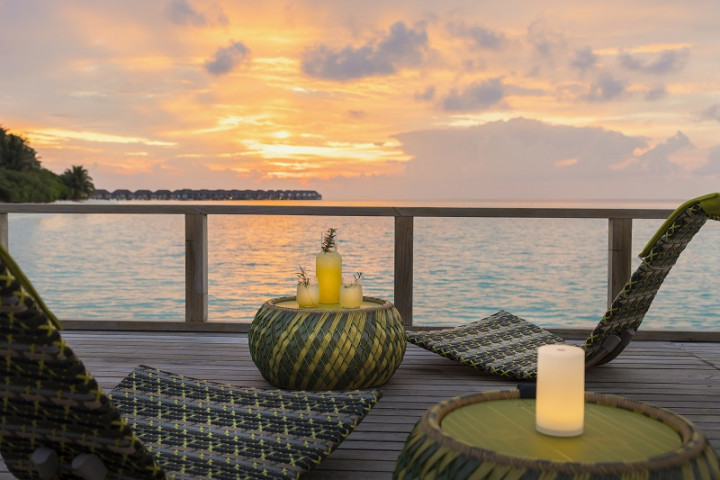 Chill Bar
Perched over brilliant aquamarine waters, Chill Bar offers delectable mixed drinks and light bites. Nibble on international tapas-style fare. Delight in mouth-watering salads. Order a refreshing cocktail while basking in glorious sunshine, then raise a toast to the perfect sunset, night after night.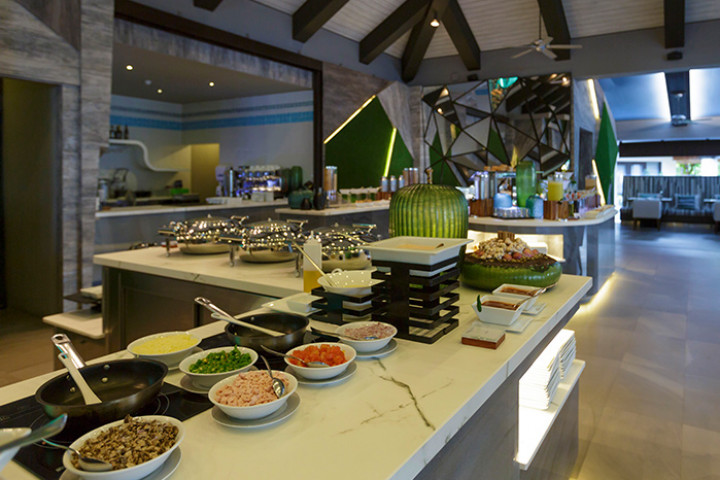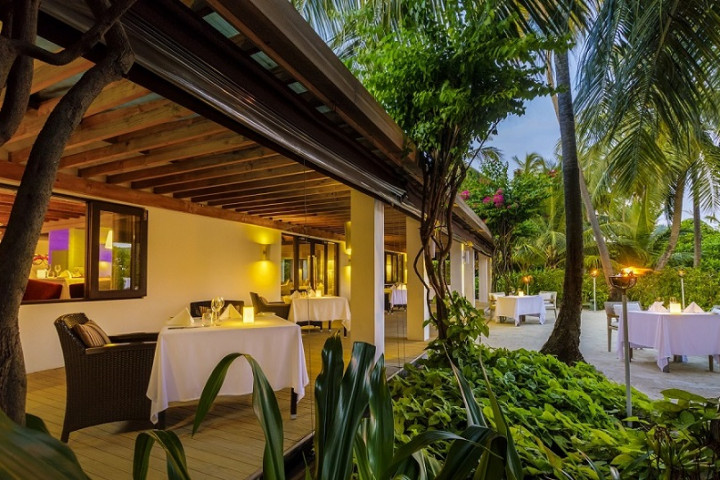 Velassaru Indulgence
Get a taste for the finer things. Velassaru Indulgence is a carefully crafted package that offers the finest culinary experiences and a range of extras. Lunch at Turquoise Restaurant, Fen Bar or Chill Bar. Enjoy dinner at any of our esteemed restaurants. Treat yourself to complimentary soft drinks, juices and water. Then, perhaps indulge in something stronger - house beer or a selection of wines and spirits. The Velassaru Indulgence package also includes complimentary snorkelling equipment and the two-hour use of an ocean kayak.

Activities & Facilities
ACTIVITIES
MARINE CENTRE

Velassaru's in-house marine biologist and dive master invite you to explore the wonders of the Maldivian underwater world, and see first-hand the Marine Centre's active involvement in coral plantation. Give back to the natural world. Protect it for generations to come.
Bioadventures
House reef exploration with seabob
Marine biology presentations
WATER SPORTS
Velassaru offers something for everyone. Explorations that satisfy your need for speed. Activities that immerse you in adrenaline and adventure. Fun sports for the young at heart. And slower-paced recreational endeavours that relax and revive.
Water-skiing
Knee boarding
Wakeboarding
Windsurfing
Parasailing
Catamaran sailing
Kayaking
Transparent glass-bottom kayaks
Seabob cayago water rocket
Fun tube adventures
DIVING
Encounter the magnificent underwater life of the Maldives, whether you're a novice or a seasoned diver. Scuba gear and snorkelling equipment are readily available, as are experienced guides. Dive in - an astounding underwater world awaits.
Immersion Dive Centre
Multilingual Instructors
Dan Dive Accident Insurance
Padi Courses
Digital Underwater Photography (Dup)
Private Bespoke Dives
Diving For Kids
Certified Nitrox Diving
Project Aware
More Than 60 Amazing Local Dives Sites
SNORKELLING
Go on snorkelling expeditions in the shallow lagoon surrounding Velassaru island resort. Live demonstrations for first-time snorkellers both on land and in the water. Get ready for an array of snorkelling adventures on-site and out-and-about. Underneath the crystal-clear surface of our Maldivian seas a kaleidoscopic world awaits discovery.
Dolphin Discovery
Blowhole
Simply Snorkelling
Bio Photo Adventure
Bioquest
Night Snorkelling
It's Alive (Marine Biology Presentations)
Turtle Coral Tray Adoption Program
EXCURSIONS
SUNSET CRUISE
Serenity at sunset. An authentic Maldivian cruise. Against a backdrop of magnificent shades and hues, share canapés and champagne with your beloved. Elegant evenings. A truly tailor-made experience. Submerge in colour.
BIG GAME FISHING
Heart pumping challenges on the open sea. The glint of sun and the tang of salt. A surge of adrenaline as a huge fin breaks the surface. A marlin: toe-to-toe with the admiral of the ocean. The ultimate fishing experience. Land the catch of a lifetime.
SNORKELLING EXCURSION
Coasting across diamond waters on a dhoni or speedboat. Arrive at the coveted reefs, accessible by experienced guide only. Snorkelling equipment and amenities on hand. An astounding marine world awaits. Behold the aquatic riches of Velassaru.
DOLPHIN DISCOVERY
An invigorating breeze from atop a dhoni as your destination draws near. Head into the feeding grounds of Maldivian dolphins. Heart-warming interactions as they tail your vessel and leap above the waves. Stunningly graceful, strikingly human. Enter the kingdom of these majestic creatures.
NIGHT FISHING
Traditional Maldivian fishing with a hand line at sunset. Your dhoni drops anchor. An experienced crew guiding you on this ancient art. Edible catches are prepared for you at no additional cost in the hotel restaurant. Non-edible or inadequately sized fish are let go. Experience a time-honoured craft.
NIGHT SNORKELLING
A new vista unfolds under the cover of darkness. Ghostly crayfish, feeding corals, the lethal beauty of hunting moray eels, the uncanny sight of sleeping fish. Small parties of four or fewer plus guide, for a smaller ecological footprint. Torch light, snorkel equipment and wet suit provided. Uncover a hidden world.
BIO QUEST
A rare snorkelling journey led by our resident marine biologist. A brief educational presentation in the dive centre classroom, followed by targeted reef exploration centred on the marine life category of your choice. Enjoy themes from turtles, to sharks, to manta rays (in season only), to hard and soft corals, to clownfish and anemones. Drinking water, towels, snorkel equipment and life jackets are provided. Learn the sea's wisdom.
BIO PHOTO ADVENTURE
A special snorkelling journey with our resident marine biologist. A professional-grade underwater camera to capture the underwater world. Following a briefing on environmentally friendly use of your camera, shoot to your heart's content in this gorgeous underwater domain. A fun and informative lecture on the content of your photos to follow. Drinking water, towels, snorkel equipment and life jackets are provided. Capture the wonders of the Indian Ocean.
ISLAND ESCAPE
An island paradise of your own. An idyllic setting paired with culinary delights. Armed with a luxury hamper, take a dhoni to a sandbank. Spectacular views in every direction, a pulsing coral awaiting discovery. Refreshing tropical juices with a delicious lunch.
THE SPA
Overwater treatment pavilions set on stilts offering classic therapies designed to revitalise and soothe. Authentic bliss from indigenous ingredients and an expert touch. Uninterrupted views of the Maldivian seascape.