SIYAM WORLD MALDIVES
Designed for fun-loving, open-minded couples, romance seekers, families or larger groups of friends, with the freedom to roam, socialise and engage in an island community. Siyam World and is one of the largest islands in the Maldives to boast a resort and show-stopping residences - The Beach House Collection. The resort boasts an enticing variety of 21 accommodation categories of one-to six-bedroom villas, pavilions and The Beach House Collection residences, that span from 89 to 3,000 square metres.
Book Now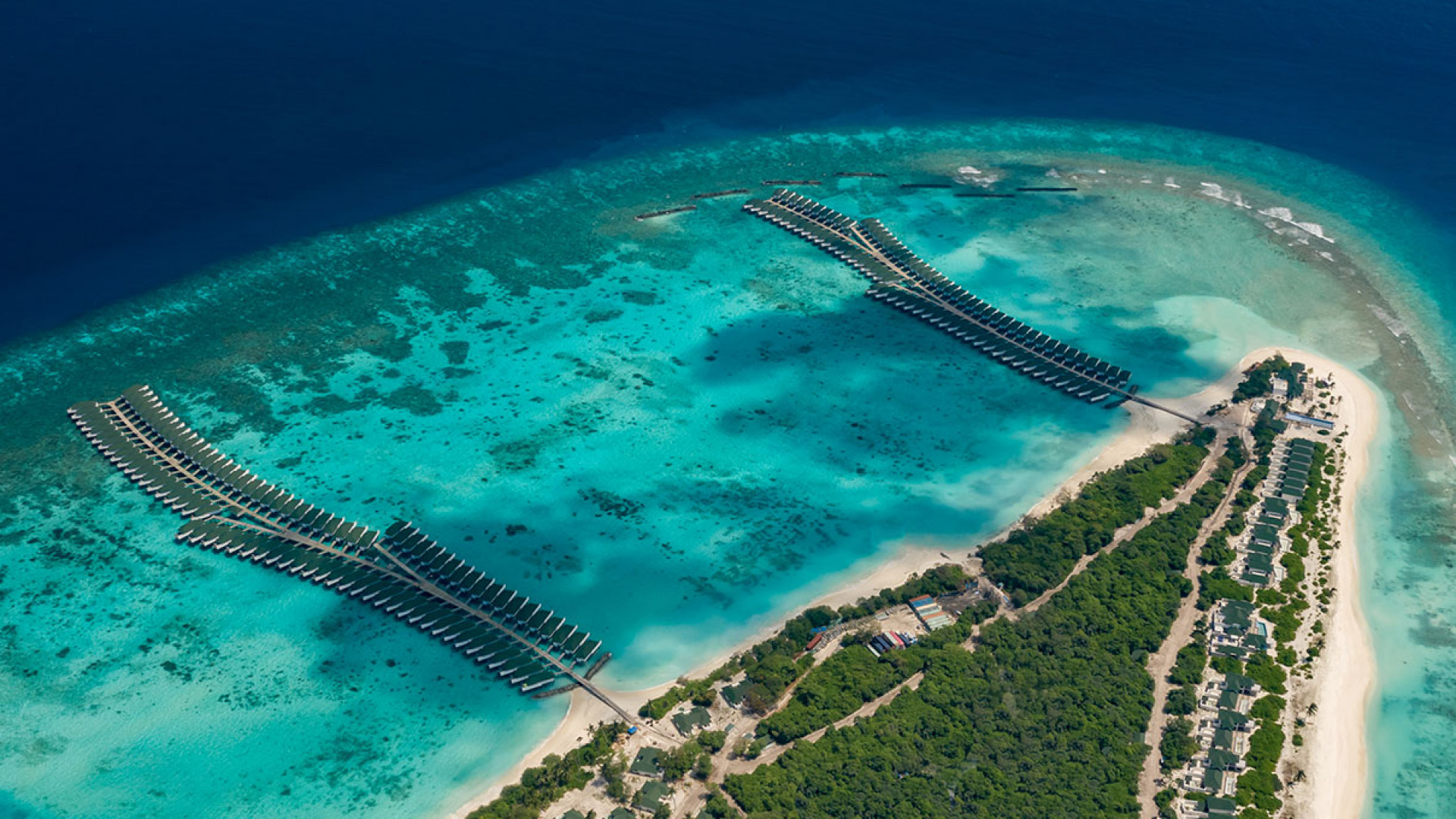 Siyam World, Maldives is a striking new interpretation of the country's rich natural wonders. A carefree playground with exciting, diverse, memorably modern, quirky and infinite collection of experiences across land, ocean, and sky. Confidently conceived and brilliantly brought to life, Siyam World offers a WOW! All-inclusive island getaway that crosses cultures and borders with excitement around every corner.
With its uncompromisingly quirky "I can have it all" perception comes a deep-rooted soul and a unique approach to everything. Located in the popular Dhigurah Noonu Atoll, Siyam World is 54 hectares in size. The resort can be reached by a mere 40-minutes shared seaplane ride from Velana International Airport, and is also accessible via a 30-minute domestic flight to Maafaru International Airport followed by a 10-minute speedboat trip. The island resort boasts an enticing variety of rooms and residences, and classifies as a five-star 24 hour premium all-inclusive resort unlike any other. Ranging from lush Pool Beach Villas, expansive Beach Suites and breathtaking Residences to fun Over-Water Villas with slides and a stunning Grand Water Pavilion.

Activities & Facilities
Siyam Water World - South East Asias' Biggest Floating Water Park
24/7 WOW! Premium all-inclusive privileges and benefits
An endless array of 'never-seen-before' experiences
Natural 54-hectares island resort
4 kms of white sandy beaches & 6 kms of house reef
1-6 Bedroom Residences at The Beach House Collection
EXCURSIONS & EXPEDITIONS
Take your pick between two of our dreamy daily ocean
cruises and sail into the Noonu Atoll horizon with us:

AN AUTHENTIC MALDIVIAN EXPERIENCE
Gaadiyaa – we will surprise you on a daily basis at various
locations on the island with our Gaadiyaa, the local food
cart that serves up some delicious savory and sweet snacks,
soft drinks, coconuts and tropical fruits.
SIYAM WATER WORLD
You have unlimited complimentary access to the biggest
floating water park in Maldives located in the sunrise
lagoon at Siyam World.
WATER SPORTS FOR OCEAN LOVERS
Explore the mesmerizing beauty of the deep and partake
in a selection of underwater activities for an adrenaline fix.
Complimentary selection of non-motorized water sports
and activities, such as:
SPORTS & GAMES
For those looking at keeping fit, healthy and active during
their holidays, we have a fun selection of complimentary
activities for you, your family and friends.
• Windsurf
• Catamaran
• Canoe
• Stand up paddle
• Snorkeling equipment
• Football and futsal tournaments once a week on
our international standard fields
• Complimentary use of our 4 tennis courts with
3 different surfaces
• Complimentary use of badminton courts,
including equipment
• Complimentary use of a fully equipped state-of-
the-art Gym/ Fitness centre
• Beach volleyball
• Beach cricket
• 3 on 3 basketball court
• Lucky dolphin sunset cruise
• Snorkeling safari
• Guided snorkeling trips to the house reef
• Talks with Marine Biologist and nature
exploration
• Group lessons on windsurfing
• Free trial diving in the main pool or lagoon
SPA & WELLNESS
Relax, stay healthy & sooth your body and mind. Take part
in our vast selection of fun but beneficial health and fitness
activities:
• Group yoga
• Group pilate classes
• Aqua aerobics
• Beach boot camp
workout
• Morning beach run
• Healthy bar
• Power walk
• Sunset meditation
• Kids yoga
• Zumbini class – for
kids and teens
• Live music and DJ
• Local dance classes
• Karaoke nights
• Dance shows
• Pool / beach parties
• Foam parties
ENTERTAINMENT
LITTLE EXPLORERS
Kids between 4 and 12 can enjoy a variety of weekly
activities ranging from craft making classes, pizza making
classes and storytelling.