Paradise Island Resort & Spa
Paradise Island Resort & Spa is one of the largest Maldivian resorts and can be reached by a short 20-minute speedboat ride from Malé International Airport.
Book Now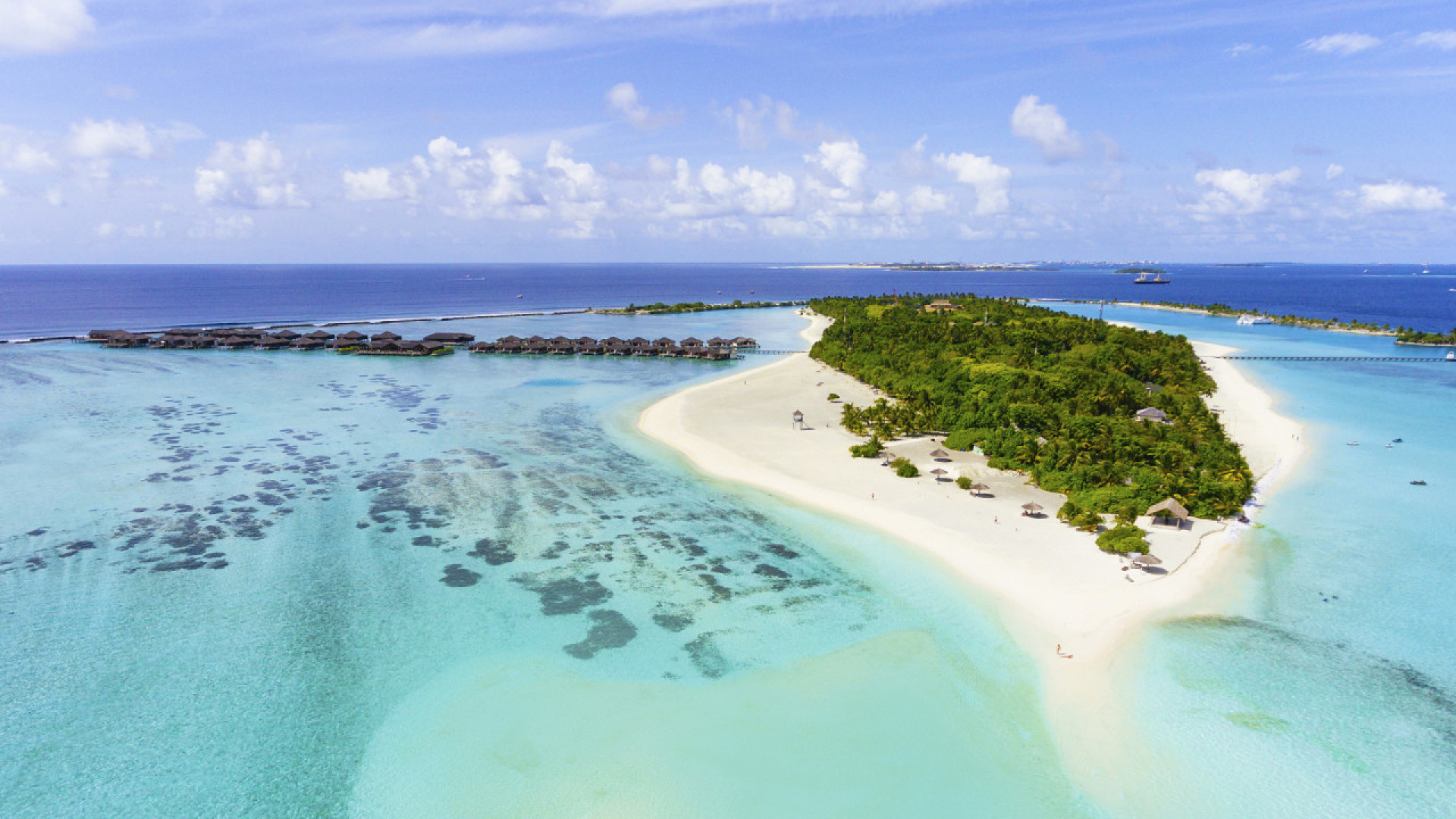 Paradise Island Resort & Spa is one of the largest Maldivian resorts and can be reached by a short 20-minute speedboat ride from Malé International Airport. Action-packed and full of fun this resort will appeal to couple, groups of friends, and families who are seeking an active holiday. Here you can enjoy the fully equipped fitness centre, volleyball, basketball, football and a spa offering a wide selection of traditional and Asian treatments. There is an excellent dive centre on site and snorkeling and diving tours are available every day. This beautiful barefoot resort epitomises comfort and casual elegance and 282 stunning suites, beach bungalows and over water villas provide the ultimate in tropical luxury. Pathways wind through the landscaped tropical grounds and connect the accommodation, restaurants and bars with the pool, incredible beaches and the stunning lagoon.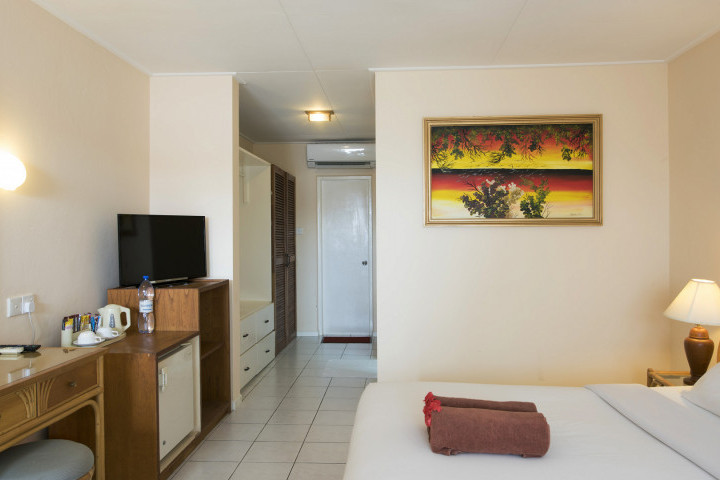 Garden Villa
Garden Villas are located in the quiet garden area of the Paradise Island resort & Spa. This room offers the basic facilities and a peaceful environment, with the beach easily accessible within a minutes walk.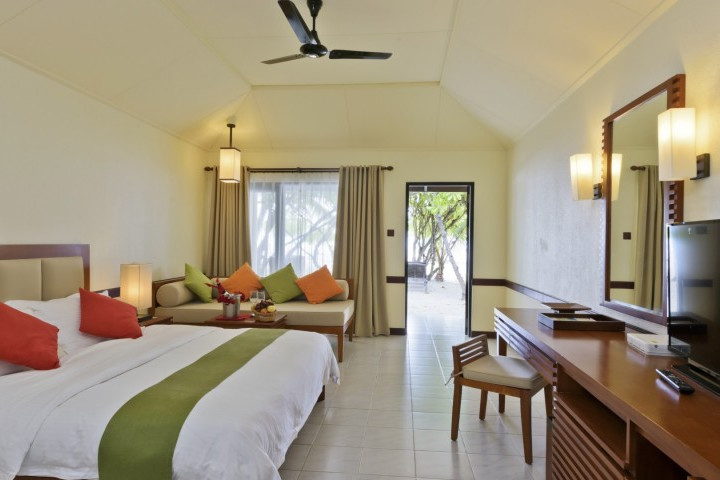 Superior Beach Bungalow
Set just behind the beach treeline, our Maldives beach bungalows provide the ultimate in tropical luxury. While some rooms are detached, others are in blocks of two, perfect for families or groups. White walls and ceilings provide for an airy and light atmosphere. Step through the front door to a tiled veranda facing the beach, furnished with comfy sun loungers – an idyllic place for an afternoon of reading or enjoying the ocean breeze. There is no other Maldives beach hotel accommodation quite like it.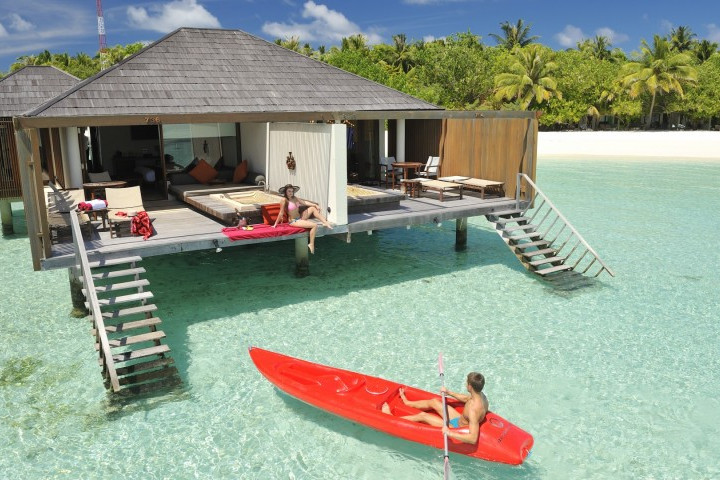 Water Villa
Our exceptional Maldives water villas are Paradise Island Resort's ultimate accommodation. Bright, spacious, and luxuriously appointed, they are what dreams are made of. Every Maldives water bungalow features steps down to the crystal clear lagoon below – perfect for swimming or a snorkeling adventure. Spend your days relaxing only a few feet above the blue waters of the Indian Ocean, soaking up the sun from your private chaise while getting pampered by our attentive staff.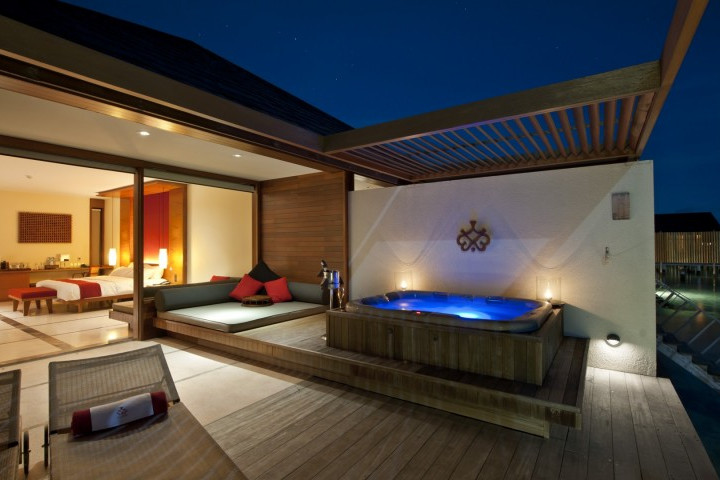 Haven Villa
Paradise Island offers an enclave of secluded Maldives villas that enjoy sweeping ocean views and a host of superb luxuries – ideal for guests seeking a truly captivating Maldivian vacation. Built on stilts directly above the water, within the exclusive Haven complex, each Maldives vacation villa features a separate lobby area and access to a private Jacuzzi.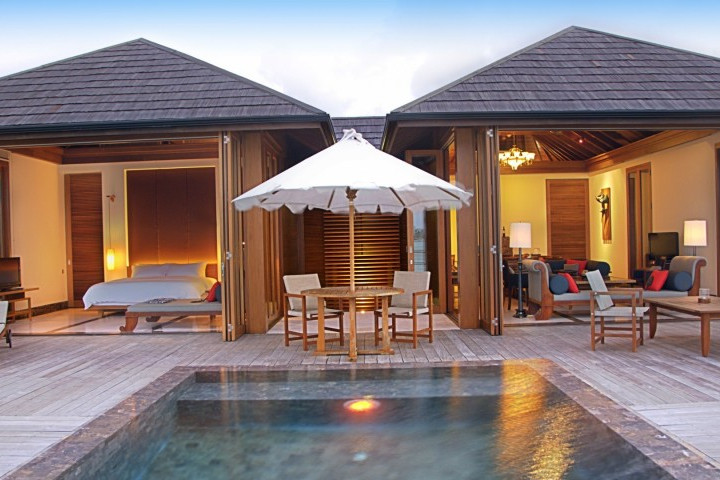 Haven Suite
Standing apart from even the finest Maldives exclusive resorts, The Haven Suites at Paradise Island Resort & Spa are a truly heavenly retreat. Outside, a spacious private veranda offers comfy, cushioned day beds, a freshwater bath, and panoramic vistas of the blue sea that extends from right underneath your feet.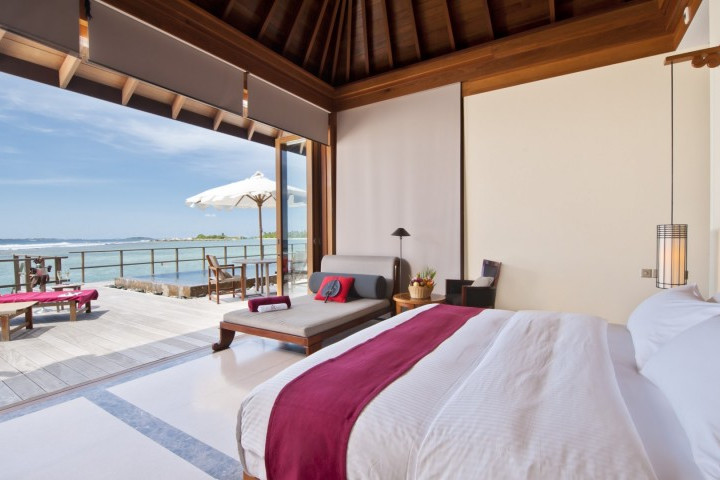 Ocean Suite
Perched at the edge of the reef, the Ocean Suites at Paradise Island offer a truly incomparable experience. Bask in magnificent views of the breathtaking, crystal clear lagoon and the ocean beyond from the window of your exclusive Maldives suite. Enjoy exclusive use of the private pool. Plan an incredible luxury vacation in these spacious, two-bedroom Maldives beach accommodation.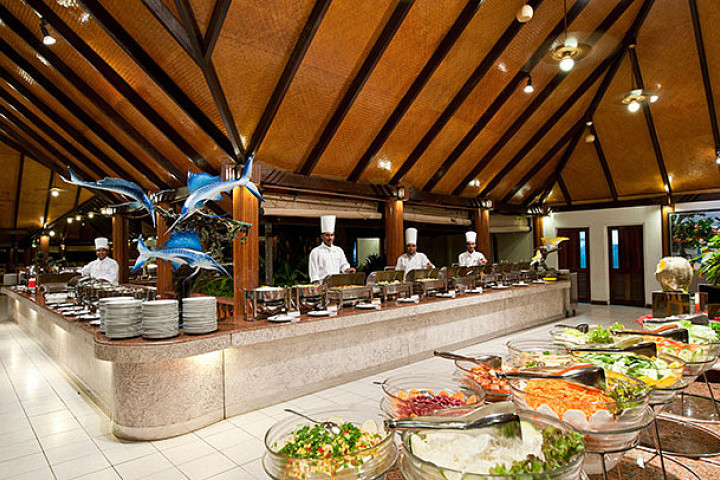 Fabulous Cuisine At Our Signature Maldives Restaurant
Come discover why the Main Restaurant at Paradise Island Resort & Spa is celebrated among the best Maldives restaurants year after year. Serving sumptuous, buffet-style breakfasts, lunches, and dinners, this breezy Maldives restaurant perfectly captures the island spirit with alluring Indian Ocean views through expansive windows. A full continental European or English breakfast is available at the breakfast buffet, and a wide variety of Continental, Asian and Maldivian cuisine is served at lunch and dinner. Wine and dine away the evening, as you delve into tantalizing new tastes at this captivating oceanfront spot.
Ristorante al Tramanto, Our Captivating Maldives Italian Restaurant
Located at the end of the main jetty, overlooking the ocean, Ristorante al Tramanto offers the perfect Maldives romantic hotel dining experience. Stop by for sunset cocktails or to savour inspired Italian specialties such as fresh baked pizzas and tantalizing pastas. Enjoy the warm candlelit ambiance inside or dine al fresco on the breezy deck. And if you're feeling tired after a long day in the sun, we'll arrange to have a pizza delivered right to your room. This charming Maldives Italian restaurant is the perfect spot for lively family dinners or an intimate evening for two.
Fukuya Teppanyaki, Our Authentic Maldives Sushi Restaurant
A small, decorative bridge over a miniature pool and waterfall leads you to the entrance of this cozy Maldives Japanese restaurant. Adorned in authentic Japanese splendour, the restaurant showcases traditional Japanese teppanyaki, or "show cooking," in which the chef performs a show as he prepares the meal, showcasing eye-catching tricks and new variations on cooking techniques. Your chef might juggle utensils, flip a shrimp into his shirt pocket or diners' mouths, toss an egg up in the air and split it with a knife, or arrange onion rings into fire-shooting volcanoes. In additional to the more familiar Maldives sushi dining, a variety of innovative dishes is served. Chefs trained in Japanese cooking use genuine ingredients, imported from Japan. At Fukuya Teppanyaki, the mood is festive and fun, and the meal is always a show in itself.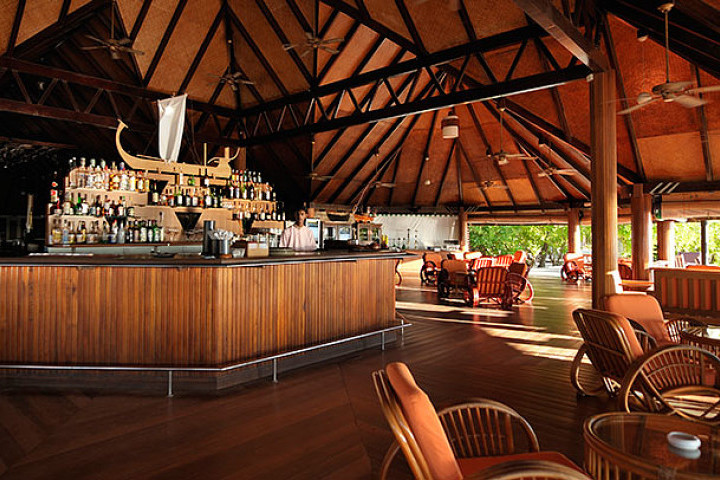 Enticing Maldives Bars, From Rolling Surf To Karaoke And Live Music
Maldives nightlife means something different to every guest. If quiet cocktails and a glorious sunset are all the entertainment you need, there's no better place than under the thatched parasols of the Beach Bar. Or you can become part of the entertainment at the Karaoke Bar. Lavishly furnished, with black leather sofas surrounding the stage, it's the perfect place to live out your "American Idol" dream. The Paradise Bar is the main bar of the resort. Overlooking the ocean and pool, this vibrant Maldives bar is perfect for relaxing after a day in the sun. Live bands and the resort's DJ make appearances throughout the week, and the energetic dance floor becomes the centre of activity and attraction once the sun goes down.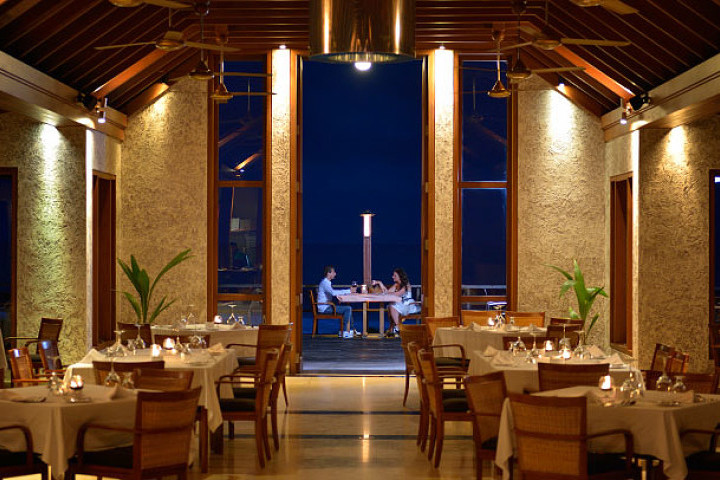 Farumathi Restaurant, Maldives Seafood Restaurant
This seafood restaurant built on the edge of the reef faces the sunrise and the breathtaking Indian Ocean. They offer a unique dining experience with an easy-going ocean view ambience, and serve a variety of seafood including the Maldivian lobster. The adjoining large open air terrace offers a relaxing atmosphere where you can meet for drinks, a light meal, afternoon tea or for an after dinner cocktail.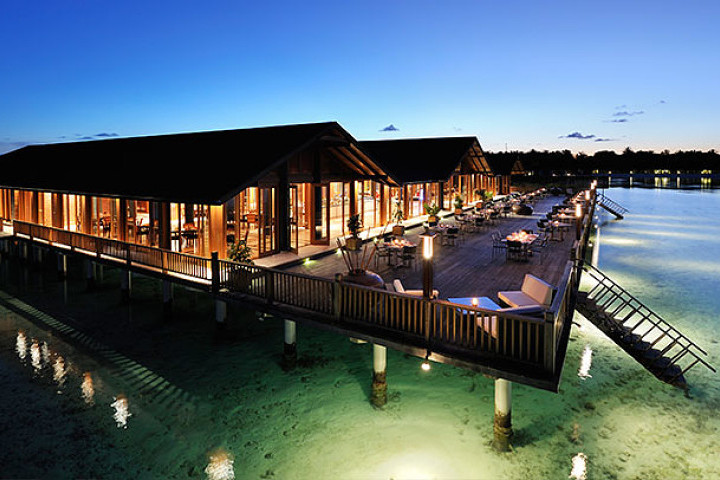 Blue Lagoon Restaurant, a Complete Cuisine
The Lagoon located amidst the water villas with a pleasing view of the blue sea and sky offers a complete cuisine, rich in variety and taste. Enjoy your favorite drink on the spacious sundeck mingled with the cool incoming breezes from the Indian Ocean. A meal here will always be an unforgettable experience.

Activities & Facilities
ACTIVITIES & EXCURSIONS
WATERSPORTS
Explore The Wonders Of The Indian Ocean At Our Maldives Diving CenterDiscover a spectacular destination for Maldives windsurfing, water skiing, snorkeling, and more. The Villa Water sports centre at Paradise Island Resort & Spa offers courses in windsurfing and catamaran sailing in addition to excellent facilities for a variety of water sports. The centre, located at the northern end of the island is equipped with the best equipment and facilities. And our certified Maldives diving school offers the full range of classes and tours for beginners and experts.
Fun tubing
Windsurfing
Canoeing
Catamaran sailing
Water bike
Water skiing, wake boarding, & knee boarding
Glass bottom boat tours
Parasailing
Snorkeling
Water scoter / jet skiing
Catamaran sailing
PADI CERTIFIED DIVING
Take The Plunge On An Amazing Maldives Snorkeling AdventureThe best Maldives snorkeling is in the sparkling Indian Ocean waters surrounding Paradise Island Resort & Spa. No island holiday would be complete without experiencing the colour and life of this vibrant underwater world. Just step off our jetty to experience it all. From mysterious ancient coves to brilliantly hued reefs, a deep-sea tropical sanctuary awaits you on your next Maldives snorkeling excursion.
Learning to dive - the different courses offered at our dive centre assure a calm and easy start in shallow waters. Guests are welcome to talk to any of the instructors at our dive centre to find a diving course to suit their needs. Beginners are offered the opportunity of a 15-minute, free scuba diving lesson under the supervision of an instructor.
Continuing education - all instructors at our dive centre are highly experienced and fully certified, offering PADI courses. Beginners' courses are held in small groups of not more than five persons, for safety reasons and to ensure personal attention. We also have a policy of keeping the diving groups as small as possible, which means that in an average dive the group will consist of maximum six persons.
Dive with us! - in order to join us twice a day on our diving trips you will first need to make an orientation dive. The instructors will help you with your diving skills, find out how many weights you need and get some idea of your diving abilities. Even divers with certification are welcome to seek our assistance for all your diving needs and we are always ready to extend a helping hand. We offer the top range of diving equipment such as jackets, regulators and marks, which can all be rented as well.
EXCURSIONS
Plan Maldives Whale Watching Tours, Shopping Sprees, And More
Paradise Island Resort & Spa might charter more Maldives fishing trips than any other resort. We invite you to enjoy it early in the morning or with a group at sunset. Try trawling for tuna or head out to the high seas for a big game fishing adventure. Or glide through the Indian Ocean depths on a Maldives whale submarine. To see the islands from a truly breathtaking perspective, hop aboard a seaplane for a photo flight tour. For a delightful change of pace, visit one of the many nearby resorts or catch a glimpse of daily Maldivian life in one of the fishing villages. Or if city living is more your style, allow us to plan a day of shopping and sightseeing in Malé, the islands' vibrant capital city.
Snorkeling
Submarine Trip
Island Hopping
Night Fishing
Morning Fishing
Big Game Fishing
Sunset Cocktail on the High Sea
Blue Water Safari - Deep Sea Fishing
Photo Flight by Sea Plane
SPORTS & RECREATION
Diverse Maldives Recreation Options
Finding fun ways to exercise is easy at Paradise Island Resort & Spa , where a diverse range of Maldives recreation and sports means that there's something for every active guest. Our gymnasium features state-of-the-art equipment - ideal for both cardio and strength training. Elevate your heart rate by jogging on the treadmill, or tone up and strengthen with dumbbells. From basketball, volleyball, and fishing to table tennis and billiards, you could play a different Maldives sport every hour of the day. Or you could just snooze the afternoon away on the beach.
Day & night fishing
Island hopping
Big game fishing
Aerobics
Basketball
Volleyball
Billiards / snooker
Lighted tennis courts
Indoor badminton
Squash
Table tennis
Gymnasium
BEACH & POOL
Waterfront Luxury At Our Maldives Beach Resort
beach, the placid waters of an azure lagoon, and the sparkling Indian Ocean extending towards the horizon. This is the dazzling playground surrounding Paradise Island Resort & Spa. Overlooking a pristine ribbon of shoreline, this resplendent Maldives beach resort celebrates the wonders of the sea. Lounge on the beach under a large umbrella. Enjoy an invigorating stroll along the waterline. Or simply relax poolside after taking a dip in the bracing waters of our swimming pool. Escape to our Maldives beach hotel and see just how wonderful life on the water can be.