Alila Kothaifaru Maldives
This private island retreat lies at the northern edge of the Maldives in the tranquil Raa Atoll, reached via a scenic 45-minute seaplane journey from Malé. Discover a picture-perfect paradise of powdery soft white-sand beaches and crystal clear turquoise waters alongside some of the most remarkable dive experiences in the archipelago.
Book Now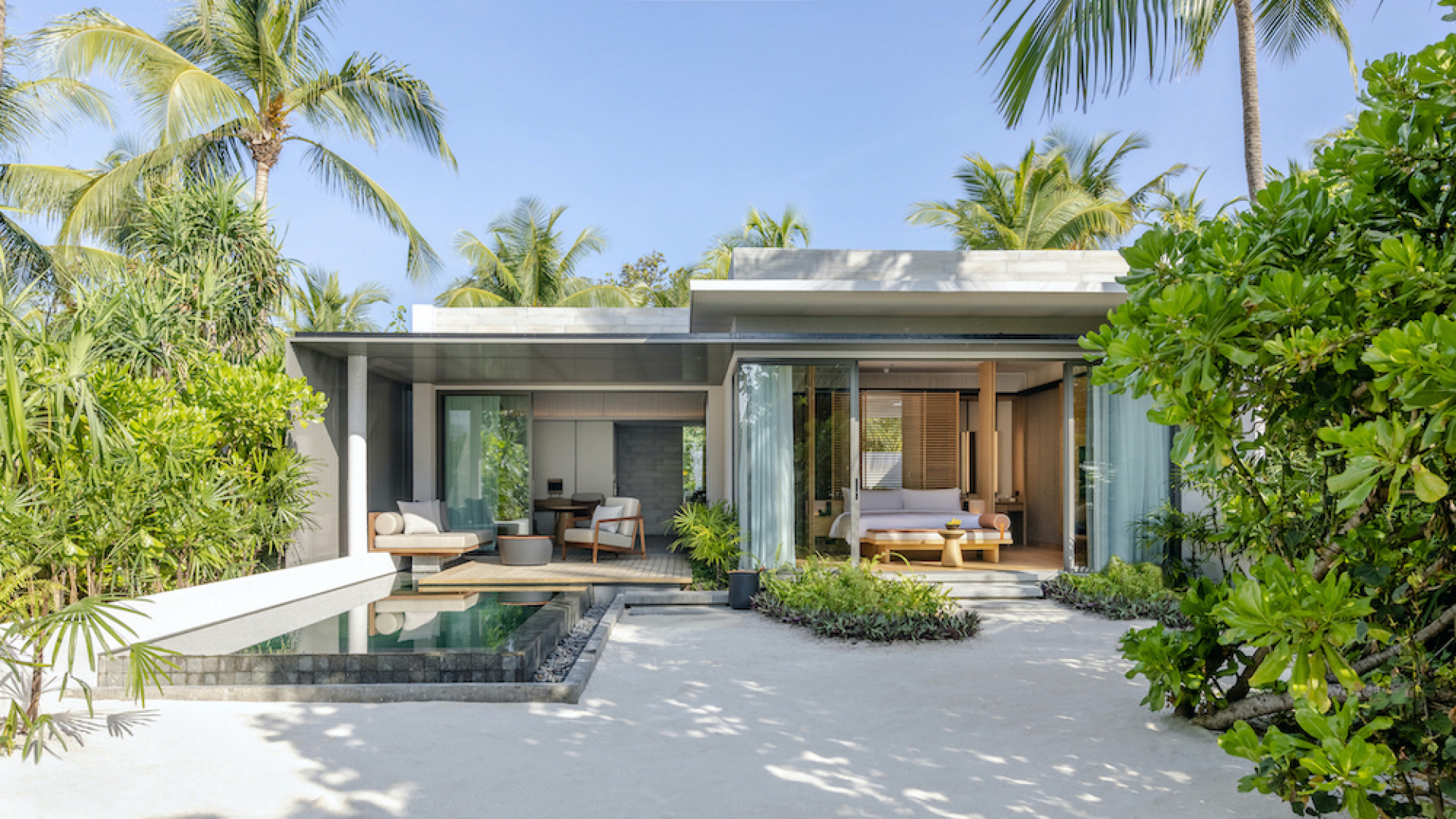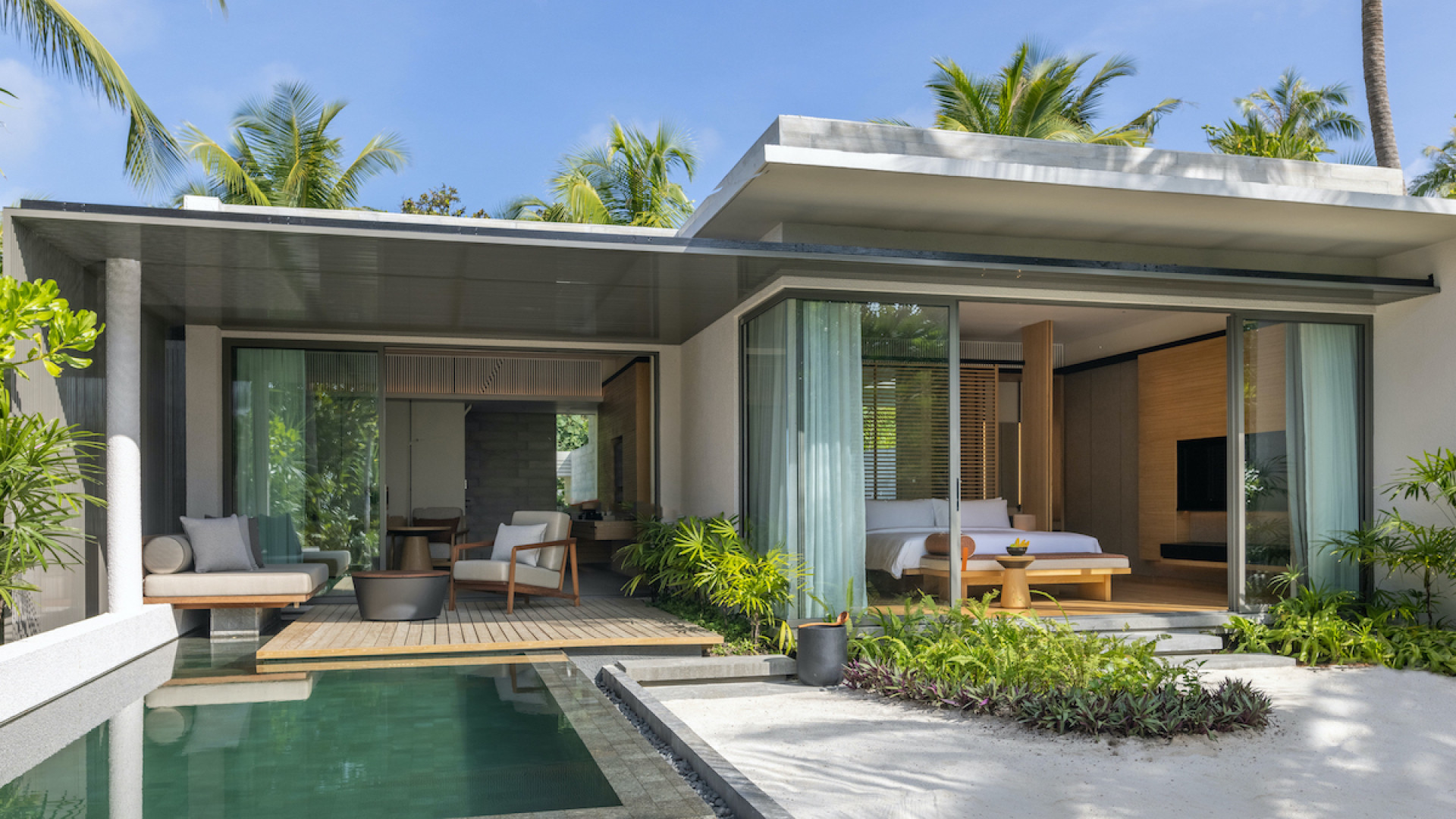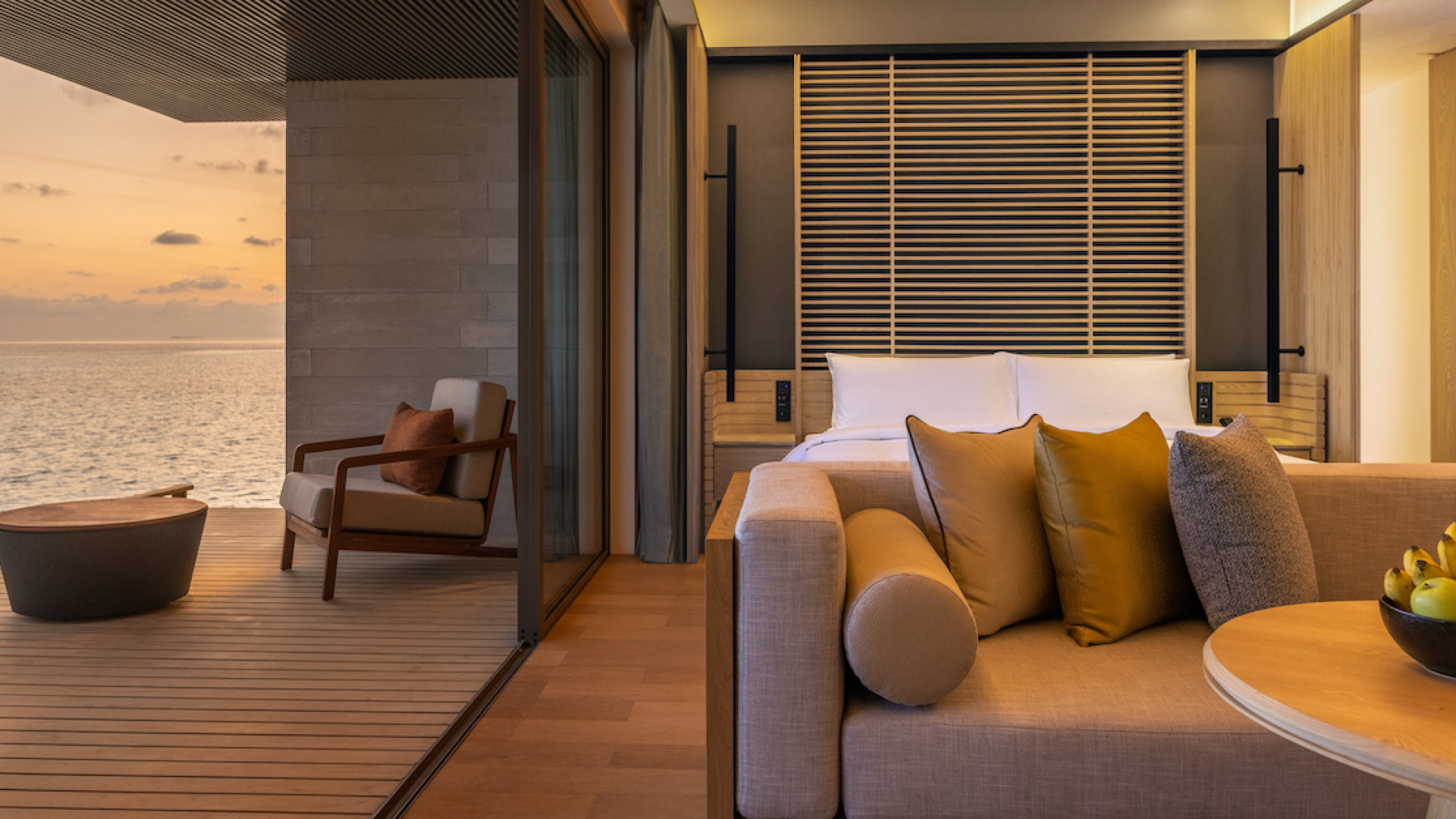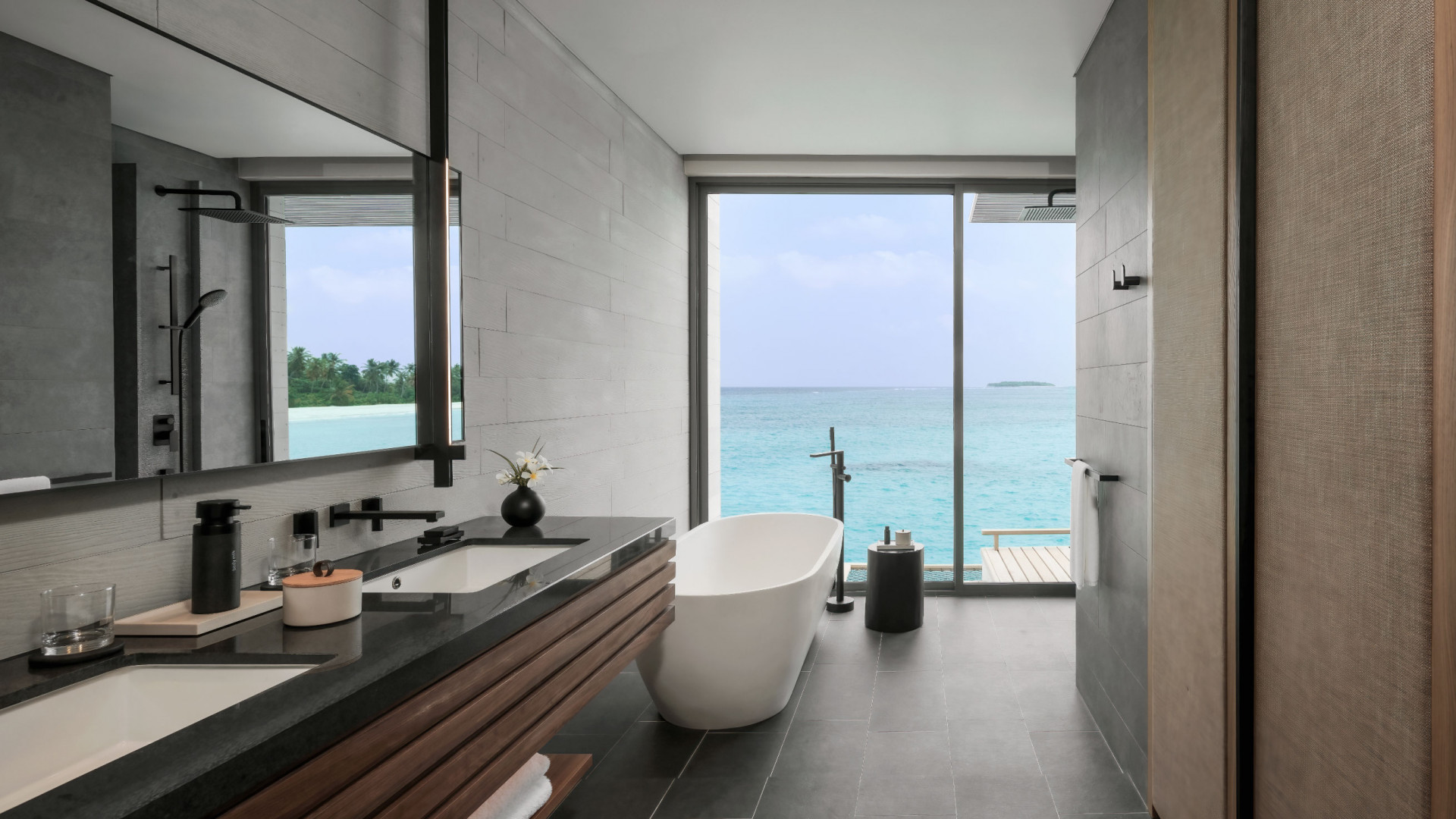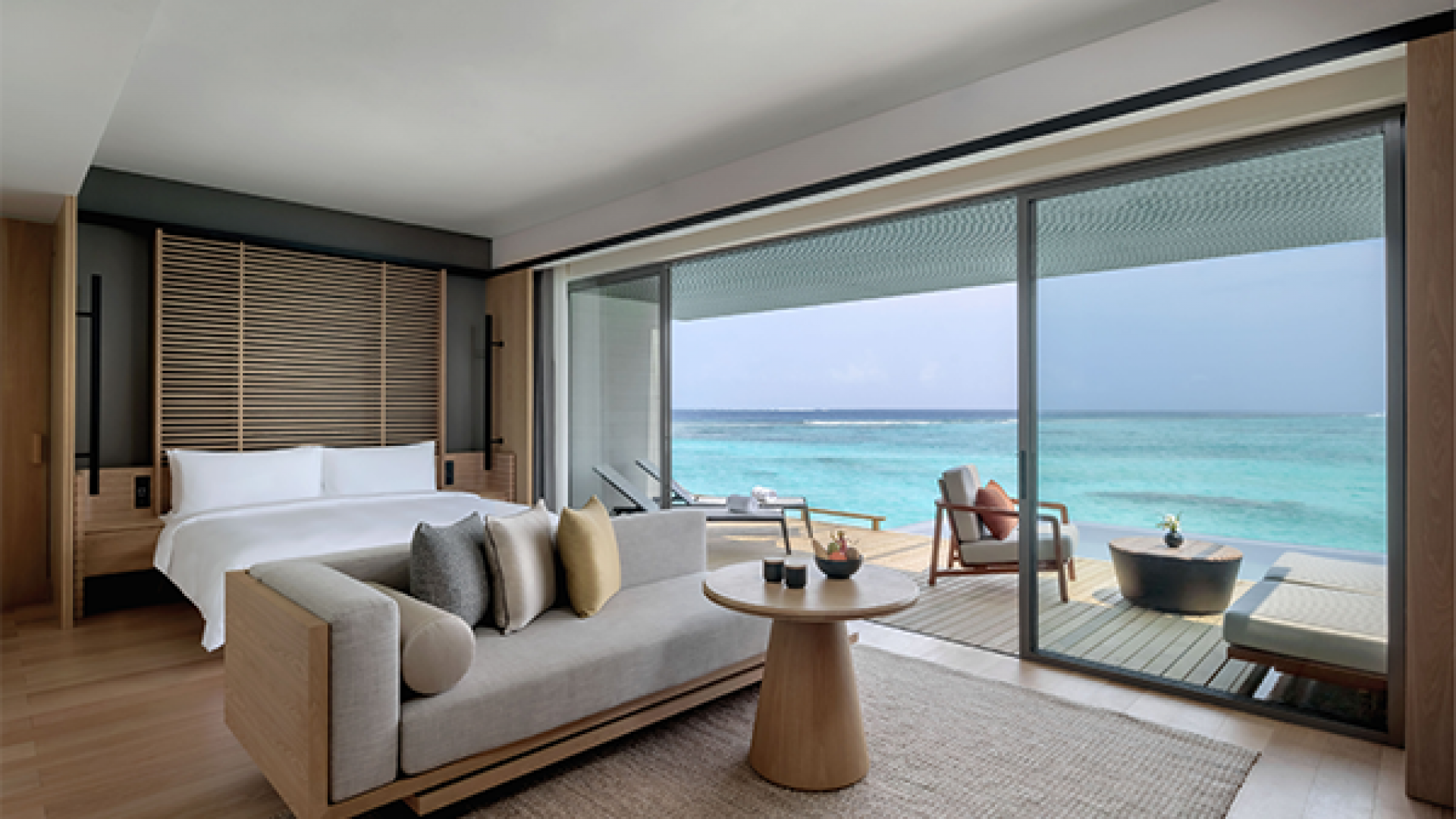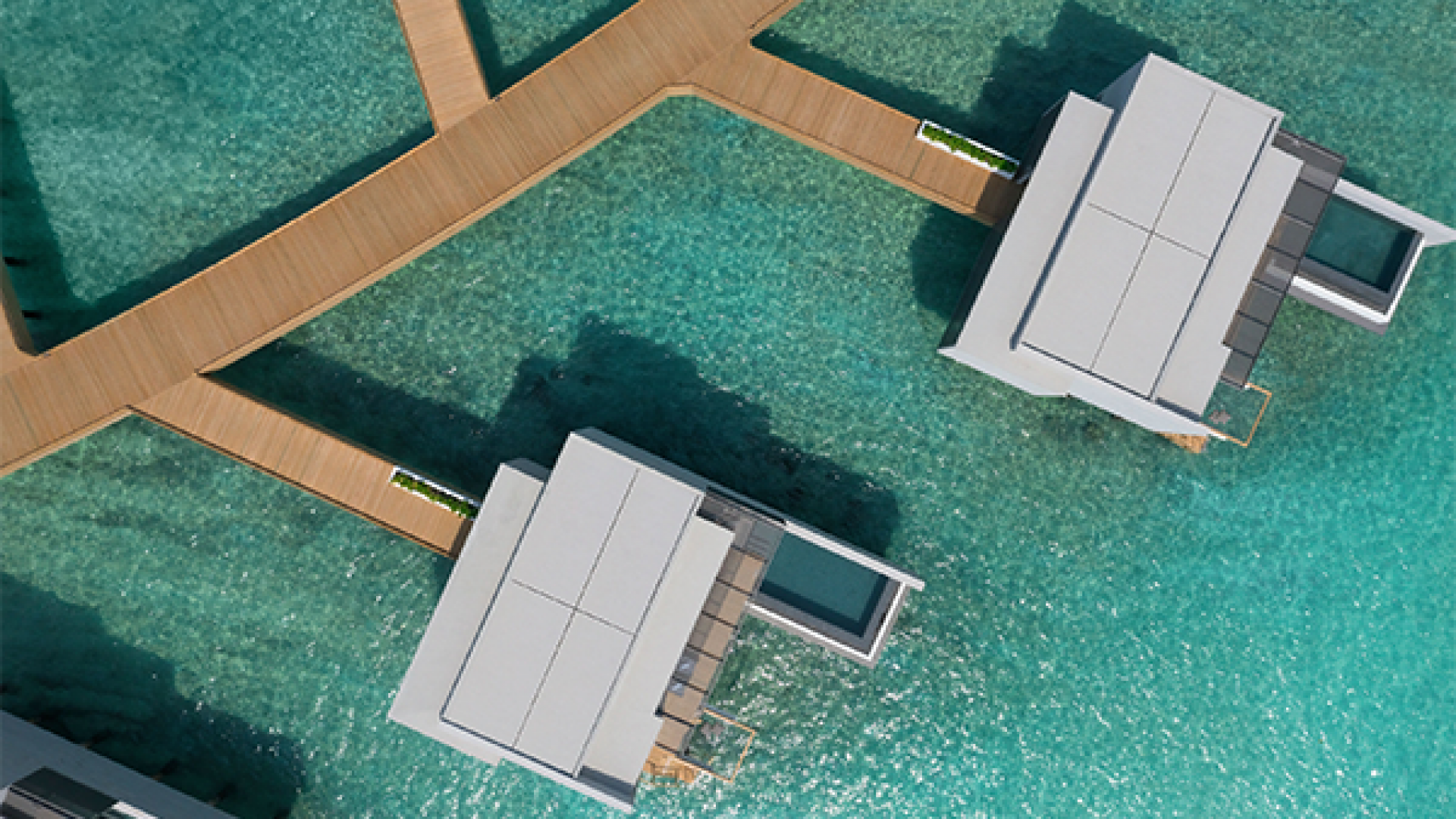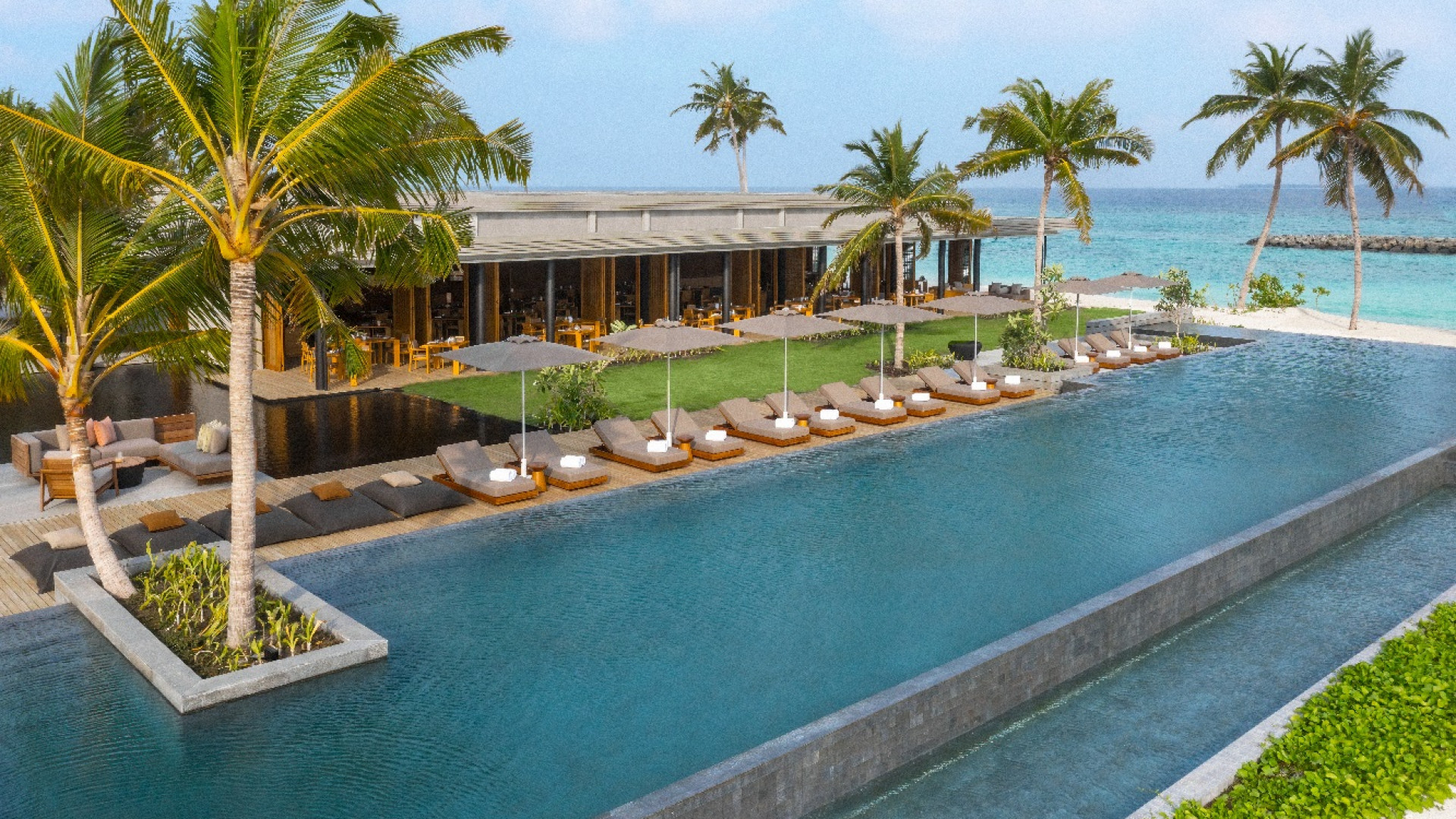 Remote and unspoilt with an air of tranquil seclusion, the picturesque Raa Atoll is one of the deeper atolls in the Maldives archipelago, offering abundant snorkelling and diving options to explore its incredibly rich and diverse underwater world.

Beyond swimming in our stunning house reef, enjoy excursions to the famous Hanifaru Bay UNESCO World Biosphere Reserve. This protected marine sanctuary is the largest feeding and breeding hotspot in the world for manta rays and whale sharks, which at times congregate here in their hundreds. Snorkelling amongst these magnificent creatures is an experience not to be missed.

Alila Kothaifaru Maldives is also close to Vaadhoo Island, one of the best spots to witness the spectacular "Sea of Stars" phenomenon, an extraordinary sight to behold. Whether relaxing on a sun-drenched beach, exploring the natural flora that thrives on our lush green island, or indulging your adventurous spirit, let nature be your host.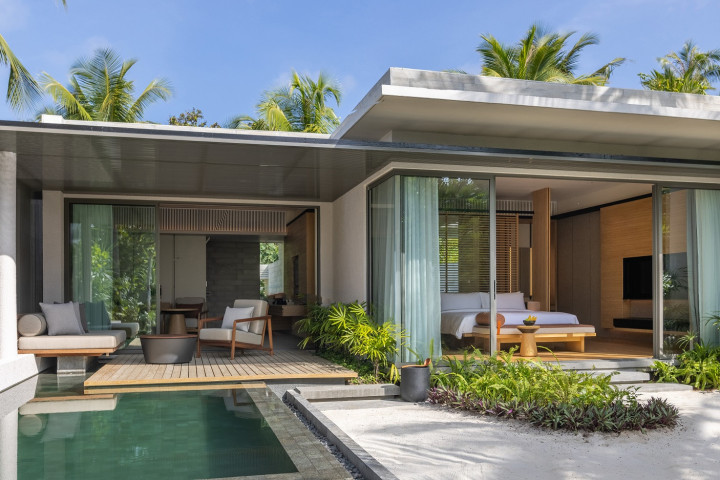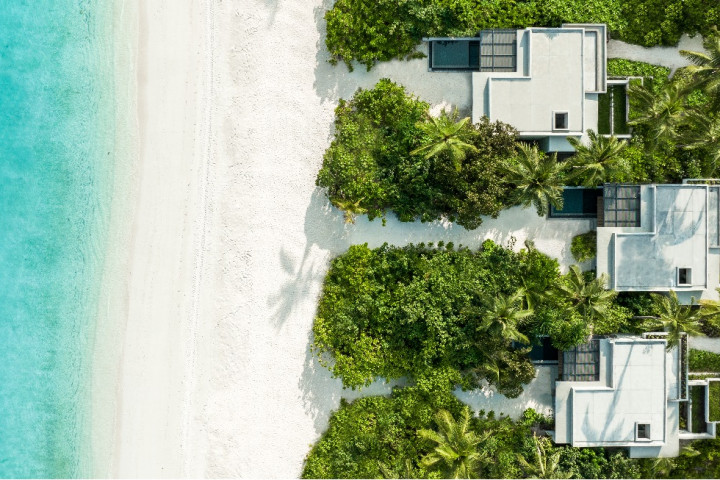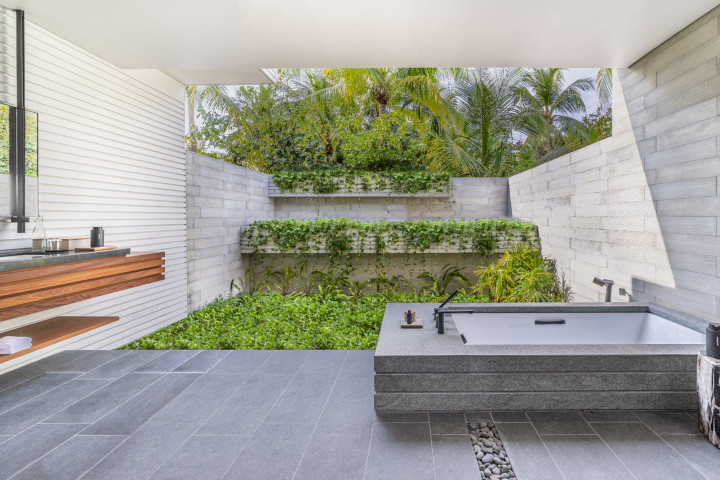 Beach Villa
Enjoy a slice of paradise embraced by nature just steps from the beach. Our Beach Villas offer an indulgence of private space with a separate bedroom and living room, while floor-to-ceiling sliding glass doors open fully to the fresh ocean air, a private pool and sun deck.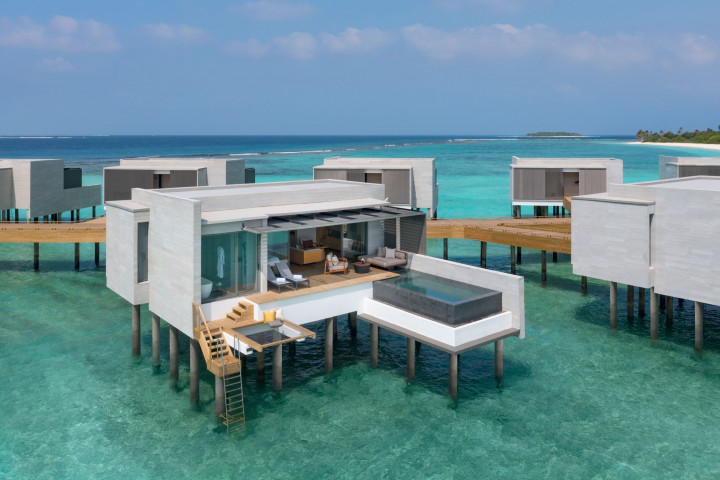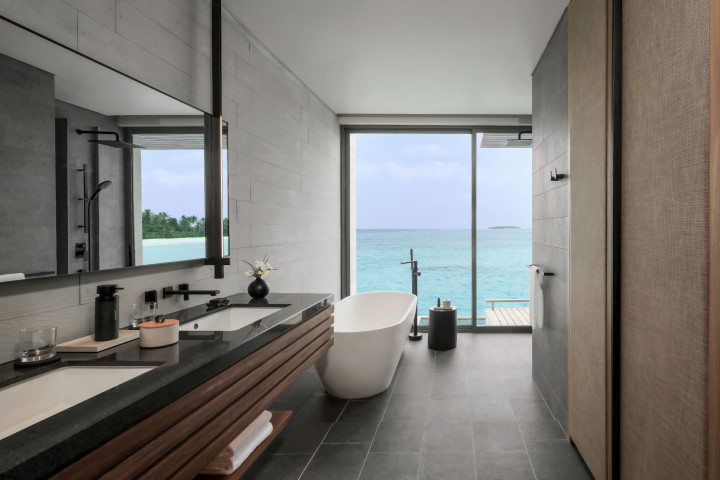 Lagoon Water Villa
Treat yourself to the ultimate romantic escape in a villa perched over the lagoon. Unwind in the comfort of an open-concept bedroom and living room seamlessly flowing to a private pool and sun deck. Feel all your worries drift away on the breeze as the gentle lap of the lagoon waters lulls you into peaceful relaxation.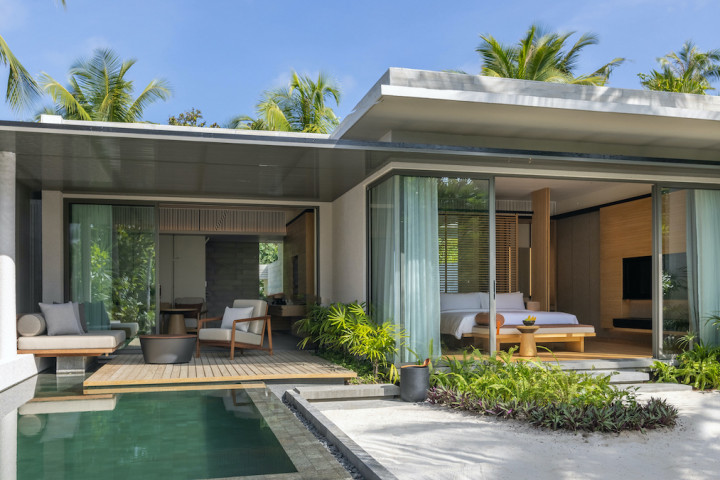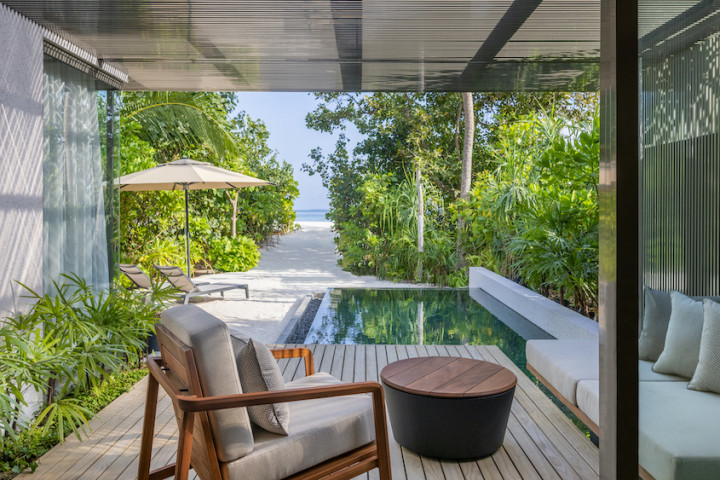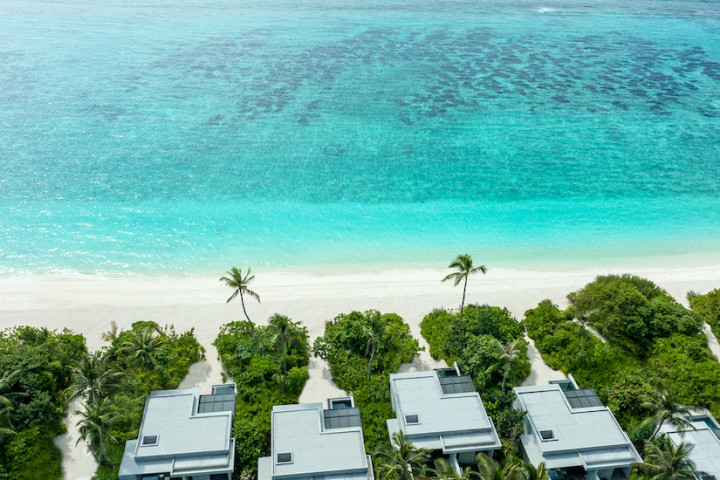 Sunset Beach Villa
Nestled within lush greenery, steps from sun-kissed sand, these spacious villas are havens of privacy and comfort with a separate bedroom and living room. Floor-to-ceiling sliding glass doors maximise views and open to a private pool and sun deck, perfectly positioned to catch the magnificent Maldivian sunsets.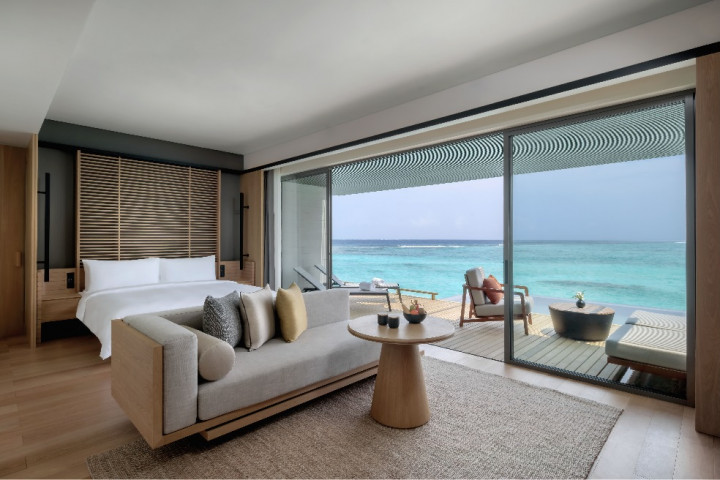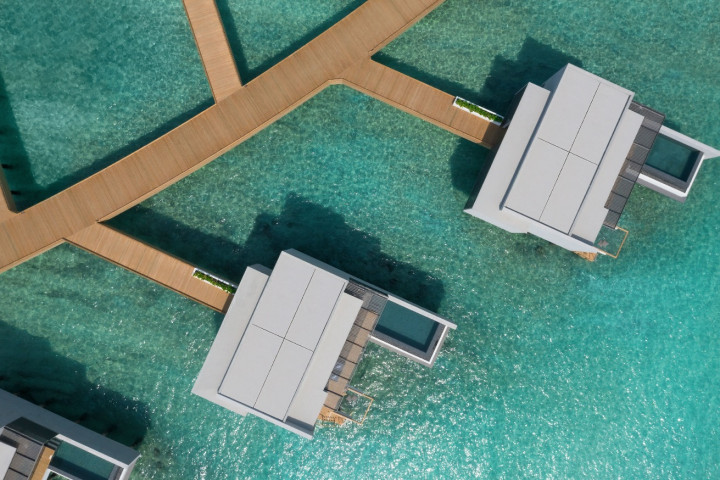 Sunrise Water Villa
Wake up to the splendour of the sunrise while floating in luxurious comfort above the turquoise lagoon. These elegantly appointed villas feature an open-concept bedroom and living room for a spacious feel, with floor-to-ceiling glass doors that slide open to a private pool and sun deck surrounded by unending ocean views.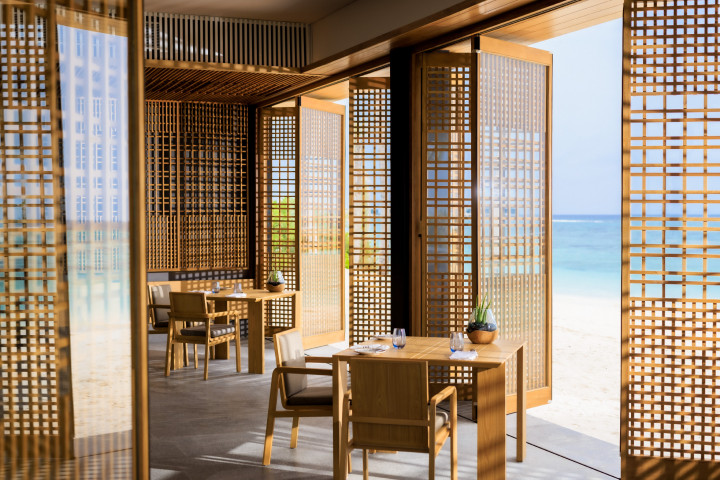 SeaSalt
Thoughtfully sourced and carefully served, local fish is the star of the show at Seasalt, caught and delivered daily by neighboring local fishermen. Enjoy the fresh taste of the sea in coastal cuisine that blends Middle Eastern and Mediterranean influences and traditions in dishes that burst with ancient flavors, spices and colors.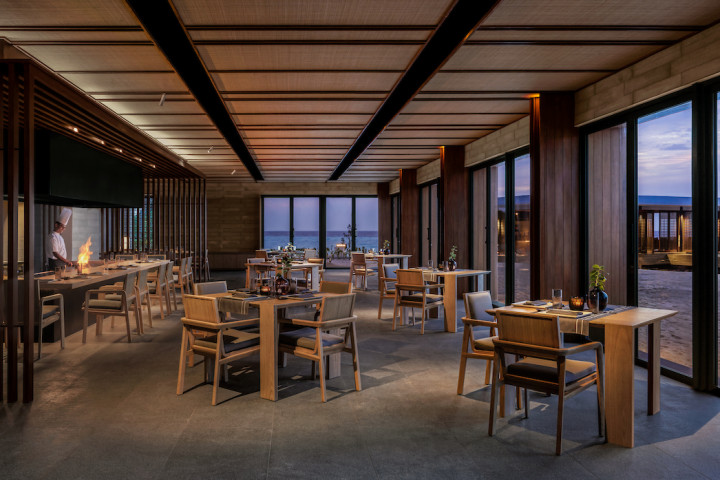 Umami
Umami means "essence of deliciousness" in Japanese and is known as the fifth element of taste. It perfectly describes the variety of mouth-watering experiences that await in this relaxing open space cooled by the gentle ocean breeze.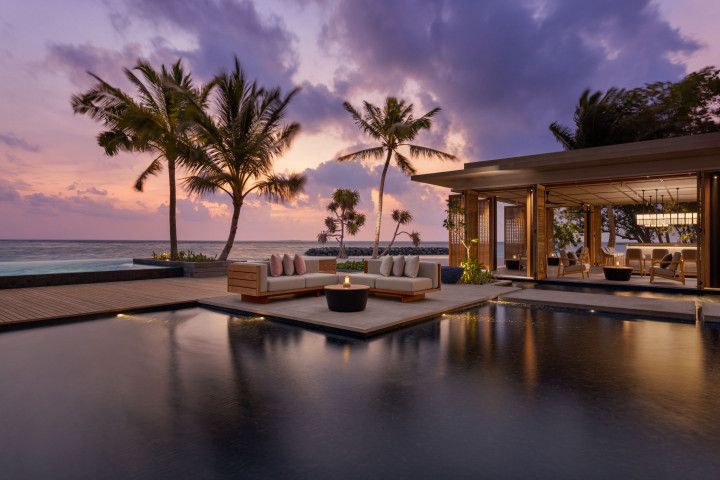 Mirus Bar
Named after the local Dhivehi word for "chili", Mirus Bar serves a refreshing selection of cocktails inspired by the region's former Portuguese and Arabic spice trade routes and concocted with ingredients from our own herb garden. Here, you can also enjoy an extensive range of Old and New World wines, including organic and biodynamic varieties. Pair your drink with Spanish tapas and local bites famous in the South Asian region.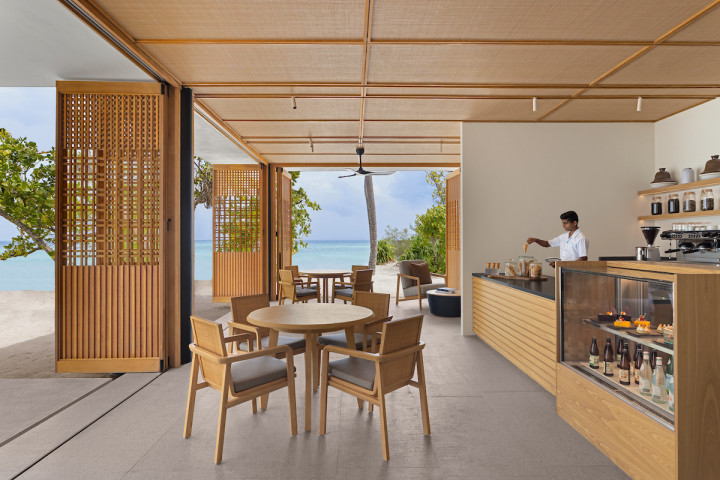 Pibati
Pibati means "to drink, absorb, imbibe" in Sanskrit. This chilled beachside café satisfies your daytime cravings with comfort food ranging from pressed sandwiches to hand-pulled Roma-style pizzettes, organic salads, cakes and pastries, gelato and more, along with freshly brewed barista coffees, forest-friendly teas, juices and wellness concoctions.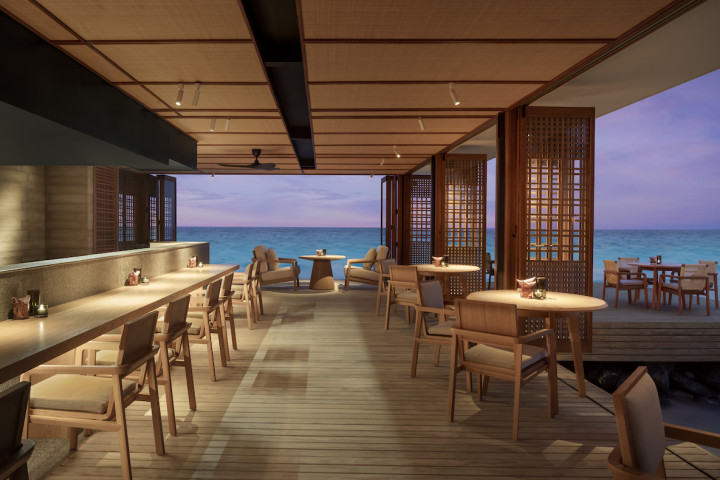 Yakitori Bar
Yakitori Bar is the place to be to indulge in sundowners, including Asian-inspired creative cocktails and mocktails crafted by our team of mixologists alongside fine Japanese sakes and spirits. Delicious smoky aromas from the robata grill permeate the bar and work to whet your appetite.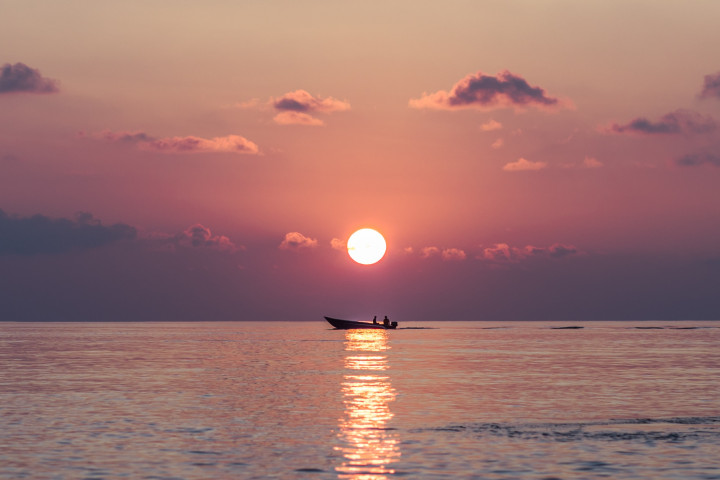 The Shack
***OPENING SOON*** Take a short sail in a traditional Maldivian dhoni to our private sandbank, the starting point of a rare culinary journey, exclusively for two or just a few. A true island escape experience, The Shack is our own private sand cay (giri). Two distinct trips to The Shack are available daily – a 4-hour day trip including a picnic-style lunch, and a 4-hour evening trip with a private chef to cook up a sunset BBQ.

Activities & Facilities
Water Sports Activities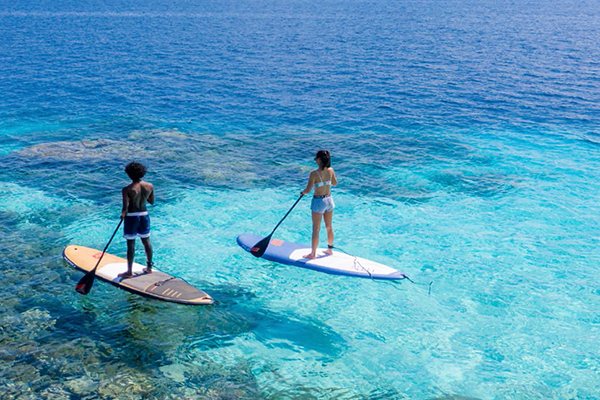 Stand Up Paddling
Stand-up paddle boarding takes place in the calm lagoons and is suitable for all ages and abilities.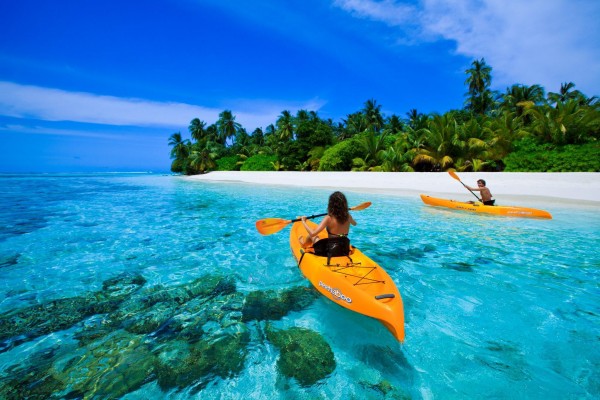 Kayak
Join us for a journey of discovery around the magnificent coastline by kayak and spend some time exploring the island's blue lagoons and white sandy beaches.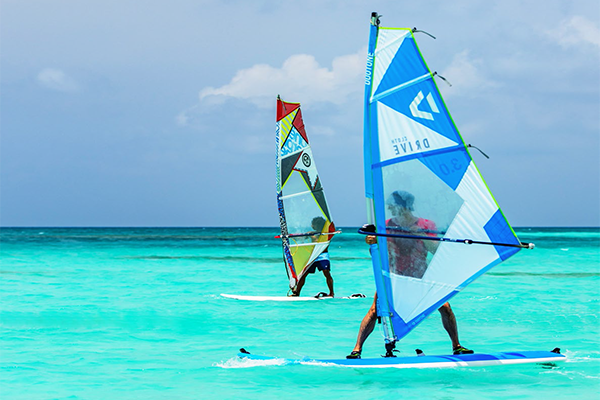 Wind Surfing
With beautiful crystal-clear lagoons and strong consistent winds, the Maldives is the perfect place for windsurfing. Guided by our expert, surfers of all levels can launch right from the beach and sharpen their skills on the lagoon's vast expanse of shallow turquoise water with a sandy bottom.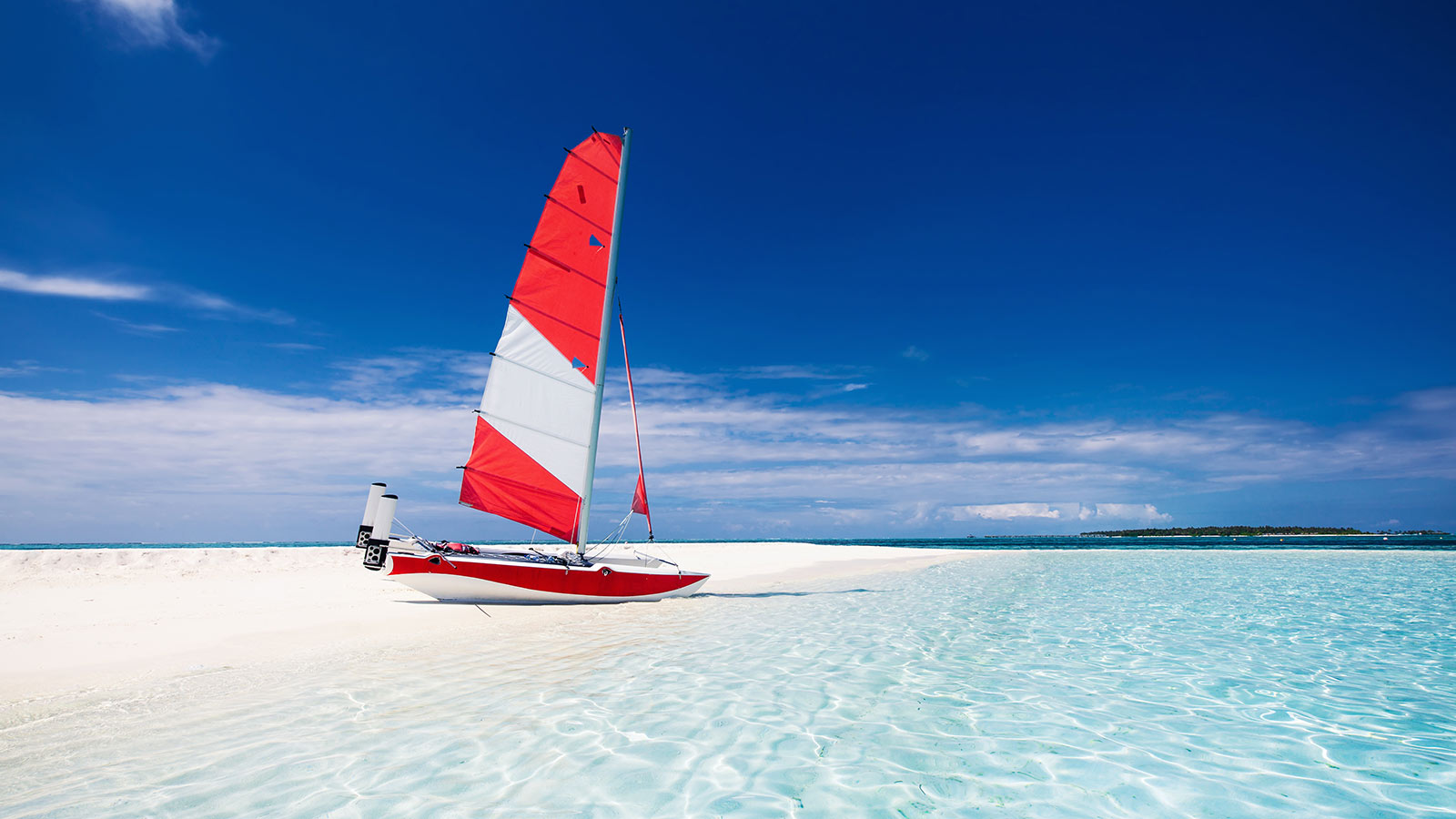 Catamaran Sailing
Whether you're a certified sailor looking for an adventure exploring offshore islands or a complete novice looking to learn the ropes, embark on an exhilarating experience to remember guided by our expert.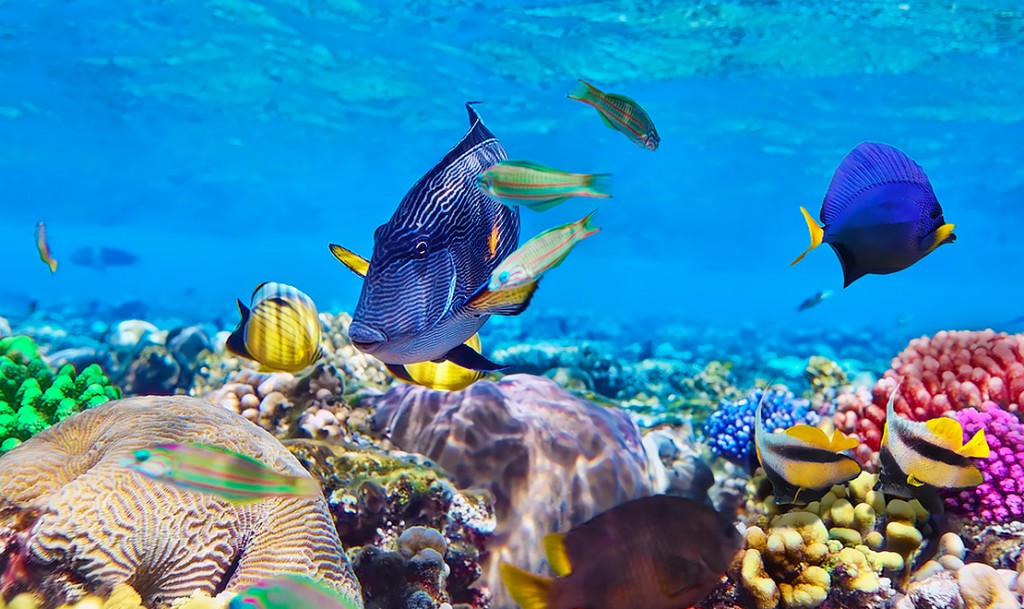 Snorkelling
Known for its rich diversity and colourful coral reefs, the Maldives sea offers a wonderful snorkelling experience. Jump aboard our traditional Maldivian dhoni boat for an unforgettable snorkelling experience led by an experienced guide. Whether a first-timer or an expert in the water, explore the reefs at your own pace whilst being guided to the best spots for underwater exploration.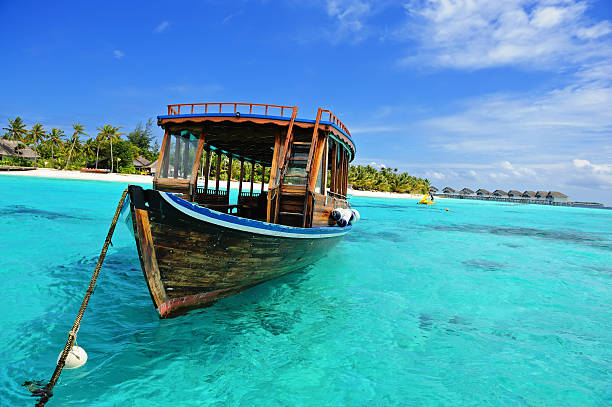 Dhoni Journey
White sands, blue skies, and crystal-clear waters – cruise the exotic tropical islands of the Maldives on a spacious wooden Maldivian dhoni boat. Enjoy a sunset sail or a dolphin-watching excursion— or be dropped off on a sandbank for a day of relaxation.
Facilities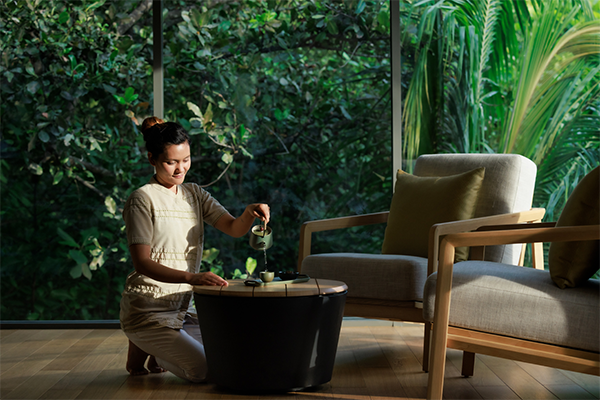 Spa Alila
Spa Alila features four double treatment suites, all with a private bathroom, shower and a floor-to-ceiling window offering views. Treat yourself to rejuvenating treatments and beauty rituals that put a contemporary spin on ancient healing techniques and draw on the benefits of natural ingredients to deliver pure luxurious indulgence.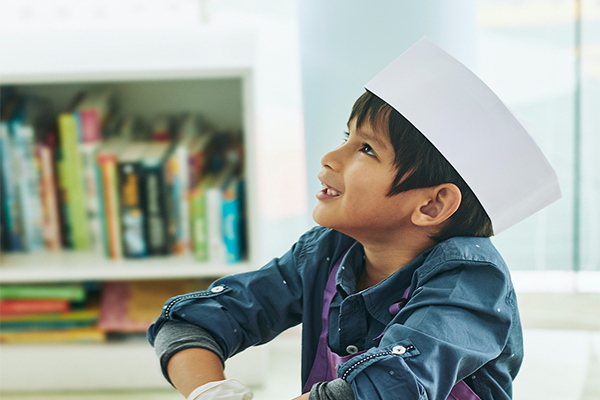 Play Alila
A dedicated play space for our young guests, keeping them entertained and engaged with toys, games and fun, supervised indoor and outdoor activities.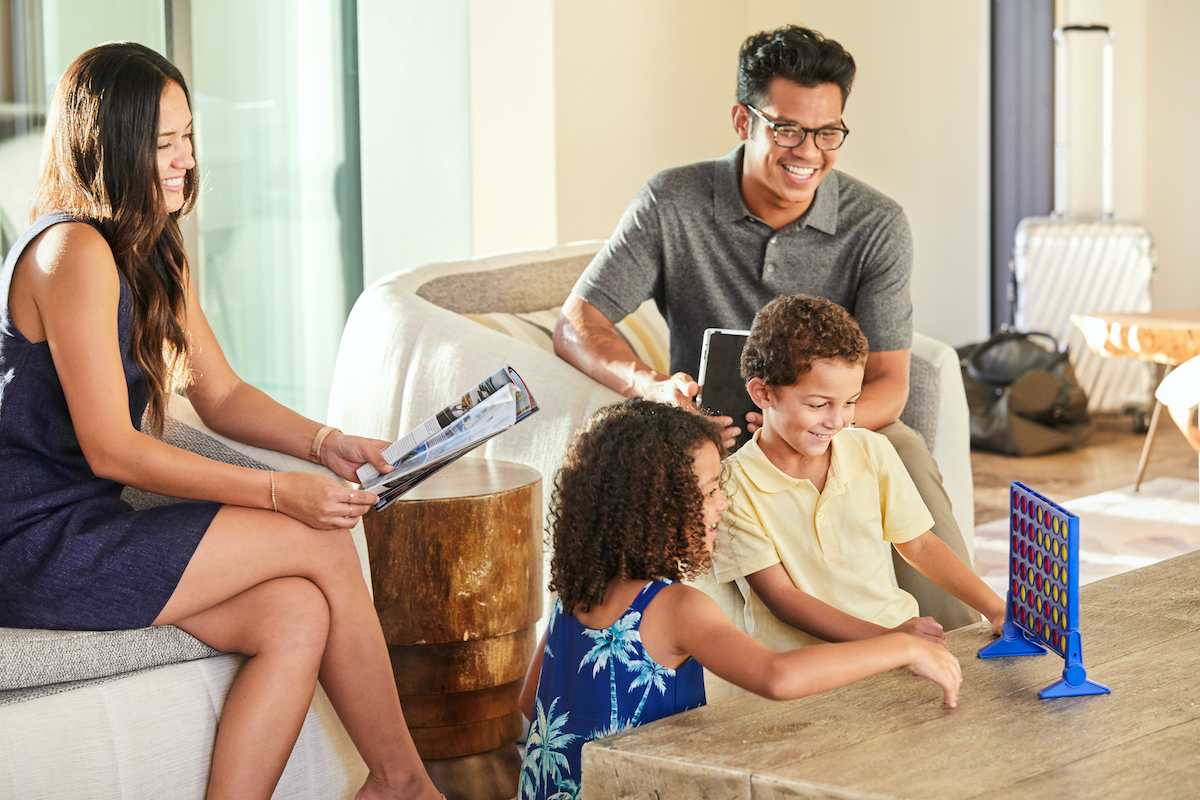 Game Room
Indulge in some fun with a wide variety of games for all ages to choose from.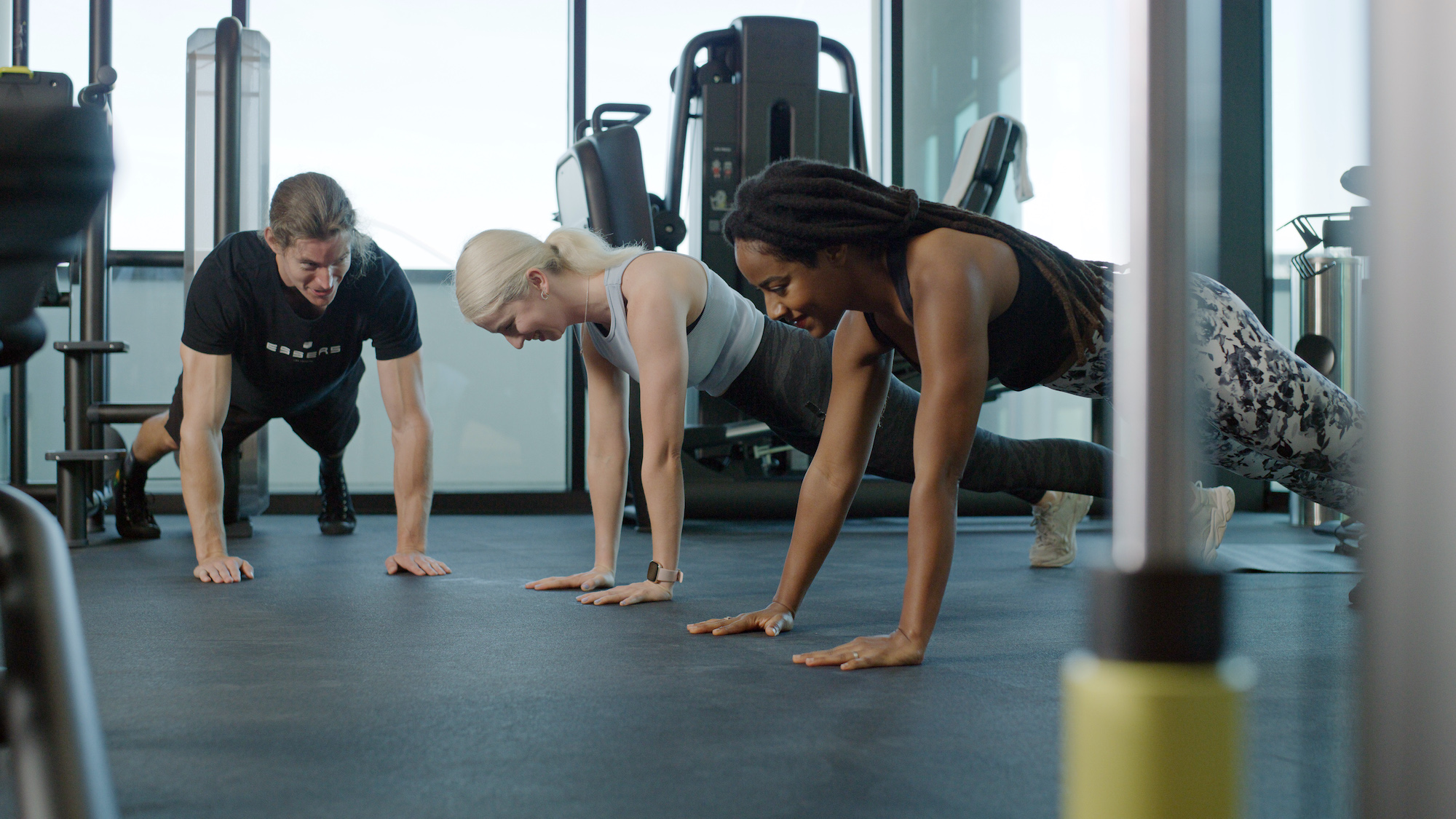 Fitness Centre
Work out in our light-filled gym offering the latest Technogym equipment and floor-to-ceiling views of the lush surroundings.