COMO Cocoa Island
From its personalised service and sophisticated cuisine to its distinctive design, authentic culture and calming spa, our Maldives luxury resort works hard to tailor the experience to your needs. We can orchestrate customised cruises to neighbouring islands and beaches; plan private dinners at secluded locations; arrange yoga, diving or snorkelling; and create adventures for families travelling together.
Book Now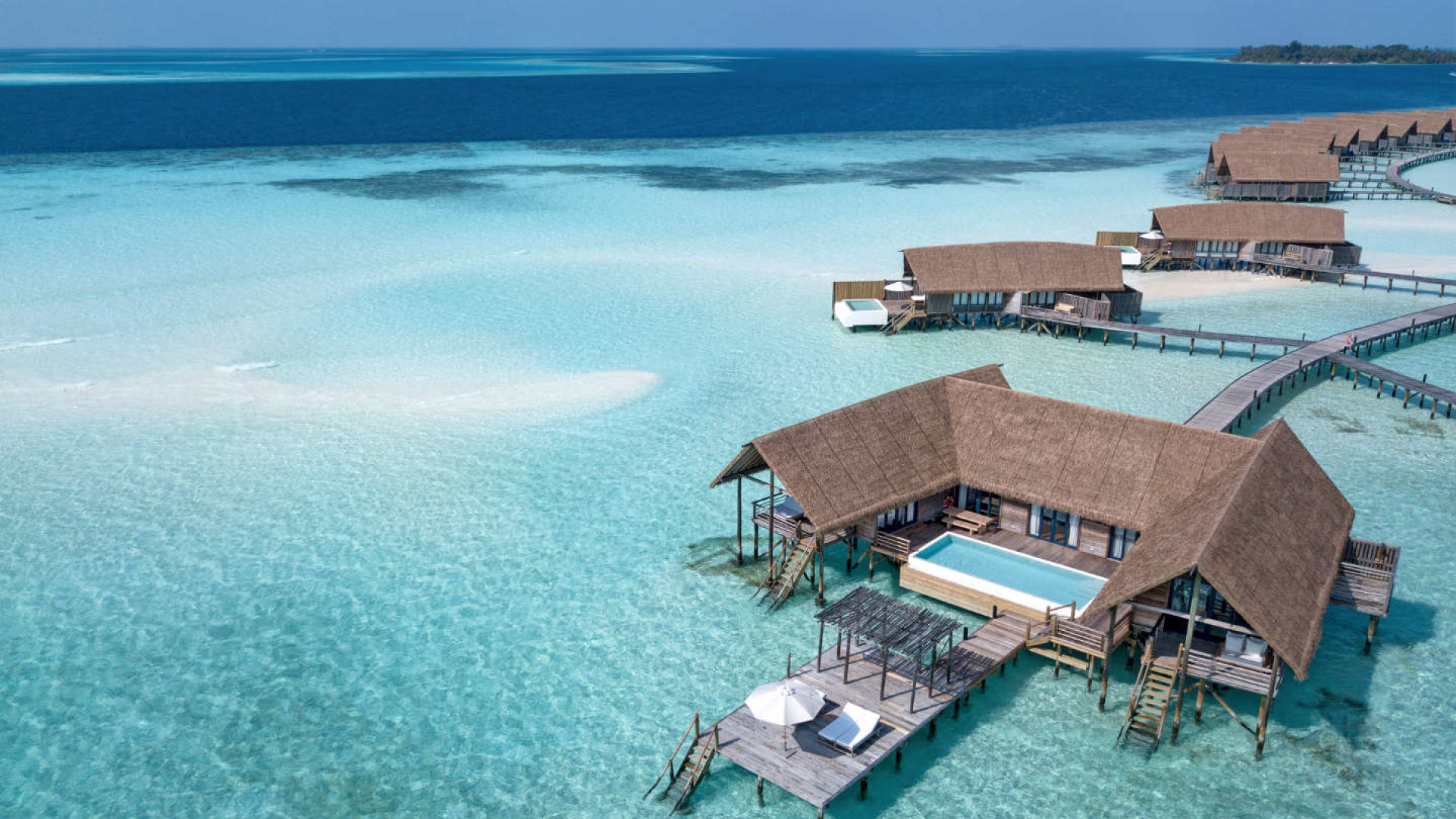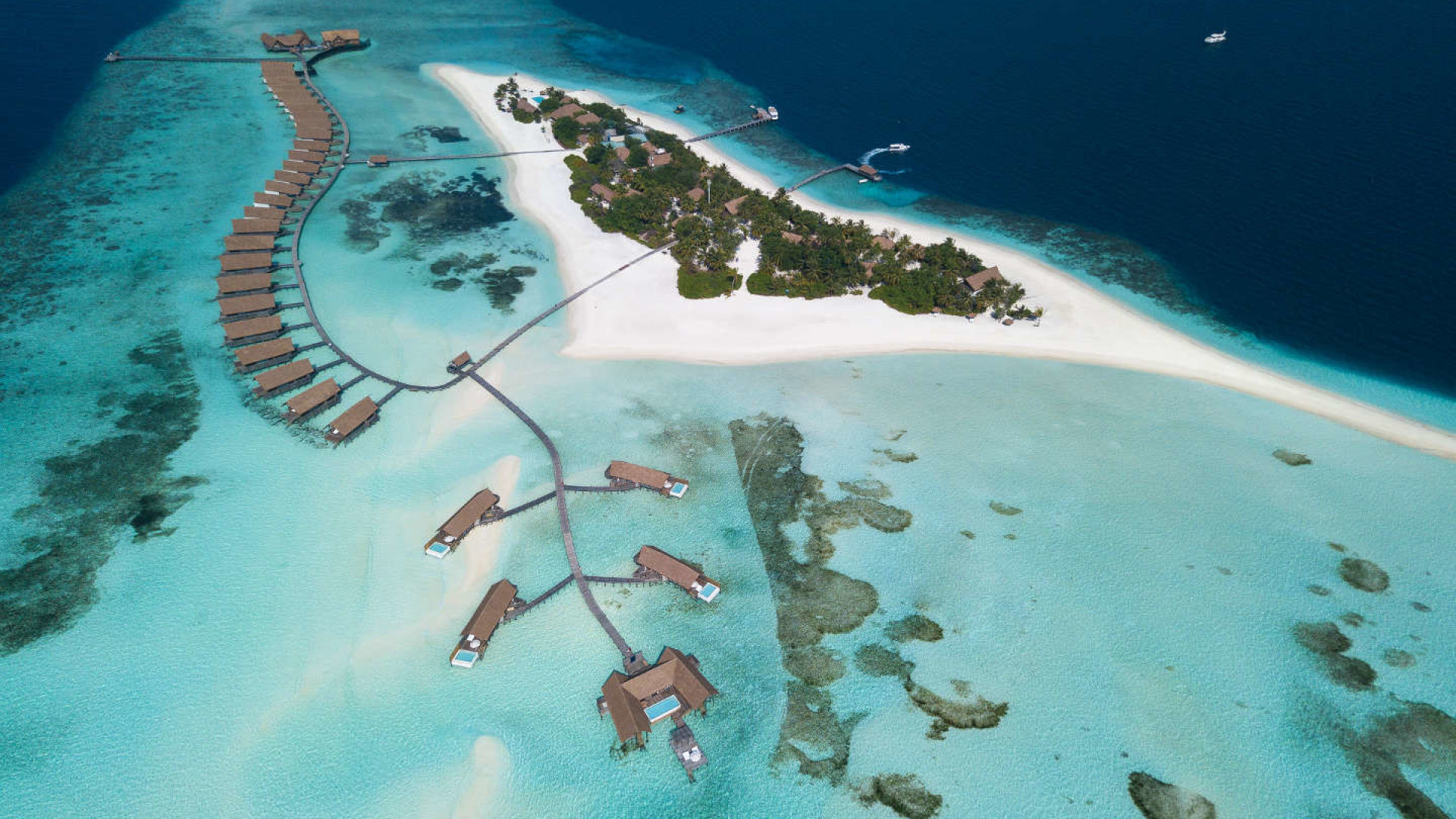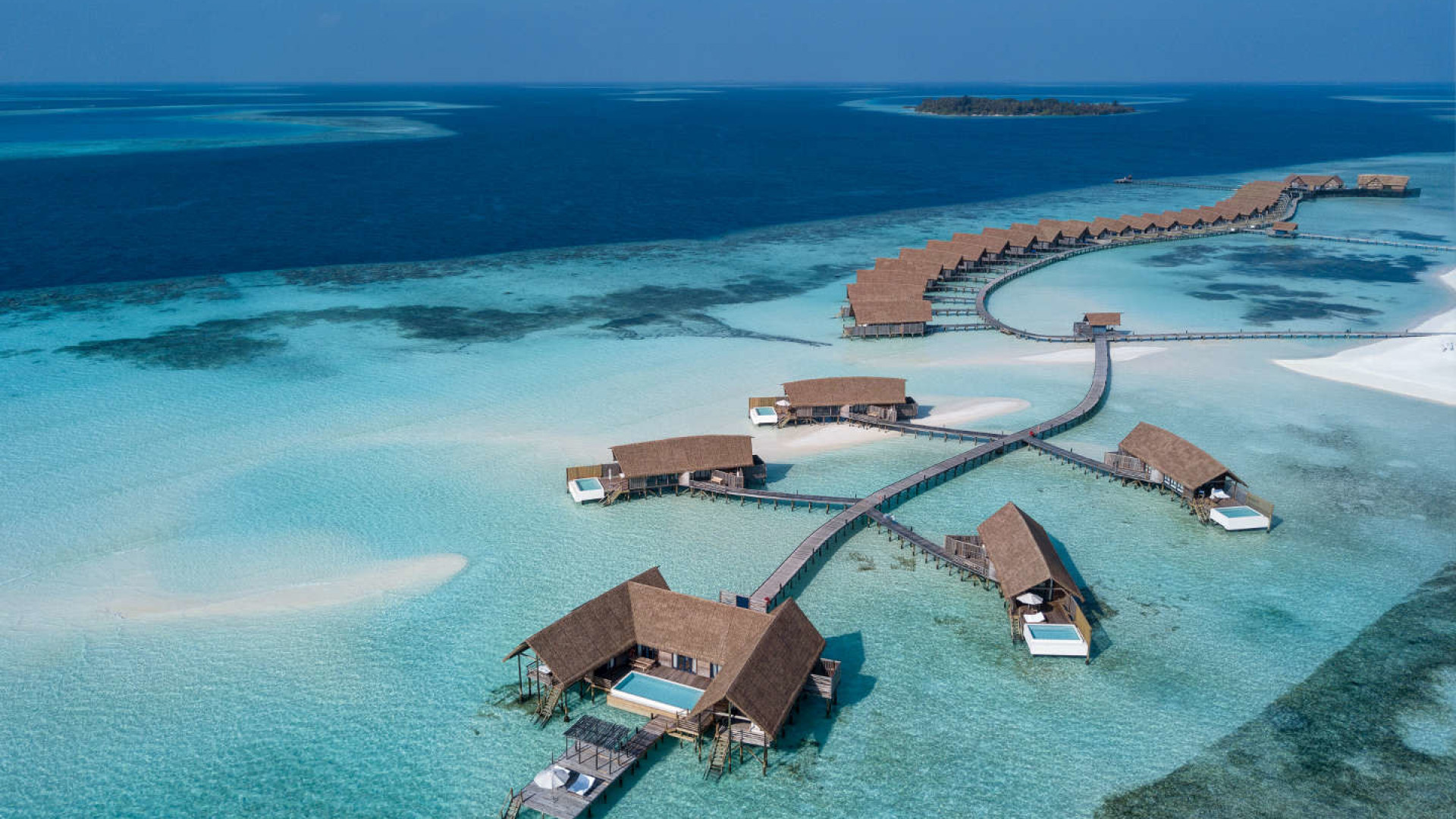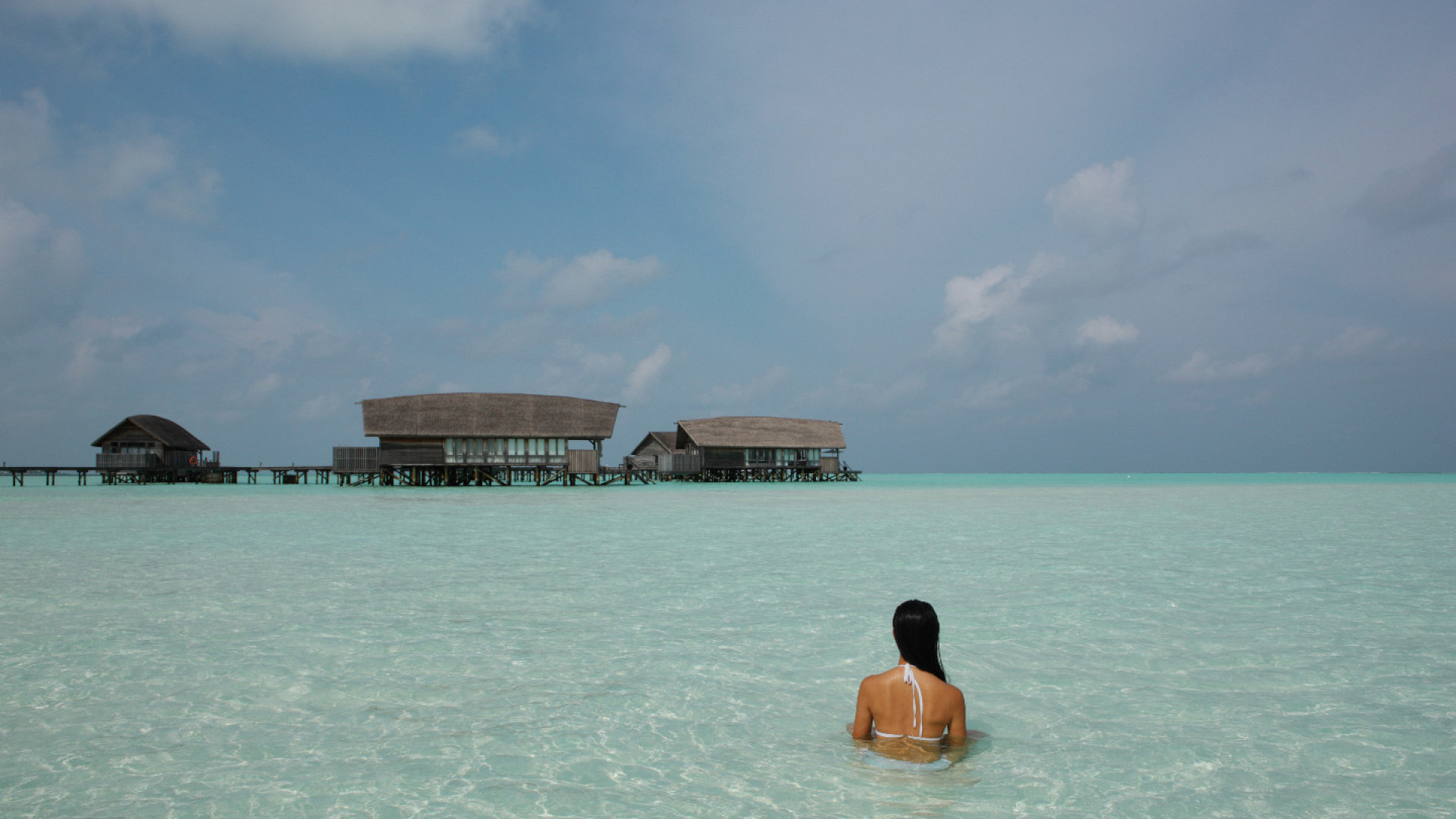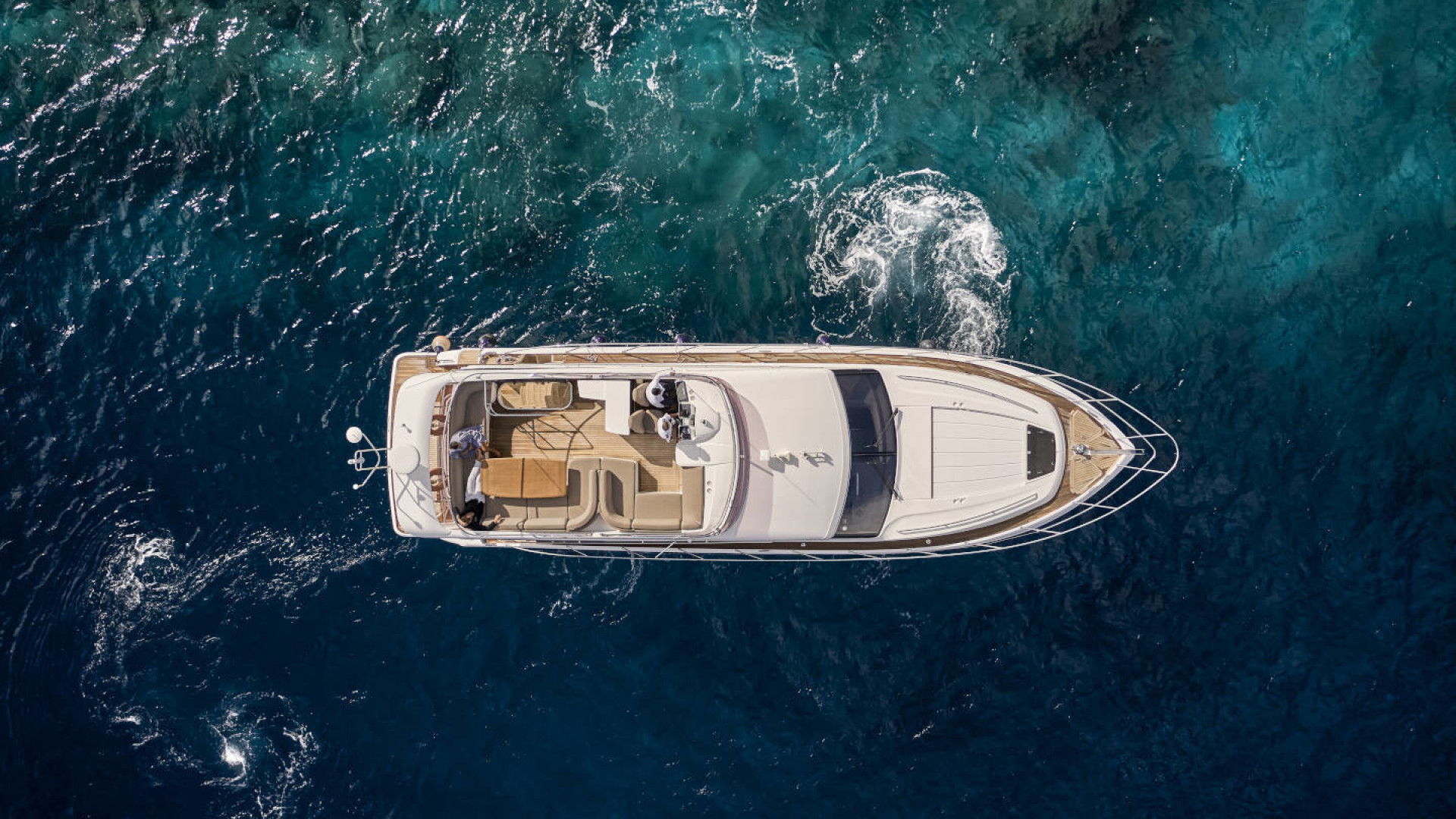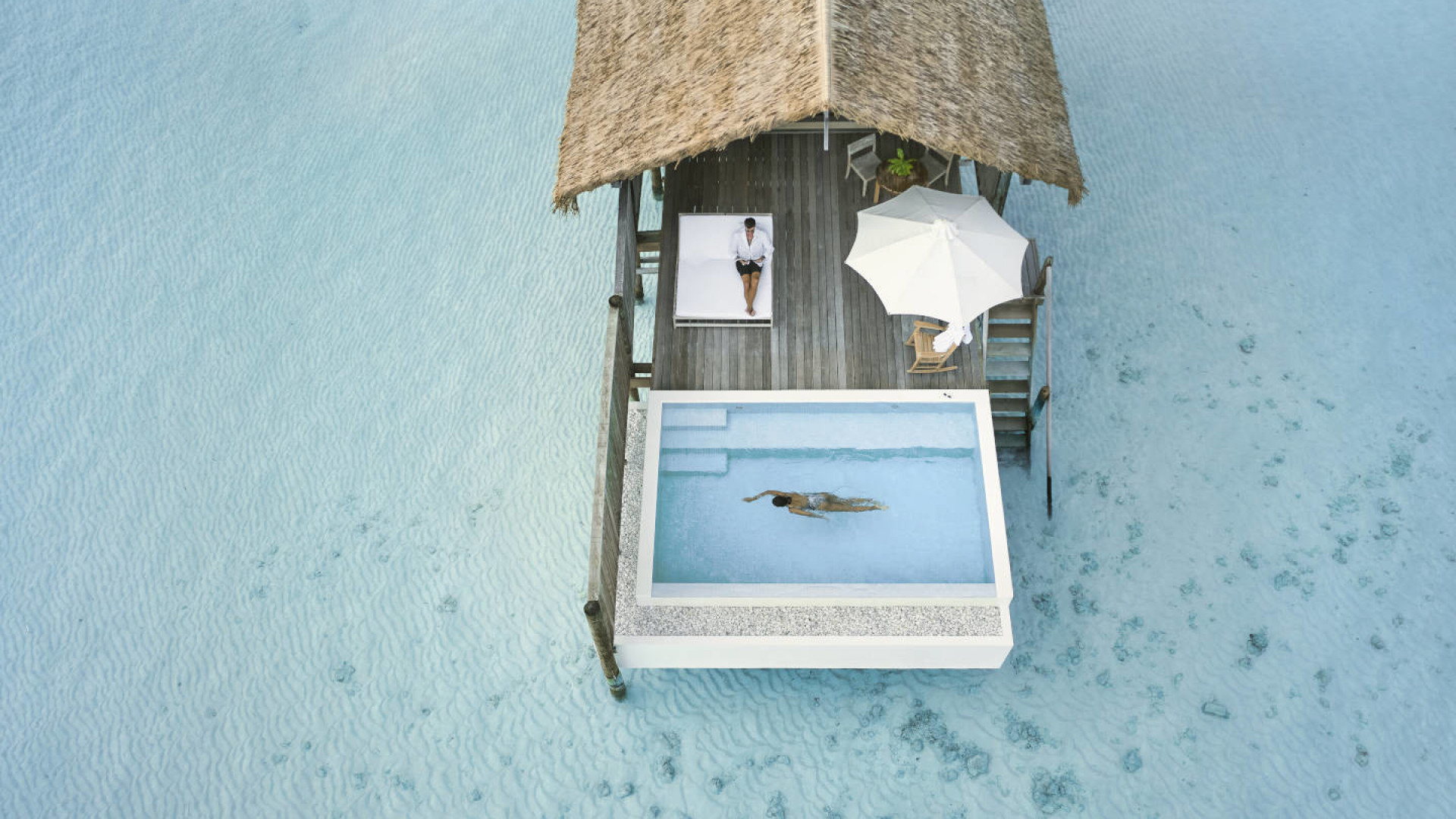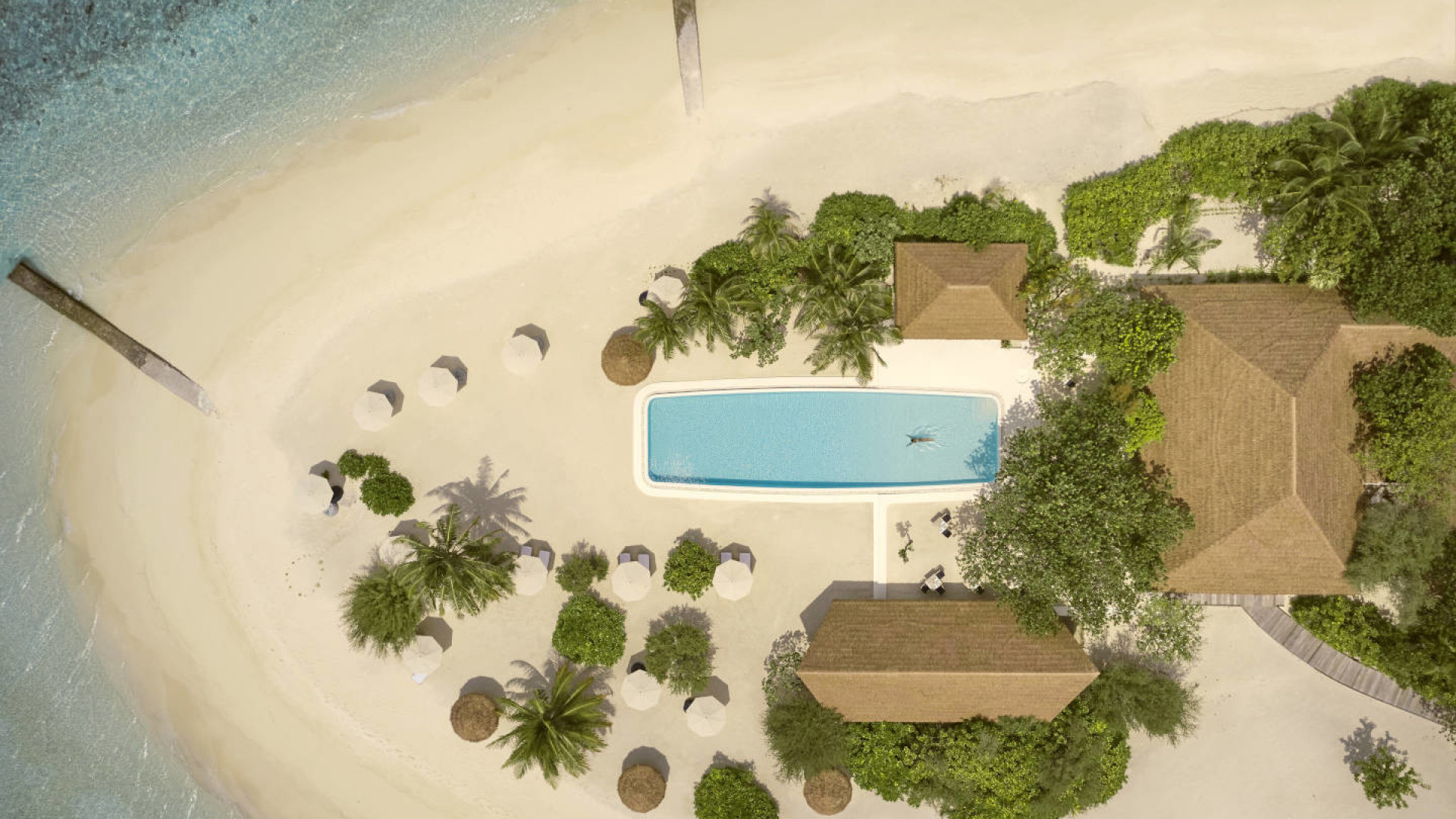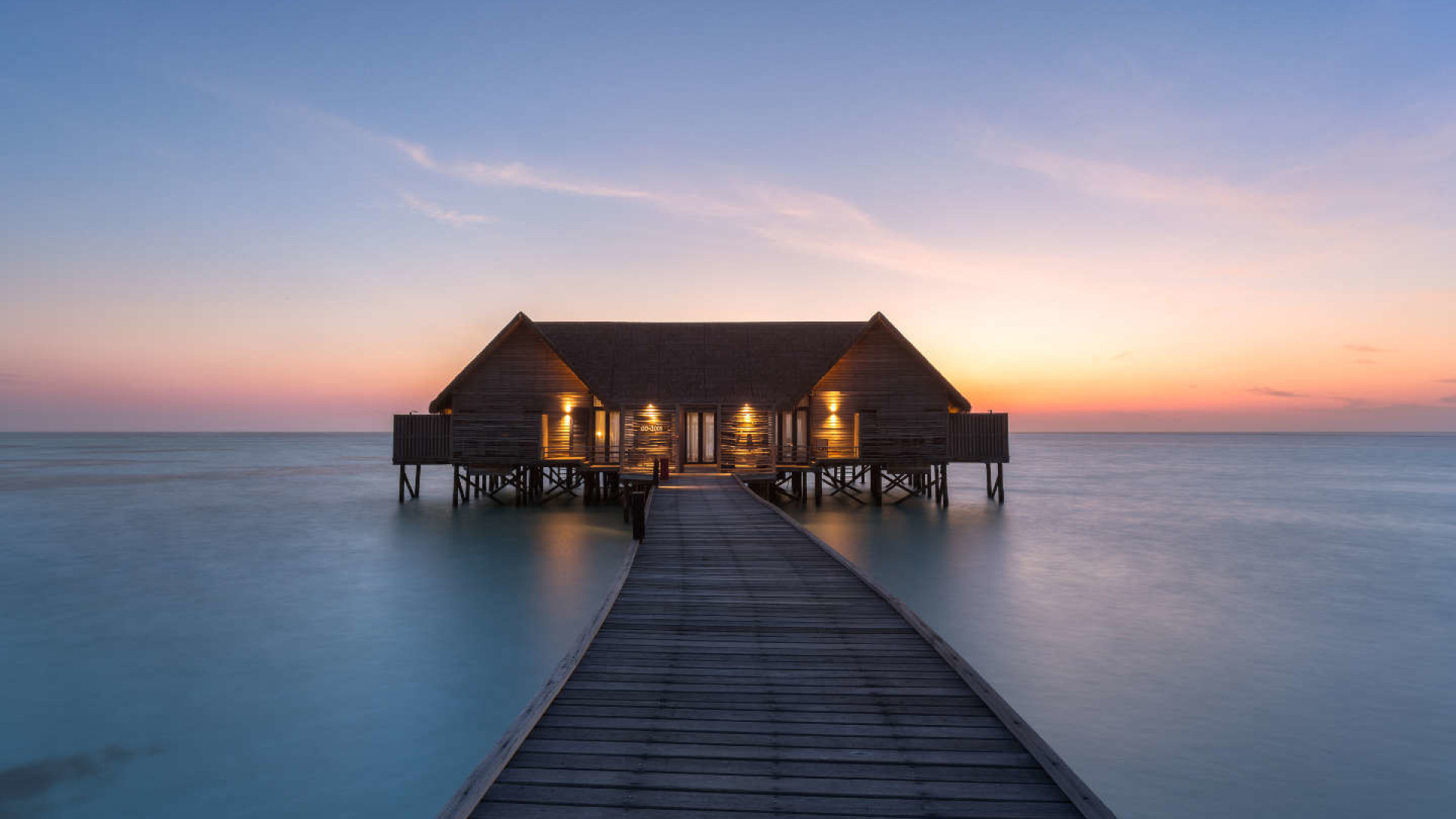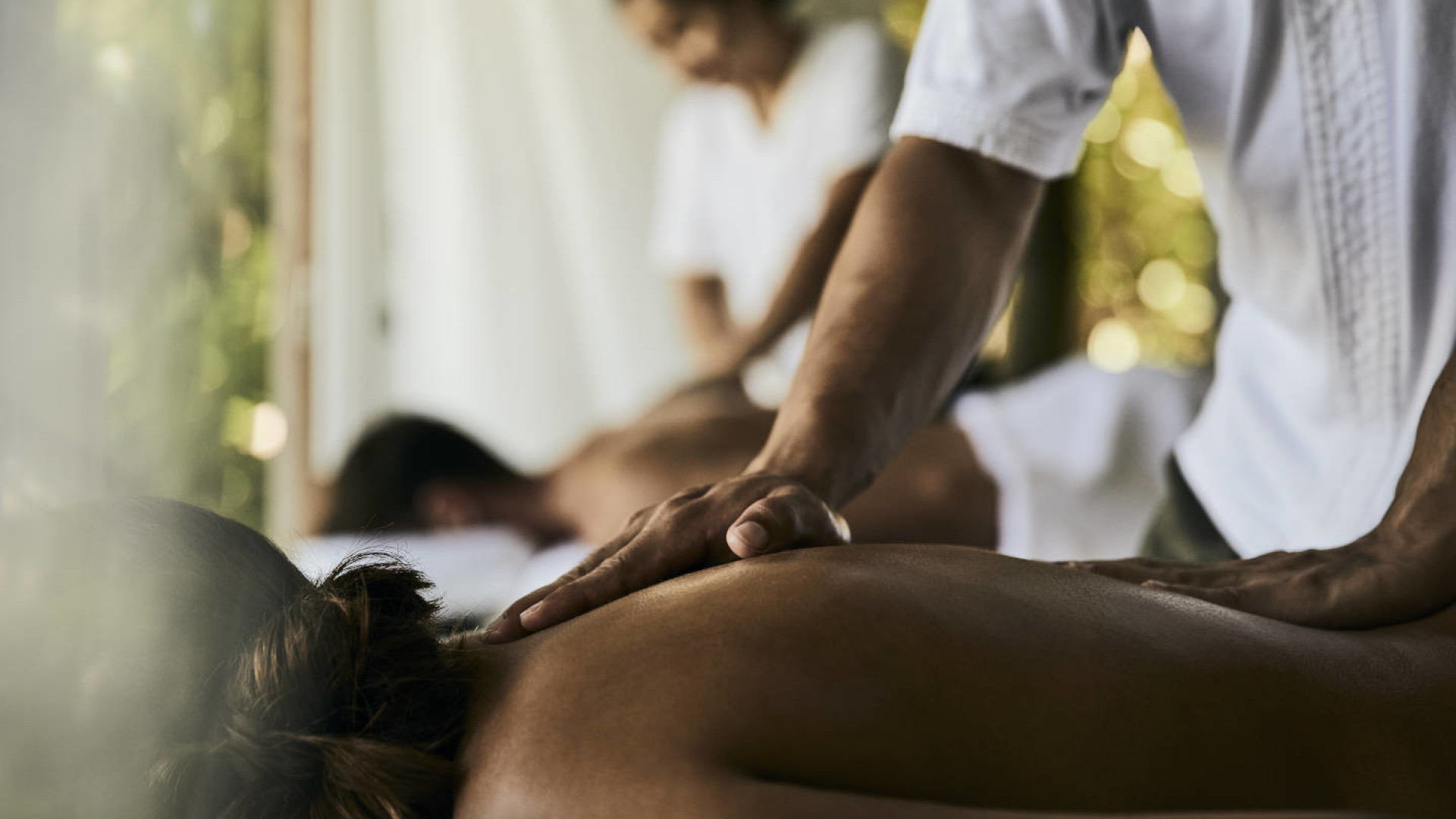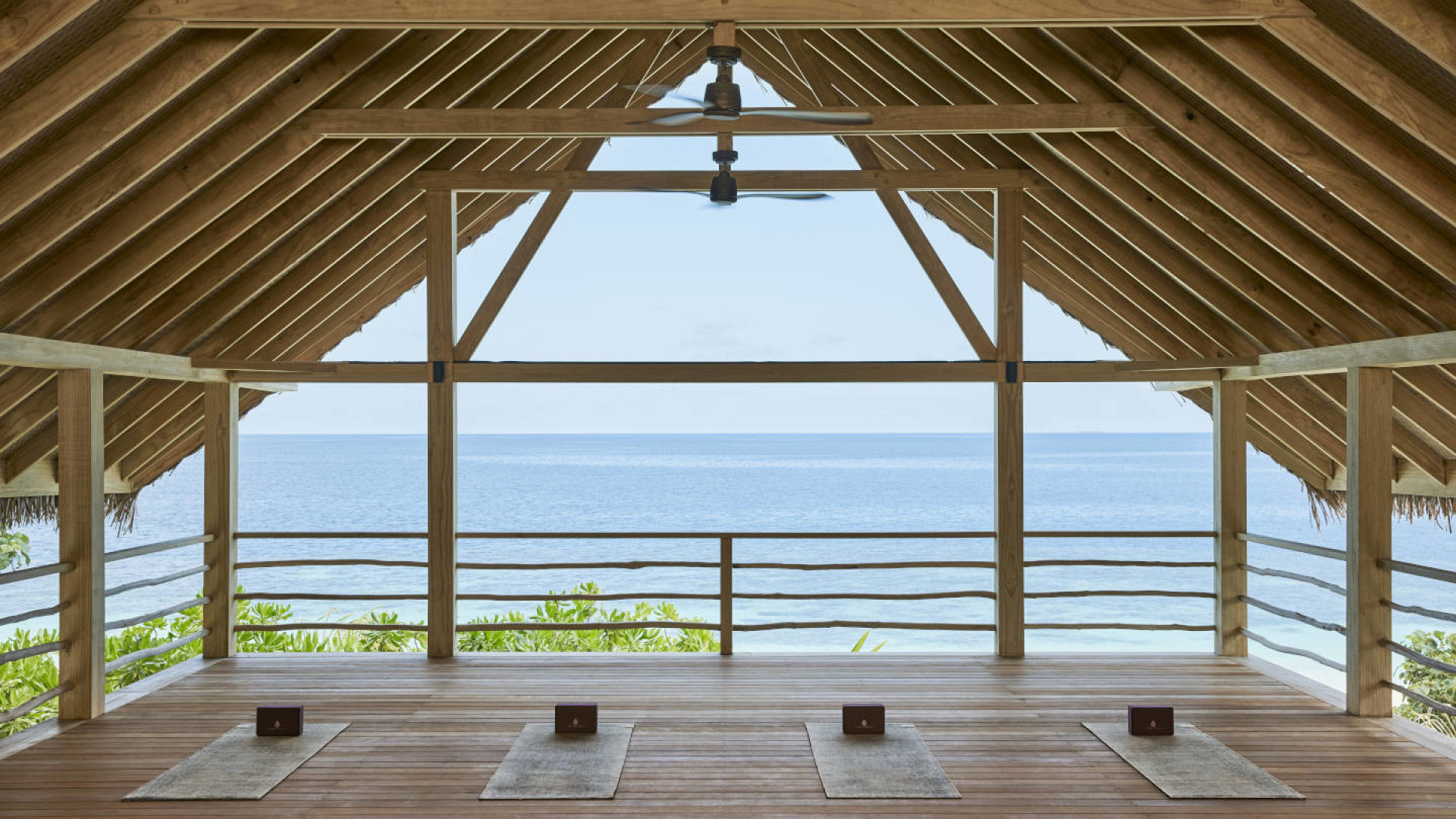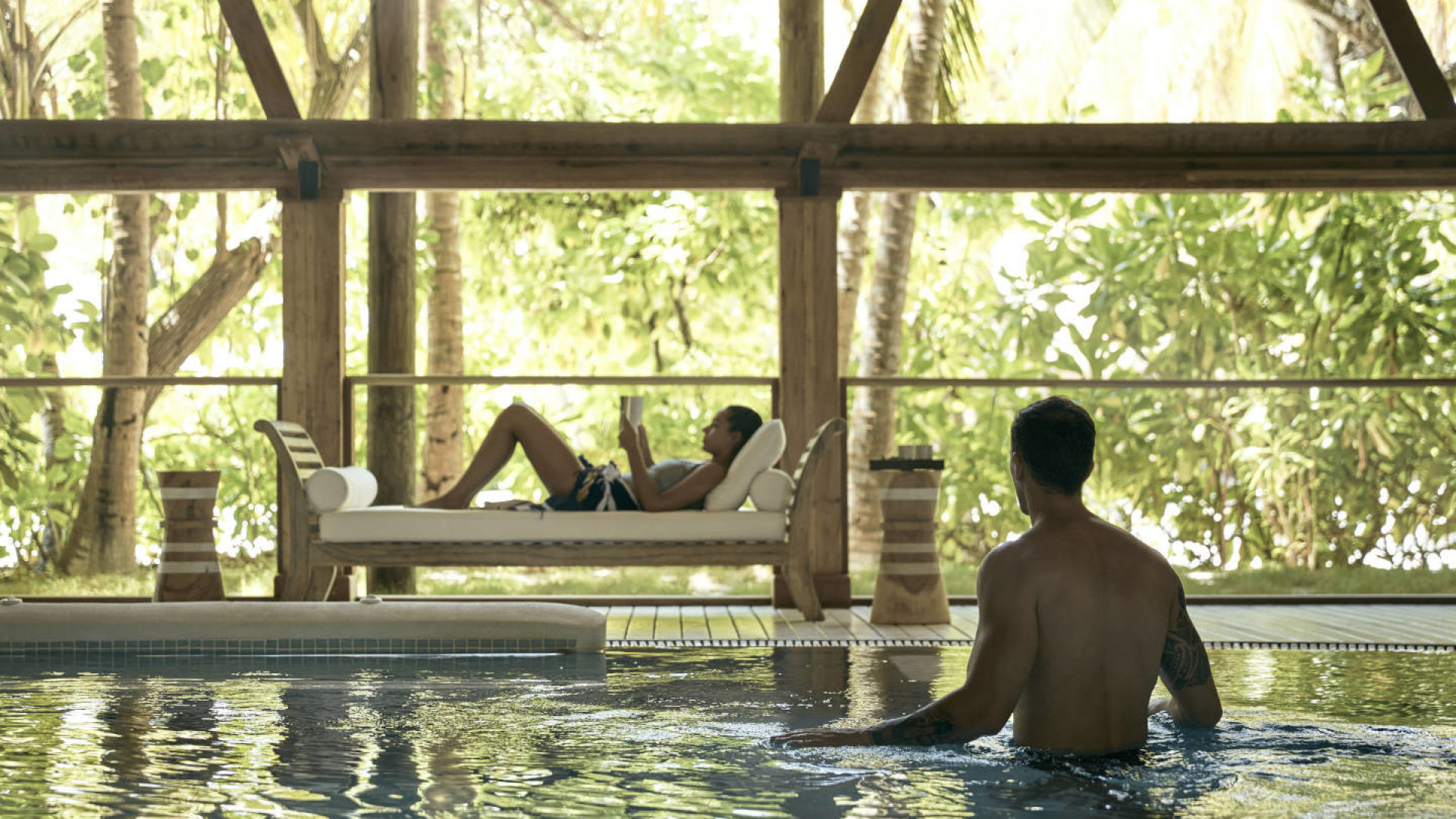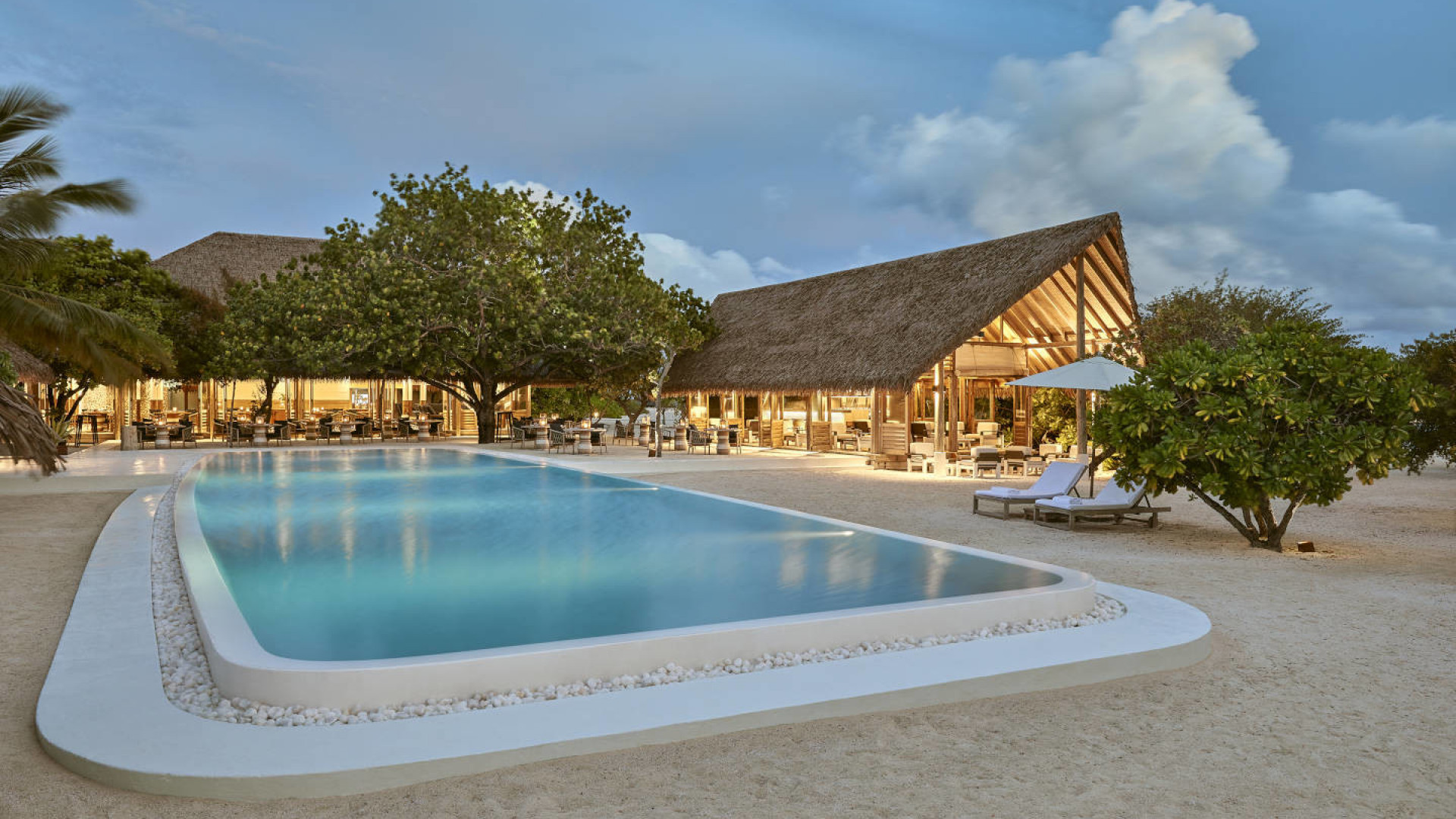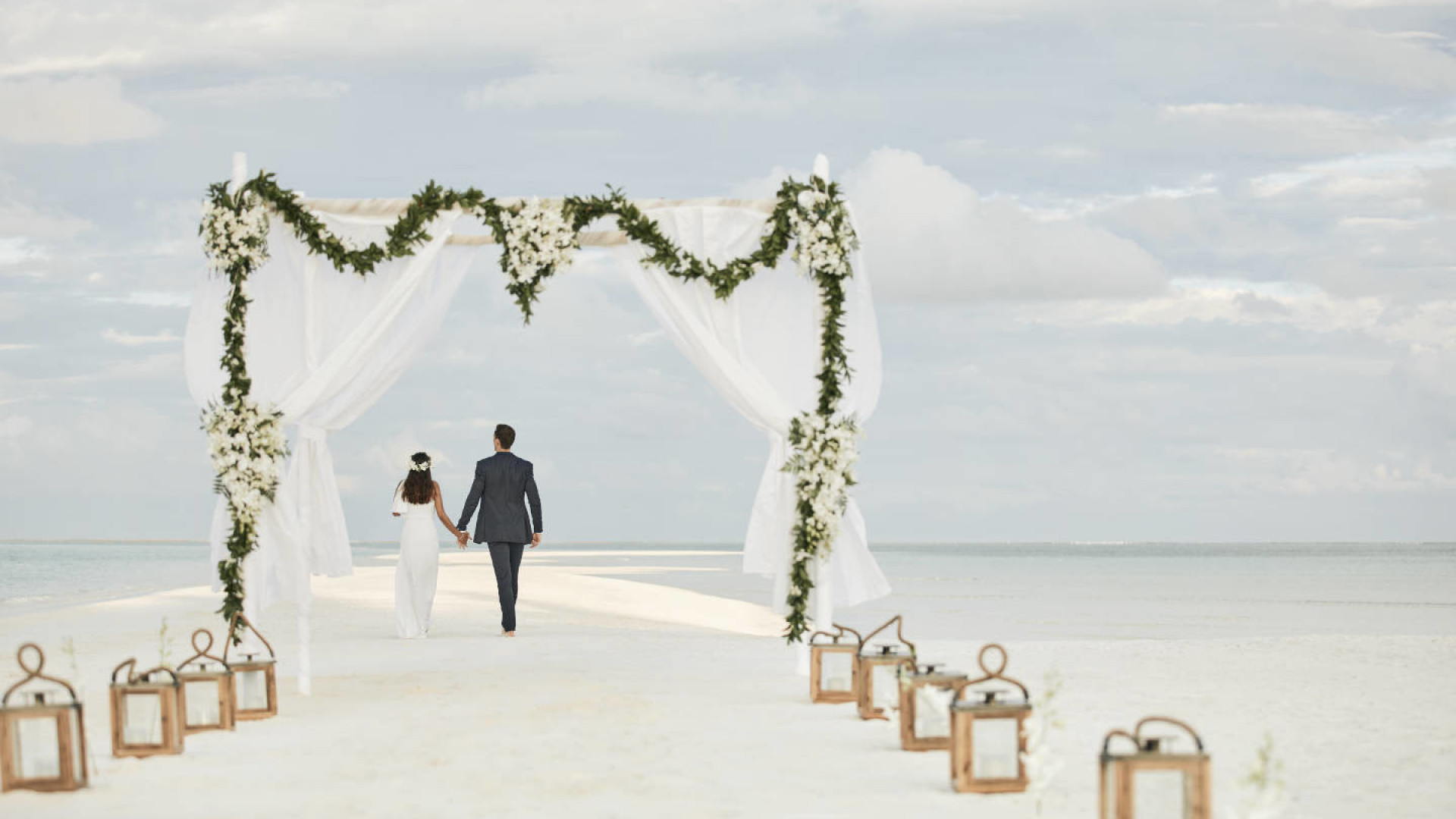 Maldives luxury hotels have exceptionally high standards, with COMO Cocoa Island helping to lead the way. Whether travelling with a spouse, partner, children or extended family, our sophisticated facilities are available to anyone with an overnight stay.
Our expert staff at COMO Cocoa Island will anticipate your every need while staying with us. There's always a manager on duty, day or night, and our dedicated team can assist with all aspects of your trip, including booking you onto daily tours and activities. Please note that for privacy and safety reasons, drones and other unmanned aerial equipment are not permitted to be flown anywhere at the resort.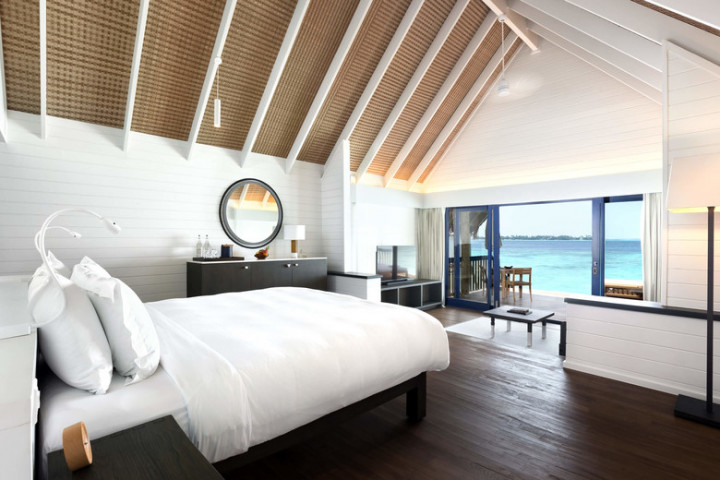 Dhoni Water Villas
Our split-level Dhoni Water Villas stand out for their unusual design: shaped like a traditional Maldivian 'dhoni' fishing boat, they make you feel like you're floating on the ocean. The generous living room is a calming space to relax, while the overwater private terrace has a staircase that leads to the lagoon's warm waters.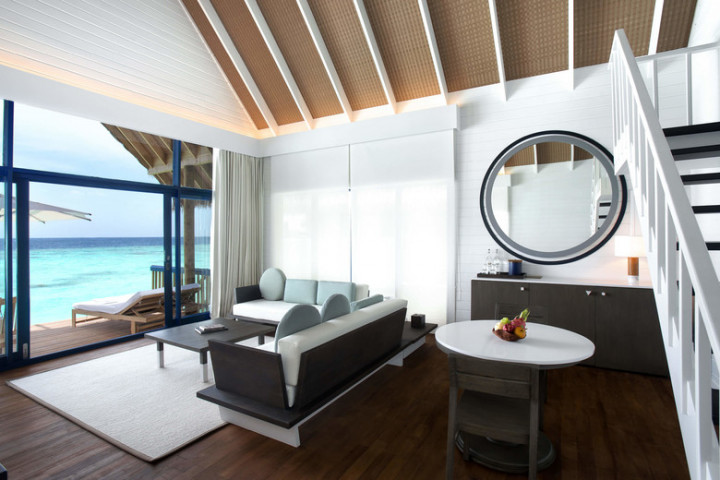 Dhoni Loft Water Villas
Shaped like a traditional 'dhoni' fishing boat, our Dhoni Loft Water Villas have an expansive lower level living area and a master bedroom on the mezzanine, making them great for families. The design is about bringing the outside space in, with floor-to-ceiling windows overlooking the water, and a private terrace touching the ocean.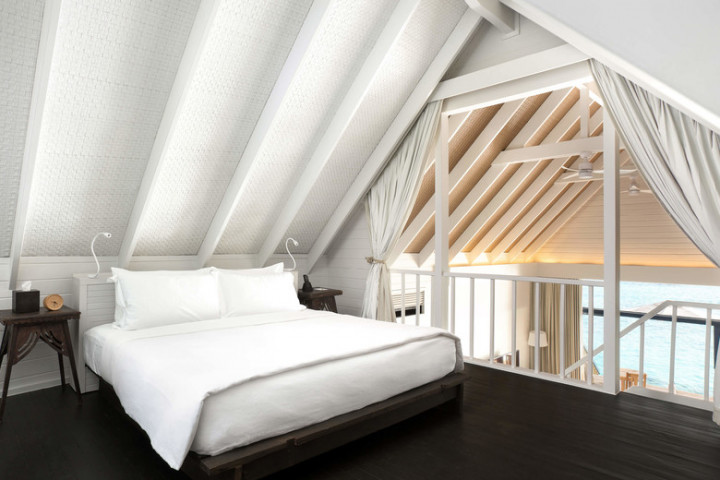 Loft Water Villas
In these villas, the horizon feels like it extends forever as you look out from your private sundeck or watch the ocean roll past the floor-to-ceiling windows. The elevated loft features a king-sized en suite master bedroom, while the lower deck's large and airy sitting area doubles up as a sleeping space for families. There is also a secluded outdoor rain shower with steps directly into the ocean.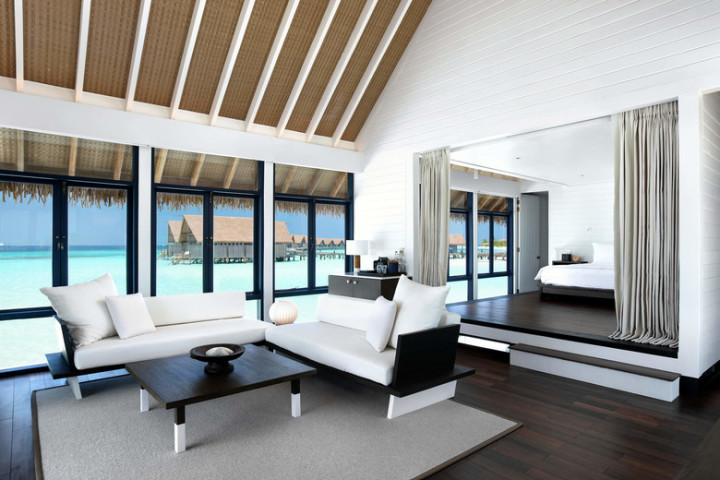 One Bedroom Water Villas with Pool
These light-filled villas sit on their own secluded jetty, each with a private entrance deck, surrounded by the aquamarine ocean. Outside, there's a new private pool and a balcony with a daybed, where you can relax as the sun rises and sets on the ocean. Inside, the spacious living area with floor-to-ceiling windows provides plenty of space to unwind.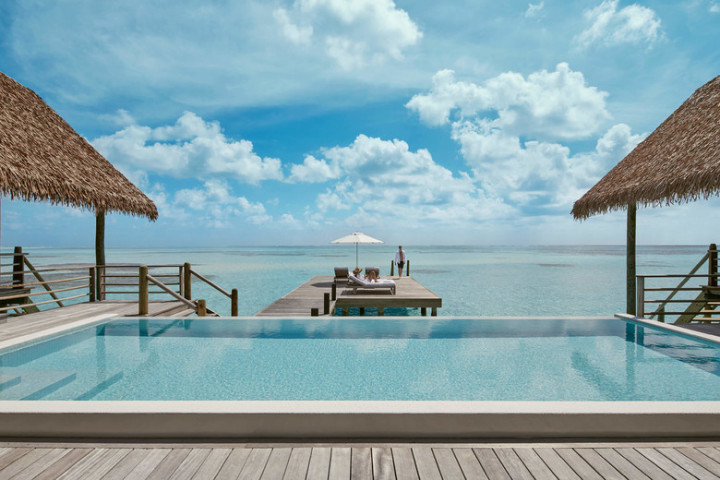 Two-Bedroom COMO Sunrise Villa
Our two-bedroom COMO Sunrise Villa has separate wings, each featuring an en suite bedroom and a private terrace directly above the ocean. The wings are connected by the living and dining areas, with balconies on either side that let you step directly off the deck into the turquoise lagoon. There's also a secluded deck, with a new private pool that almost touches the edge of the ocean.
Three-Bedroom COMO Sunset Villa
Our three-bedroom COMO Sunset Villa features two villas connected by a wooden walkway and is named for its spectacular sunset views. The one-bedroom villa has a master bedroom, a large terrace, a 10-metre private swimming pool and a gym. The two-bedroom villa has two wings, as well as its own private infinity pool.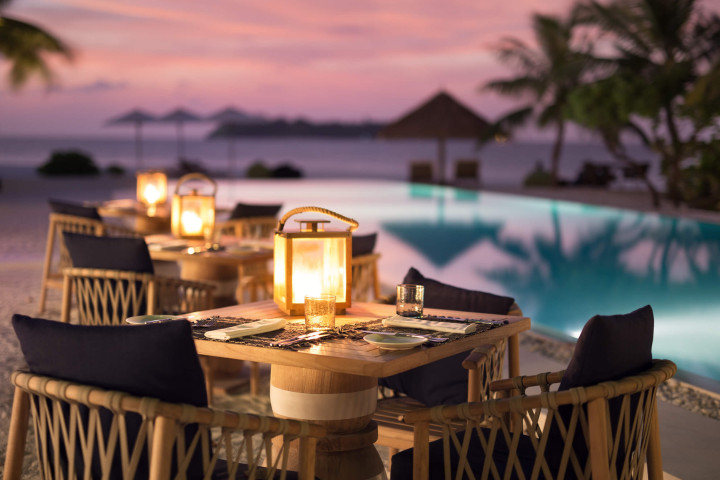 Ufaa
Open for breakfast, lunch and dinner with flexible dining to suit guests' preferences. Cuisine features European dishes in addition to a blend of Indian and Mediterranean traditions with an emphasis on locally caught seafood, fresh produce and COMO Shambhala healthful eating options.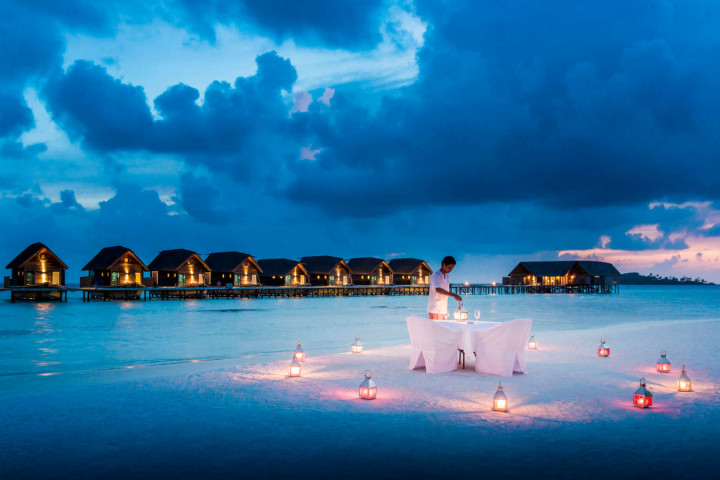 Private Dining Experiences
At COMO Cocoa Island, we seek to create memorable dining experiences. Our goal is to create moments that spark joy, whether it's a candlelit dinner for two, or a gourmet family meal with dramatic ocean views. Our discreet staff will ensure each meal feels private, special and above all, unforgettable.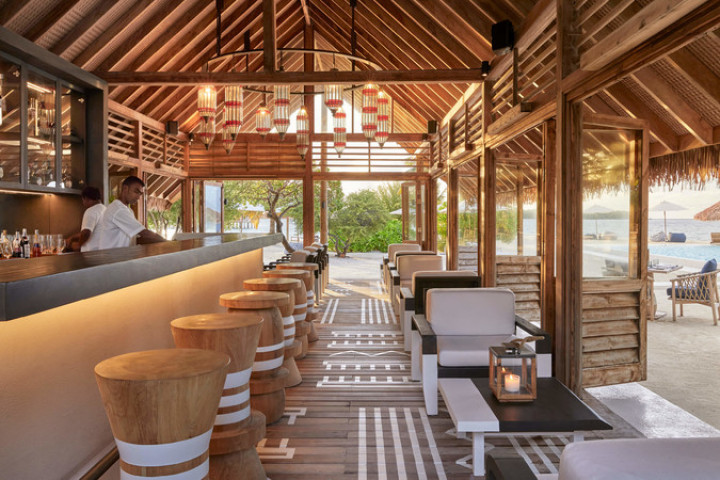 Faru Bar
Faru Bar is an easy-going, foot-in-the-sand resort bar where our inventive bartenders put together refreshing cocktails (and mocktails). Fine wines, classic cigars and light snacks also feature, alongside some easy beats at sunset. Faru Bar is open from 10am until late, adjacent to the infinity pool and leading directly to the beach.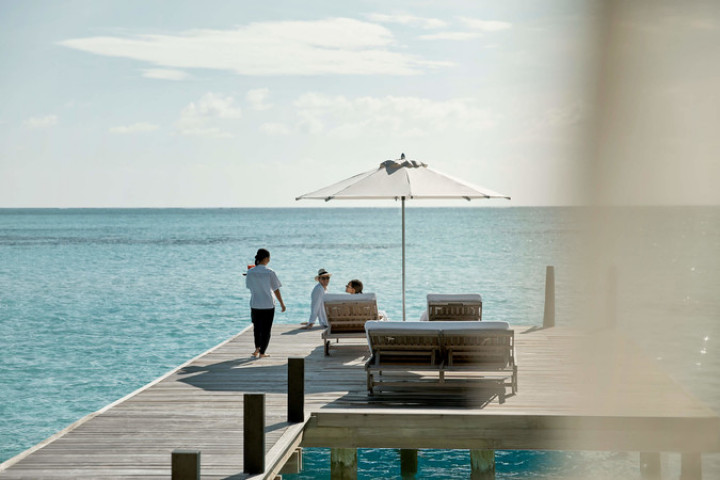 In-Room Dining
In-room dining at COMO Cocoa Island includes salads, pastas and refreshing juices and is available from 7am until 10pm daily.

Activities & Facilities
Water Adventures and Excursions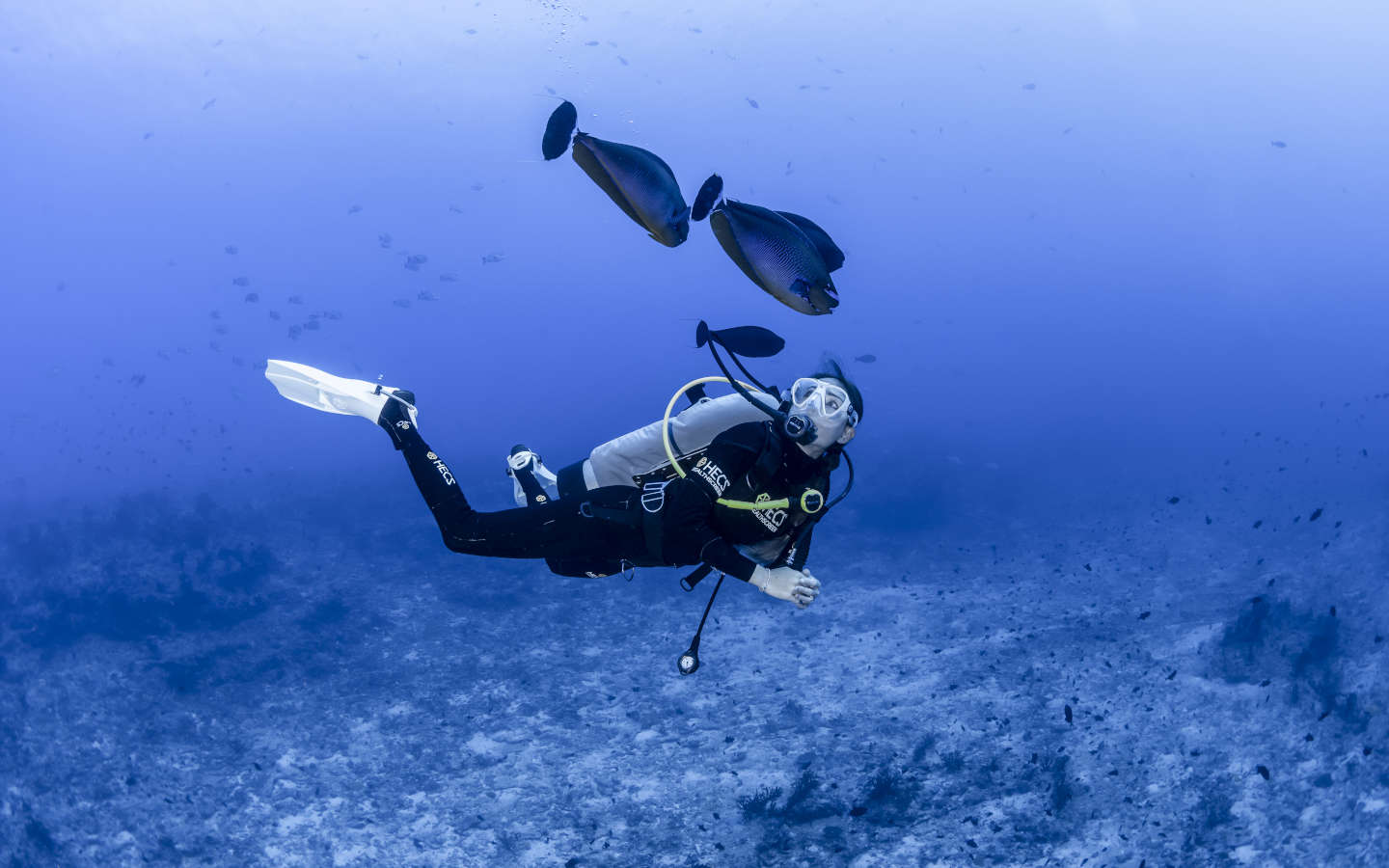 Diving
Located at Maldives' South Malé Atoll, COMO Cocoa Island enjoys a marine-rich atoll full of pristine dive sites, such as the dramatic Kandooma Caves and the ever-popular shark cleaning station at Cocoa Thila.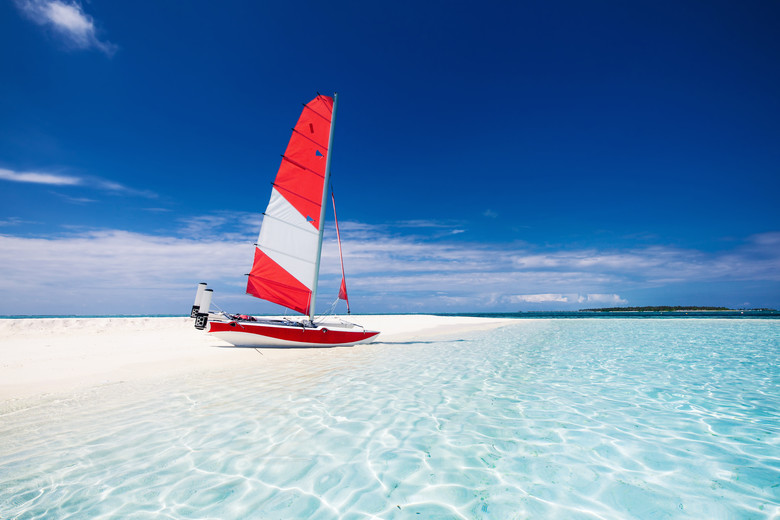 Sailing Lessons
The consistent sea breezes along COMO Cocoa Island's lagoon make it an ideal location for learning to sail in our TOPCAT K1 and K3 catamarans. Our one-hour lessons are led by qualified instructors and tailored to your ability level.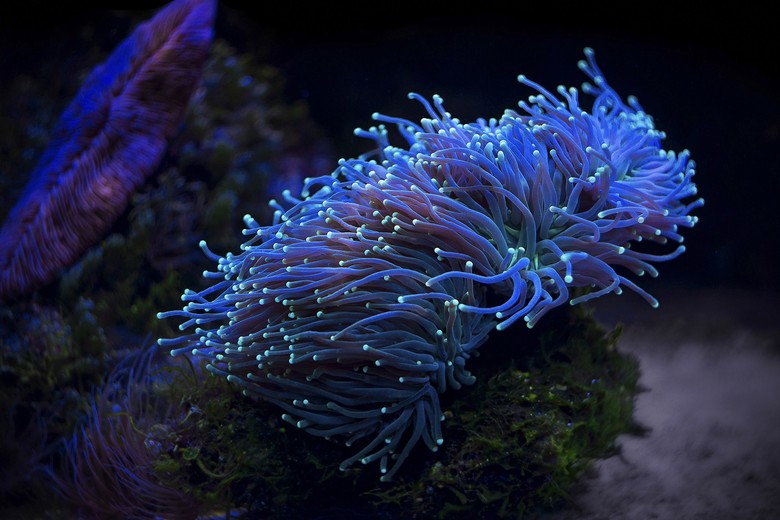 UV Night Snorkeling
Experience an underwater light show at COMO Cocoa Island's house reef. Special UV torches and mask lenses will reveal the stunning hues of fluorescent greens, yellows, reds and oranges emitted at night by various coral species, such as tube coral and brain coral. You may also catch flashes of marine animals including lobsters and lionfish, which also appear to glow under ultraviolet lights.
Dining Experiences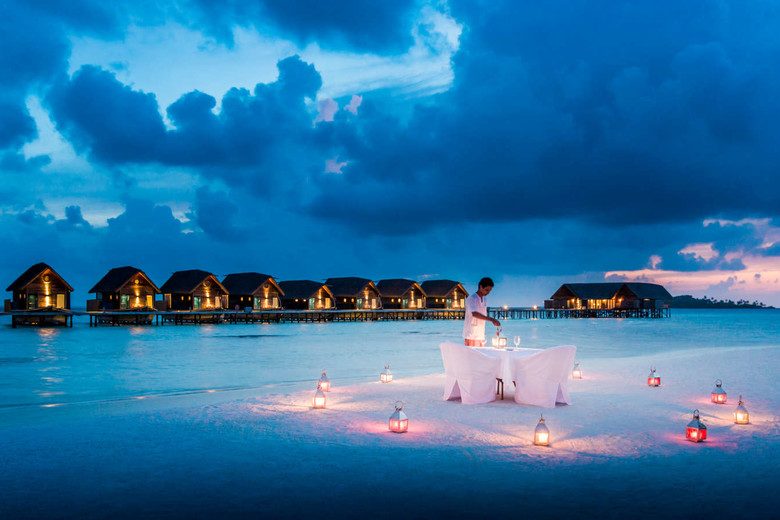 Sandbank Dinner
Enjoy an intimate evening beneath a canopy of stars, surrounded by the sounds of the ocean and gentle sea breezes. You will dine at a private table, set up along COMO Cocoa Island's eastern sandbank, where your personal butler will serve a five-course meal accompanied by a bottle of chilled Champagne.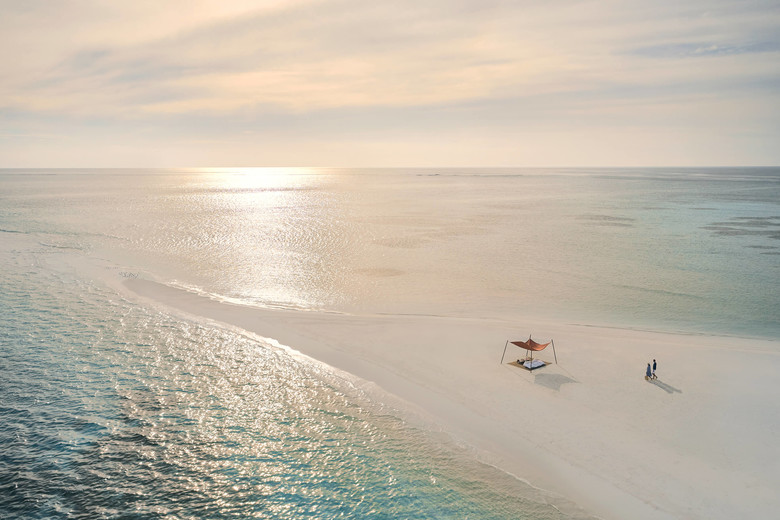 Sandbank Sunrise Breakfast
Enjoy a gourmet breakfast and a bottle of vintage Champagne as the first rays of morning sunlight appear over COMO Cocoa Island. Your breakfast will be set up on your own private sandbank surrounded by turquoise waters, with a dedicated butler on hand.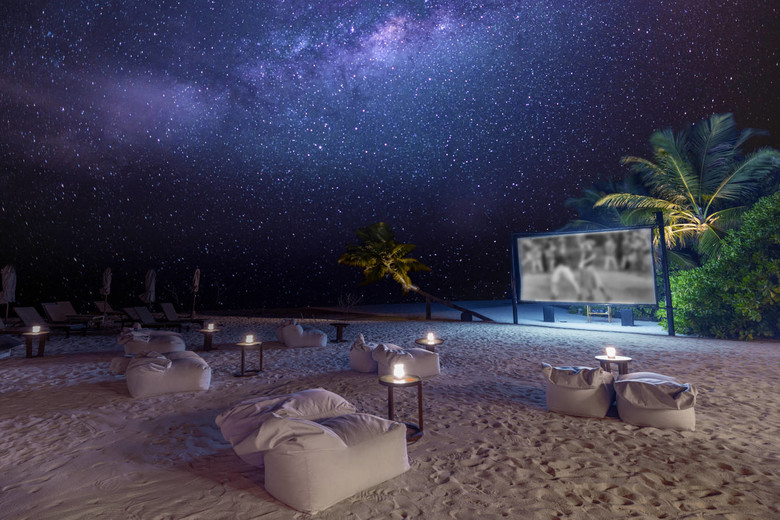 Cinema Under The Stars
Enjoy an open-air screening of your favourite movie at Cocoa Beach. Experience Hollywood blockbusters and cult classics under starlight, plush bean bags and warm popcorn. Food and drink can also be ordered at additional expense. Available daily from 7.00pm, subject to weather conditions.
<
Family Activities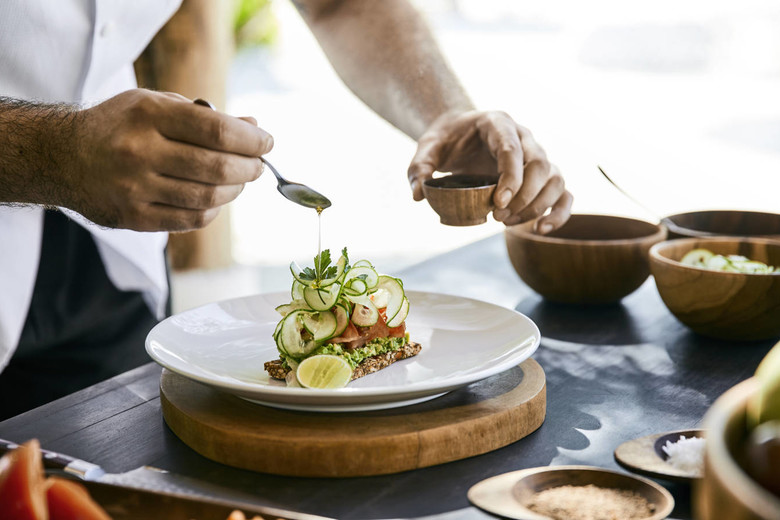 Cooking Class
Learn to make a dish from our restaurant menus or healthy COMO Shambhala Cuisine – we try our best to tailor the recipes to your preferences, just reach out to us with any requests.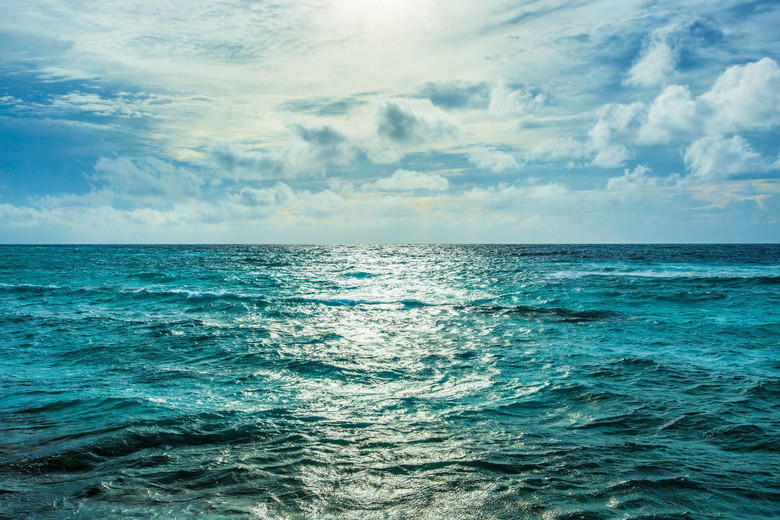 Marine Talk
Our resident marine biologist gives weekly talks in Faru Bar on a range of topics concerning marine life, the environment and our local ecosystem. You are encouraged to ask questions at the end of the presentation, regarding anything you have seen or found in the ocean while at COMO Cocoa Island.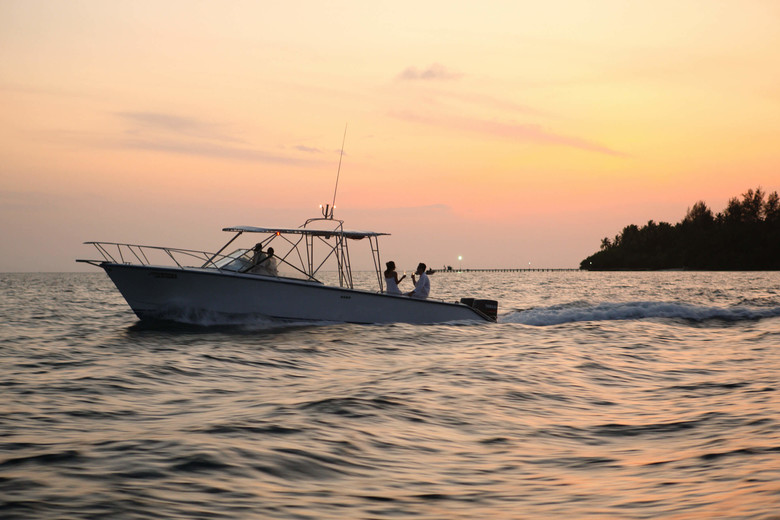 Sunset Cruise
Wild dolphins migrate through the waters of South of Malé in pods of between 10 and 30. This excursion sets out in the evening, to where the dolphins swim playfully and jump out of the water to showcase their acrobatic skills spins. They may also come up close to surf the boat's bow waves. On the way back to COMO Cocoa Island you can enjoy the sunset while sipping sparkling wine and nibbling on gourmet canapés.