Four Seasons Resort Maldives at Landaa Giraavaru
Welcome to one of the world's most beautiful islands: a natural UNESCO Biosphere Reserve wilderness where tiffany blues, jungle greens and dazzling whites meet innovation, conservation and wellness with equal, vibrant intensity.
Book Now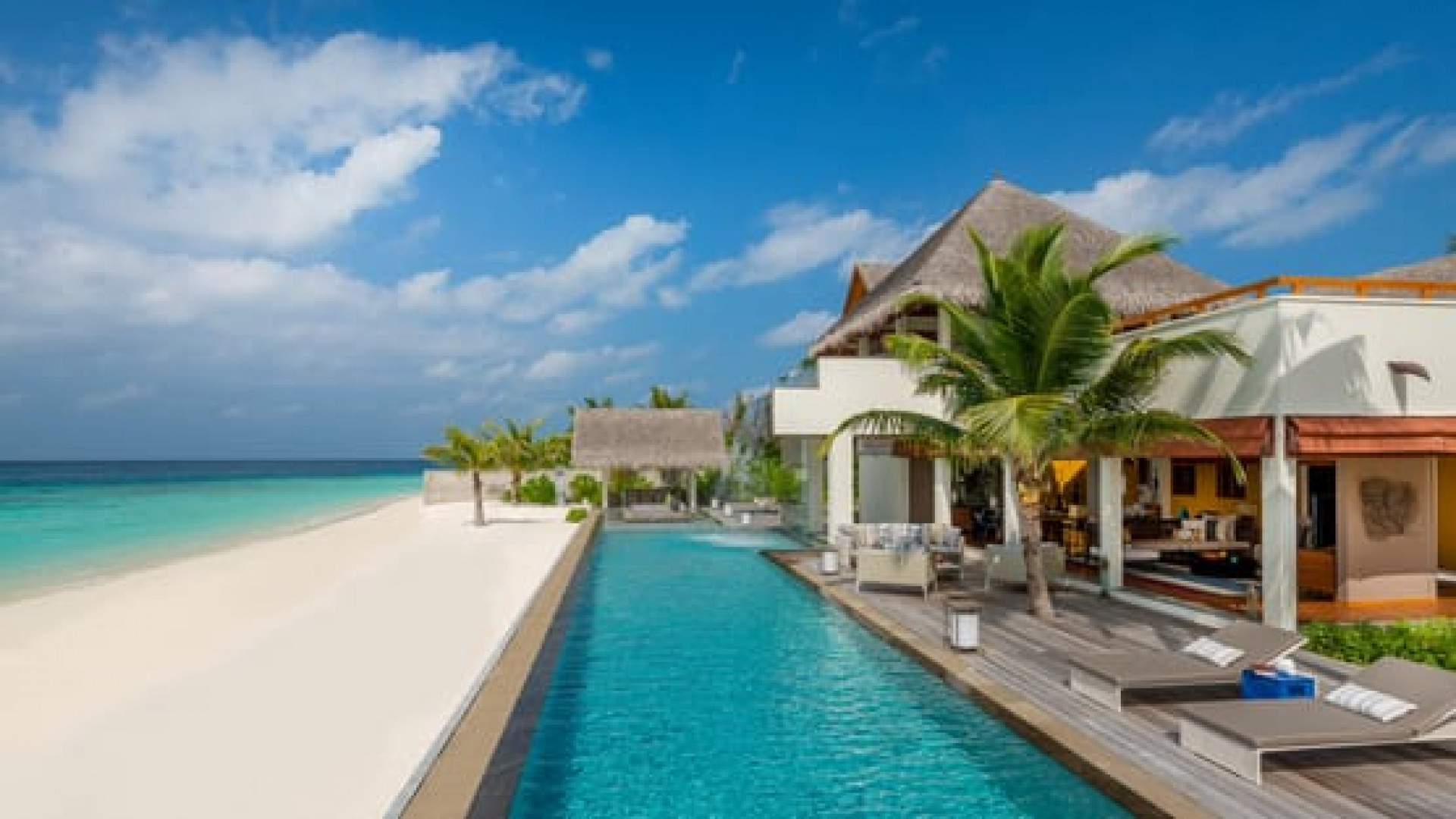 Welcome to one of the world's most beautiful islands: a natural UNESCO Biosphere Reserve wilderness where tiffany blues, jungle greens and dazzling whites meet innovation, conservation and wellness with equal, vibrant intensity. Soar through the skies in our Flying Triggerfish seaplane, "fly" over corals in the world-exclusive DeepFlight submarine, rehabilitate sea turtles in our Marine Discovery Centre then connect to the buzz of Blu Beach Club. Discover the life-changing benefits of Ayurveda and Yoga Therapy, the largest known population of manta rays and the country's widest selection of water sports at the extraordinary island of Landaa.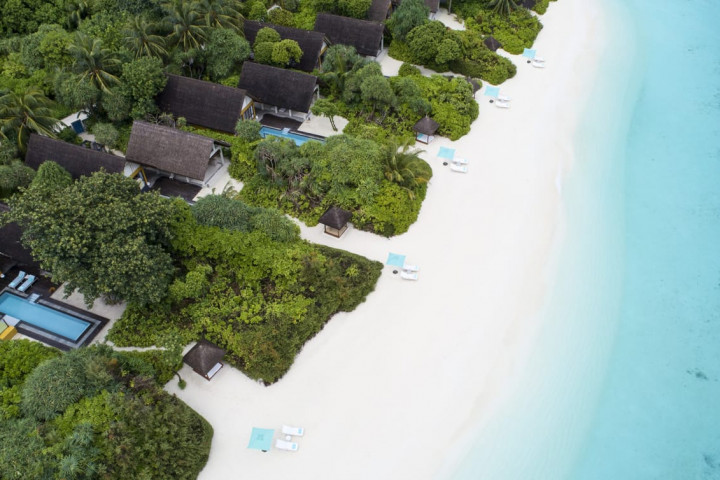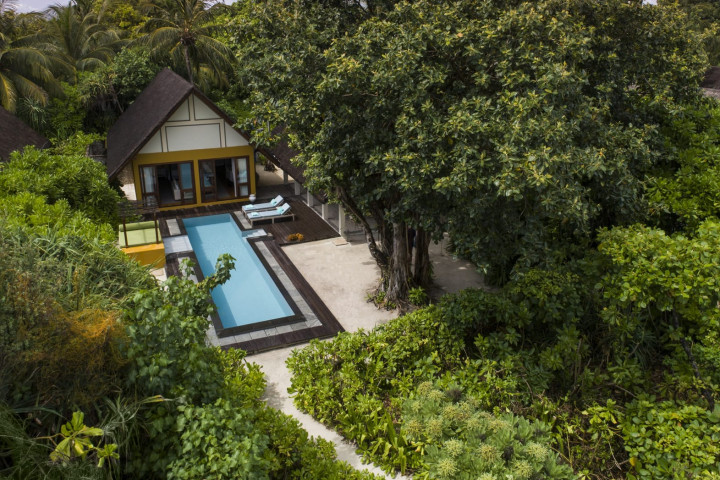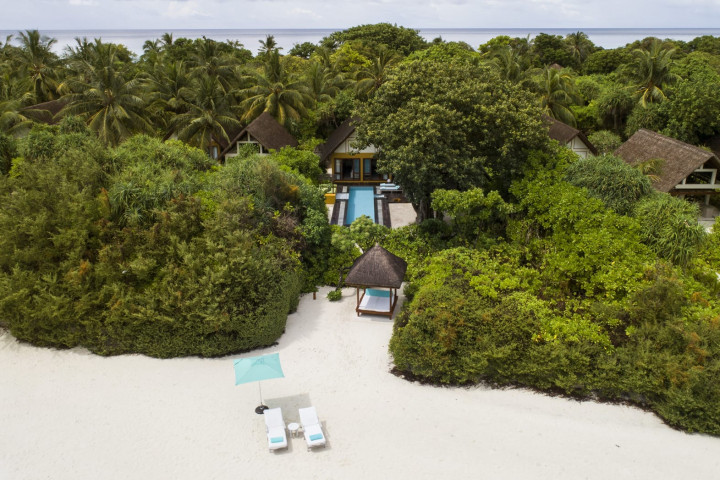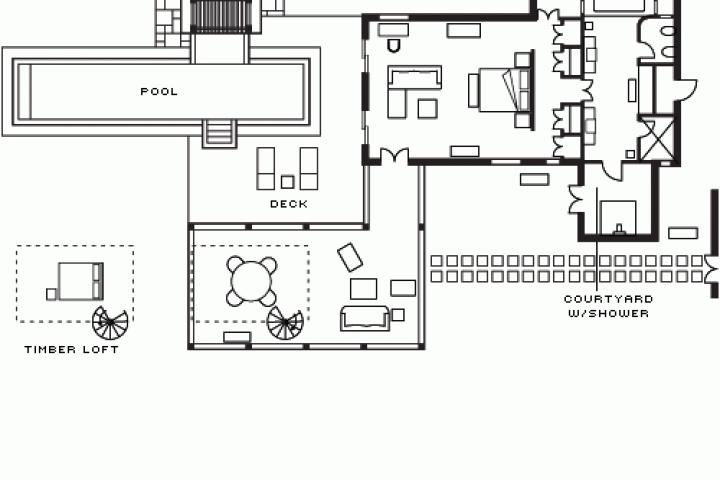 Beach Villa with Pool
Walk off the beach and through a turquoise gate to come home to your walled Beach Villa, where a private lap pool flanked by a cushioned daybed, an open-air living and dining pavilion, and an island-style bedroom sit surrounded by tropical foliage.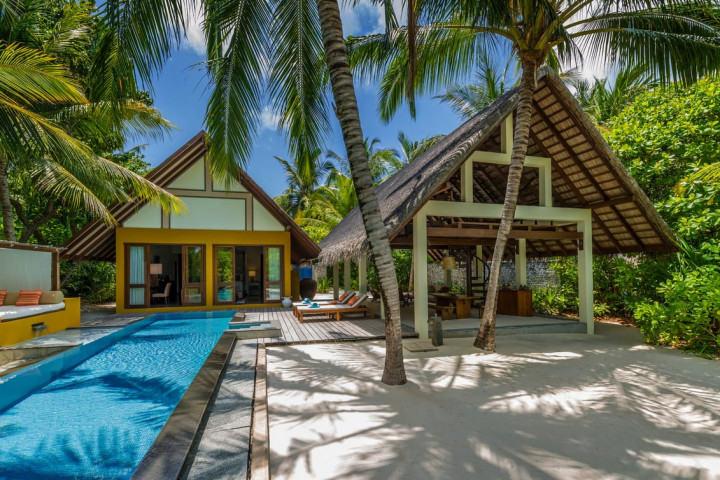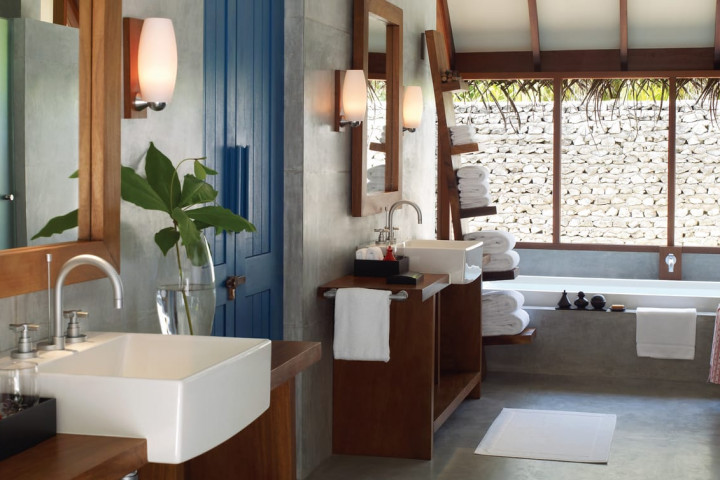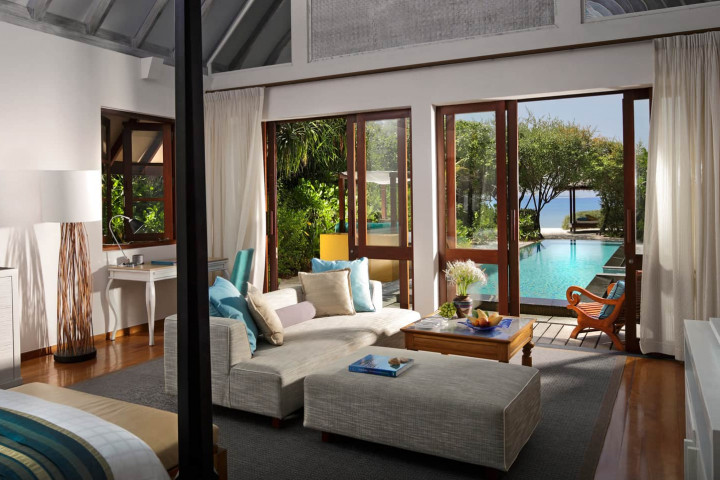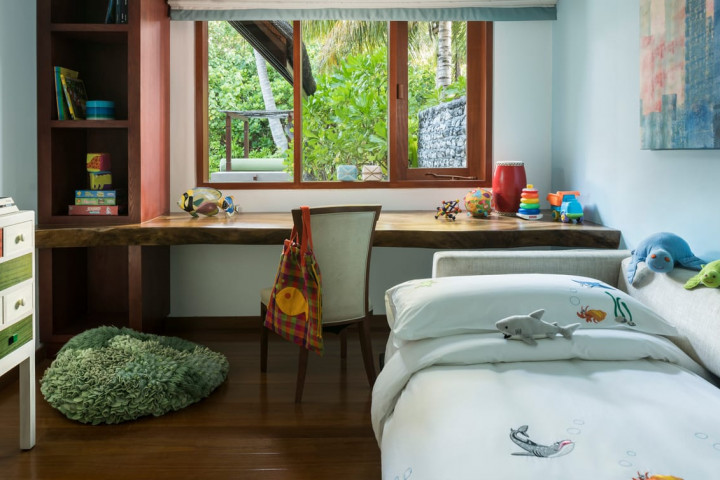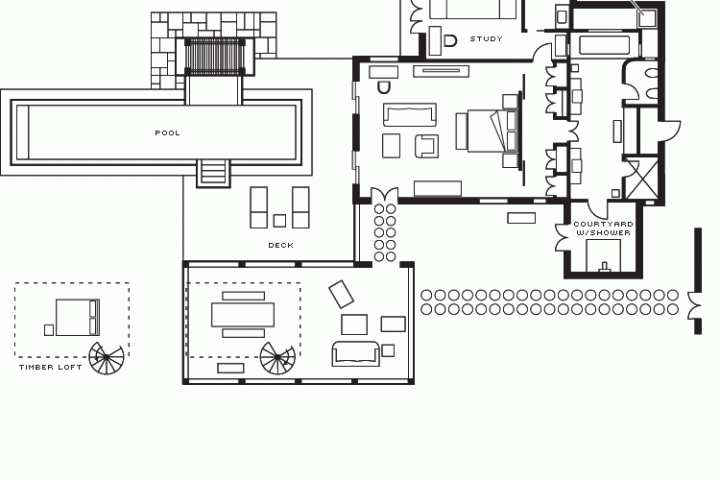 Family Beach Villa with Pool
This is as close to living on the beach as it gets. Just steps from the crystal lagoon, this family-friendly Beach Villa features a sprawling bedroom and sitting area, a separate study with two twin beds and a sand-floor, living and dining pavilion that stretches out to a private lap pool and sundeck.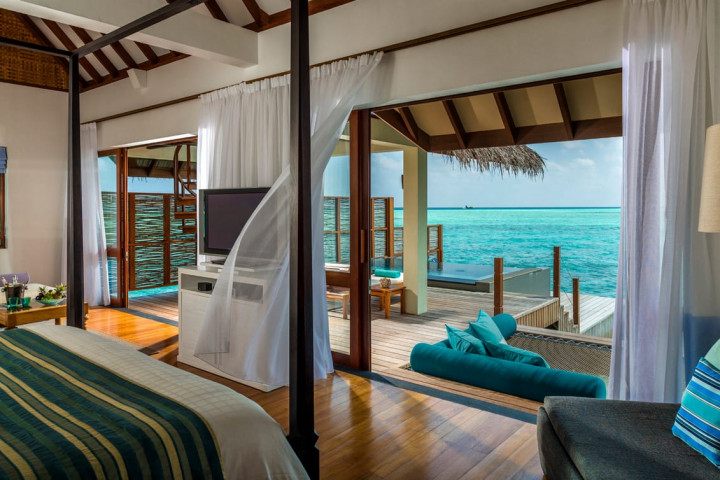 Sunset Water Villa with Pool
Take in stunning sunsets as you lounge in your overwater nets, private pool or from up in your sea-gazing loft. With a spacious bedroom, a living area and steps that lead directly into the sea, these west-facing villas let you immerse yourself in lagoon living.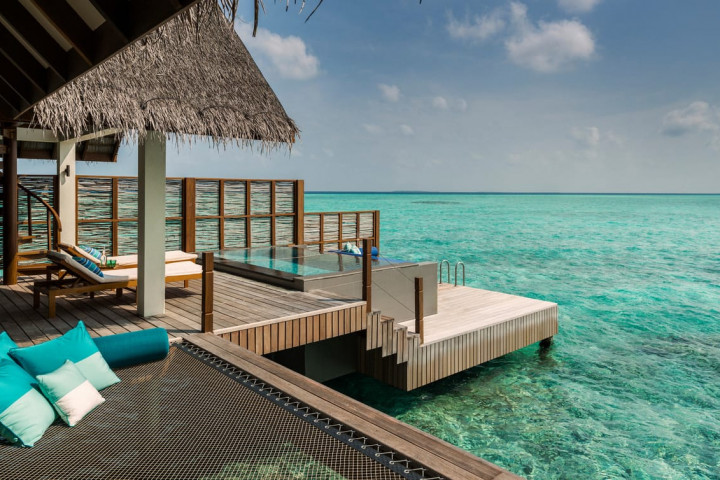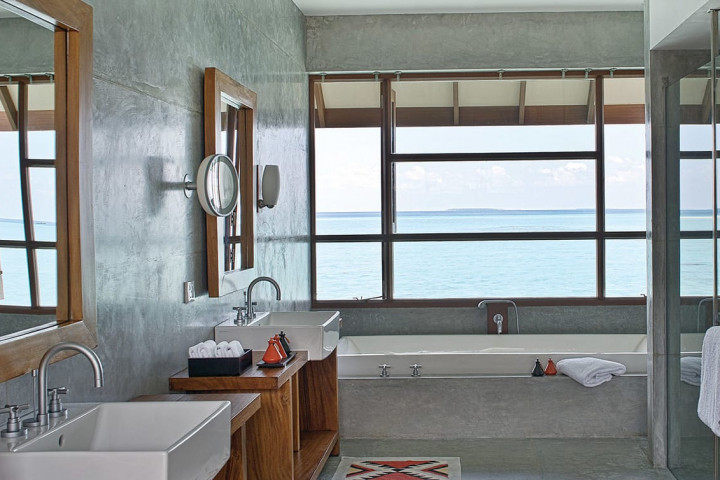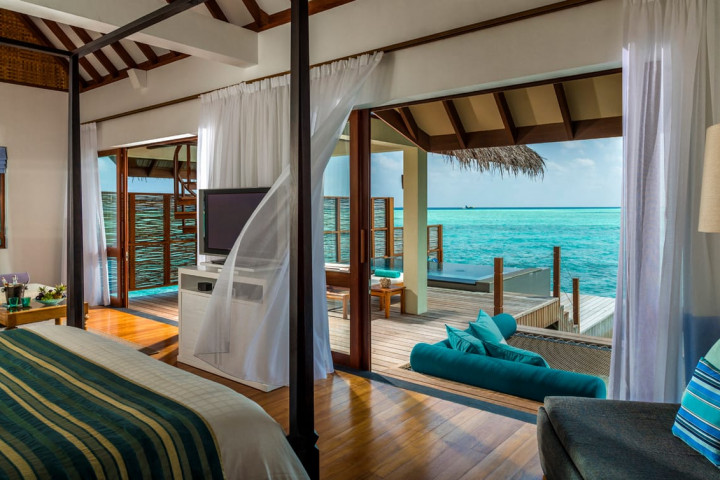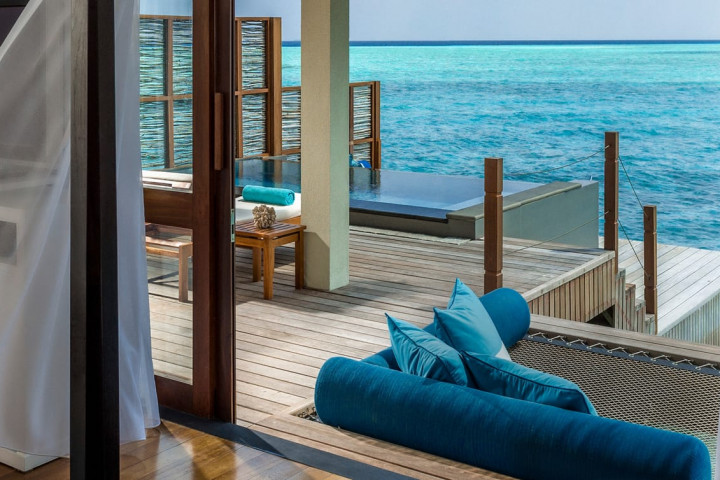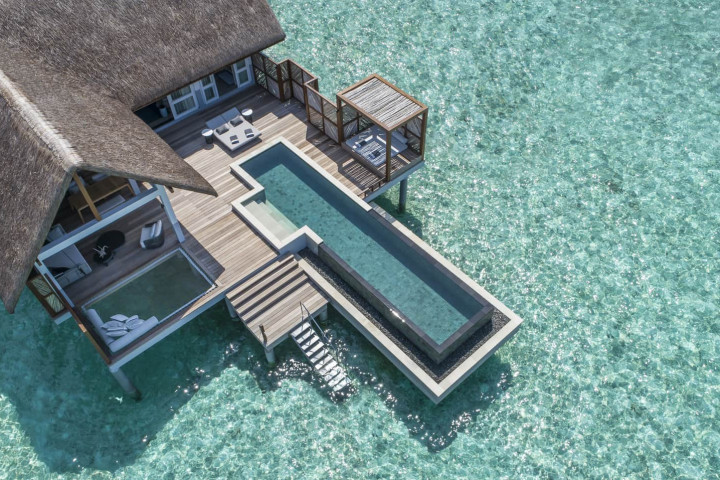 Sunrise Water Villa with Pool
Wake to inspiring sunrises from these overwater villas, where early-morning dips in your private infinity pool come with sweeping views of the Indian Ocean.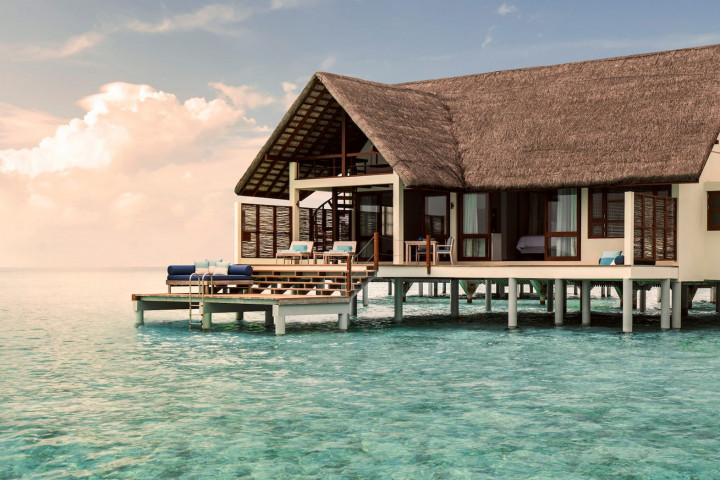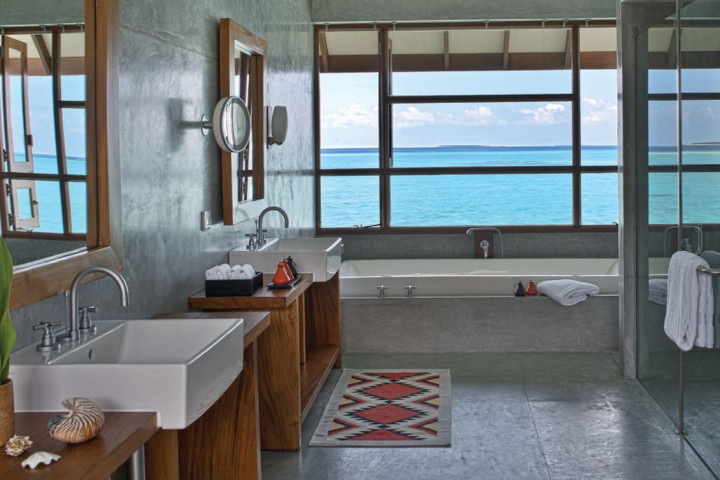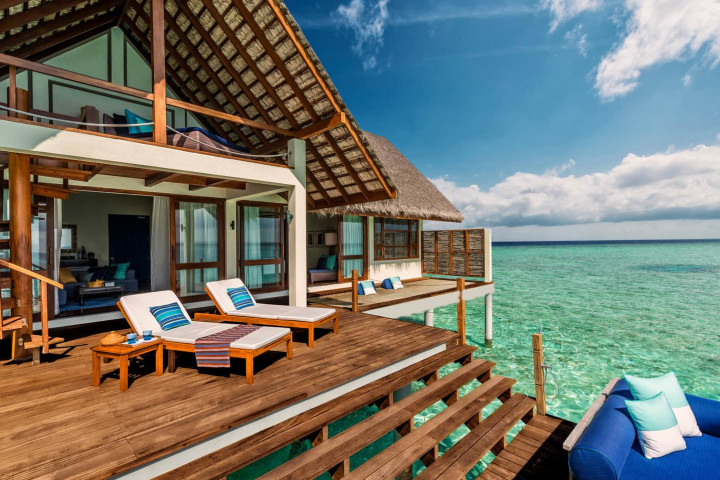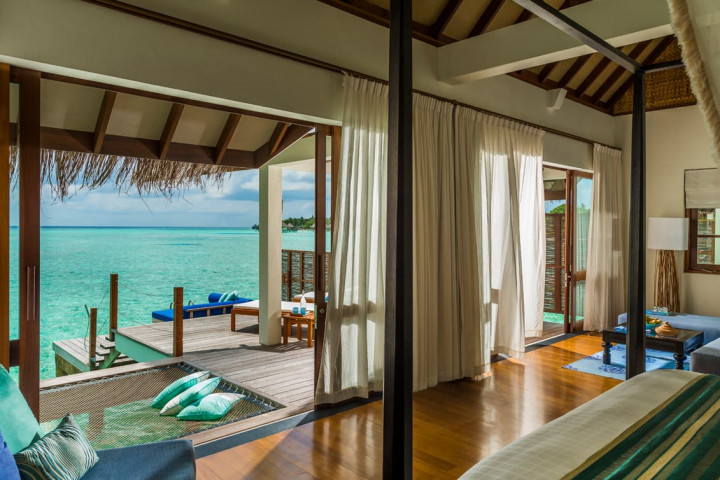 Sunset Water Villa
Start each morning with a dip in the crystal-clear lagoon waters that lie at the edge of the steps, spend the day lounging on the sundeck or in the airy living room, then take the stairs up to your elevated loft to watch the sun slowly dip beneath the horizon each night.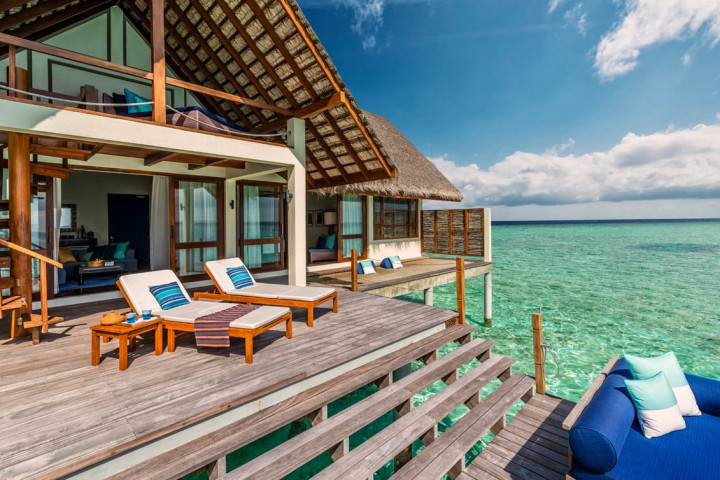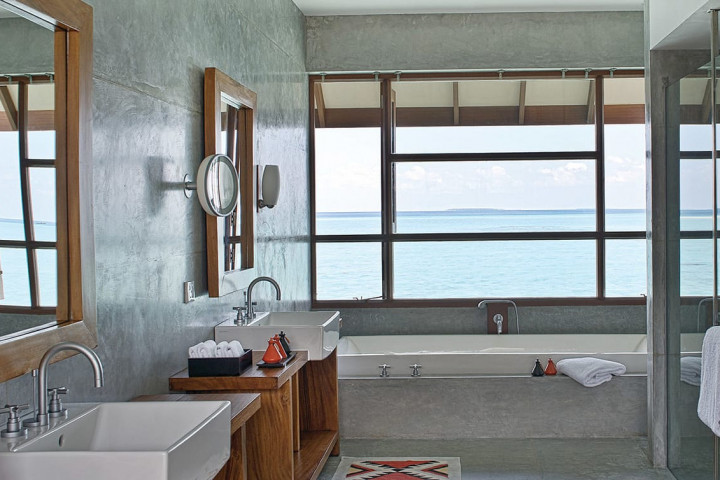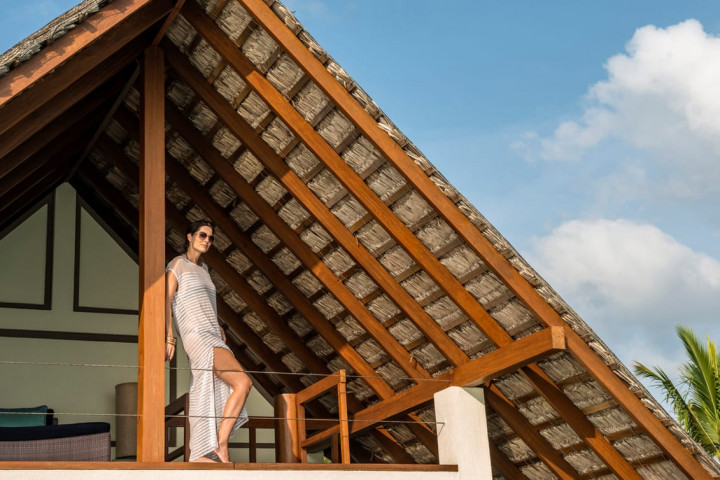 Sunrise Water Villa
Located along a double-loaded jetty off the northwestern end of the island, these spacious, east-facing villas are ideal for couples or small families, with a large bedroom, a separate living and dining area, and a private sundeck outfitted with overwater nets, lounge chairs, a daybed and steps that lead you right into the lagoon.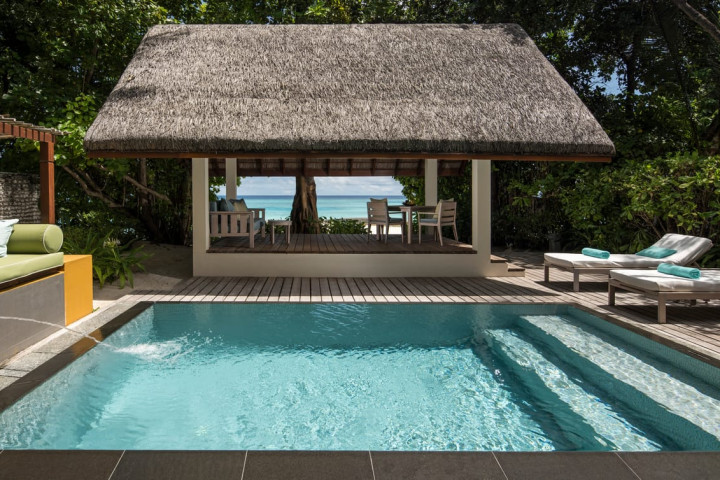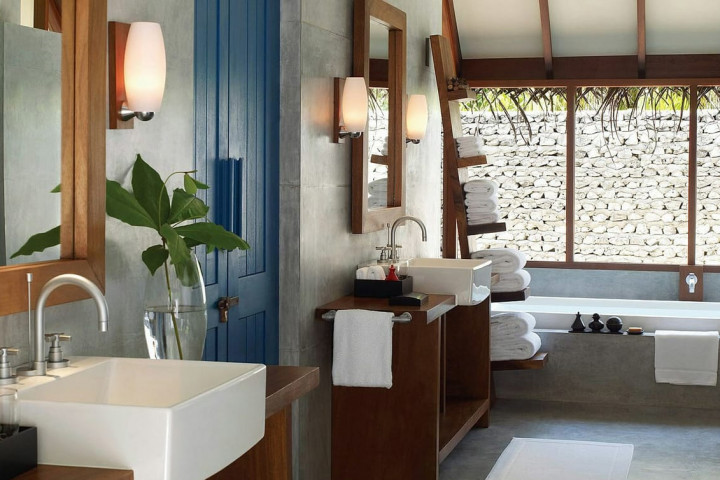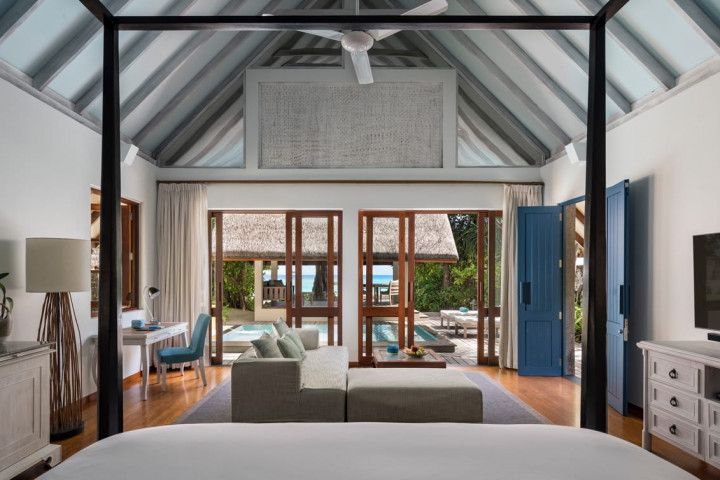 Oceanfront Bungalow with Pool
Savour a relaxing breakfast in your traditional open-air bale, cool off by the pool and take in uninterrupted ocean views from your bedroom in these oceanfront bungalows, surrounded by foliage-filled gardens so private you'll never need to draw your curtains.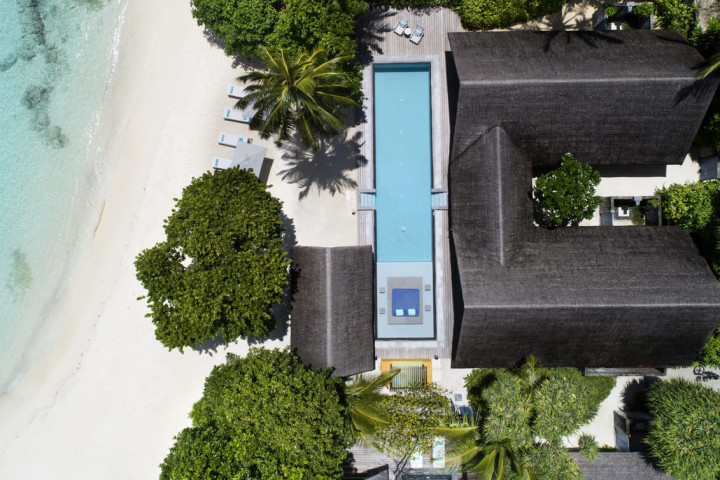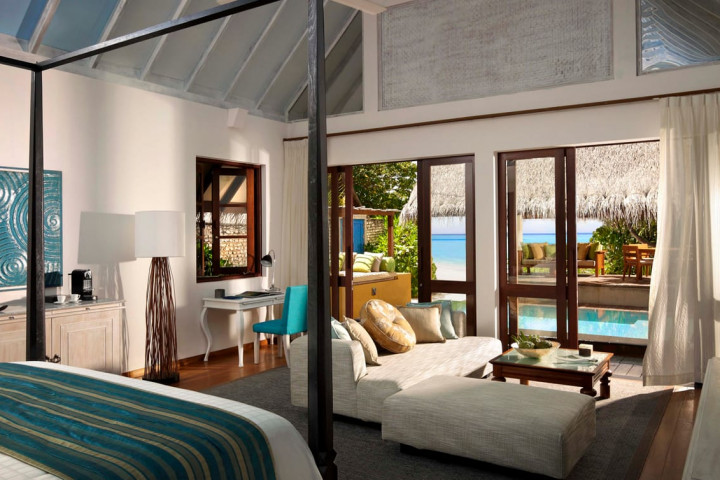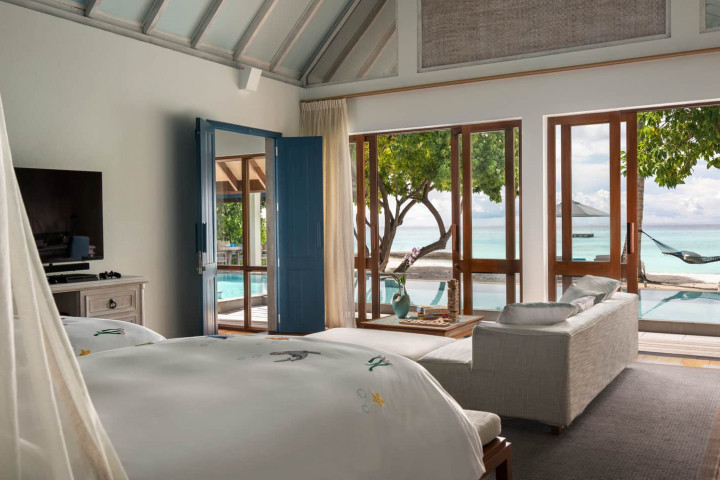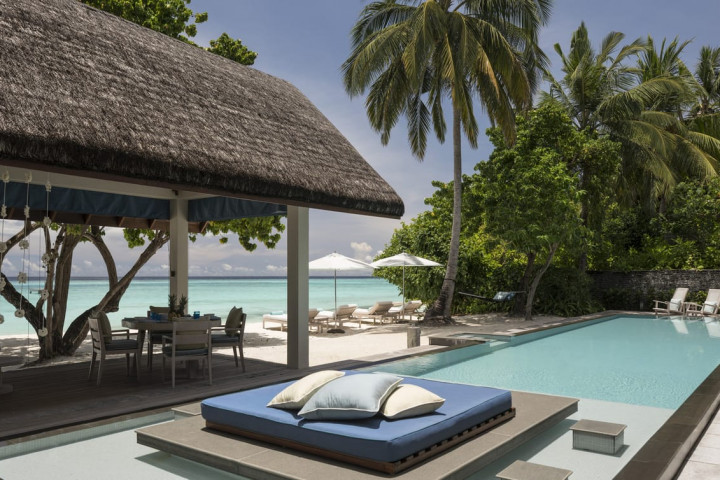 Two-Bedroom Oceanfront Bungalow with Pool
Perfect for couples travelling together or families with older children, these seaside bungalows feature two separate bedrooms linked by a short corridor, with a private pool and a thatched-roof, open-air bale as your living and dining area.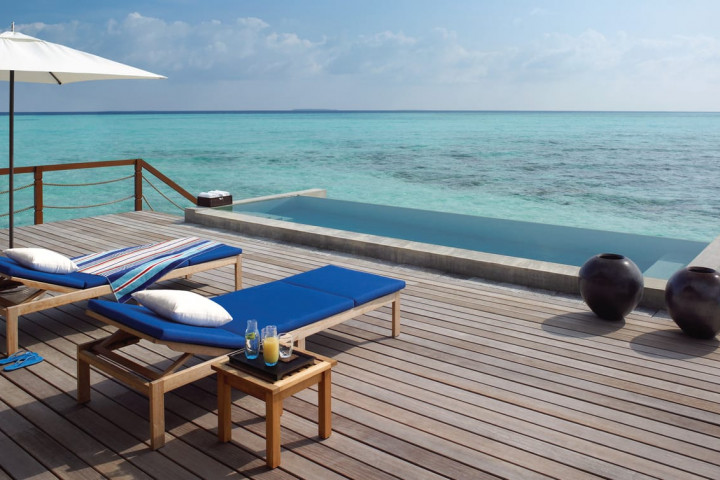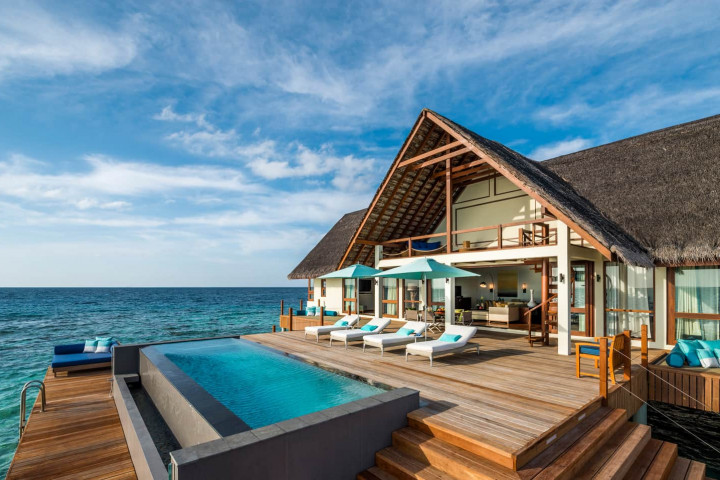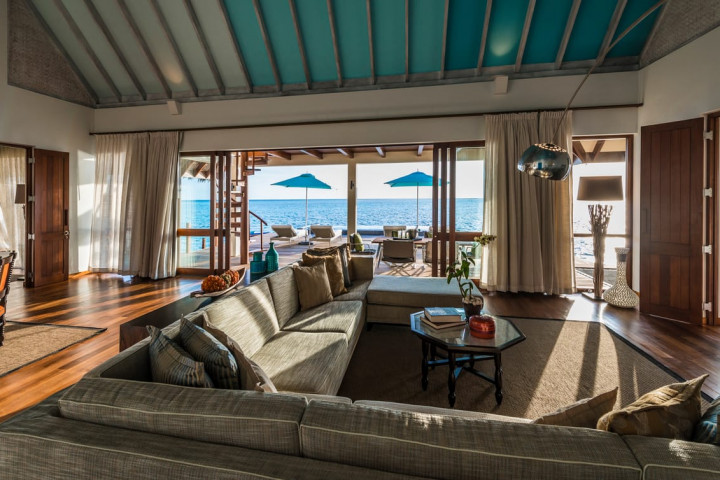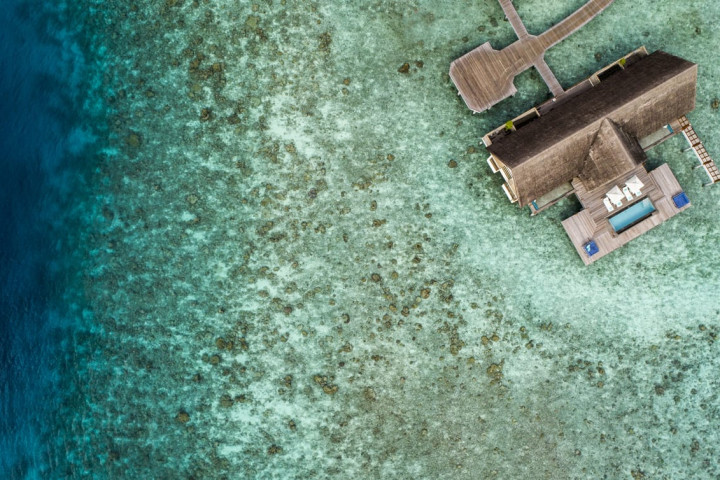 Sunrise Two-Bedroom Water Suite
Eat breakfast on your pool deck as you look onto panoramic, ocean-meets-the-sky views from this overwater villa perched on the end of our jetty; then, hop in to cool off in the shimmering lagoon below.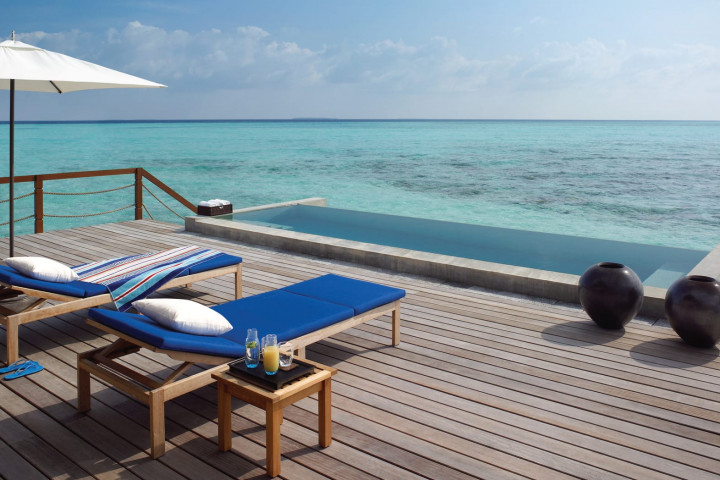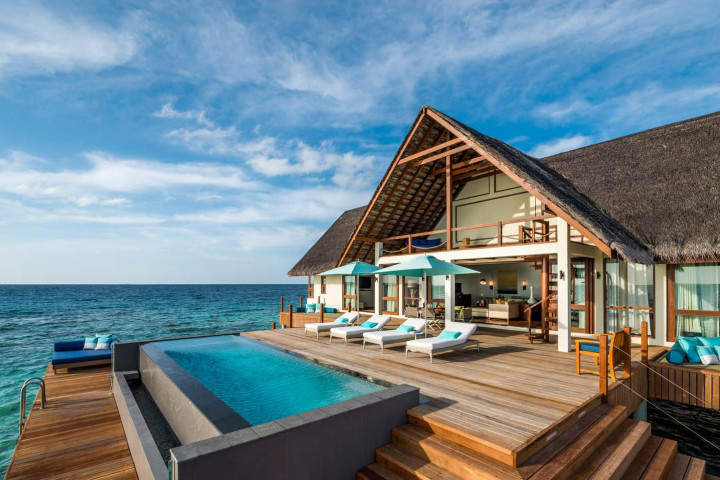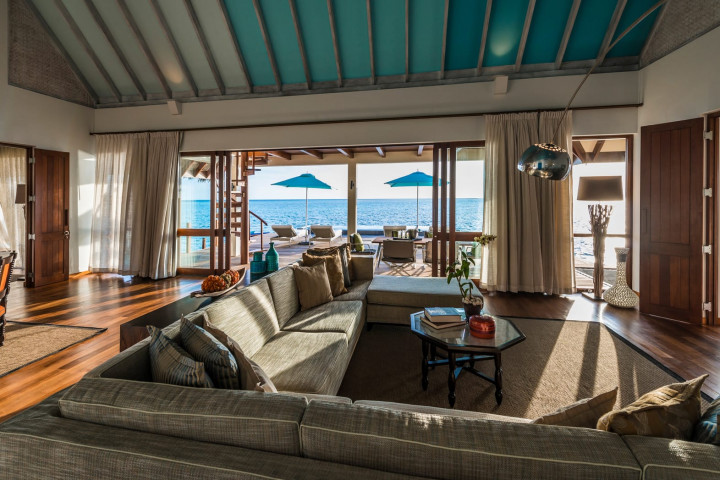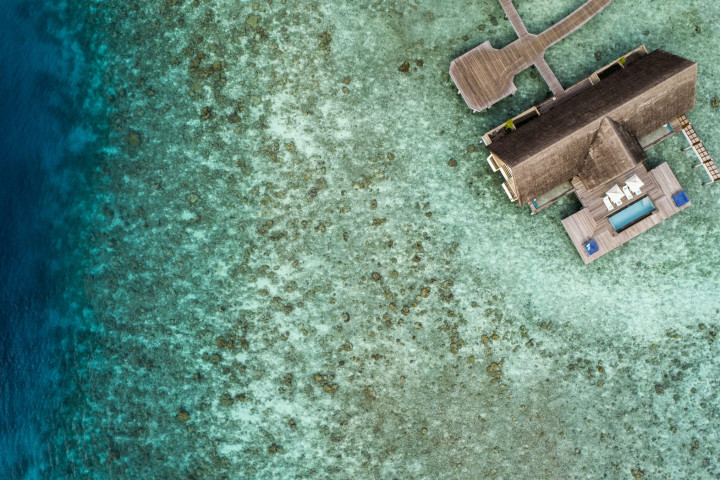 Sunset Two-Bedroom Water Suite
At the far end of our water-villa jetty, this two-bedroom suite lets you revel in ultimate seclusion next to uninterrupted lagoon and sunset views from your sprawling pool deck, the sea-gazing loft, the dining and lounging areas, or from the foot of your bed.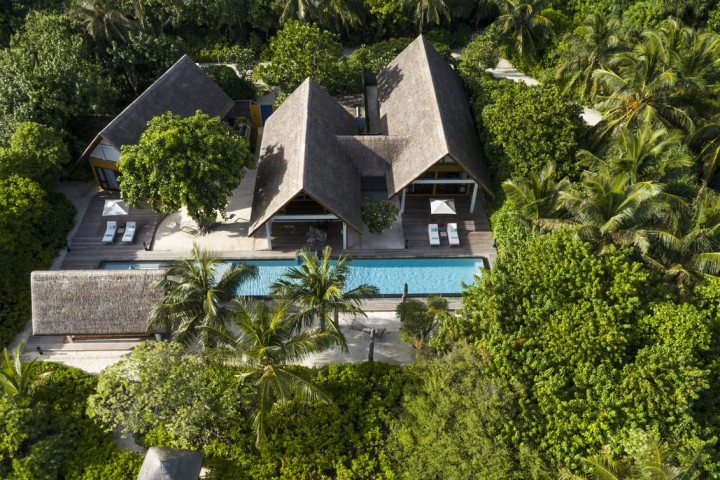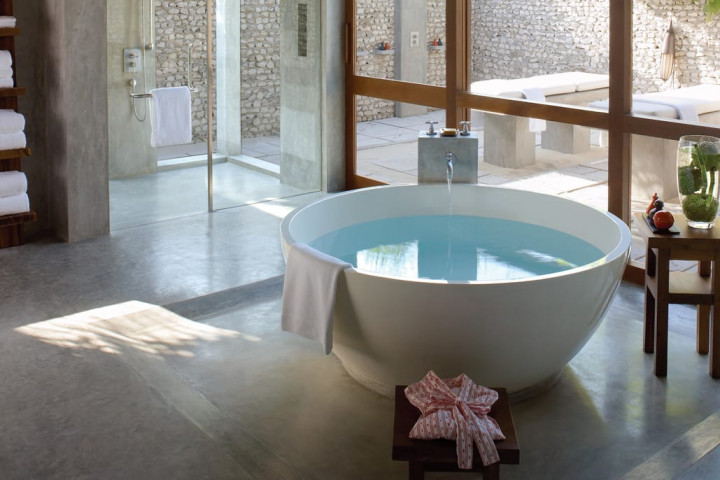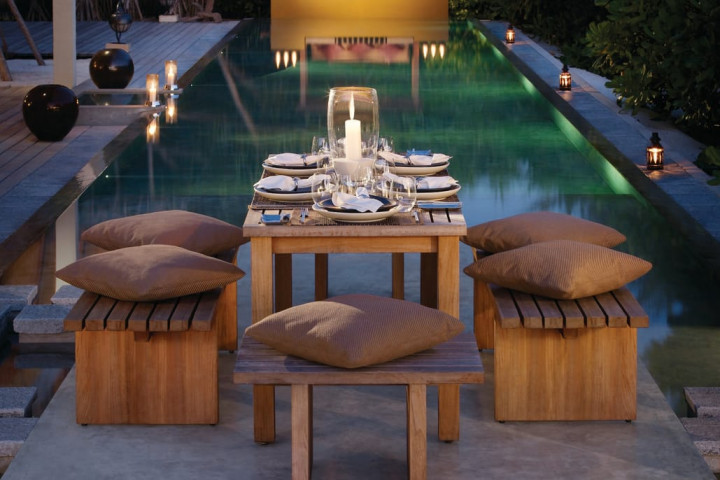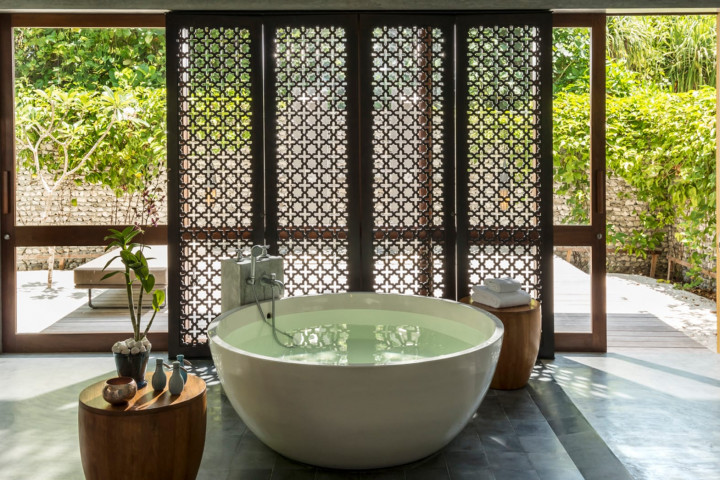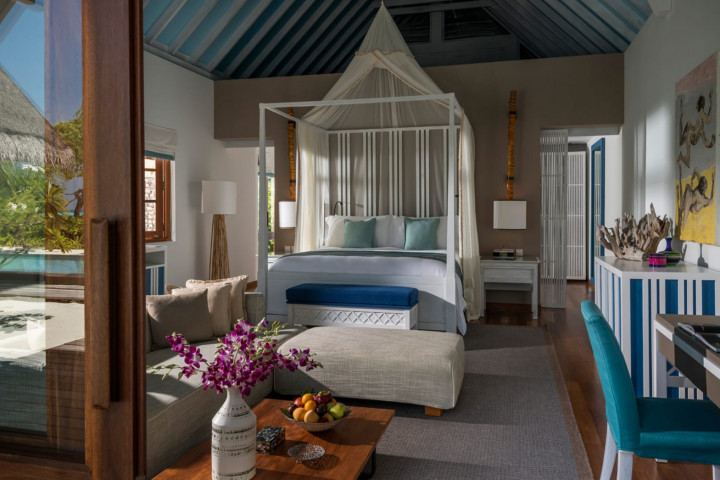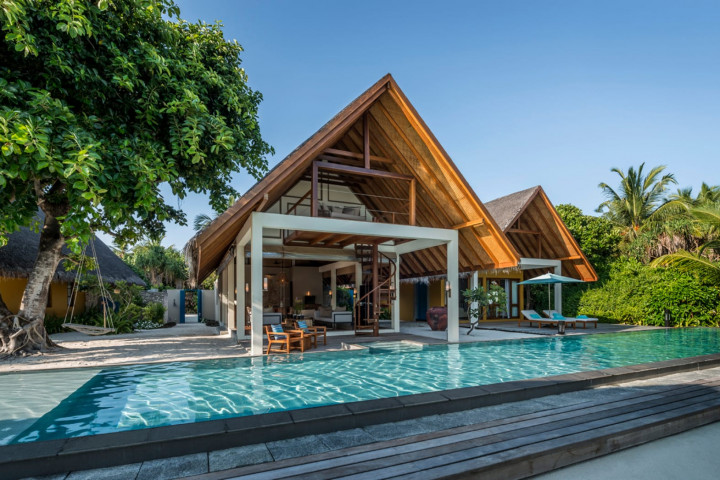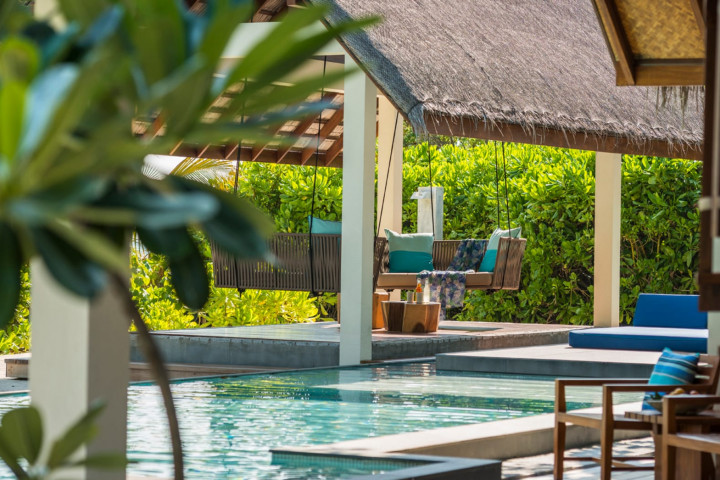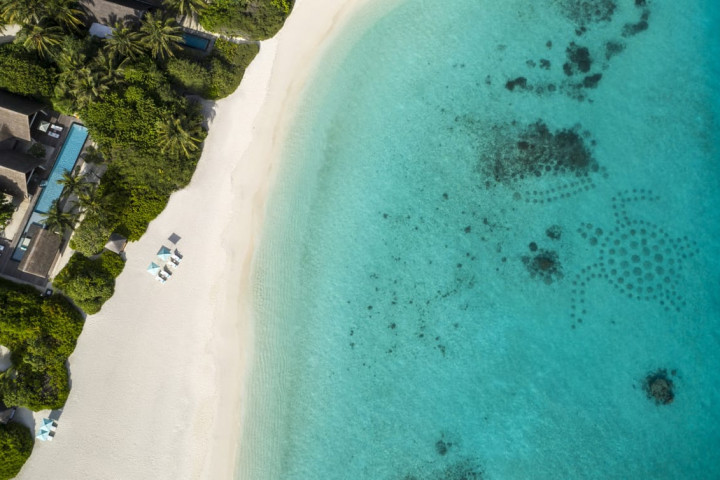 Two-Bedroom Royal Beach Villa
Just steps away from Blu Beach in what feels like a world all its own, this two-bedroom villa features a palatial, master-bedroom pavilion, a separate guest bedroom and a central, open-air, living and dining room.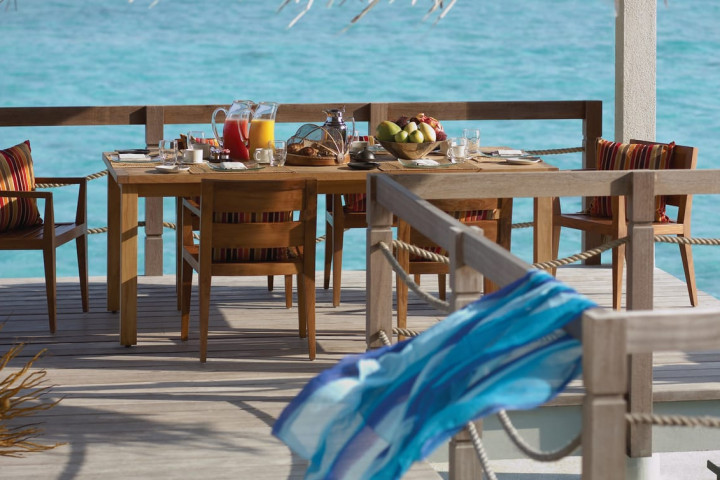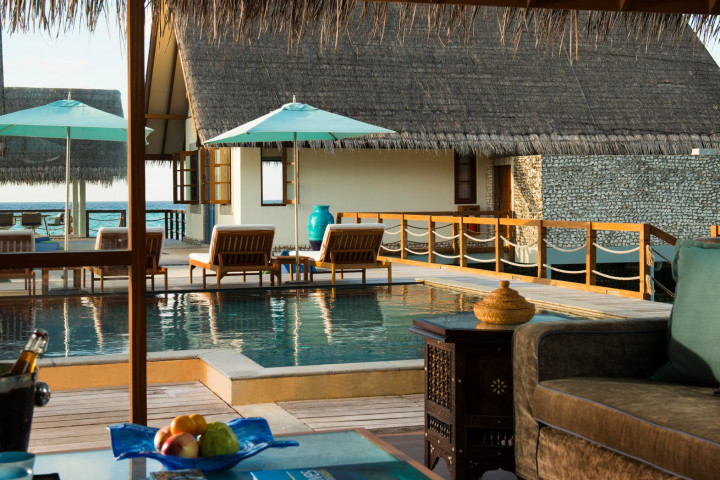 Three-Bedroom Land & Ocean Suite
Can't decide whether to stay on the beach or over the water? Don't worry, you can have both. Hidden down its own sandy, jungle-lined path, this expansive suite features land-based living areas and three lagoon-based bedrooms, perched in one of the most private locations on the island.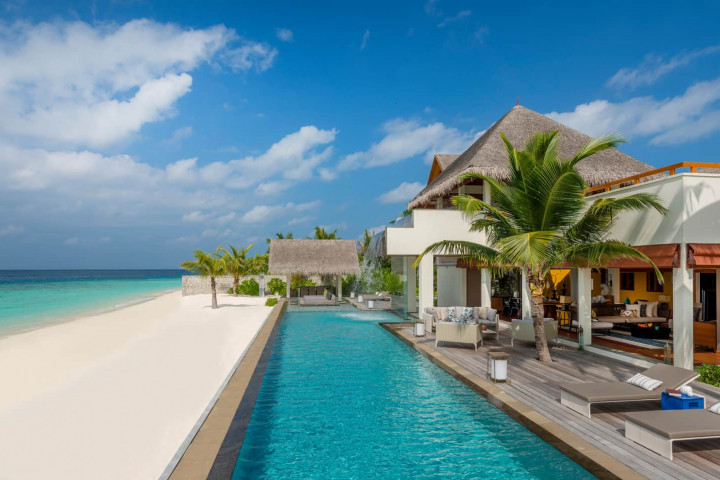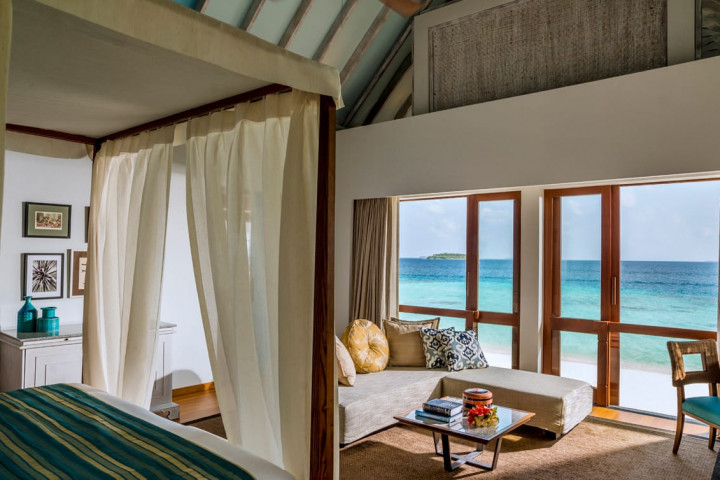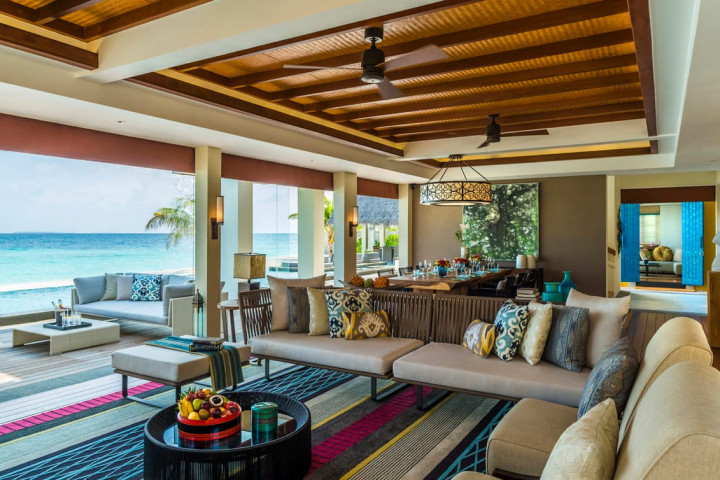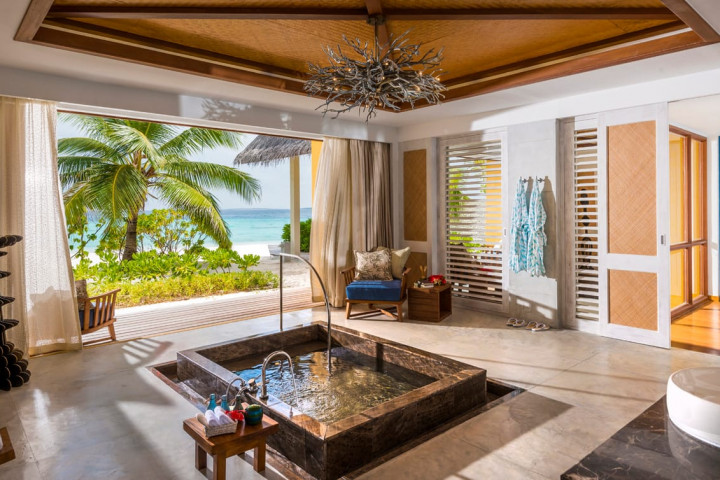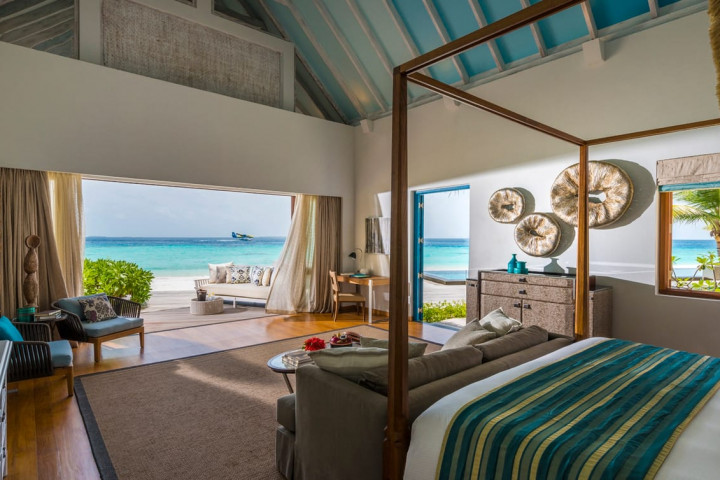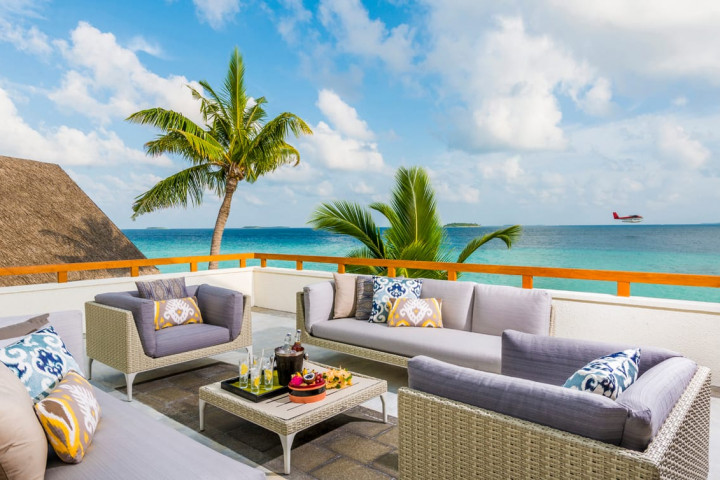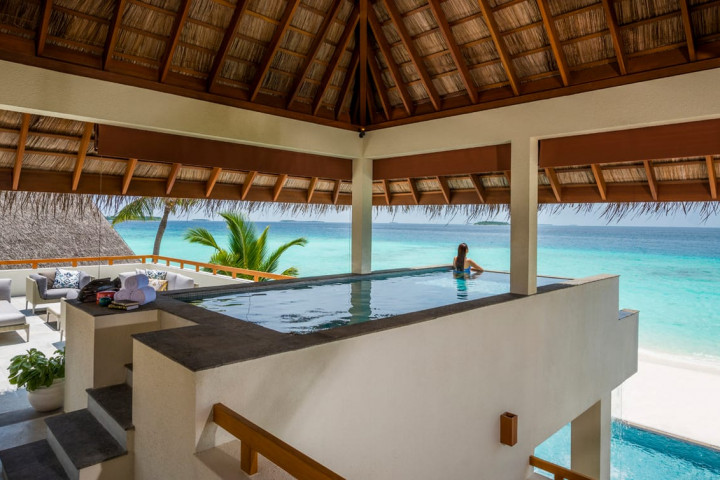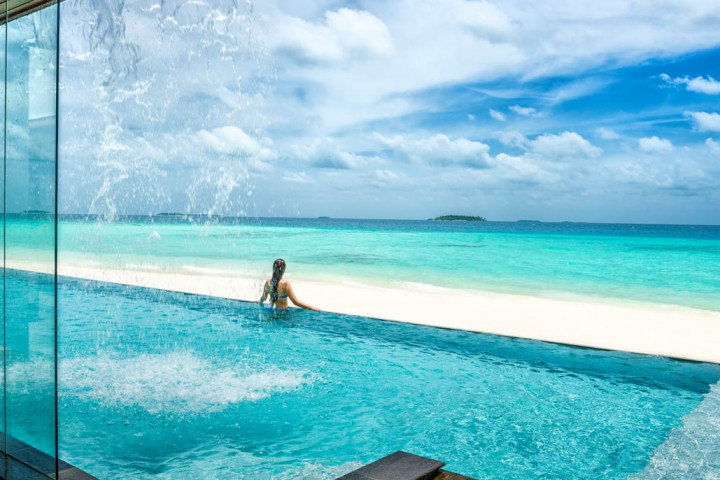 Three-Bedroom Landaa Estate
Ideal for getaways with family or friends, this three-bedroom, two-storey estate features a private stretch of white-sand beach, two pools, a Stargazing Lounge and indoor-outdoor living spaces that will make you feel like the island is all yours.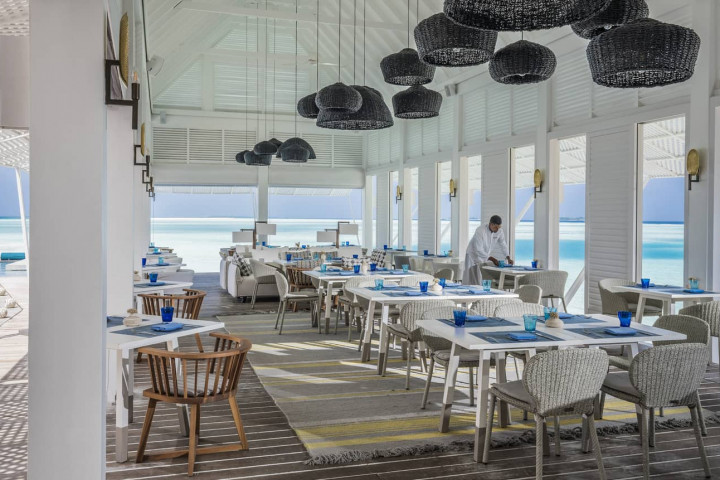 Blu
This contemporary Italian restaurant serves light Mediterranean fare during the day and offers a fine dining experience in the evening, serving up vibrant dishes with a southern Italian twist by Neapolitan Chef Ciro D'Amico.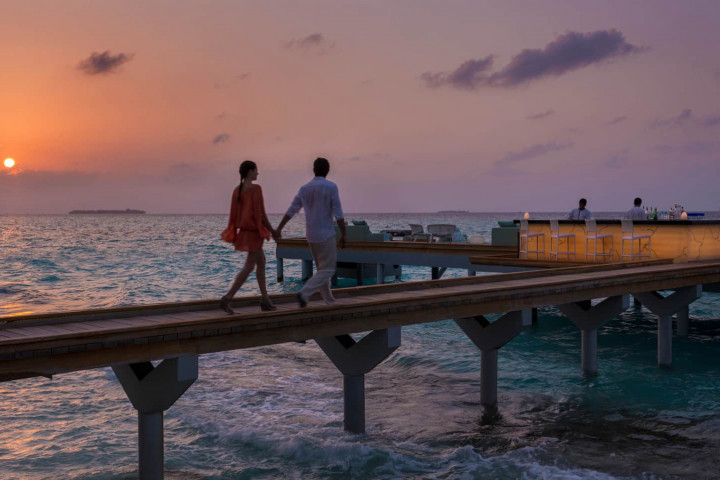 SeaBar
Take the short stroll out to one of the most relaxed decks in the Maldives. Here, comfortable cushions, signature frozen margaritas, a live DJ and tapas-style plates invite you to admire the lemon sharks and reef fish in the turquoise waters below you, in an intimate, overwater setting.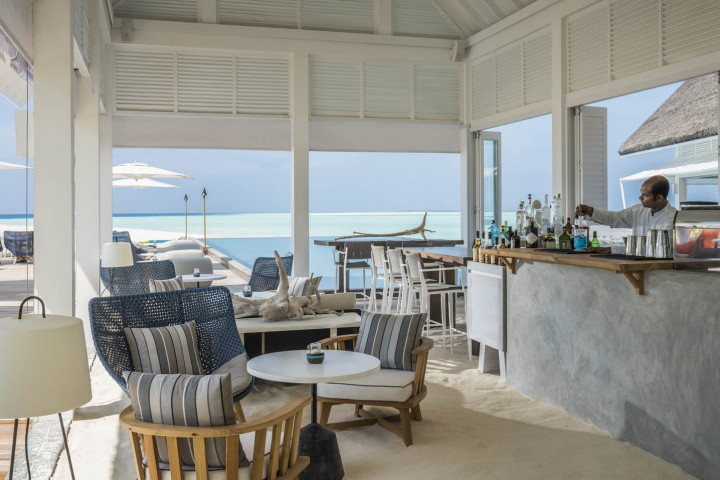 Blu Bar
Stop to sip exotic juices, tropical cocktails or a refreshing, young coconut as you look onto the lagoon, or join us for an aperitif or glass of sparkling Prosecco before your Italian dinner next door at Blu.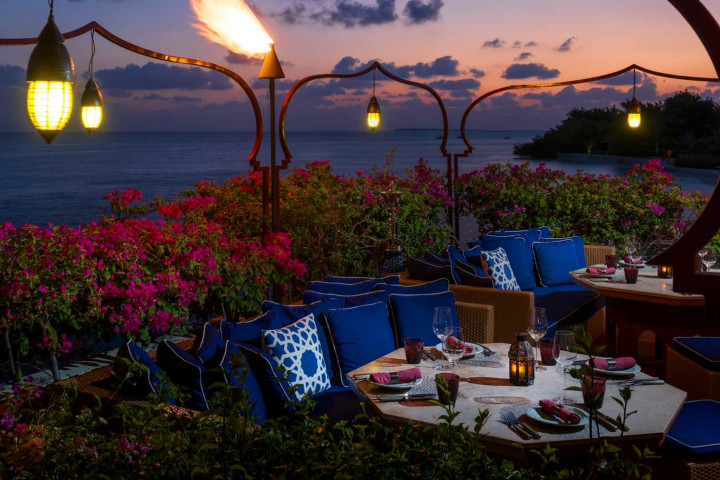 Al Barakat
Named for the North African scholar who made the Baa Atoll his home in the 12th century, our overwater restaurant offers stylish, indoor and outdoor-rooftop seating for you to sample the flavours of Lebanon, Morocco and Armenia.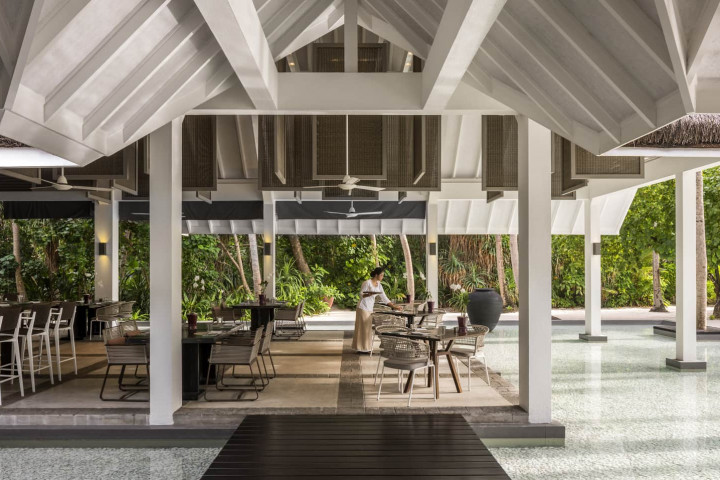 Café Landaa
Sit down in one of our three, thatched-roof dining pavilions, separated by calming reflecting ponds, for Asian and regional specialties from our tandoor and curry kitchen; or, join our chef at the teppanyaki counter in the middle of a dramatic water garden for an inspiring meal made right before your eyes.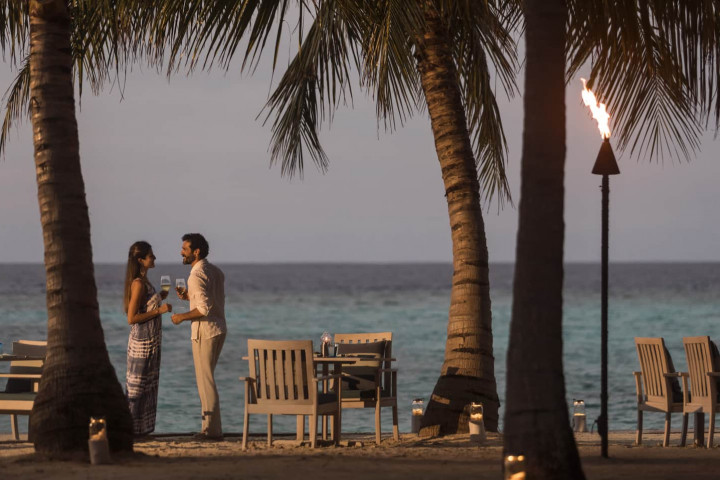 Fuego Grill
Want something hearty for dinner after an adventure-packed day? Savour our fresh catch of the day as well as a wide selection of organic and prime-cut meats, salads and Asian dishes with your toes in the sand at our casual, beachfront grill.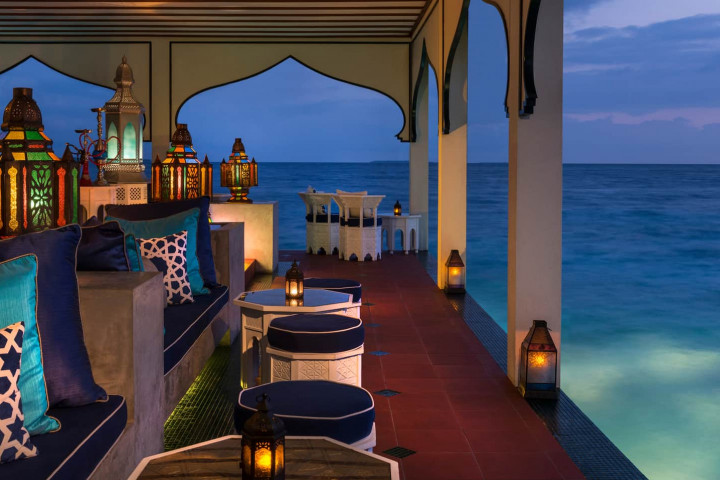 Shisha Bar
Perched over the lagoon on Al Barakat's lower level, this pre-dinner hot spot is open to the sea, with curtained sofas and ornate lanterns that set an atmospheric mood for cocktails or Turkish coffee and shisha.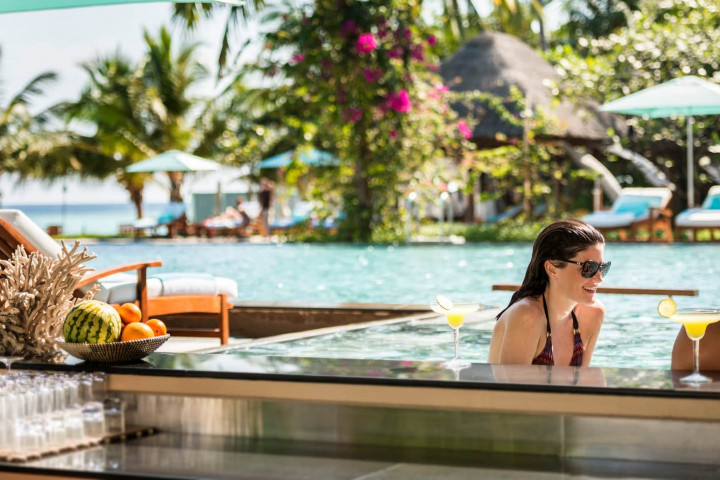 Poolside Bar
Need a little refreshment in between dips in the pool? Wine, cocktails and refreshing tropical drinks are served here throughout the day, as well as salads, sandwiches and lighter fare to keep the whole family fueled up and ready to play.

Activities & Facilities
Water Sports Centre
Meet us at the Water Sports Centre at the western end of the island on Blu Beach and open daily, and we'll set you up with some complimentary snorkels, masks, fins, kayaks, catamaran sailing and windsurfing gear. Feeling extra adventurous? Fly high above the ocean like a super hero with our brand new X-Jetpacks.
Marine Discovery Centre
Led by a team of passionate marine biologists, this pioneering, on-island research centre lets you experience once-in-a-lifetime encounters with a variety of marine creatures while learning about their life and habitat, and you can even participate in some of our Resort's conservation projects.
Resort Medical Clinic
Our Resort Medical Clinic offers round-the-clock assistance and a full range of medical services to make sure you feel at ease during your stay on our remote island.
Four Seasons Explorer
This three-deck, liveaboard luxury catamaran is a wonderful complement to your land adventure at one or both of our Maldivian resorts.
Scuba Diving
Spot sea turtles at dawn or dolphins at dusk, or marvel at the unique beauties that inhabit the vast reef formations and unique Maldivian thilas that surround our island home – all with the help of tailored programs and specialty courses taught by some of the country's most experienced instructors at our PADI Five-Star IDC Centre.
DeepFlight Submarine
Skim over coral formations, fly through shoals of brightly coloured fish and encounter marvellous marine creatures, all without getting wet, in the Super Falcon 3S, the world's first, three-person DeepFlight submarine.
Couples' Experiences
From a secluded sandbank dinner to a tantric ritual for two, let our endless white beaches, calm blue lagoons, lush jungle wilderness and raw natural beauty of Landaa Giraavaru be the setting for an unadulterated, romantic getaway.
The Flying Triggerfish
Marvel in comfort at the pearl-like islands of the Maldives during airport transfers, private charters, island-hopping excursions and seaplane surfaris on the exclusive 'Flying Triggerfish,' the first customized DHC-6-300 Twin Otter airplane by Four Seasons.
The World's First Three-Person Deepflight Adventure
"Fly" underwater in a personal submarine to explore the Maldives' UNESCO Biosphere Reserve.
Four Separate Pools
Enjoy some morning laps in our main infinity pool, the only Olympic-size pool in the Maldives, then cool off with a quick dip in the nearby Seawater Pool or watch the sun set over the lagoon at Blu Pool. Meanwhile, our shallow, free-form Children's Pool, located within the Kids Club area, will help keep little ones entertained for hours.