Kuramathi Maldives
Set in Rasdhoo Atoll, Kuramathi Maldives is a 20-minute flight by seaplane or a 90-minute speed boat ride from Malé International Airport.
Book Now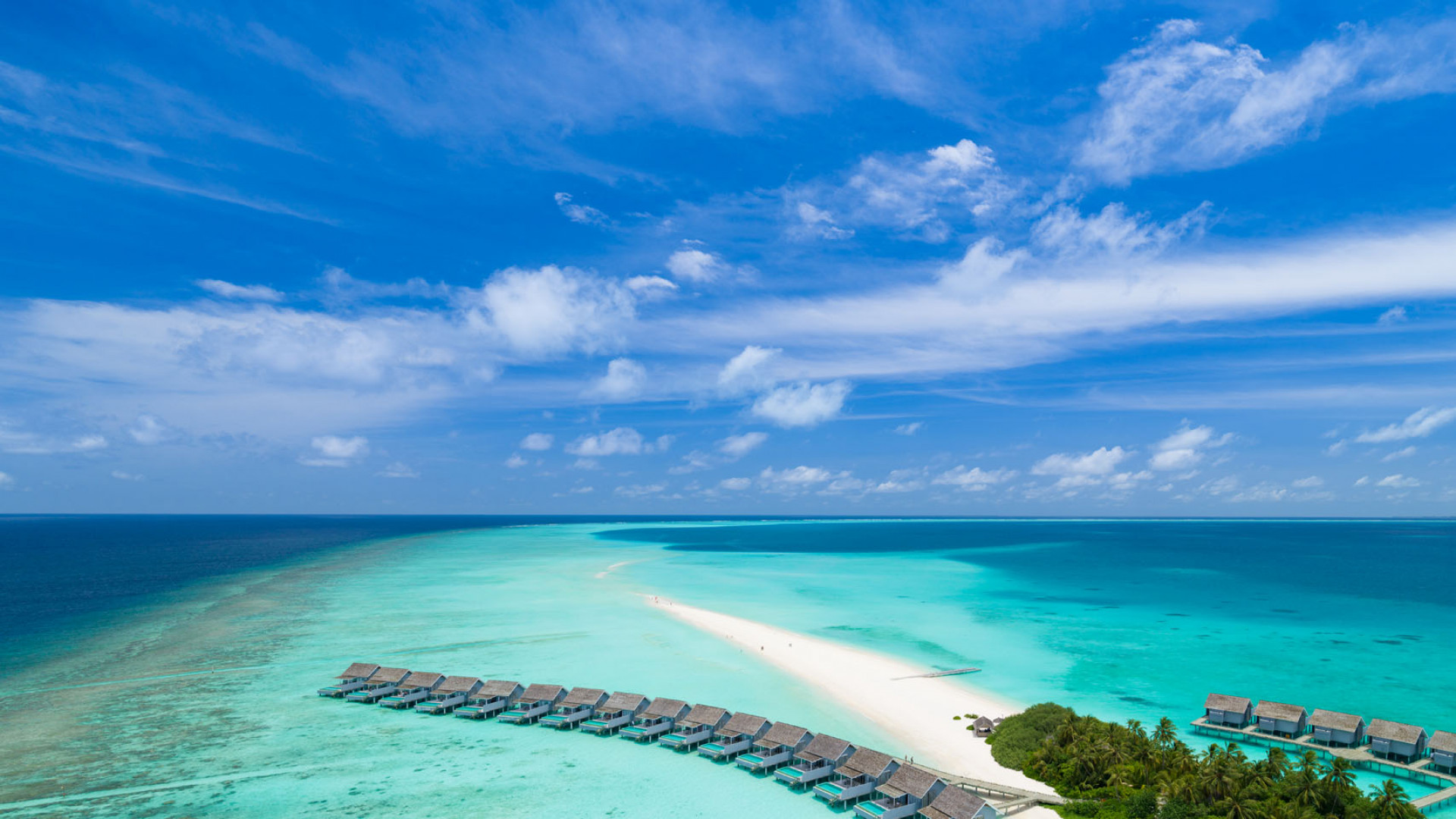 Set in Rasdhoo Atoll, Kuramathi Maldives is a 20-minute flight by seaplane or a 90-minute speed boat ride from Malé International Airport. One of the largest Maldivian islands it offers a wide selection of entertainment and activities and is perfect for both couples on a romantic getaway or families wanting to have fun and enjoy quality time together. There are several dining options including buffet and à la carte restaurants, an island coffee shop and seven bars so you are never far from a cooling drink and a stunning view. There are three large infinity pools, a world-class spa, tennis court and a gym to work up an appetite whilst the popular kids club is available until midnight. Karamathis Island is also known as a superb dive location and the PADI dive centre focuses on energy and waste saving practices and actively monitors the marine ecosystem. There is a huge variety of marine life here with over 20 nearby sites where you can explore channels, walls, reefs, a couple of shipwrecks and the infamous Hammerhead Shark Point. There are 360 garden villas, beach villas, bungalows and over water villas to choose from so this island paradise really does have something for everyone.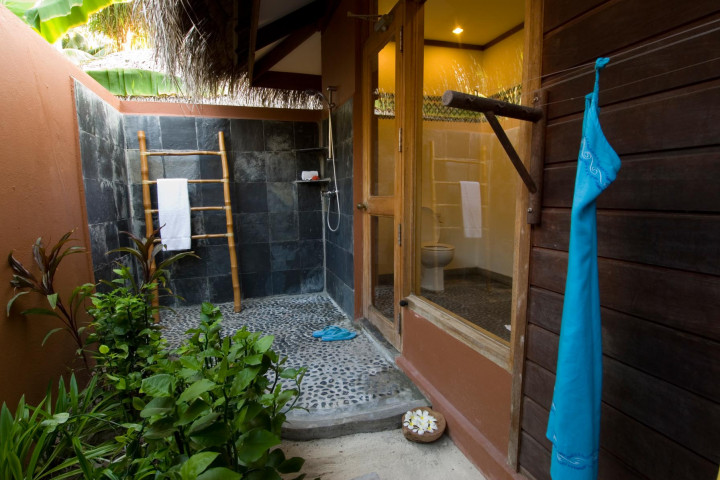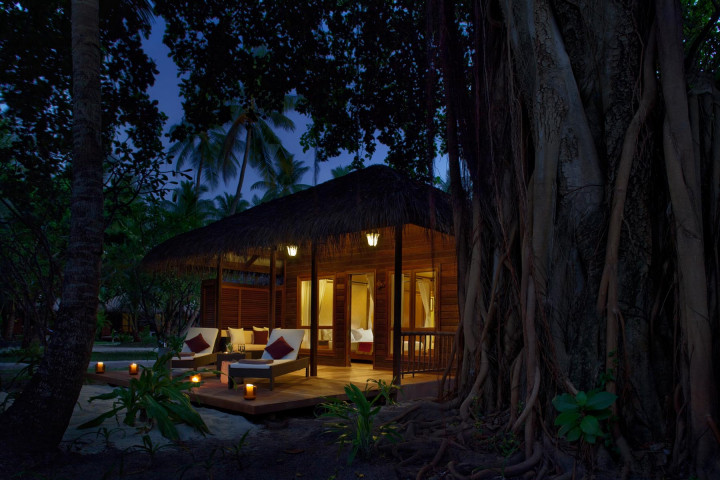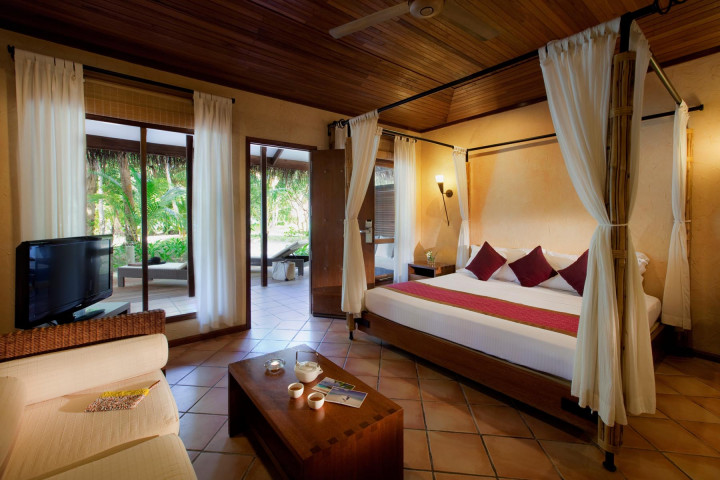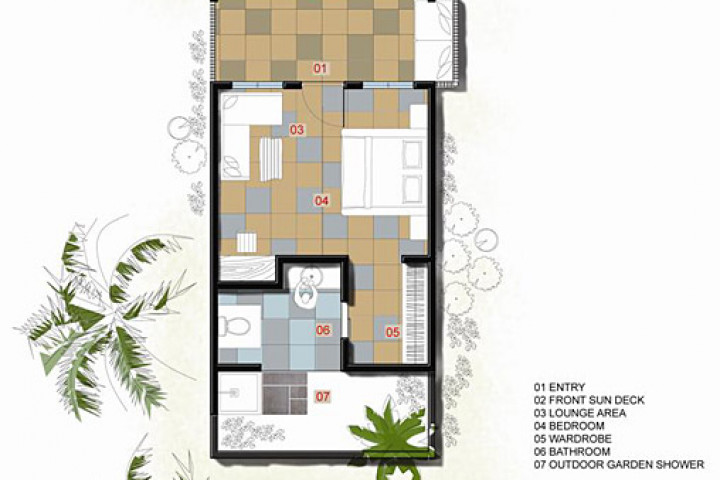 Beach Villa
Individual villas, hidden within the luxuriant vegetation, yet only a few steps from the beach. The Beach Villas are individual villas hidden within the abundant vegetation, yet only a few steps away from the beach. These villas face the lagoon side of the island and feature king-sized four-poster beds, wooden decks at the front with daybed and sunloungers. The Beach Villas also include semi-open air bathrooms with outdoor rainfall shower.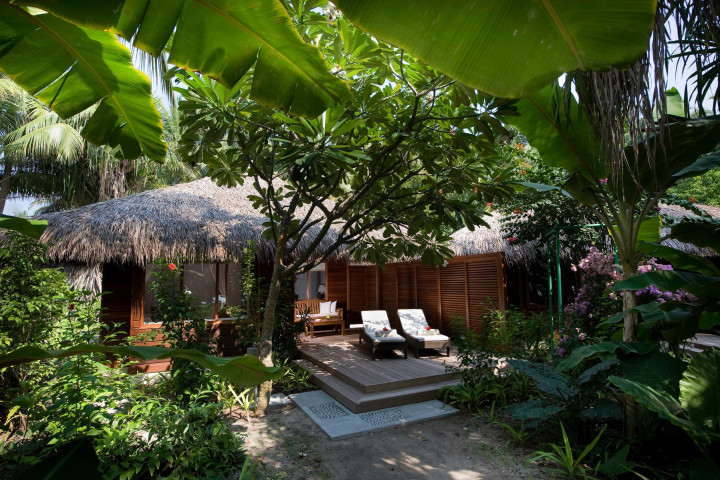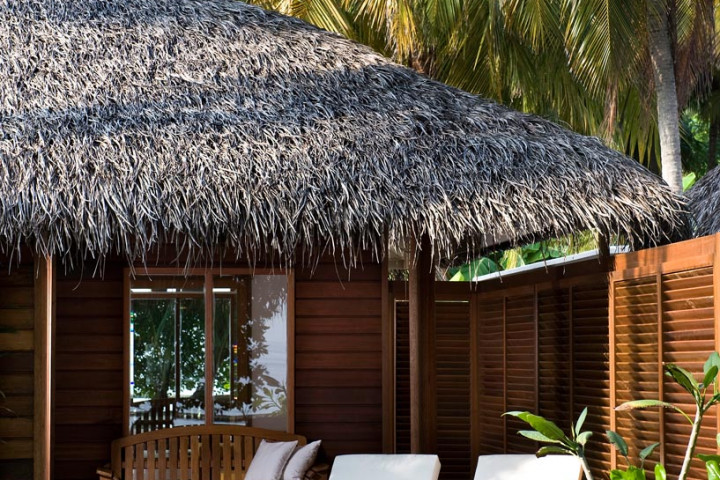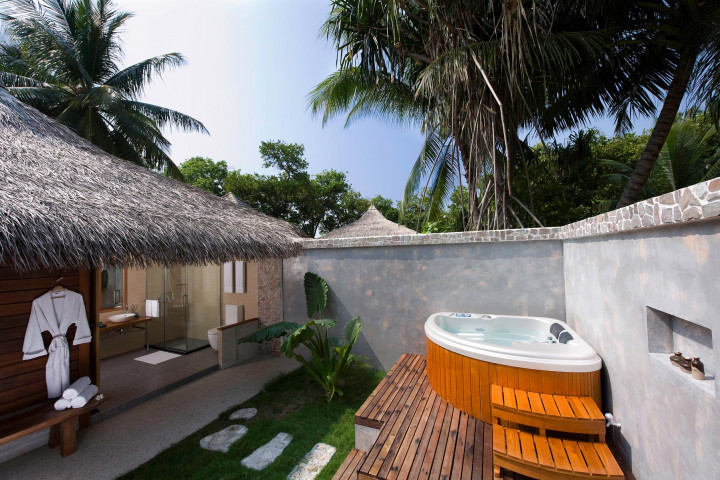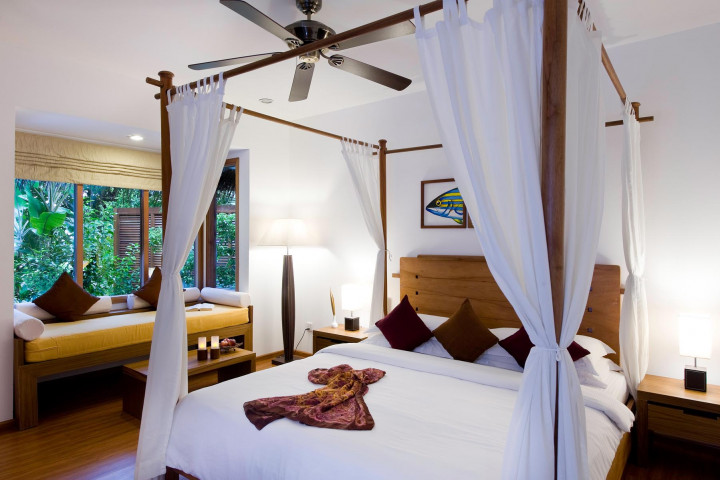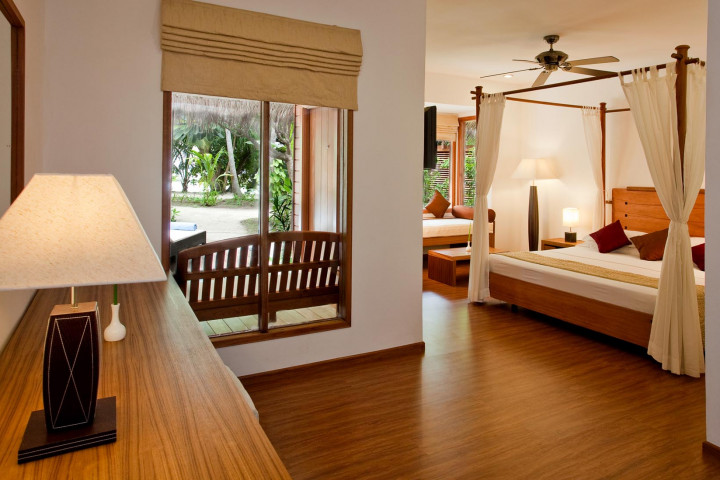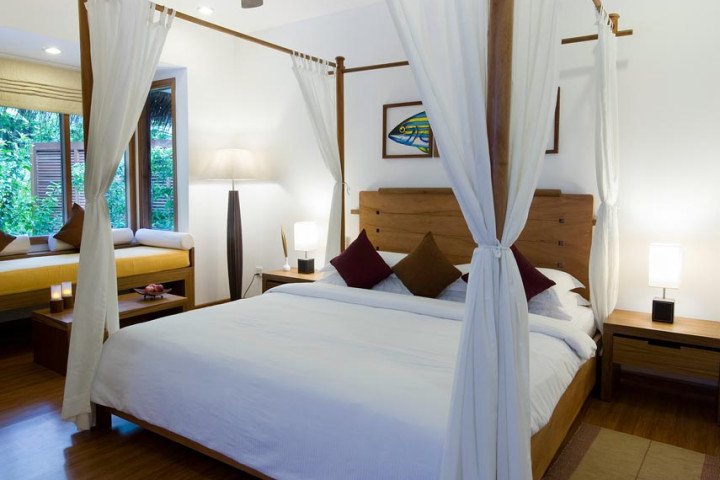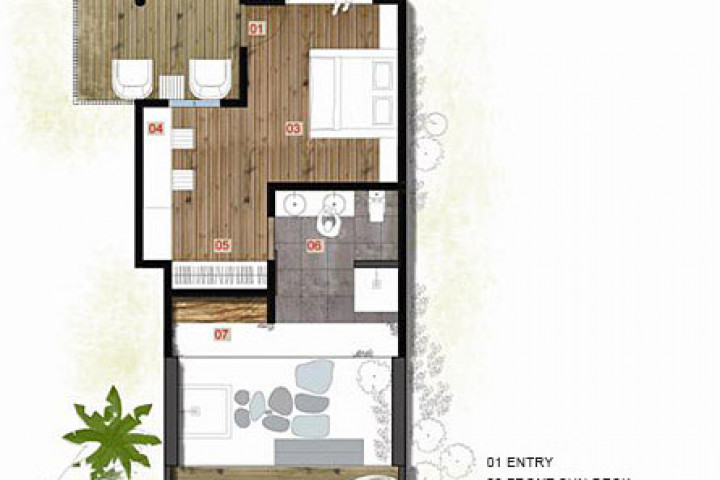 Beach Bungalow
Celebrate romance. Indulge yourself in these lavish villas. Sited amongst the natural gardens of the island, the wooden Beach Bungalow are dedicated to couples celebrating romance. The bedroom features king-sized four-poster bed and an inviting daybed, whilst the deck outside offers daybed and sunloungers for two. The bathroom is large and open air, and includes a tempting whirlpool (hot tub) in the corner.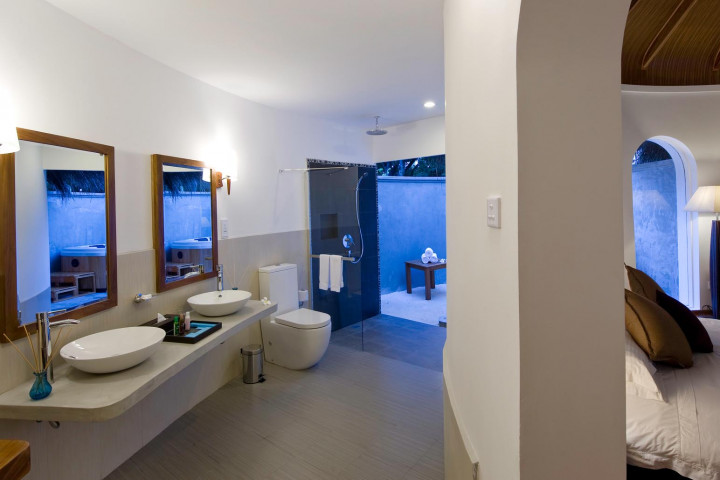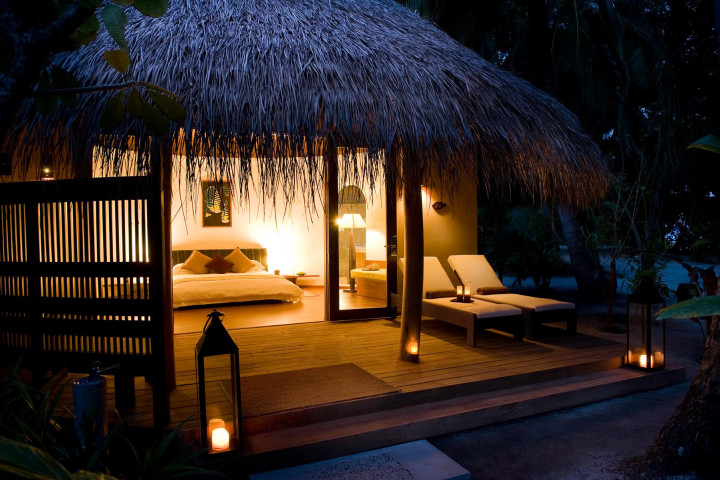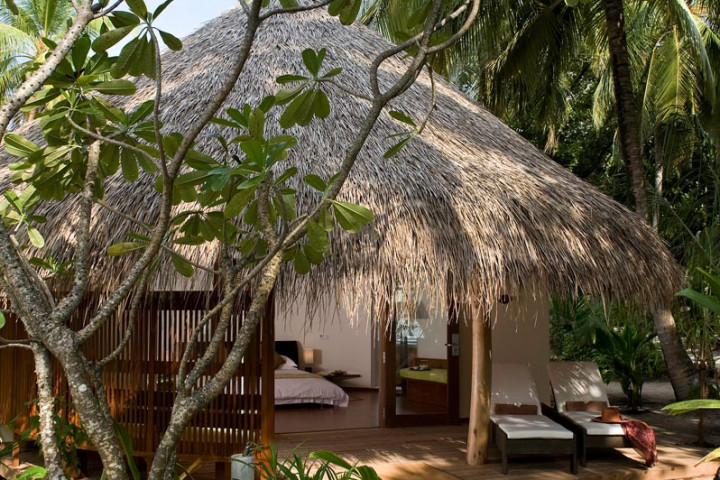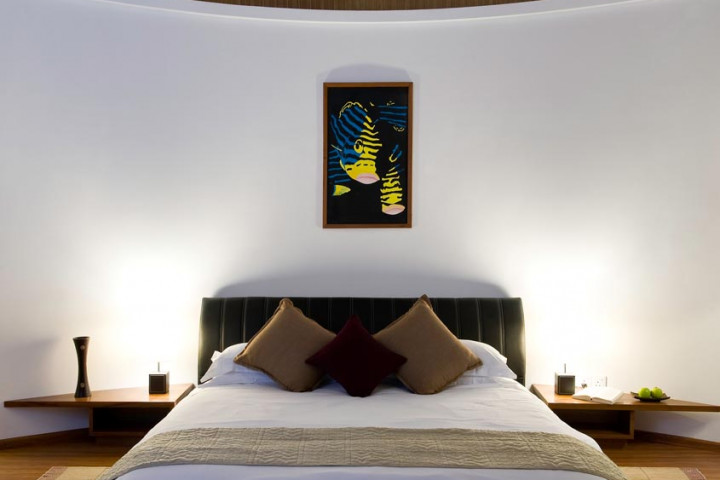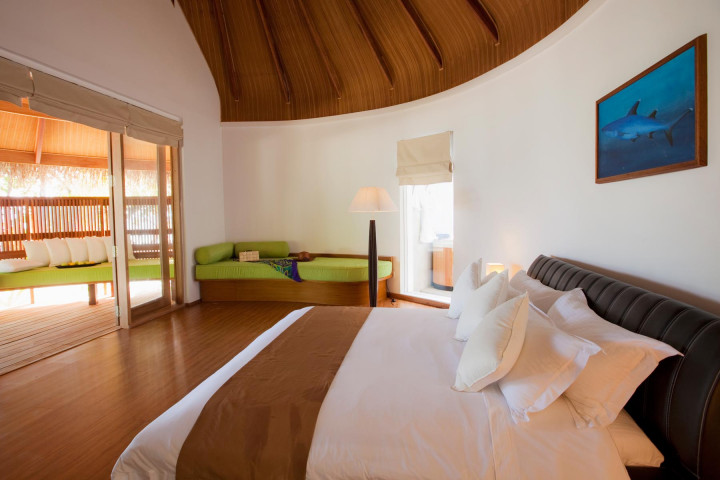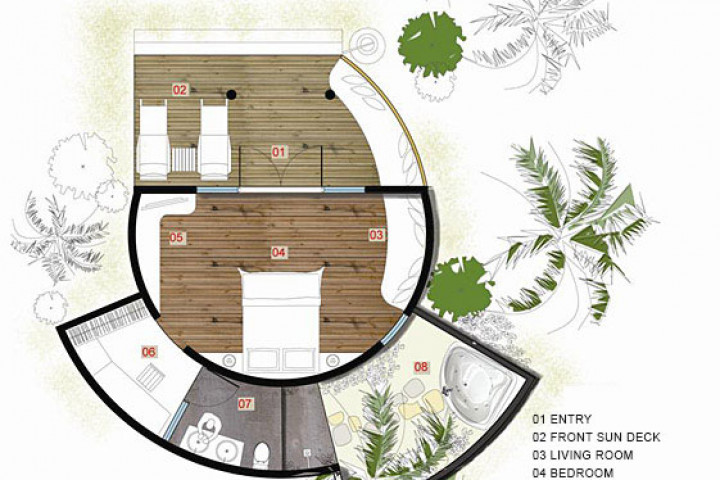 Superior Beach Villa
Minimalist in style. Natural yet contemporary in design. A chic retreat. These villas are contemporary in design. Round in shape, the villa includes a wooden deck featuring an alluring built-in outdoor daybed and sunloungers. The bedroom is spacious and minimalist, displaying a modern king-sized low bed as the centrepiece. The open air bathroom leads to an outdoor whirlpool (hot tub).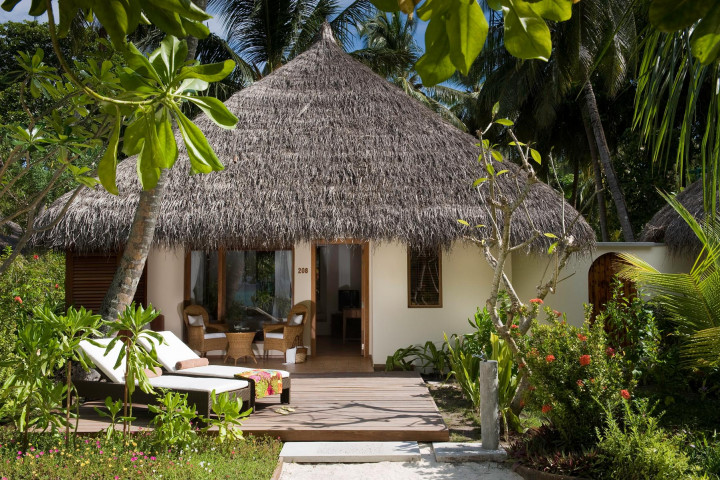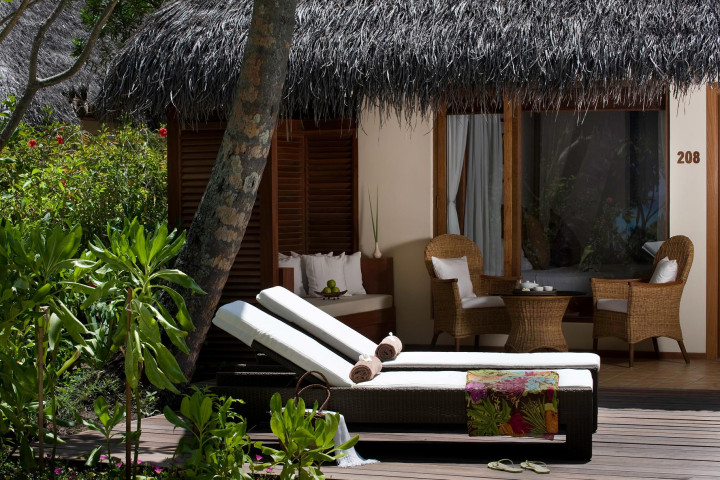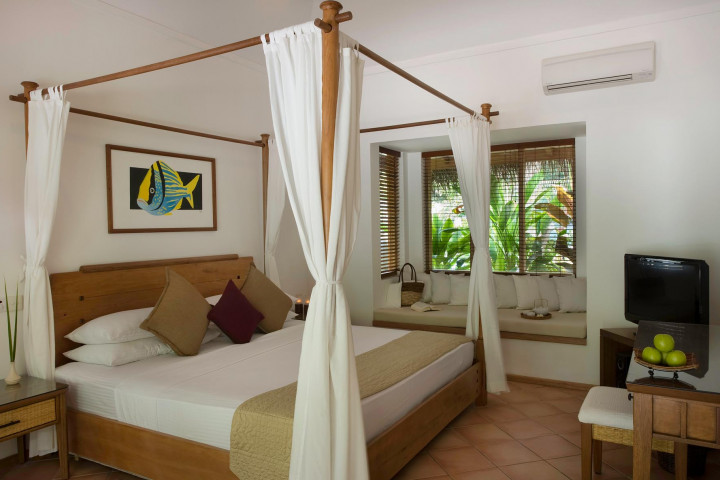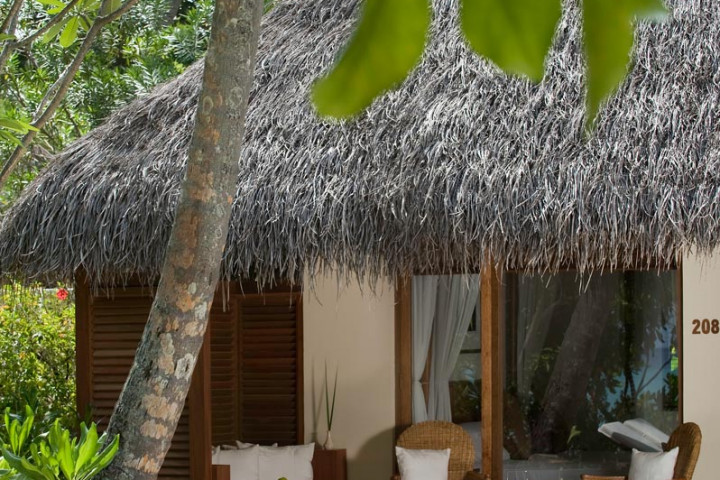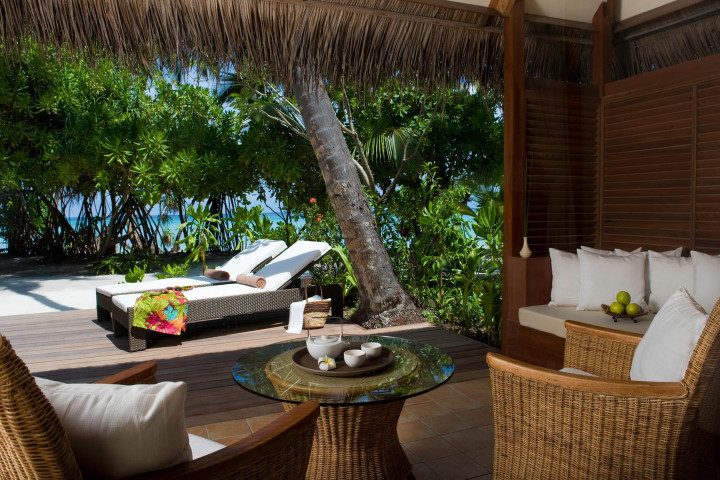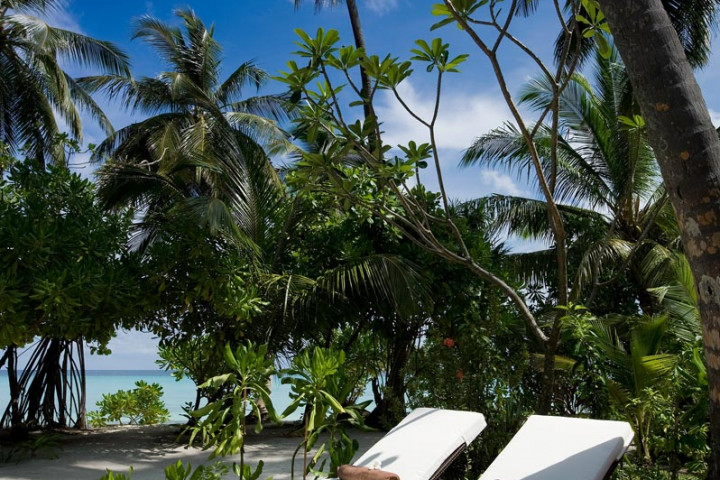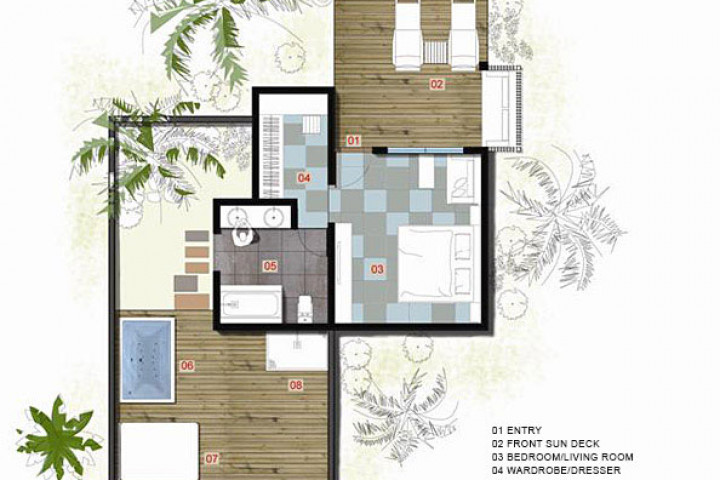 Deluxe Beach Villa
Spacious havens with views of the azure lagoon. An ultimate Kuramathi beach experience with special extra touches. The Deluxe Beach Villa are located along the wide beaches in the middle of the island. Facing the turquoise lagoon, these villas boast oversized wooden decks with sunloungers, sun umbrella and daybed. The bedroom features a king-sized four-poster bed and a built-in sunlit daybed. The bathroom has a bath, twin vanities, shower, and a expansive outdoor area with a rainfall shower, sala bed for two, and an inviting whirlpool (hot tub) on an elevated deck. The added luxury of an espresso machine with complimentary refill is included from this villa category upwards.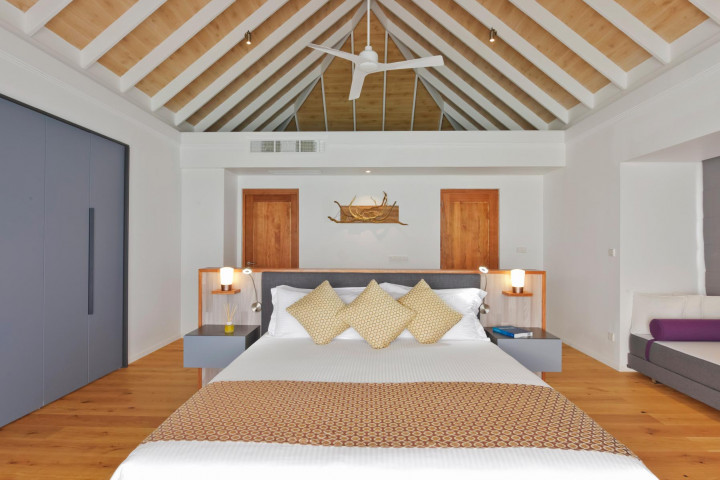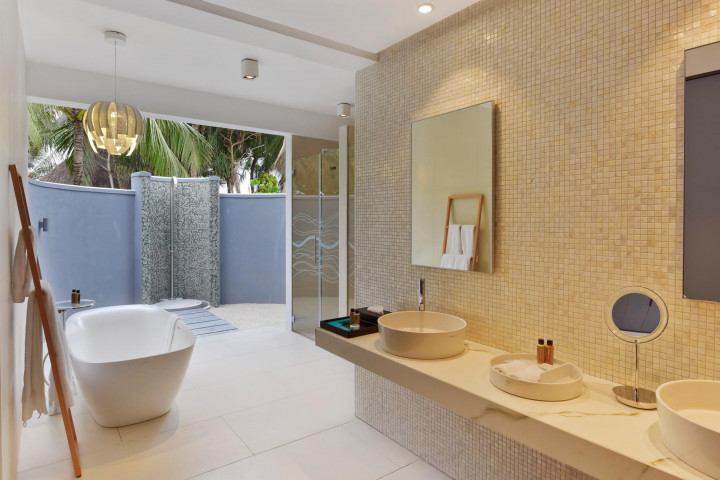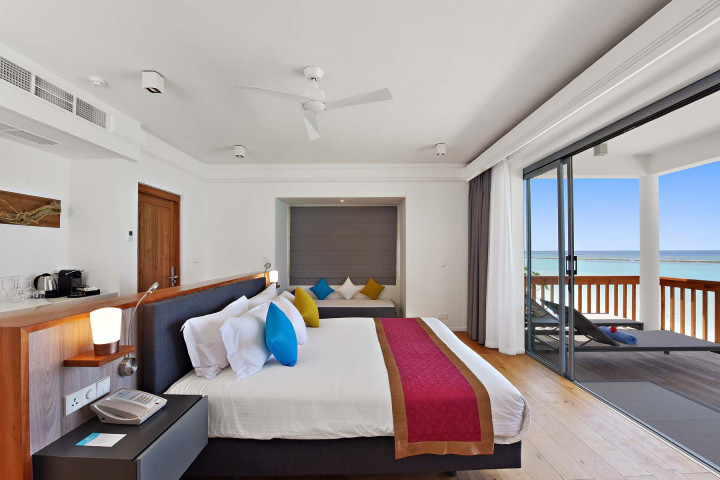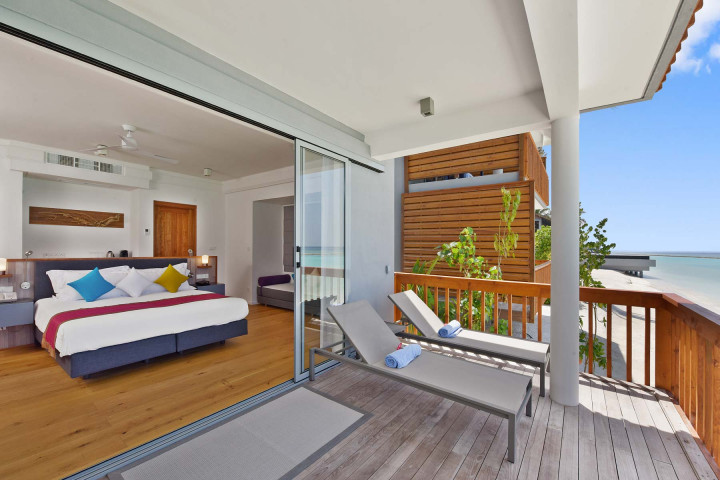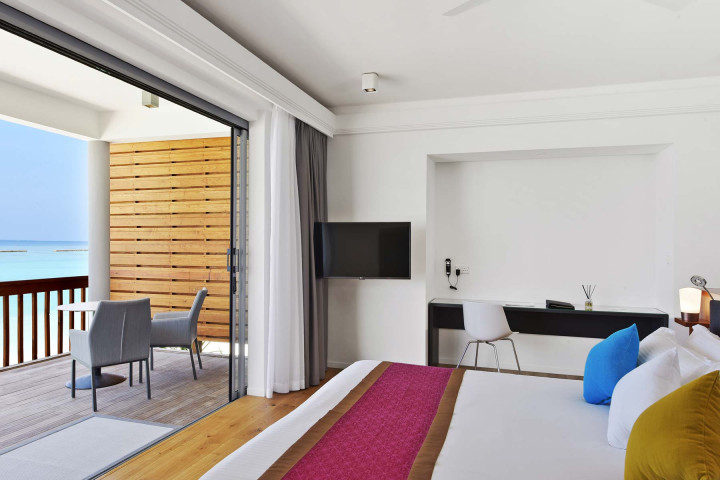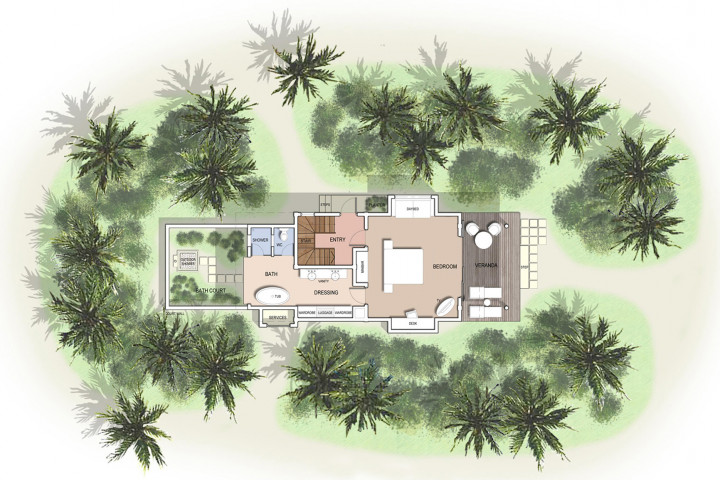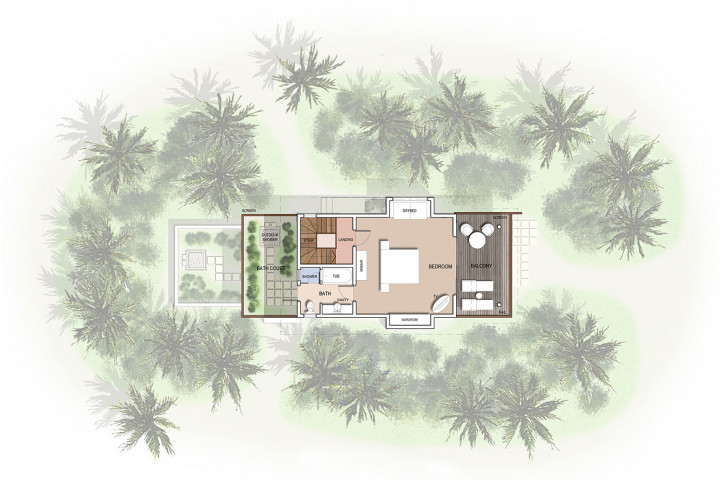 Two-Bedroom Beach House (Separate Bedrooms/Bathrooms)
Ideal for families or friends travelling together, the 2-Bedroom Beach Houses have two storeys each featuring separate living spaces, with individual entrances. Both come with expansive bedrooms with king-sized beds, day beds and wooden sundeck, or balcony. Spacious and airy bathrooms are complete with bath, shower, vanity and outdoor rainfall shower. These duplex villas are located at the top end of the island facing either the lagoon or reef, each accommodating 6 adults or 4 adults and 2 children.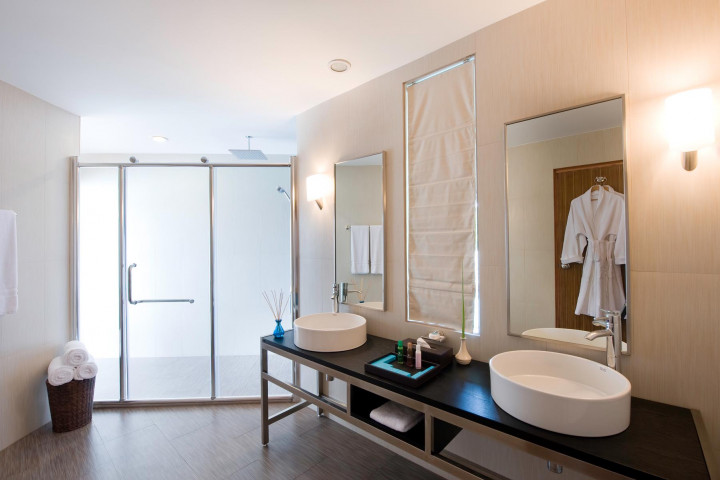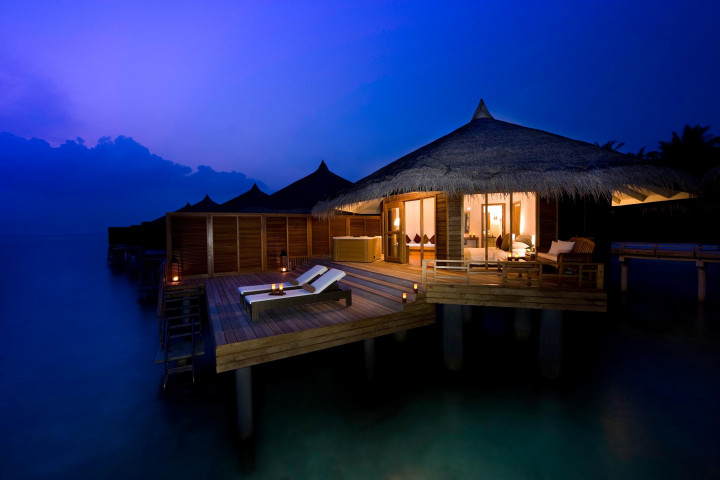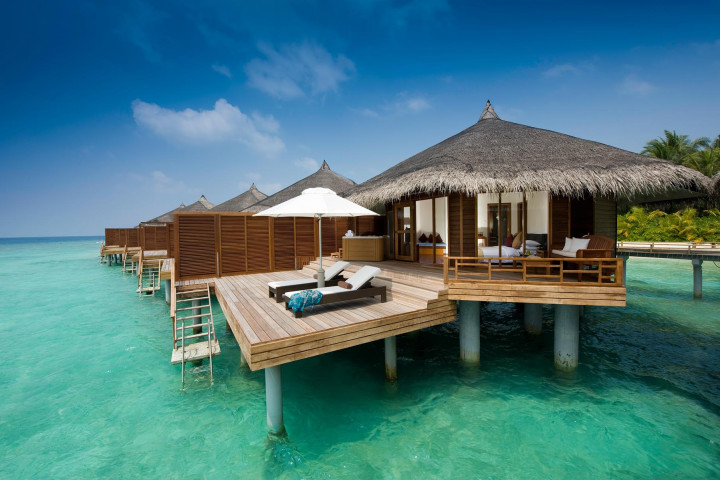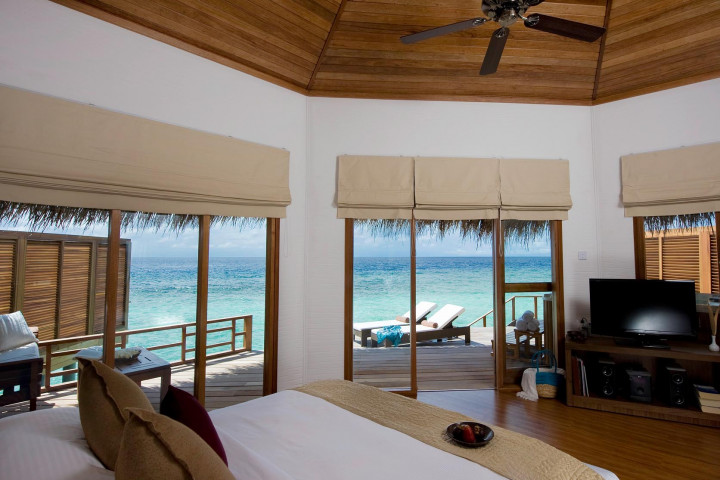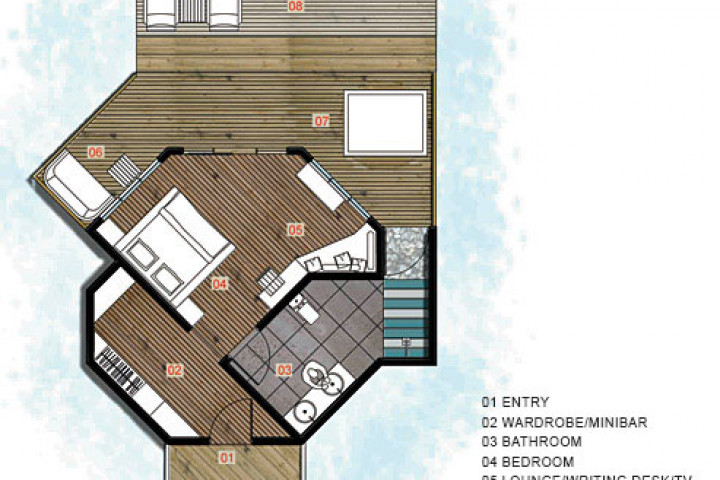 Water Villa
These over the water retreats offer all creature comforts that you can wish for, combined with complete privacy. These magnificent villas are also built on stilts, close to the house reef with its colourful myriad of marine life. The villa features an airy bedroom with king bed and a spacious bathroom with twin vanities and rainfall shower. The villas also include an oversized two-tiered sundeck with your whirlpool (hot tub), sunloungers and sun umbrella. Enjoy panoramic views of the Indian Ocean with a bubbly drink in hand, and your favourite tunes playing the background.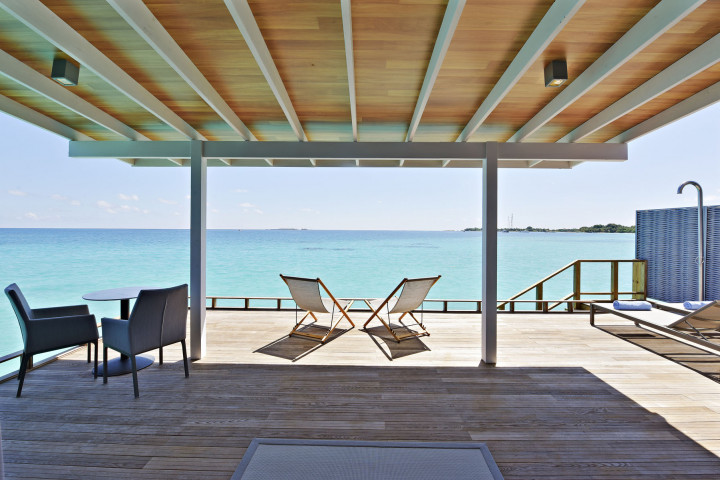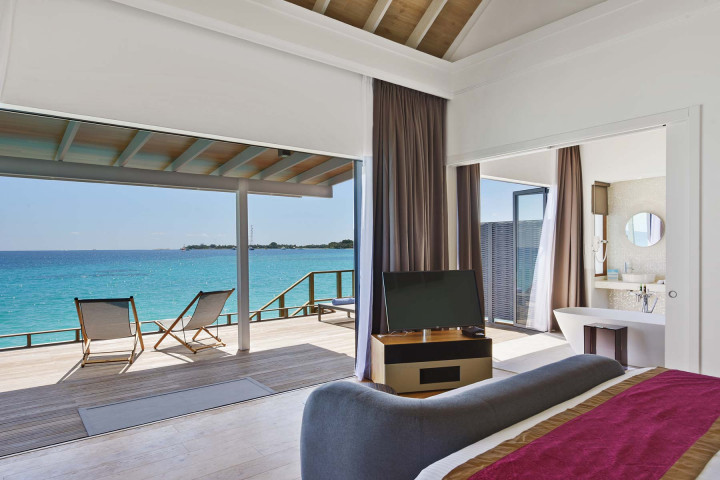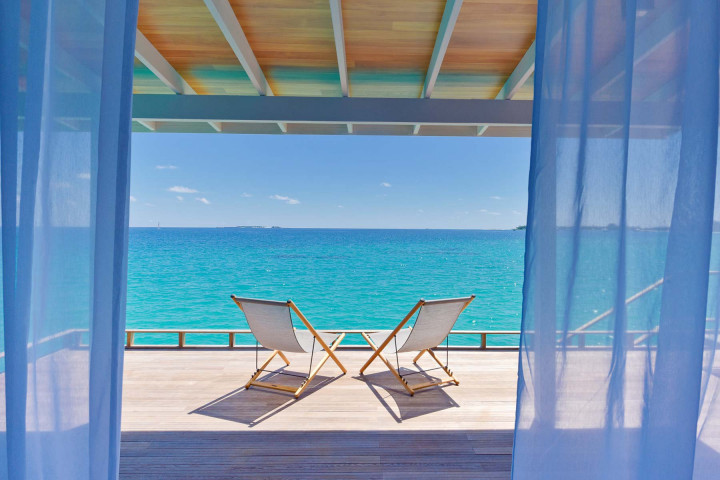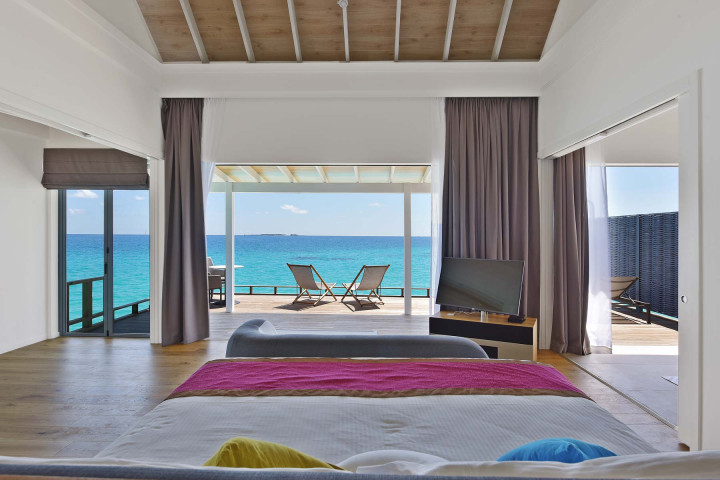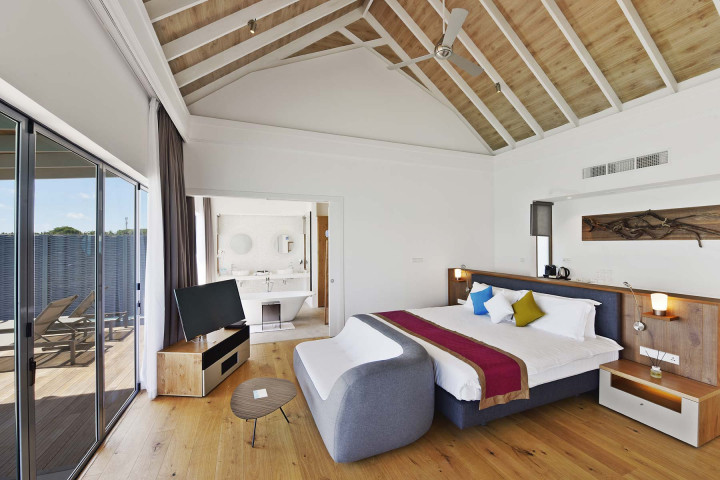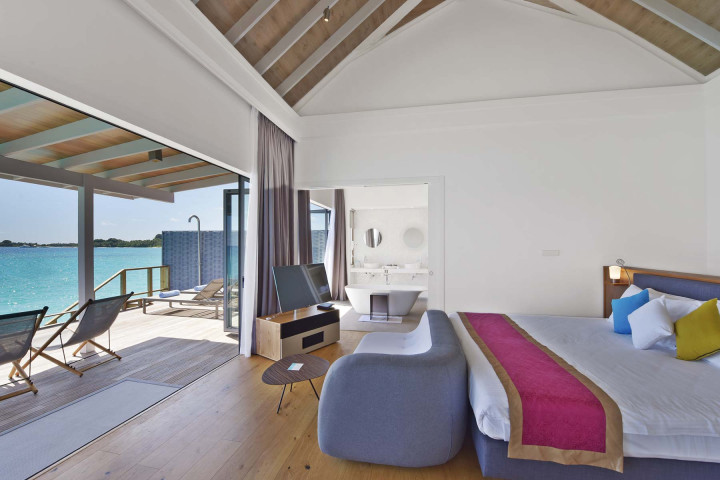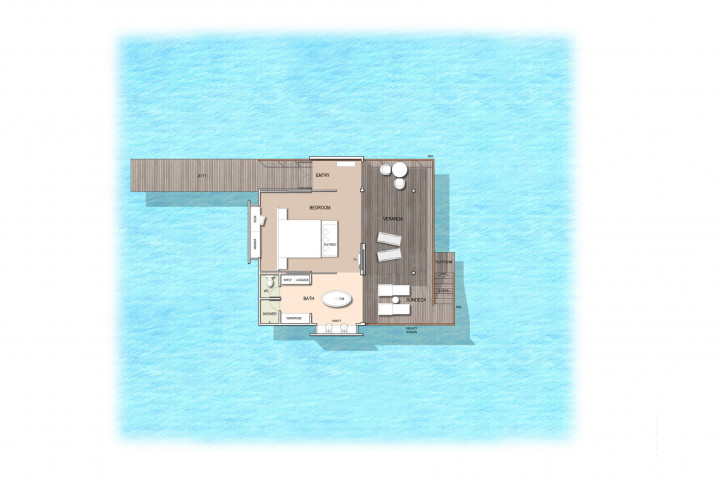 Deluxe Water Villa
Set in the middle of our vast turquoise lagoon, the Deluxe Water Villa feature a king-sized bed and a daybed. The spacious bathroom offers a freestanding bath, and opens onto an expansive deck with steps down to the azure waters. In addition to the wide range of in-villa amenities, all villas from this category upwards also feature a fuller minibar complete with a separate wine chiller featuring over 30 bottles from around the globe.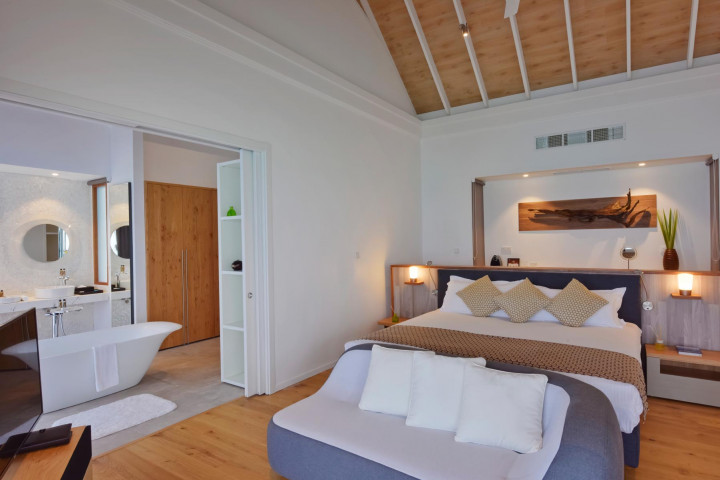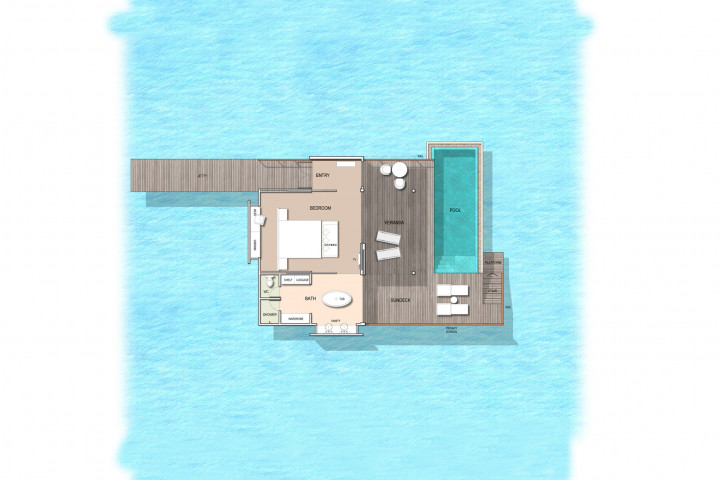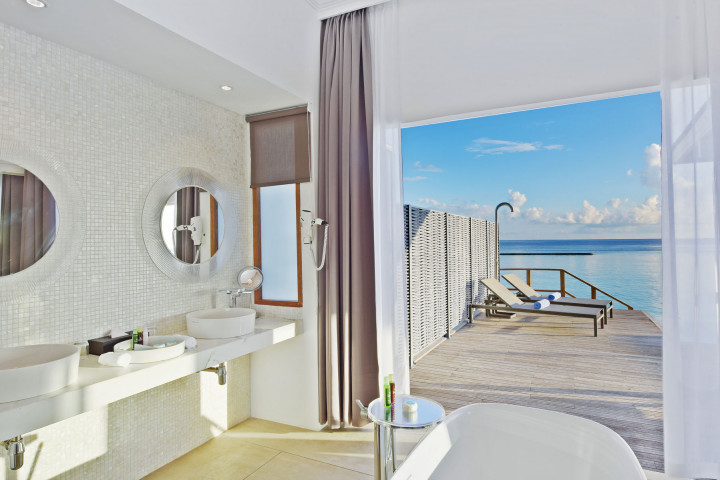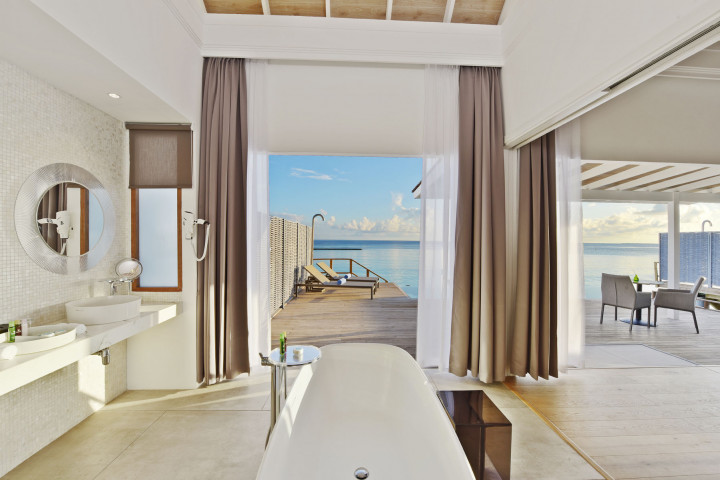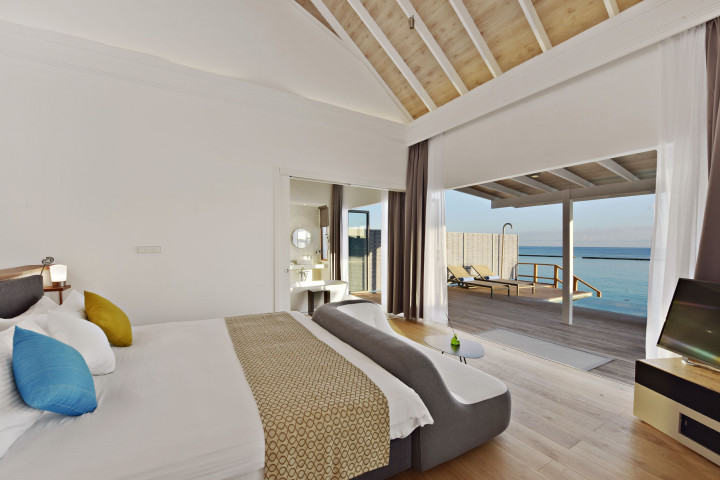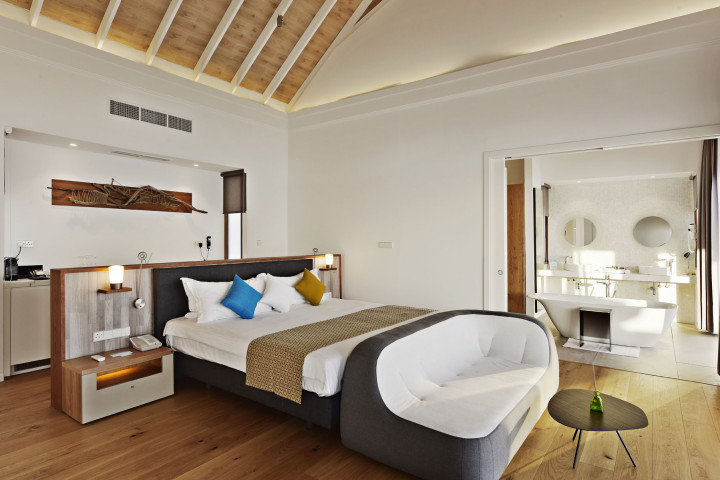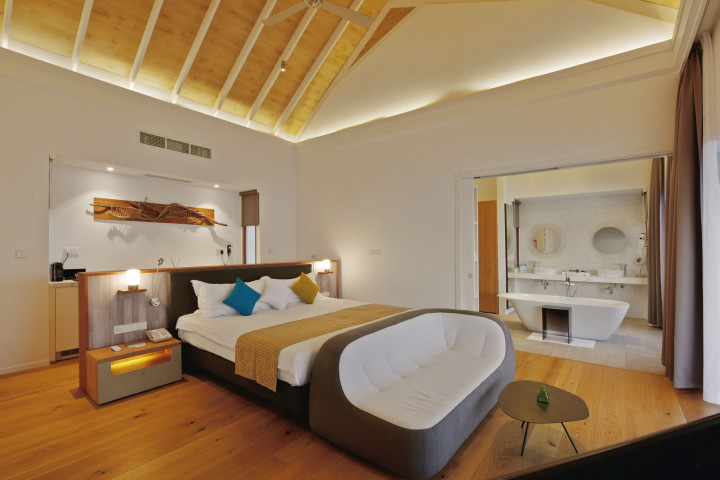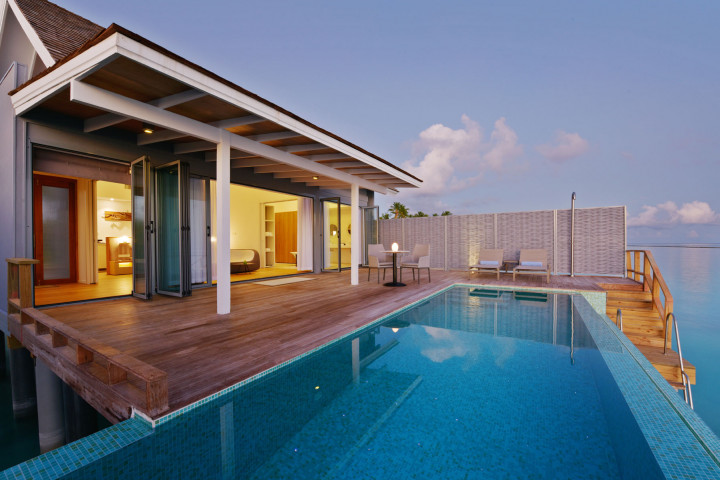 Water Villa with Pool
The Water Villas with Pool are located either in the crystal clear lagoon or facing the house reef, all featuring modern interiors similar to the Deluxe Water Villas. These villas also include a private pool (18sqm) overlooking the ocean.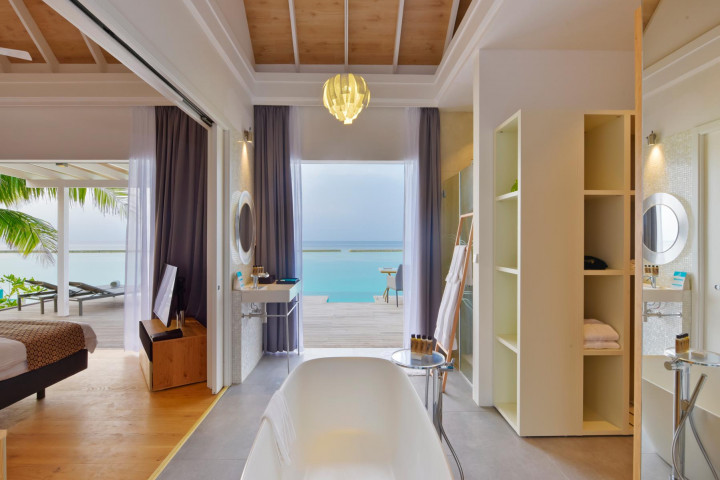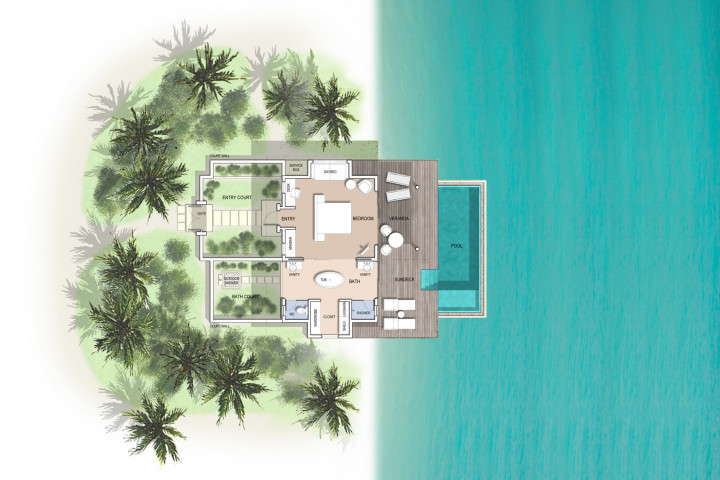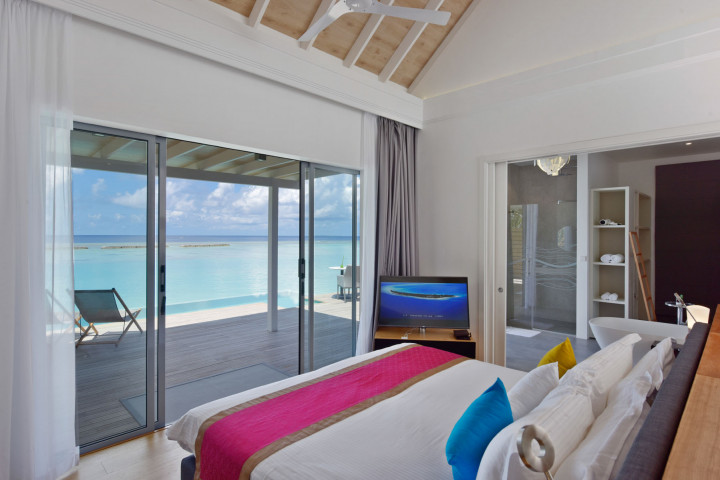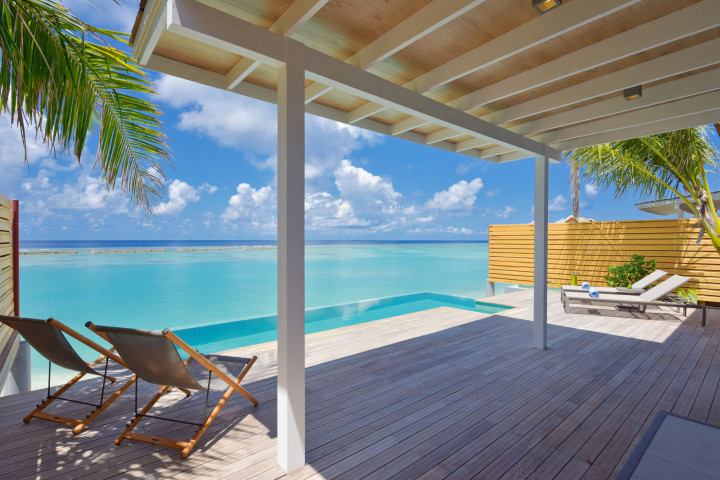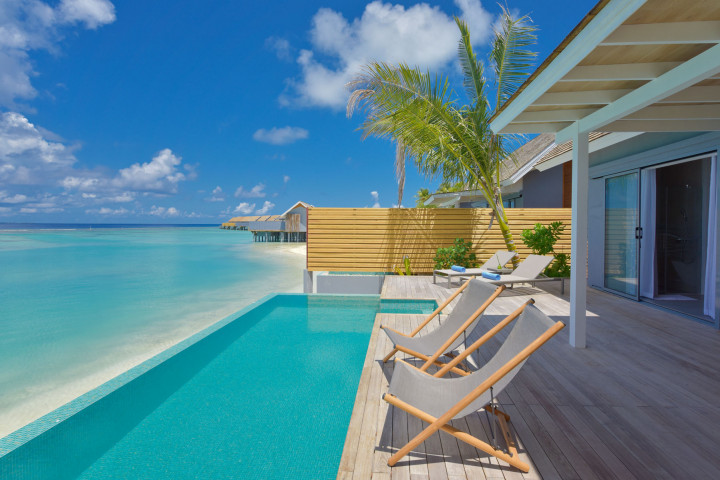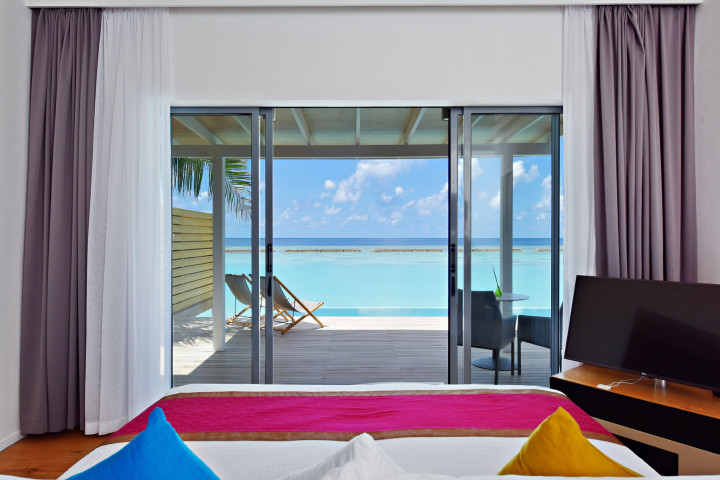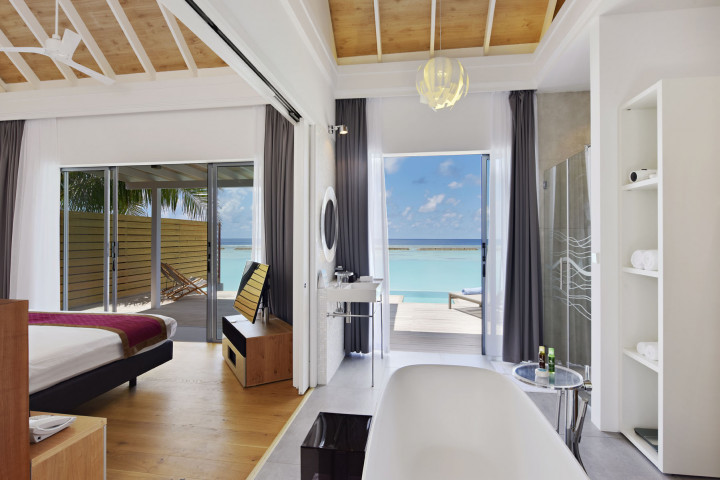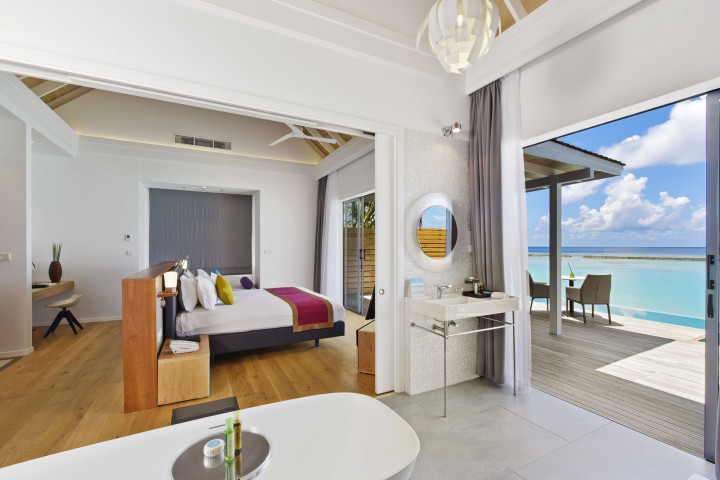 Pool Villa
Set right at the edge of the beach, enter the Pool Villas through your own private courtyard. The bedroom boasts views out to the infinity pool (18sqm) matching the picturesque vista beyond. The villa is furnished with a walk-in wardrobe and an indoor bathroom complete with a free standing bath, twin vanity, and a separate outdoor rainfall shower.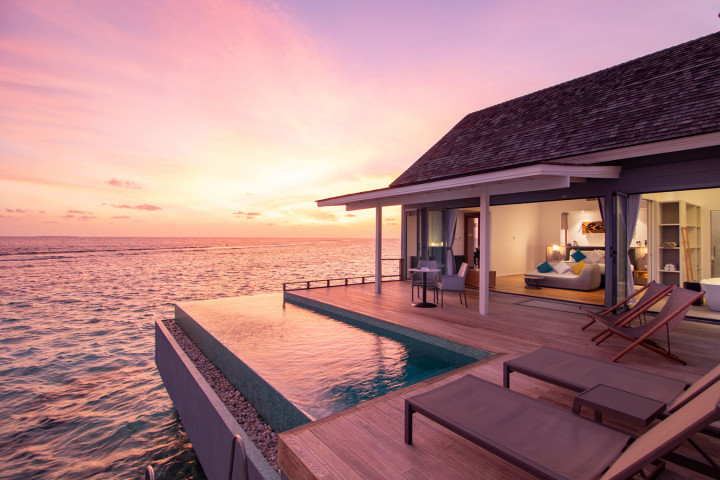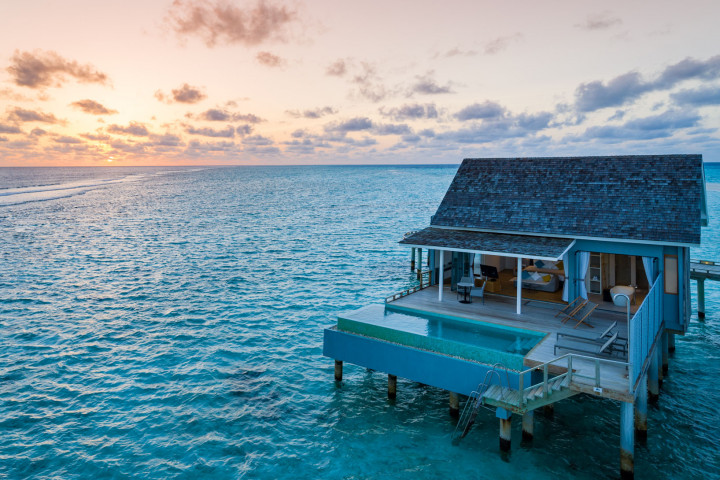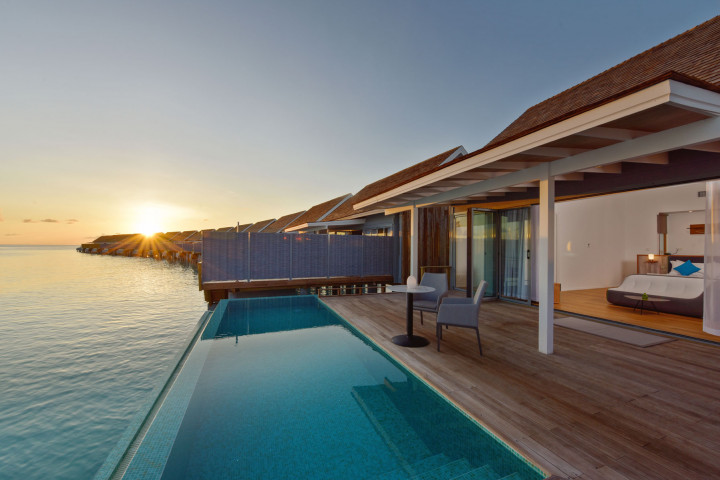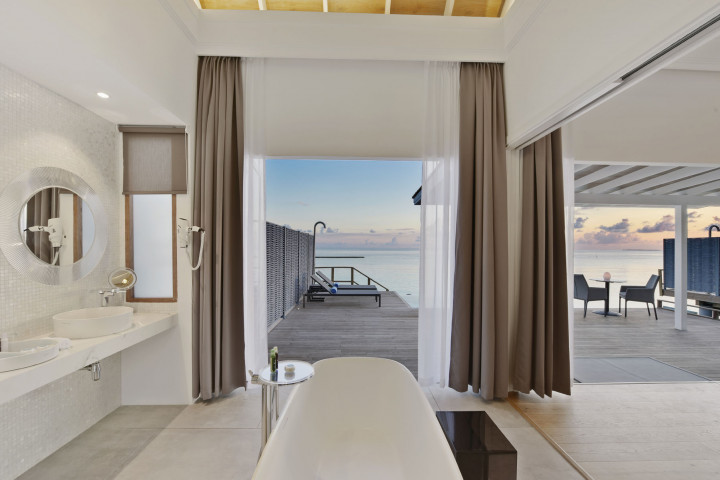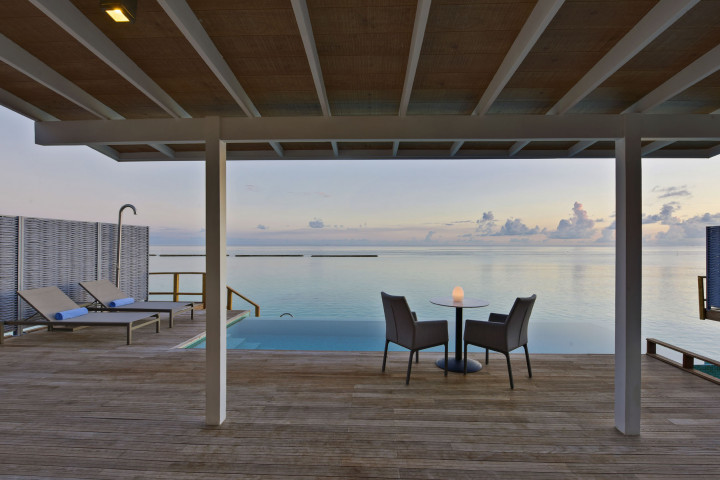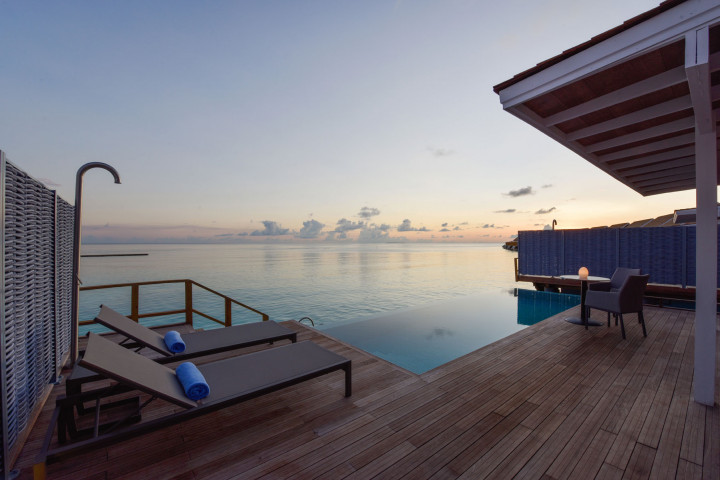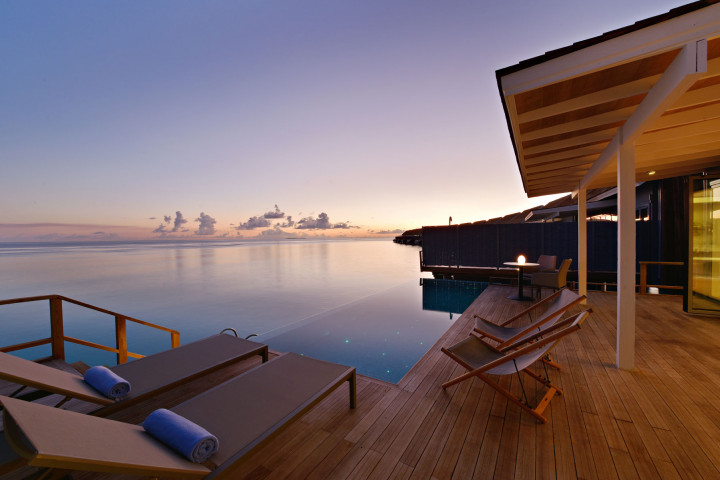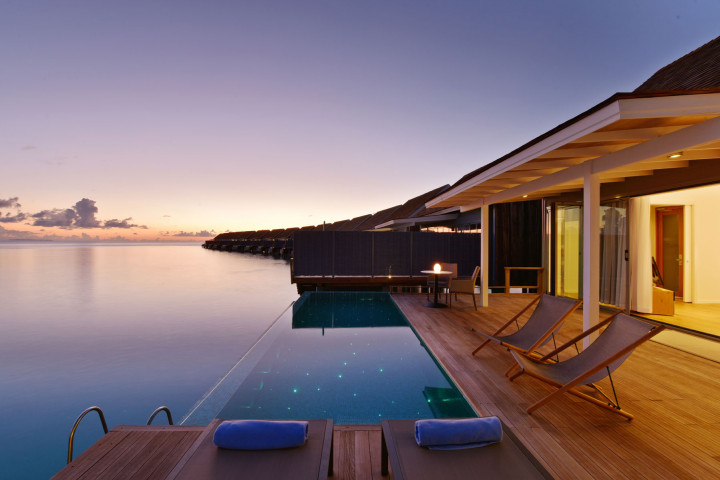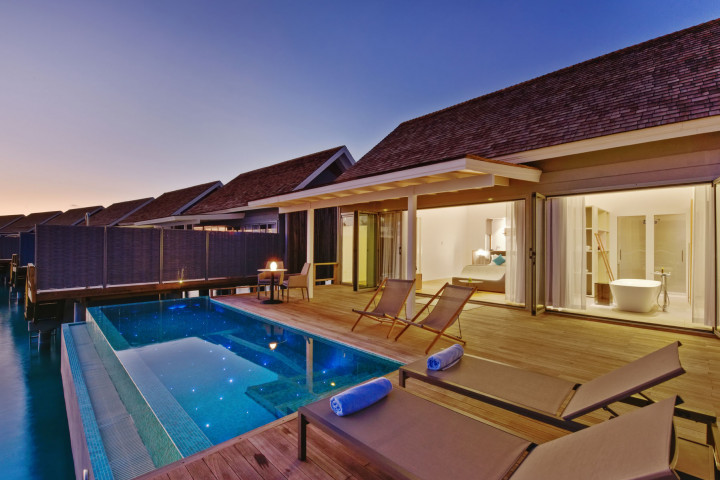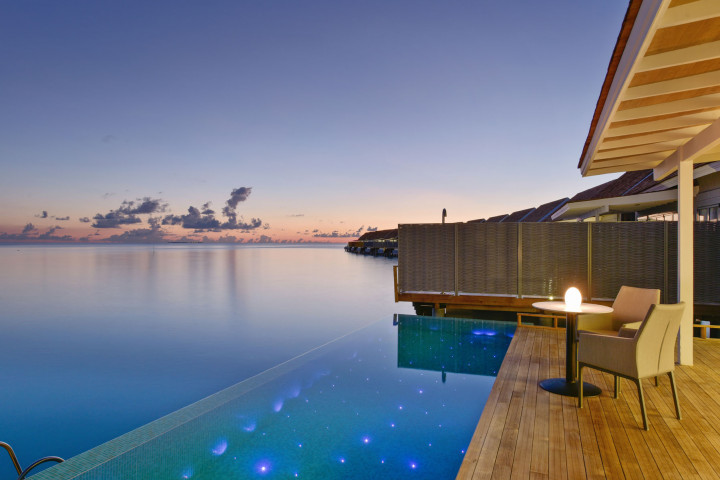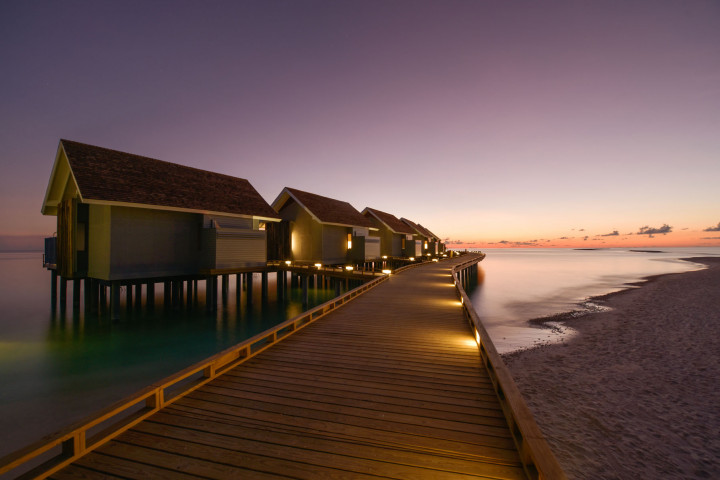 Thundi Water Villa with Pool
These villas are identical to the Water Villas with Pool, in style and in size, yet provide for even a better experience as they are located just on the edge of the famous Kuramathi sand bank.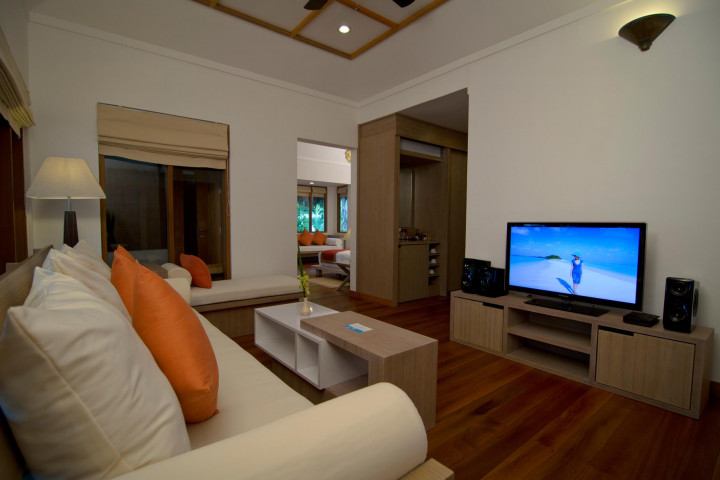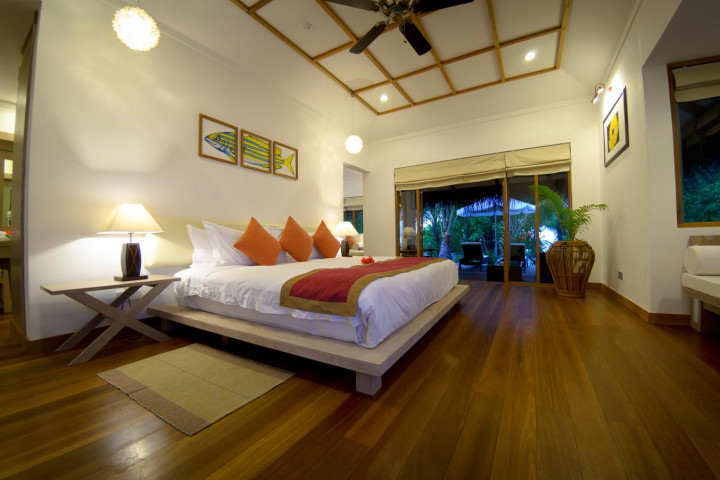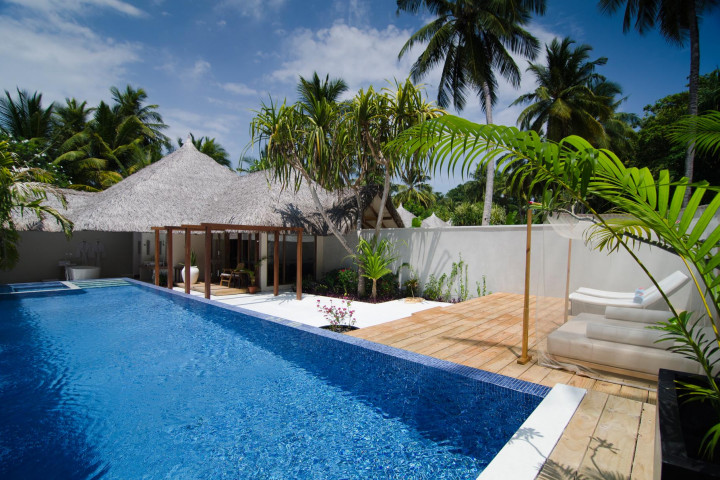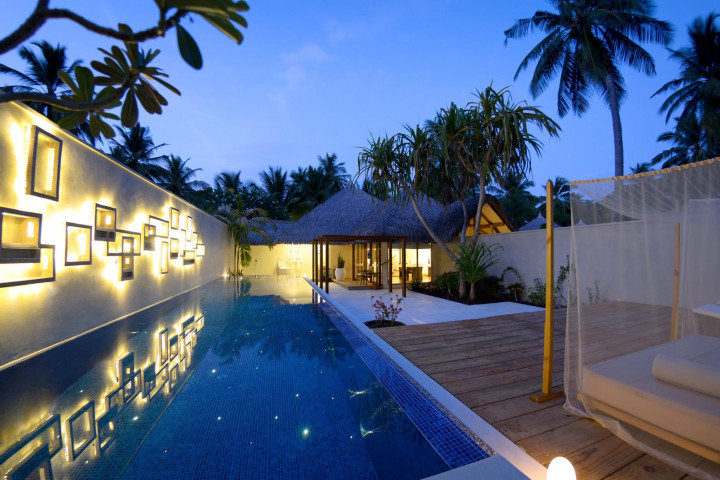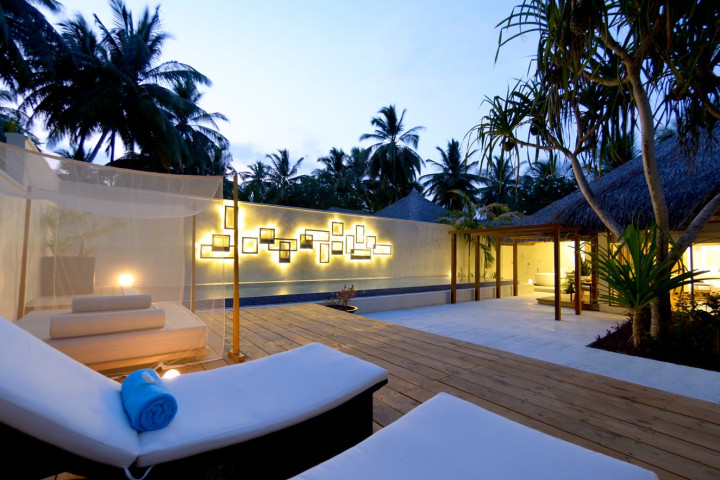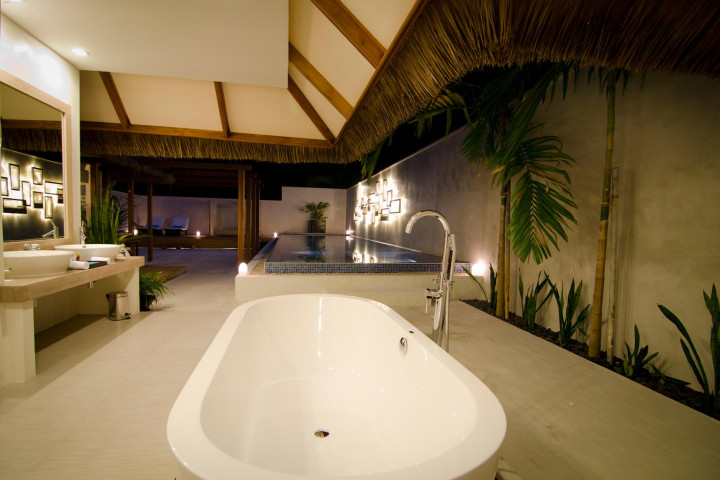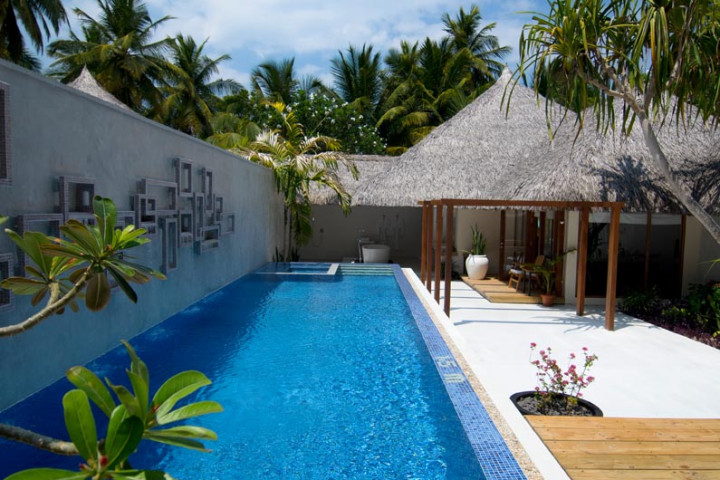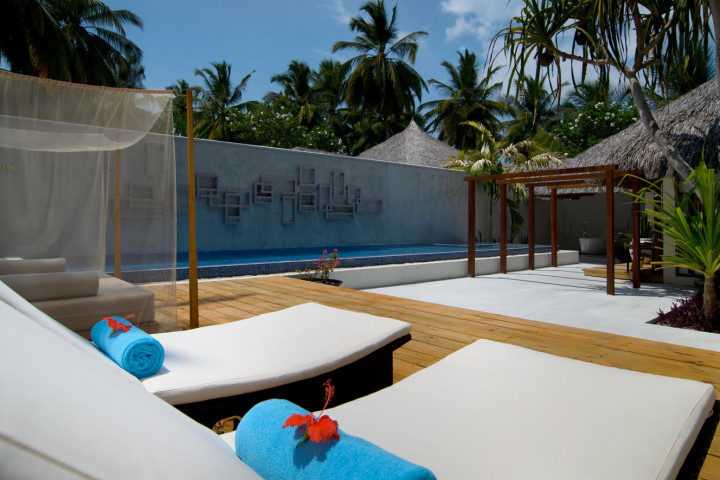 Honeymoon Pool Villa
Designed for couples celebrating romance and wedded bliss, these are large one-bedroom villas with a separate living area. The bedroom features a tempting king-sized bed and a daybed, whilst the living area includes an inviting sofa and a large flat screen TV, DVD player and espresso machine. A private sanctuary at the back features an open air bathroom with twin vanities, large ceiling LED-lit shower, a bath for two and an air-conditioned dining area. A 10 metre lap pool completes this piece of heaven.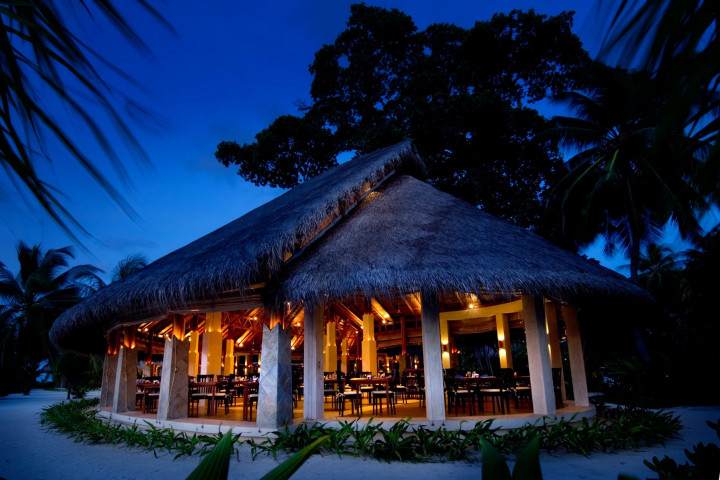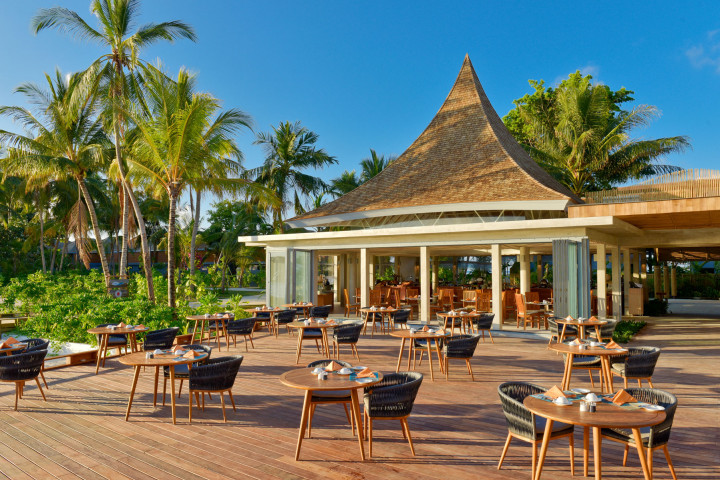 Haruge, Malaafaiy, Farivalhu
Located in different parts of the island, these three restaurants offer breakfast, lunch and dinner buffets. Breakfast is continental with a wide selection of cereal, fresh pastries and bread, fresh fruits, juices, and a live cooking station offering eggs, waffles and pancakes prepared to your liking. Lunch is a light affair featuring a variety of salads and sandwiches, whilst themed buffets from all around the world are offered for dinner.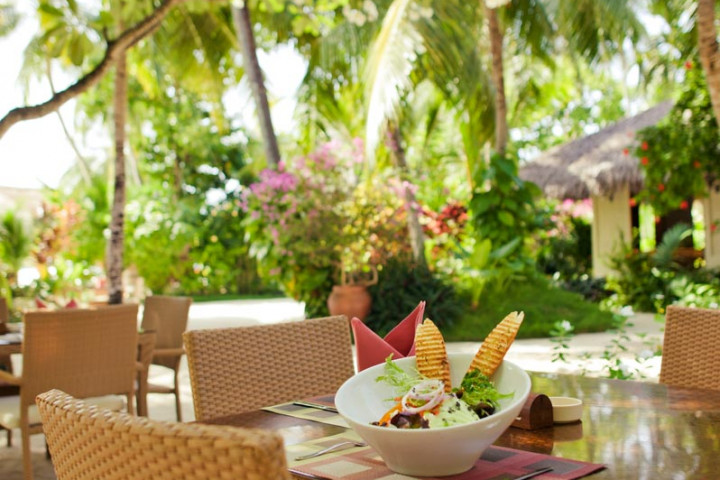 Island Coffee Shop
Island Coffee Shop is an all-day dining option featuring a diverse International menu, a special selection of local curries, and afternoon tea. Here you can comfortably dine while enjoying views of our infinity pool. No reservation is required.
Tandoor Mahal
Surrounded by the lush gardens, Tandoor Mahal offers guests the chance to experience traditional Tandoori cooking with some delicious curries, rice, Biriyani and an assortment of Indian breads. Tandoor Mahal is open for dinner every night and features a 'Discover Indian Food' buffet once a week.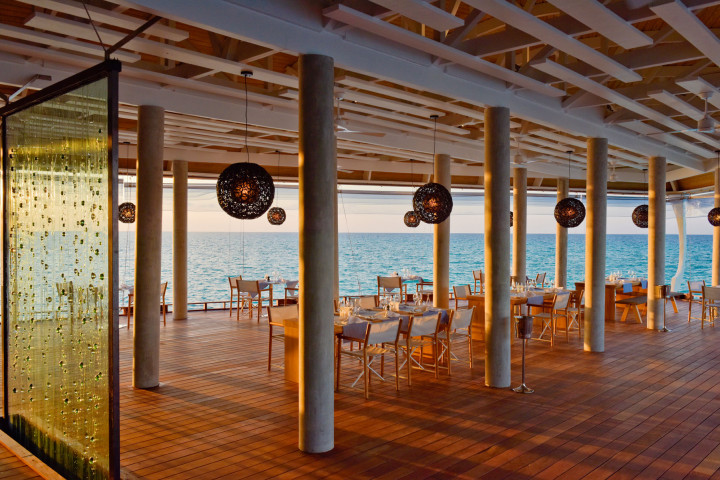 The Reef
An intimate restaurant and situated over the turquoise lagoon, The Reef is our signature seafood dining experience. It provides guests fresh catch from the Maldivian waters and quality seafood imported from abroad. Your choice of dinner is prepared just the way you like it.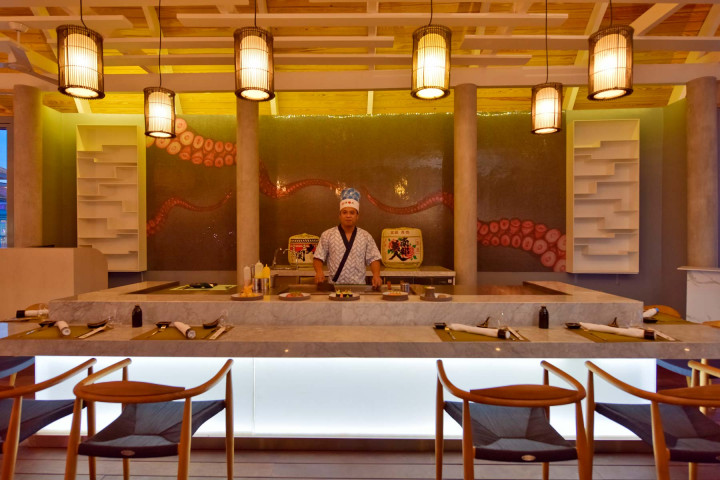 Kobe
An over-water teppanyaki dining experience complete with a culinary performance. This restaurant accepts guests above 6 years of age only. Teppanyaki is a Japanese style of cuisine where dishes including meat, fish and seafood are cooked together in a common iron plate. For safety reasons, we apologise if we are unable to cater any special dietary requirements outside our existing menus. Guests with allergies toward seafood, fish, crustaceans, sesame seeds, soya, HSG and the likes can't be accommodated.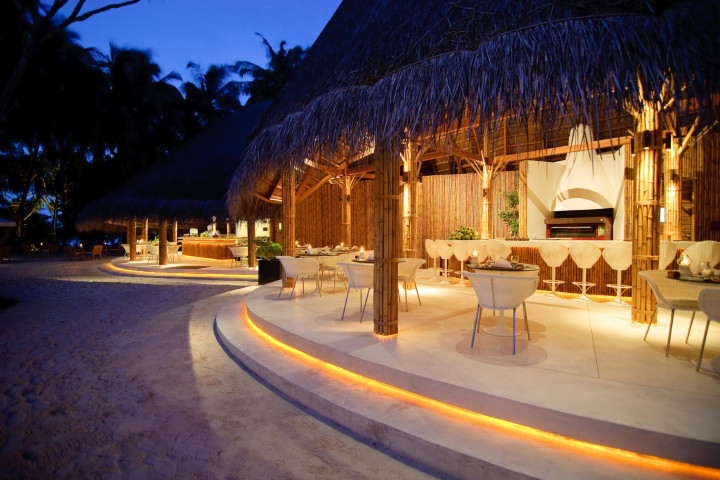 Palm
Palm offers an eclectic collection of sensational culinary delights from the Mediterranean shores. We serve island-grown salads, antipasti, pasta, traditional Italian pizza with crispy thin crusts, and homemade ice cream featuring both tropical and classical flavours. Come evening, Palm transforms itself. Expect an intoxicating blend of food, wine, culture and 'joie de vivre'.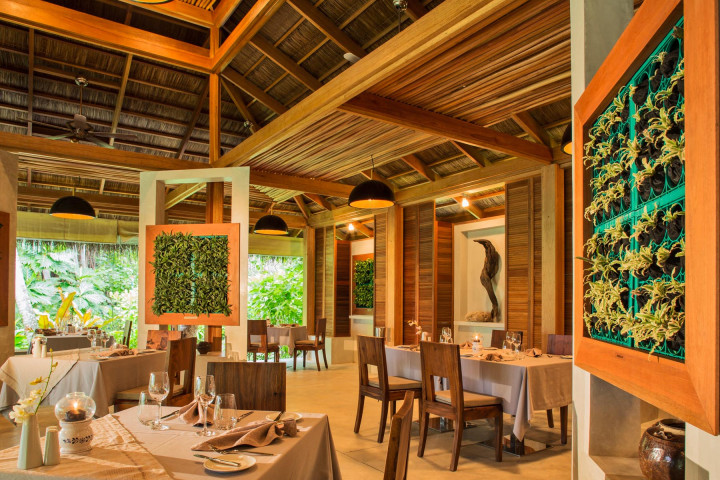 Duniye
Duniye, a signature fine dining, is set on the heart of the island. Feast on our carefully handpicked array of starters and well-acclaimed wines. Ponder over a choice of decadent dishes available for the main course. Travel your taste buds to the sensational world cuisines as you embark on this gastronomic adventure. This restaurant accepts guests above 6 years of age only.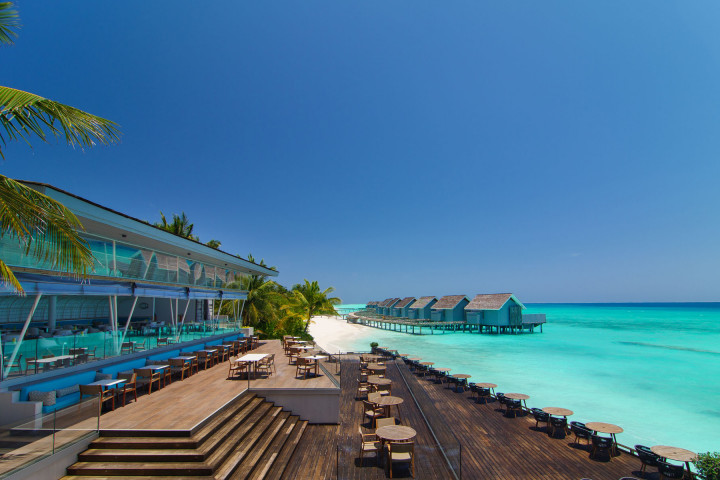 Inguru
Inguru, situated on the lagoon side, is overlooking the beautiful Indian ocean. We offer a variety of Asian cuisines with a light Western twist. You can enjoy light dining options during the day and exquisite Asian Fusion cuisine for dinner with the stunning ocean as the backdrop.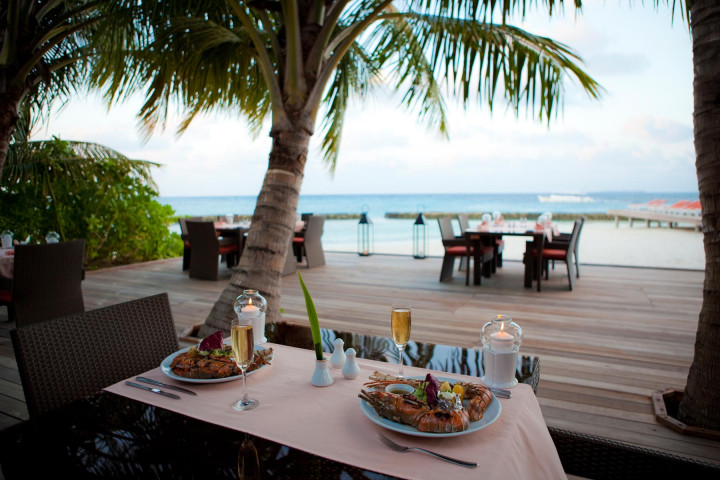 Island Barbeque
Set right on the beach with views out to the sea and the infinity pool, this chic restaurant serves charcoal grilled meat, flambé dishes, and a selection of island grown organic food. High-quality meat is cooked to your desires, complemented with traditional barbeque side dishes and matured fine wines. This restaurant accepts guests above 6 years of age only.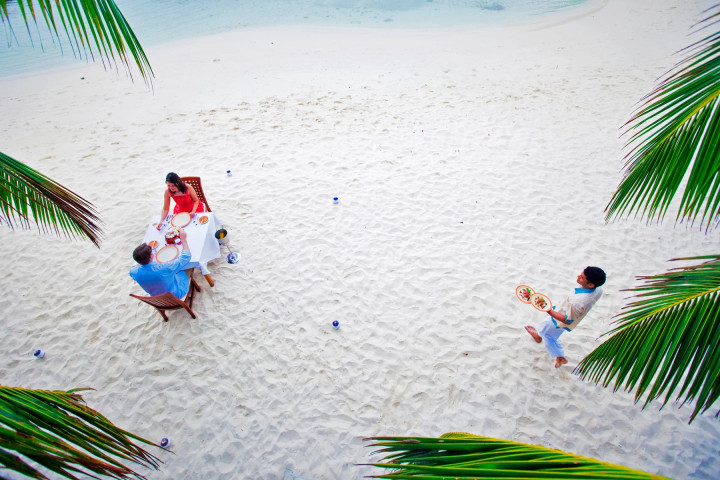 Private Dining Experiences
Celebrate your anniversary, toast to your new-found love or propose to your significant other with the ultimate romantic gesture. The Private Dining Experience provides the perfect romantic setting for you and your loved one.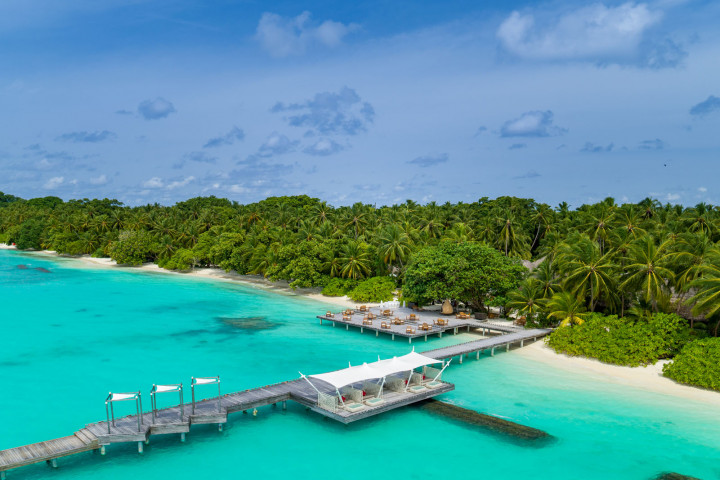 Bars
Six bars around the island offer delicious cocktails day and night. Evening entertainment such as live band and movie nights are also available. During Happy Hours from 18:00 to 20:00 hrs, guests can order our discounted cocktails.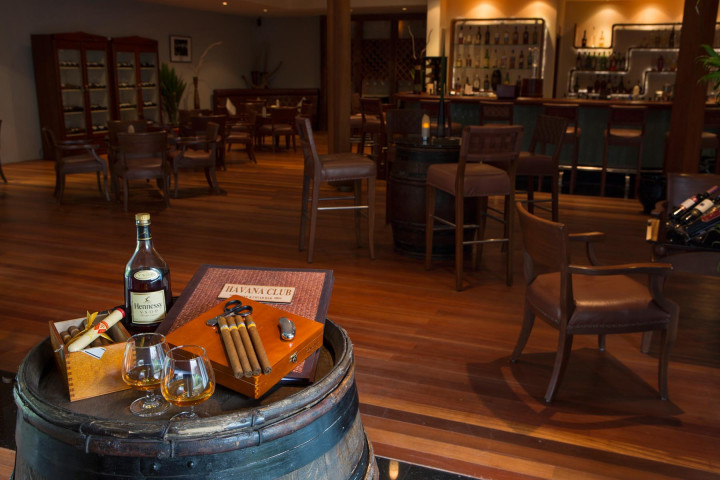 Havana Club Wine & Cigar Bar
This elegantly appointed air-conditioned bar serves an eclectic selection of wines from around the globe, and premium brands of cognac and other alcoholic beverages. The finest of international cigars including a homemade Cuban cigar is also available. Havana Club is an ideal location for an aperitif or a late evening get together. Those who wish to feel like a star for a night must try the Karaoke. Havana Club opens from 18:00 hrs until late.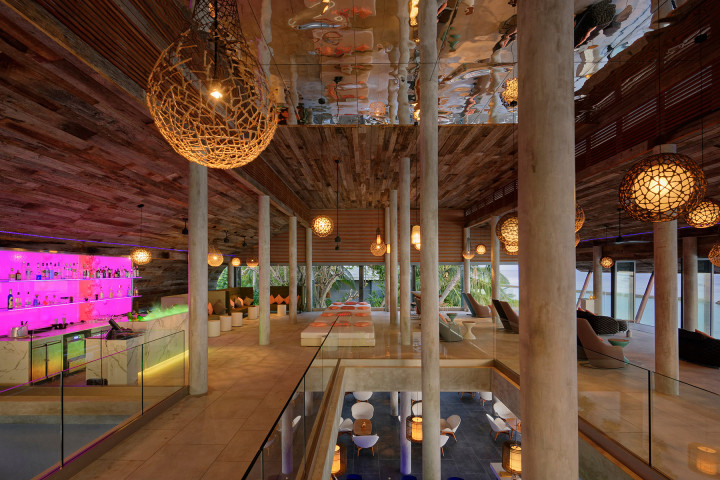 Champagne Loft
Offers over 40 different labels of champagnes, varieties of sparkling wines, and several brands of white spirits. Add in the unbeatable views of the Indian Ocean for a truly relaxing night. To maintain the intimate setting in this bar, we only accommodate guests over 16 years old.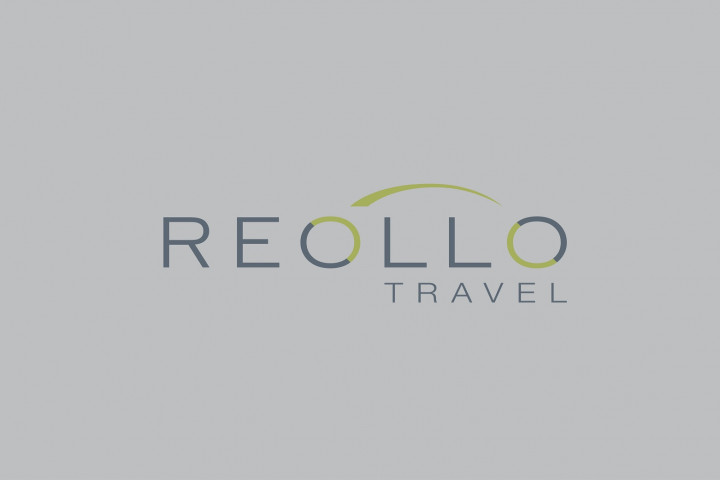 Sky Bar
Sky Bar blends privacy and luxury in a sky high setting. Perched 7 metres above sea-level, Sky Bar is purely designed for sheer privacy melded in comfort and luxury. Choose from six different packages for a tailor made evening with your beloved, or with a group of close companions. At Sky Bar, you have the opportunity to see shooting stars from a starry Maldivian sky. The Sky Bar can be booked privately (open by reservation only.) Please note that Sky Bar is not included in either of the all inclusive packages.

Activities & Facilities
Facilities
Here's a list of our facilities available to you:
Spa
Renewal of Vows services
Variety of Restaurants & Bars to choose from
Diving Facilities & Courses
Excursions
Medical Centre with Hyperbaric Chamber and European Doctors
Aqua Sports & Fun
Eco Centre and Nature Walks
Bageecha Kids Club with outdoor play area
The Sports Centre inclusive of:
3 Swimming Pools located around the island
Children's Pool
Jacuzzi
Fully Equipped Gymnasium
Floodlit Tennis Court